Widespread lockdowns to contain the spread of COVID-19 resulted in one of the biggest shocks to Canada's economy this spring, prompting "unprecedented" government action to financially support households affected by the pandemic.
The result? A dramatic shift in home resale activity in the months to follow the initial outbreak of the virus and improvement in housing affordability, according to RBC's second-quarter Canadian Housing Affordability Measure.
---
RBC Senior Economist Robert Hogue says that Canadian households received more money from programs like CERB than they lost in wages as a result of the pandemic -- boosting housing affordability to a four-year best in the second quarter. What's more, Hogue says RBC's national aggregate measure dipped 3.3%  to 47.3% -- the most affordable level since mid-2016.
According to the bank's analysis, household disposable income rose 11% in Canada from April to June.
However, while the substantial financial assistance from the federal government has boosted affordability in the second quarter, Hogue expects it to be short-lived and will cause a shift in pricing trends, particularly for condo prices in larger markets.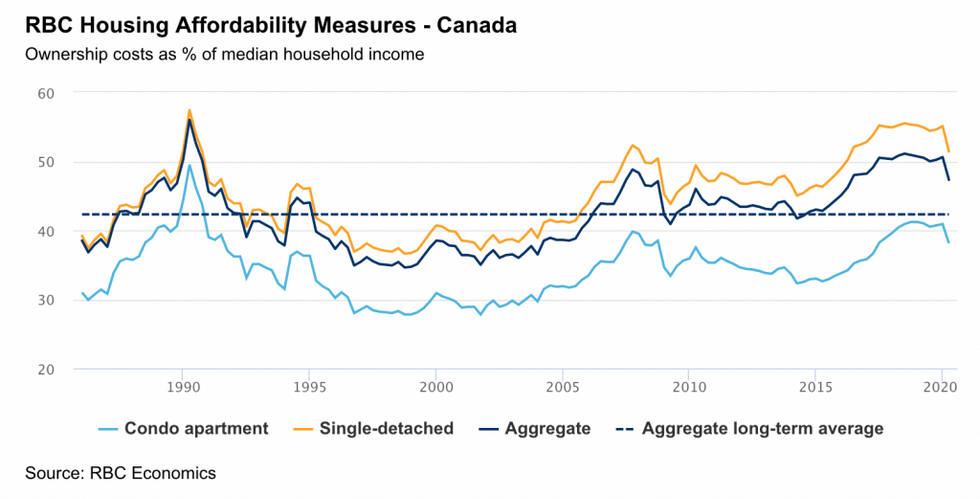 In addition to the federal government's substantial financial support measures, Hogue said lower mortgage rates and a decline in household utility costs also helped to improve national housing affordability in the second quarter.
While the affordability measure improved in all markets monitored by the bank, Hogue noted that this wasn't necessarily the case for the country's particularly expensive housing markets, including Toronto and Vancouver.
"Owning a home in Vancouver, Toronto, and Victoria continues to be a huge stretch for an average household despite significant improvement in the second quarter," wrote Hogue.
Looking at the Toronto market, Hogue says COVID-19 completely altered normal seasonal patterns and the pandemic shifted peak activity to the summer months when home resales surged to new record highs.
READ: Toronto Ranked 3rd on Global List of Real Estate Markets in 'Bubble Territory'
Hogue said the pandemic also altered housing preferences in the Toronto area, boosting demand for single-family homes -- the least affordable category -- and supply of smaller condo units downtown.
"Income support programs provided some temporary affordability relief (at least on paper) in the second quarter though buyers continue to face major hurdles," wrote Hogue.
According to the report, RBC's aggregate measure in Toronto, at 64.5%, is still the second-worst in the country after Vancouver. Tight demand-supply conditions for single-detached homes and accelerating prices bode poorly for affordability in the period ahead.
"Nonetheless, there is scope for some improvement in the condo segment as supply rises," says Hogue.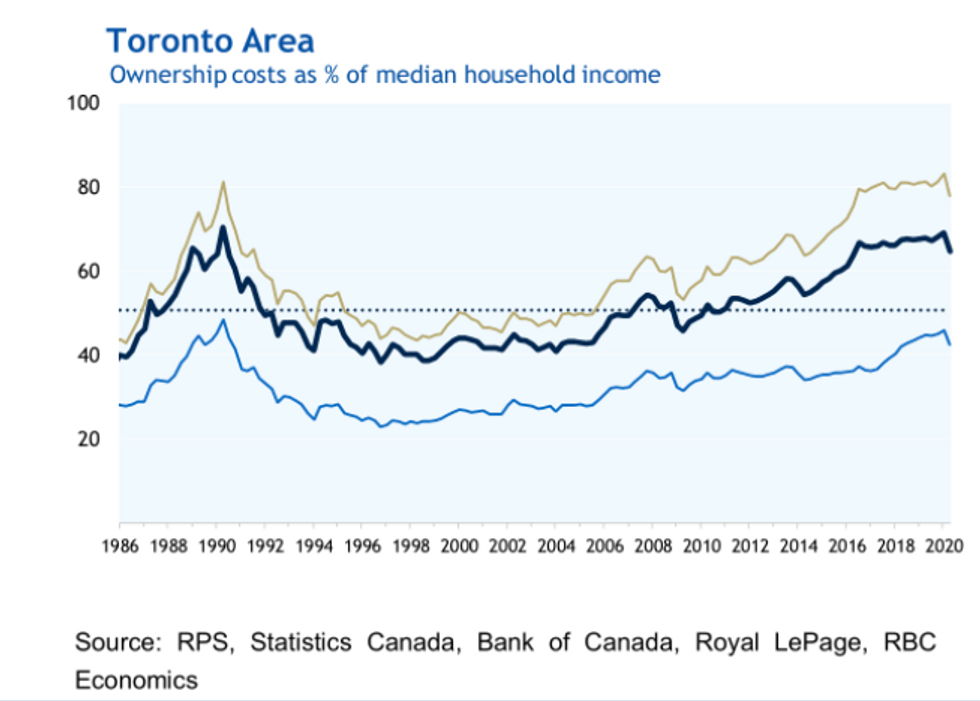 Looking ahead, while the timing of government income support programs winding down or changing is uncertain, Hogue says the affordability boost observed in the second quarter may be "fleeting."
Hogue also expects that price trends will shift in the months to come as the impact of the pandemic on the housing market is "complex", and RBC believes it will lead to diverging price trends among regions and housing categories.
"The pandemic is affecting demand and supply of various market segments quite differently. It is cooling demand for and boosting supply of rentals in large urban areas. This, in turn, is reducing investor interest in condos," wrote Hogue.
Hogue says the pandemic is also altering the housing needs of many current owners who look for more spacious properties in less crowded settings, which, in turn, is shifting demand from condo apartments to single detached homes and other low-rise categories, and increasing the supply of smaller condos in core urban areas.
This, coupled with work-from-home arrangements and the lesser appeal of downtown living (with reduced cultural and socializing opportunities during these times of social distancing) are increasingly driving buyers further away from downtown locations into suburbs, exurbs, and even into cottage country.
"The bottom line is we expect condo prices to weaken in larger markets next year," wrote Hogue. However, Hogue says he expects prices for single-detached homes will remain generally resilient -- albeit increasing at a slower pace.
This statement coincides with the Canadian Mortgage and Housing Corporation (CMHC) standing by its initial COVID-19 forecast that Canadian house prices will decline between nine and 18% -- and a recent report from Moody's Analytics that forecast prices will fall 7% in 2021. However, RE/MAX has referred to CMHC's forecast as "fear-mongering."
"I'm not convinced that we have a sustainable basis for housing demand in the economic disturbance that's going on related to COVID-19," said CMHC's Chief Economist, Bob Dugan. "That's why I say I stand by the forecasts."
Real Estate News