As cool autumn weather starts to settle into Muskoka, it's not only campfires keeping the locals warm. Property sales -- still ablaze in the wake of a fiery summer season -- are also continuing to put in the work.
According to new data from the Canadian Real Estate Association (CREA), last month set records for the month of August in both the Lakelands waterfront and residential non-waterfront spheres.
---
Over the course of the month, 735 properties were sold, with 325 of those being waterfront (an increase of 23.1% from August 2019), and 410 being residential non-waterfront (a jump of 34% from the same month last year).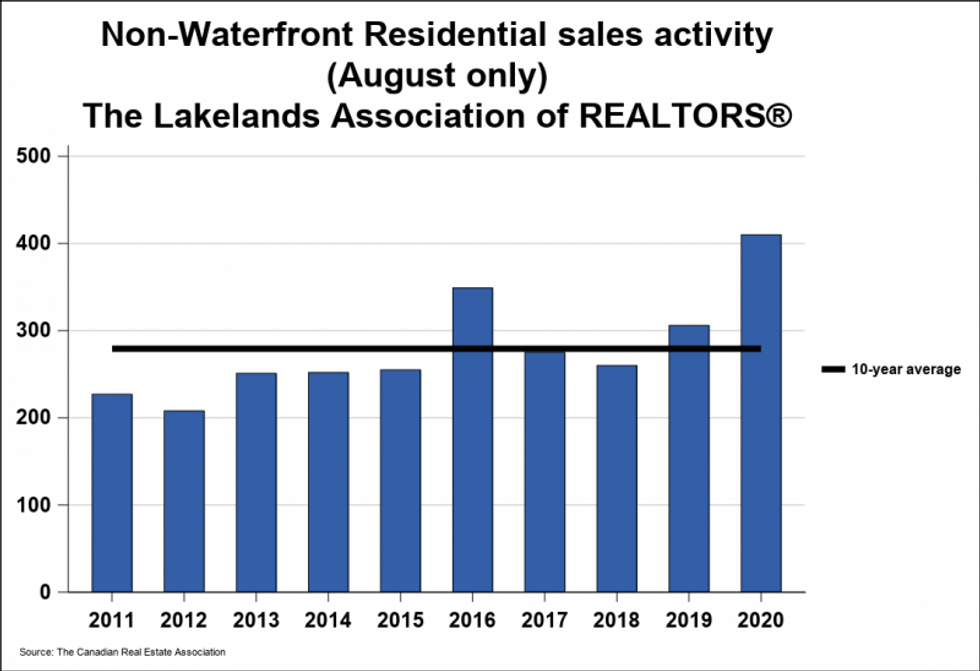 Where year-to-date numbers are concerned, waterfront sales have totalled a record of 1,547 units from January to August, an increase of 36.9% from the same period in 2019. Non-waterfront sales are also up through the first eight months of the year, though not quite as dramatically; a total of 2,137 units sold means a 10.2% increase from the same period last year.
"Market activity continued to outperform expectations in August," said Catharine Inniss, President of The Lakelands Association of Realtors. "Although new listings set a new record for the month of August, strong demand is starting to deplete the already low inventory levels. Higher than expected demand for this time of year combined with the low overall inventory continues to put upward pressure on prices and is creating one of the tightest markets we have ever seen in our region."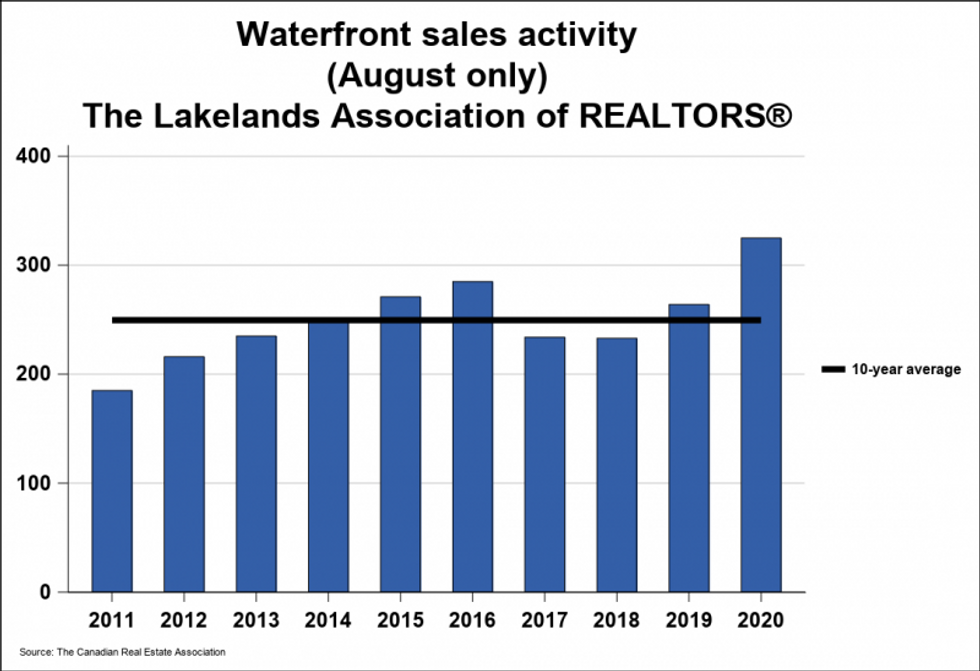 Indeed, sales aren't the only aspect of the regional real estate market that's up; prices are, too. The median price for waterfront property sales soared 31.4% from August 2019, reaching $676,500. Further, the median price for residential non-waterfront reached a record $461,250 -- an increase of 31.8% year-over-year. These jumps are high, certainly, but an ever-larger and more dramatic bombshell is found in the fluctuation of total dollar value since the same month last year.
READ: Rent: Four-Season Waterfront Cottage with Sauna Begs You to Visit Haliburton
The total dollar value of all waterfront sales in August 2020 was up 51.2% from August 2019, reaching $316.7 million and setting a new record for the month across the board. Meanwhile, the total dollar value of residential non-waterfront sales was $217.6 million, a whopping 87.6% over last August. This jump set a new record for August in the non-waterfront sphere, and is reported as the largest dollar value of homes sold for any month in history.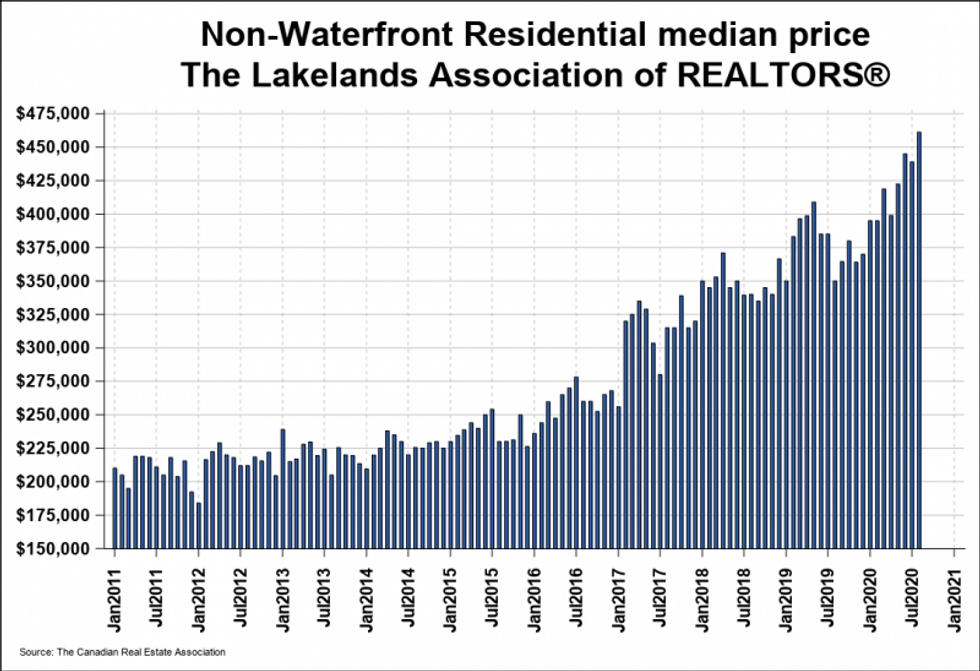 A spicy end-of-summer isn't the standard for the Lakelands real estate market. Normally, spring is -- perhaps poetically -- when the sector comes bursting to life, while late summer sees a slow-down consistent with cooling nights and a need for hibernation. But the COVID-19 pandemic threw every aspect of life topsy-turvy, and the world of cottage country property purchasing wasn't spared.
"The pandemic turns out to have only accelerated the trend of retirees, empty-nesters, those looking to down-size, and people now working from home looking to Muskoka as an answer," Ross Halloran, Broker at Sotheby's Realty, said in mid-July.
What Halloran was feeling at the time (a sense of being slammed like never before, namely) is as visible -- if not moreseo -- in this month's sales data as it was in last month's. In light of what's now being described as a "tight market," those truly committed to copping a Muskoka retreat ahead of the winter season may be forced to seek out alternate methods, such as getting in on pocket listings.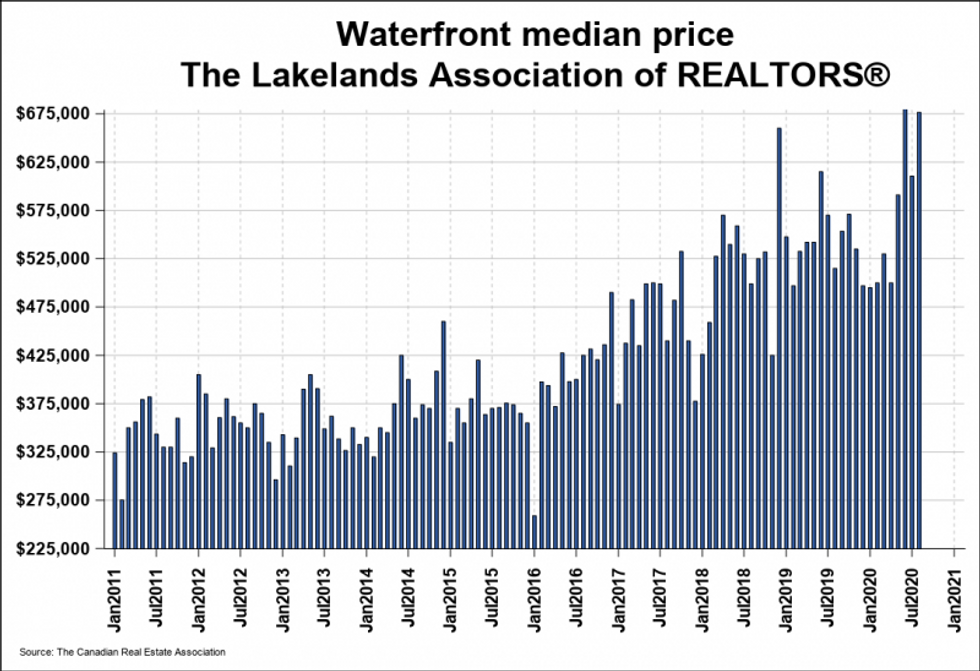 And for those who aren't on the market for a permanent place to call home, the old adage: renting is always an option, remains true, albeit requiring more patience than ever before. While the real estate market is still burning blue, the Muskoka rental market is currently so hot that many folks are already booking for next summer, and through to 2022.
Warm sun, chilly breezes, and changing leaves are all conduits for cottage country dreams. But unless you're prepared to enter the ring, those dreams might be the most reliable way to get in on the Lakelands experience right now.
Muskoka