Toronto is currently the only North American real estate market considered to be in "bubble territory," according to a new report on global real estate conditions by UBS.
---
In the report, UBS analyzed residential property prices in 25 major cities around the world and found that despite the current global recession, on average, inflation-adjusted house price growth in these 25 cities accelerated in the last four quarters, which the authors of the study consider "unsustainable."
What's more, the report says the pandemic has amplified some long-term uncertainties surrounding urban housing.
READ: RE/MAX Claims CMHC is 'Fear-Mongering' in Housing Market Forecast
"The Eurozone stands out as the region with the most overheated housing markets. Munich and Frankfurt top the ranking. Paris and Amsterdam closely follow suit, treading on bubble risk territory alongside the two German cities. Similarly, Zurich, Toronto, and Hong Kong also display high imbalances," reads the report.
According to the report, seven of the 25 global cities assessed were in the high-risk category of entering the "bubble" -- which UBS defines as a period of a substantial and sustained mis-pric­ing of homes -- with Zurich joining the bubble risk ranks for the first time, while Geneva also remains overvalued.
What's more, Toronto ranked in the third spot globally -- becoming the only North American city to be considered in "bubble territory", following Munich and Frankfurt, respectively. Hong Kong, Amsterdam, and Paris were below Toronto.
As for the cities with the lowest risk of entering the bubble, Chicago had the lowest ranking and was labelled undervalued, while Madrid, Warsaw, and Milan were considered fair valued.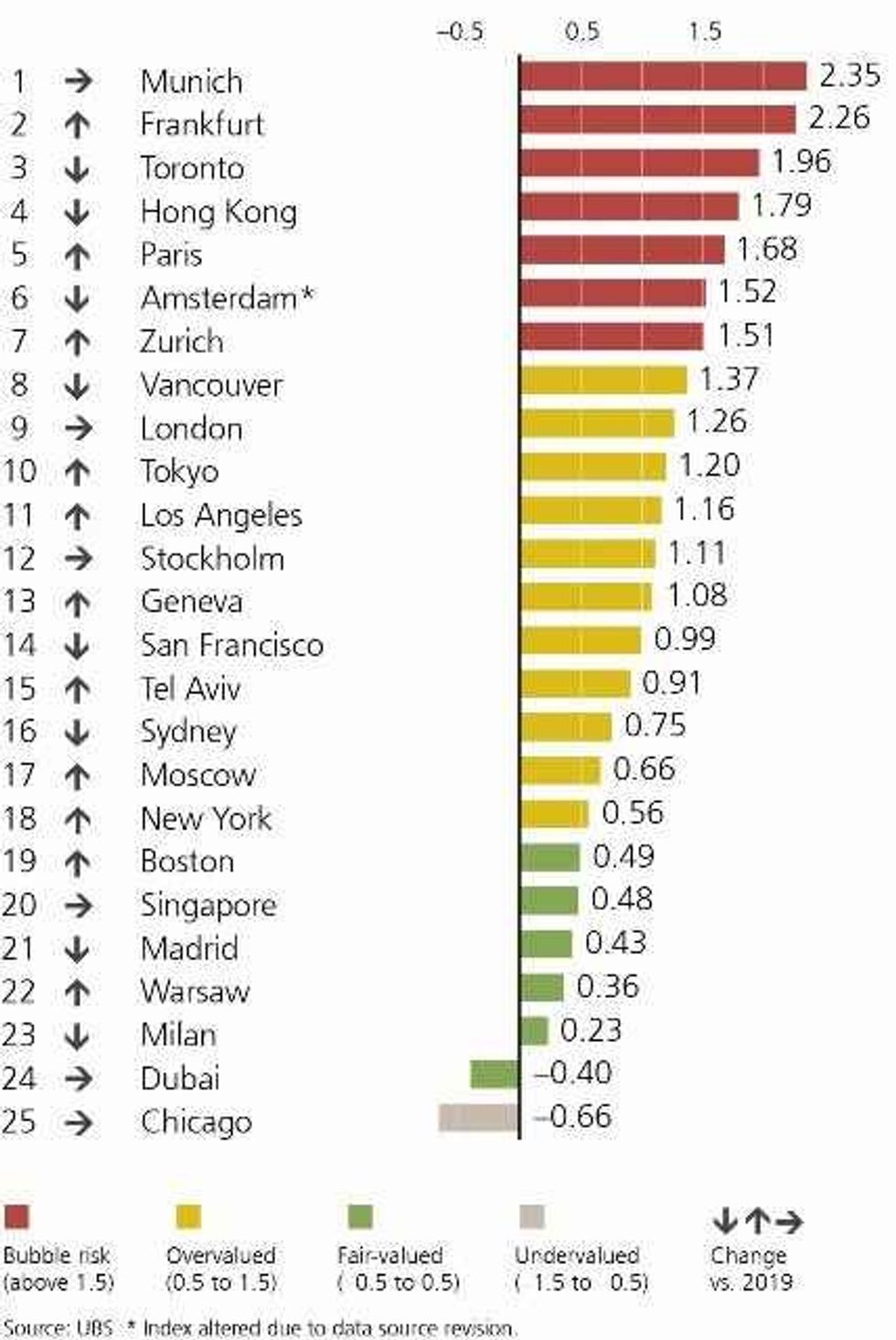 UBS Global Real Estate Bubble Index - Index scores for the housing markets of select cities, 2020
"The current cities at bubble risk seem to be weathering the coronavirus crisis relatively well," said Matthias Holzhey, lead author of the study and Head of Swiss Real Estate at UBS CIO GWM.
"The local economies in Munich, Toronto, and Hong Kong will likely recover quickly. But even in the absence of a broad market correction, the potential for further capital gains seems depleted. In particular, the prospects for buy-to-let investments are poor given the record-high price-to-rent ratios. "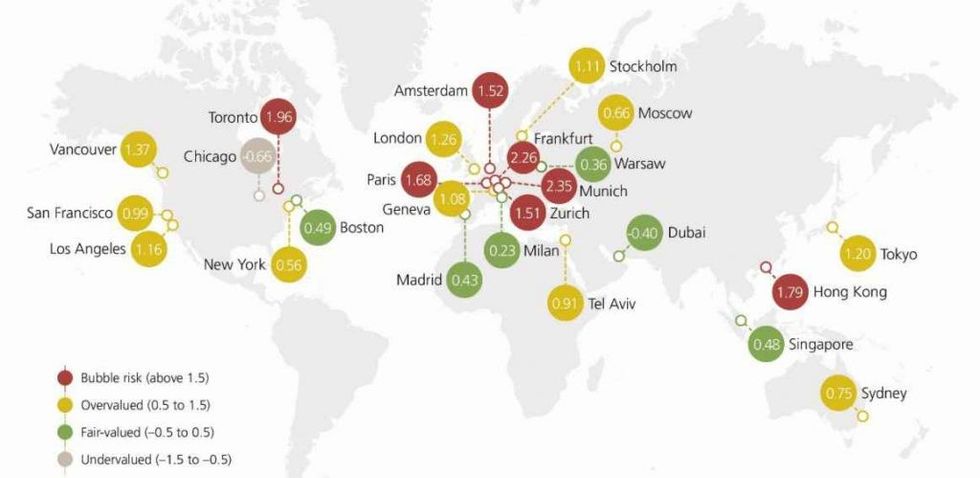 UBS Global Real Estate Bubble Index: Overview, 2020
The report gives an overall generalization of Toronto's real estate market, to which Ben Myers, President of Bullpen Research & Consulting Inc., explains that annual price growth in the city having been high so far in 2020, despite the pandemic, does not necessarily mean that Toronto is in a bubble.
"Many local Realtors and developers have pointed out that there was pent-up demand because of the pandemic, and changing residential real estate needs based on the work from home phenomenon, and health reasons. They expect a much cooler fall and winter in our real estate market," Myers said.
"Knowing that a market is overvalued is good, but doesn't help the individual buyer make a decision, because some cities and countries have been overvalued in the UBS studies for 15 years. Eighteen of the 25 cities on their list are overvalued, seems like a stretch. It appears to me that they simply prepared a list of very desirable cities where demand is exceeding supply."
This report comes as Toronto remains one of Canada's priciest real estate markets. Even following the initial market slowdown when stay-at-home orders were implemented, home resales and prices in Toronto have reached record highs.
Not only was July was a record-breaking month for sales in Canada's largest city as 11,081 homes changed hands, but home sales in the GTA jumped 29.5% compared with July 2019, hitting a new record high for the month, while on a preliminary seasonally adjusted basis, sales were up by 49.5% compared to June 2020. What's more, August was also a record-breaking month, the average selling prices for detached houses and semidetached houses in the city jumped more than 20%  to $1,505,100 and $1,166,226, respectively, when compared to August 2019.
However, despite this, the Canada Mortgage and Housing Corporation (CMHC) continues to back its initial forecast that Canadian house prices could still decline between nine and 18% --  a forecast RE/MAX recently referred to as "fear-mongering."
"The idea that a bank in Switzerland knows more about the Toronto housing market than the average local Realtor is absurd, you'll get much more knowledge about Toronto by reading the monthly TREBB reports and data," Myers adds.
Real Estate News