Despite the obvious impacts COVID-19 has had on the Canadain economy, fiscal stimulus measures and mortgage deferrals, combined with low-interest rates and Canada's strong demographic have kept Canada's housing market afloat.
However, the housing market's "vigour" is expected to fade in the months to come as high unemployment and lower incomes will restrain Canadian buyers' return to the market.
---
In turn, experts are forecasting that home prices will fall from their current levels. However, the speed of the drop will vary considerably across provinces, according to a new report on Canada's real estate market from economic research firm Moody's Analytics.
READ: COVID Continues to Influence First-Time Homebuyers Behaviours
The report, written by Moody's Analytics Economist Abhilasha Singh, states that a combination of government stimulus, mortgage deferrals, low-interest rates, and Canada's strong population growth has helped keep the housing market afloat during the pandemic.
Yet despite the job gains happening in the third quarter, Singh expects the momentum of the country's economic recovery will fade through the first half of next year as it won't be able to escape the "poor condition of the labour market as vacancy and delinquency rates rise in 2021."
Moody's Analytics expects Canadian house prices to suffer a "peak-to-trough" decline of about 7% under its September baseline scenario.
Singh wrote that while all regions are expected to experience price declines, the size of the impact will vary meaningfully across regions, yet the speed of the drop will vary considerably across provinces. However, Prairie provinces, like Calgary and Edmonton, will register the most sizable declines.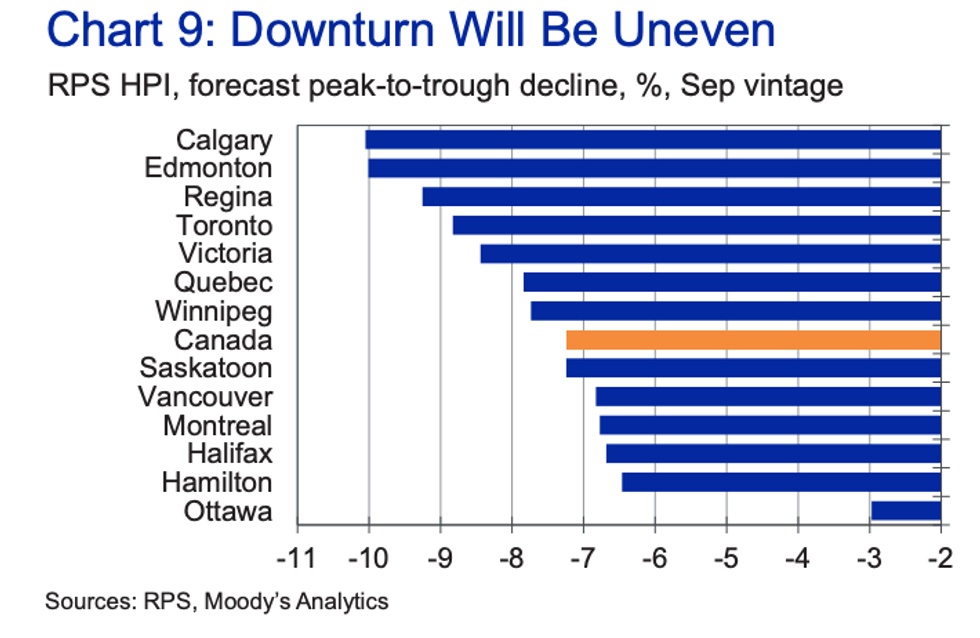 "High unemployment and lower-income will restrain buyers' return to the market. So will affordability issues in Vancouver and Toronto. Further, slower in-migration flows to Canada due to COVID-19 disruptions will weigh on housing demand. Not even lower interest rates will be enough to save the housing market," Singh added.
What's more, Singh wrote that condo and rental segments in the expensive Toronto and Vancouver markets will be more adversely affected than the lower density areas located outside their urban cores.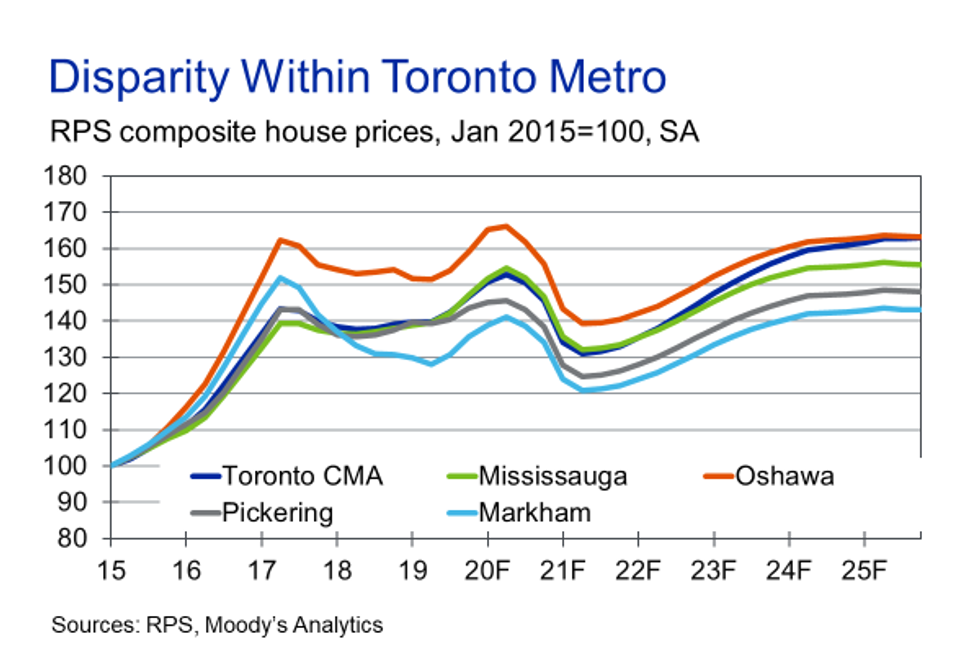 Fortunately, Singh said that the price declines will be brief and that the "restoration of robust job growth in 2022 along with Canada's strong demographics will put a floor under the housing market which mitigates the degree of the declines."
With the worst of the home price declines expected to be felt in 2021, Singh said that home prices will "meaningfully" recover by early 2022.
Real Estate News