Image:rawpixel
Torontonians are generally tenacious. Whether it's cheering for the Leafs or lining up for charcoal ice cream, we know how to stick it out. But when it comes to owning a home downtown, many have given up.
---
Even with a slightly cooler market, prices are still out of reach for first-time buyers who'd rather not live in a box in the sky. So we bookmark articles that claim it makes better financial sense to rent or buy cottages up north instead. But when persistent people are told no, they get creative. And that's where the idea of co-buying comes in.
Pooling your funds with family or friends can be a clever way to find your way into an honest-to-goodness home. And much like people search for dating mates, there are now similar ways to search for real estate mates and pool funds with like-minded strangers to co-own a property.
"The market is pretty inaccessible, and renting is precarious," says Lesli Gaynor, a Toronto real estate agent who knows how to shake things up. (She did policy work around HIV/AIDS and opened three restaurants before getting into real estate.)
"But co-buying can be a good option for first-time buyers, or seniors who want to age in place, or even young families who want to share childcare," she says.
At a recent info session at the Centre for Social Innovation (CSI) near Bathurst and Harbord, Gaynor and her colleagues (including a mortgage agent and two lawyers) shared a few real-life examples of properties where you could live in your own home for about the costs to rent downtown.
Here's a possible scenario: You and some friends find a house that's already split into two apartments, and it's listed at $899,000. Alone, you might not qualify for a mortgage of that amount. But with two or more incomes to keep the lenders happy, you have more options.
Your minimum down payment would be roughly $65,000 (plus closing costs), divided by the number of buyers. Once the dust settles, you could be living in your own two-bedroom unit for around $2,100 a month. Yes, you'd be on the hook for property taxes and repairs, but you'd be investing in yourself — and you'd have a backyard.
Beyond getting you in the game, Gaynor believes co-buying can offer health benefits for individuals and communities.
"Loneliness is as dangerous as any illness we have," she says. "We think we're connected because we've got cell phones, Facebook — but we're lonelier than ever."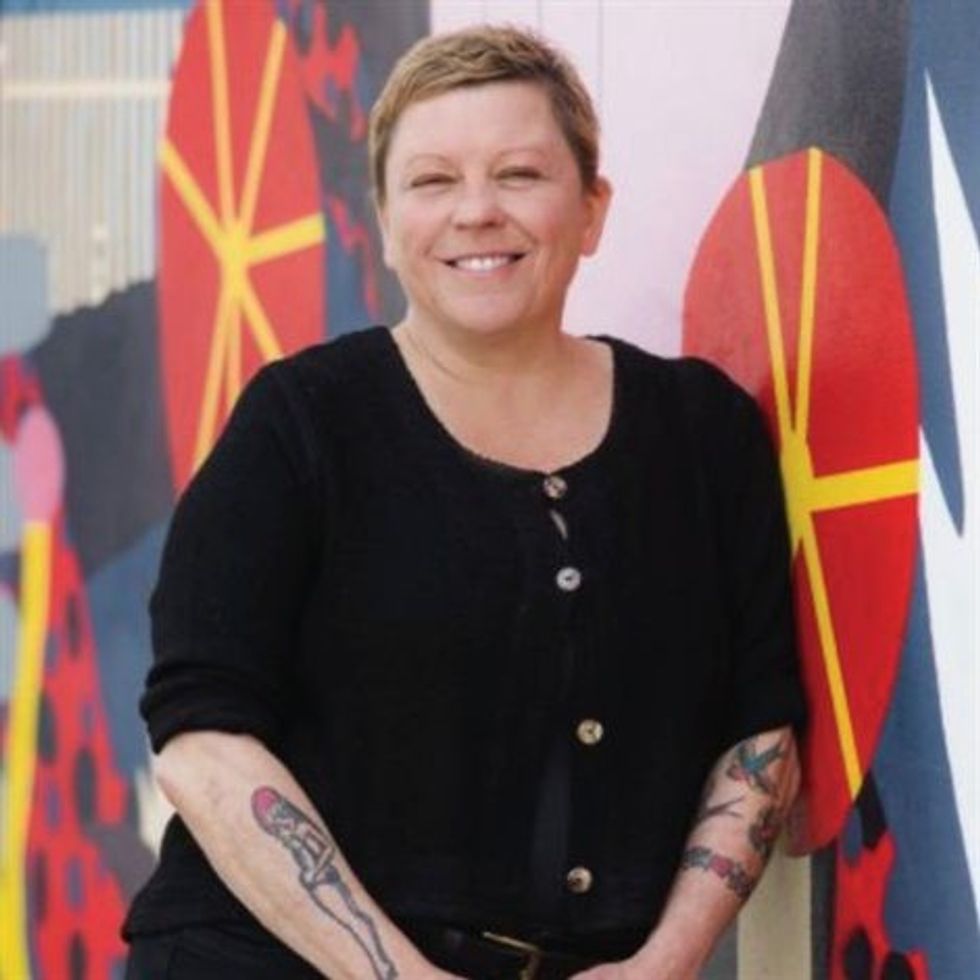 Realtor Lesli Gaynor has figured out a way to hack Toronto real estate with real-estate-lationships — co-buying, as it were.
Ruth, a 32-year-old lawyer, doesn't need convincing. Gaynor recently helped her and a friend buy a four-unit house near High Park. They plan on renting out the other two apartments until a few more of their friends are ready to buy into the building —and their plans to turn a sunroom into a communal space to share meals or just be together.
"For me, it's less about building equity and more about building a way of life," says Ruth.
Of course, potlucks aren't for everyone. Co-buying could also work much like a condo might, except you get to choose the people who live above and below you. And your bedroom will have a door. Once all the details are worked out, you wouldn't necessarily have to say more than a friendly hello to your neighbours if that's more your style.
That said, the details do need to be worked out. It's important to see a lawyer to draft up an agreement. This is where you need to be ready to put in the hard work and ask the tough questions.
Your agreement can be as detailed as you like, so you cover all the "what-ifs" that worry you. What if someone misses a payment? Or the roof caves in? Or your neighbour gets a great new gig in NYC and wants to sublet? You can even add a clause about how you'd handle disagreements. And yes, there are lawyers who have done this before, including Lauren Blumas of Iler Campbell LLP, who spoke at the CSI event.
"Expect to spend $1,500 to $5,000 in legal fees for an agreement, depending on how much detail you want to include," she advises.
When it comes to securing a mortgage, credit unions have long been on board with co-buying, but even traditional lenders like TD are starting to recognize the feasibility of these arrangements. Mortgage agent Lesley Tenaglia is glad to see the shift, but she doesn't deny they're more work.
"Lots of my colleagues think I'm nuts for wanting to deal with these kinds of mortgages," says Tenaglia, "But you have to believe in the idea, and I do."
If you're curious about co-buying, a fun way to explore your questions would be to attend Gaynor and Tenaglia's upcoming speed-dating style event Feb. 22. Yes, there will be icebreaker questions and a bell, but participants will be looking for someone to buy a home with, rather than a romantic partner. Sign up at CoBuyConnect.com. You can also find more information about co-buying at GoCoSolutions.com.
Real Estate News