---
The number of people with multiple mortgages in Canada (i.e. investors) has surged during the pandemic. 
And that's not doing Canadians desperate to get into the increasingly unattainable housing market any favours.
Data from consumer credit reporting firm Equifax Canada Inc. reveals that between June 2020 and June 2021, the rate of growth from those purchasing homes was highest among buyers who already own several homes. "The number of consumers with multiple mortgages has been on a steady rise," says Equifax.
Canada saw a 7.7% year-over-year growth in consumers with three or more mortgages in Q2 2021 when compared to Q2 2020, while overall mortgage consumers increased by just 3.1%. This, however, has not impacted the distribution of mortgage consumers; 84% of consumers still have only one active mortgage, says Equifax.
READ: Average Canadian Home Price Forecast to Reach $771,500 By End of Year
Still, market purchases by borrowers with multiple mortgages have accelerated quickly as of late. BC, Ontario, and Quebec have the highest ratio of mortgage per consumer, according to Equifax.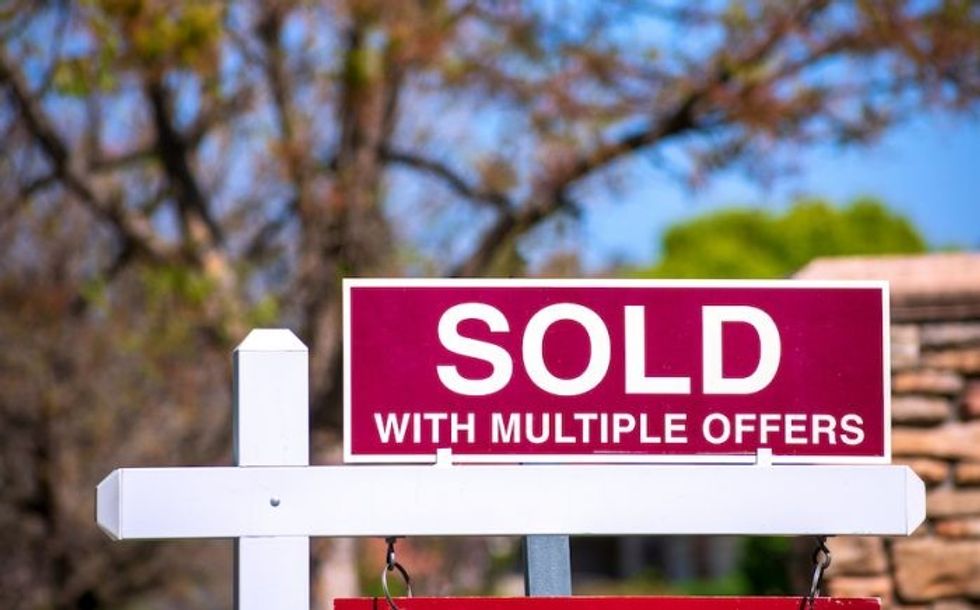 Shutterstock
A just-released analysis from Teranet, the private operator of Ontario's land registry, reveals that almost 25% of the homes sold in Ontario in the first eight months of 2021 went to buyers who already own multiple properties.
The reality is that the current climate of the Canadian real estate market facilitates homeowners' ability to collect investment properties like they're going our of style -- even when it comes to initiatives theoretically designed to help first-time homebuyers, like historically low mortgage rates. Climbing home prices and falling mortgage prices have created the perfect opportunity (or 'storm' for those of us caught in it) for investors to borrow against one property in order to buy a new one. 
As they watch their property values climb with increasing home prices, investors have more cash to leverage to take out other mortgages to purchase more properties and charge ridiculous rent prices to cover the mortgage. And that just adds injury to insult to both renters and would-be first-time homebuyers as a result.
Something has to give. And soon.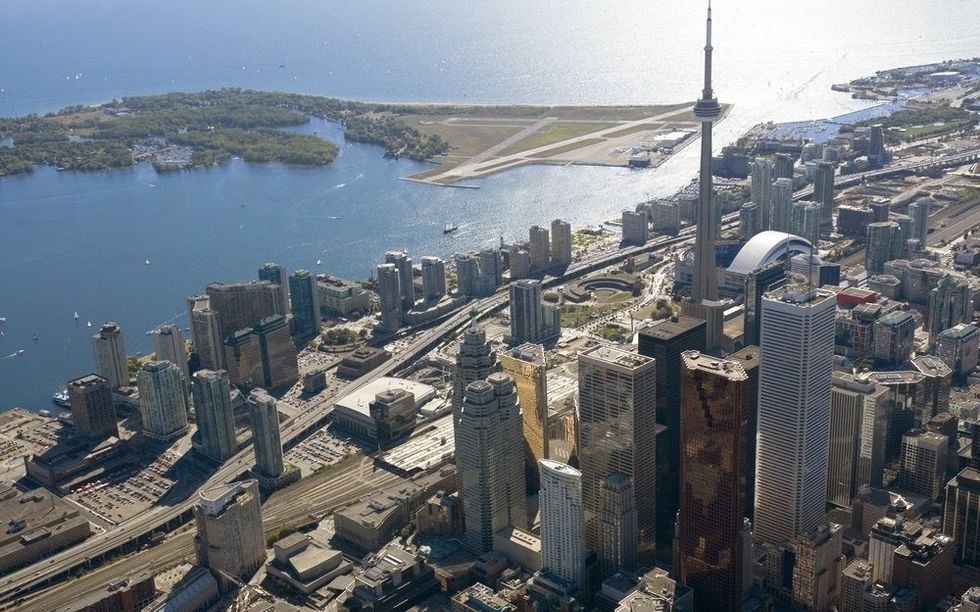 Toronto skyline/Shutterstock
The unattainability of Canada's housing market -- especially in cities like Toronto and Vancouver -- is, frankly, unacceptable. Toronto's Vital Signs Report revealed a grim reality on the housing front. Toronto has one of the most unaffordable housing markets in the world and a relentless homeless problem that's only getting worse. 
"Canadians' net worth has grown by $1.8 trillion – the highest increase ever," reads the report. "But about 95% of growth has gone to homeowners, while many younger and racialized residents struggle with the rising cost of living." 
The increasingly unattainable cost of living is driving people to seek more affordable pastures in other parts of their province -- or in other provinces all together. 
"First-time homebuyers can't compete with whoever has the biggest wallet," says Nerses Sraidarian owner and broker of record at Big City Realty Inc Brokerage, a boutique real estate agency in Toronto. "If there is an opportunity to invest, people will take it. So, it all comes down to the policies that the government enacts to tackle these problems."
So, what's the solution? (That's the golden question these days, right?)
Sraidarian says we can learn a lot from how countries like Austria or Singapore have handled their housing shortages. 
"If we can't reduce demand, then we should look at how we could improve supply. If there was enough inventory to satisfy the demand, this would reduce the bidding wars and exuberant prices," says Sraidarian. "For example, in 1959, Singapore faced a severe housing crisis that struggled to accommodate their growing population. You can see we are having a similar problem with the country planning to welcome immigrants at a rate of about 1% of the population of Canada per year (that's 401,000 in just 2021 alone according to Canada.ca)."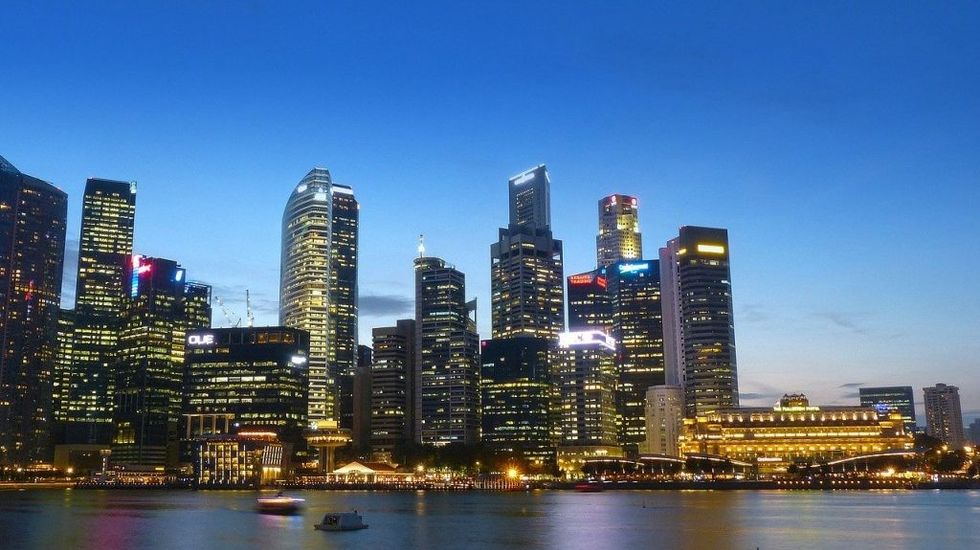 Pixabay
Sraidarian points Singapore's solution to create an effective affordable housing program that utilized several strategies over a number of years. To start with, the country has a different and positive attitude about public housing, says Sraidarian. "Singapore sees affordability as a means to promote economic growth. If people have their basic needs met, they'll be more inclined to be productive at work and have more disposable income available," says Sraidarian. 
Sraidarian also highlights Singapore's strategy to invest heavily into building an adequate number of apartment rentals, while encouraging these renters towards home ownership but with regulations in place to prevent flipping (for example, a minimum 5-year occupancy before selling). 
RELATED: Liberals' $1B 'Rent-to-Own' Plan May Sound Nice to Voters, But Most Won't Benefit From It
"Singapore also offers substantial grants for first-time buyers for government housing -- up to an equivalent of approximately $55,000 CAD," says Sraidarian. "It also allows social security programs to be used for housing expenses, for example, a down payment or mortgage payments."
Sraidarian points to Singapore's tiered grant system based on income, which allows those with the lowest incomes and the highest risk of homelessness to get a rental apartment for as little as $20 per month. "Singapore also invested in high quality and sustainable building design that residents would want to live in," he says. 
Similarly, in Austria's capital city, Vienna, a large portion of the city's housing supply is municipally owned or subsidized. "That means the private market must compete with social housing for the same tenant pool thereby preventing skyrocketing rents," says Sraidarian. "Furthermore, because most of the population lives in municipal housing, the social stigma around public housing is removed."
Sraidarian admits that not all of these strategies may work in Canada, but says there are some lessons to be learned from countries that have been able to alleviate their housing crises.  
"In summary, a robust and effective affordable housing program is needed – one that isn't just temporary crisis management. A long-term plan and investment from the government -- on all levels -- is necessary," he says. "Lastly, there needs to be a shift in perspective to understand affordable housing as right instead of seeing it as a privilege."
Mortgages