---
When COVID-19 changed life, as we knew it, a reevaluation of living spaces resulted in a noticeable exodus from the Toronto core. Those who kissed the towering concrete goodbye -- if even temporarily -- included everyone from recent university grads returning home to live with parents, to young families and empty nesters alike.
For many, this involved an inevitable move to suburbia, with the pandemic acting as catalyst. Others moved beyond, opting for smaller cities or permanent relocations to cottage country.
Some, however, looked past provincial borders, turning their eyes east and all the way to New Brunswick.
Known as the "Picture Province" for its stunning coastline, New Brunswick is capturing the attention of Torontonians with its outdoor adventure offerings, friendly vibe, and close-knit communities, and -- perhaps most notably -- its cheap housing costs.
At a time when Toronto's sky-high housing prices continue to break records for both price and number of transactions, becoming increasingly unattainable in the process, New Brunswick offers Canada's most affordable real estate with a side of fresh seaside air and easy access to nature.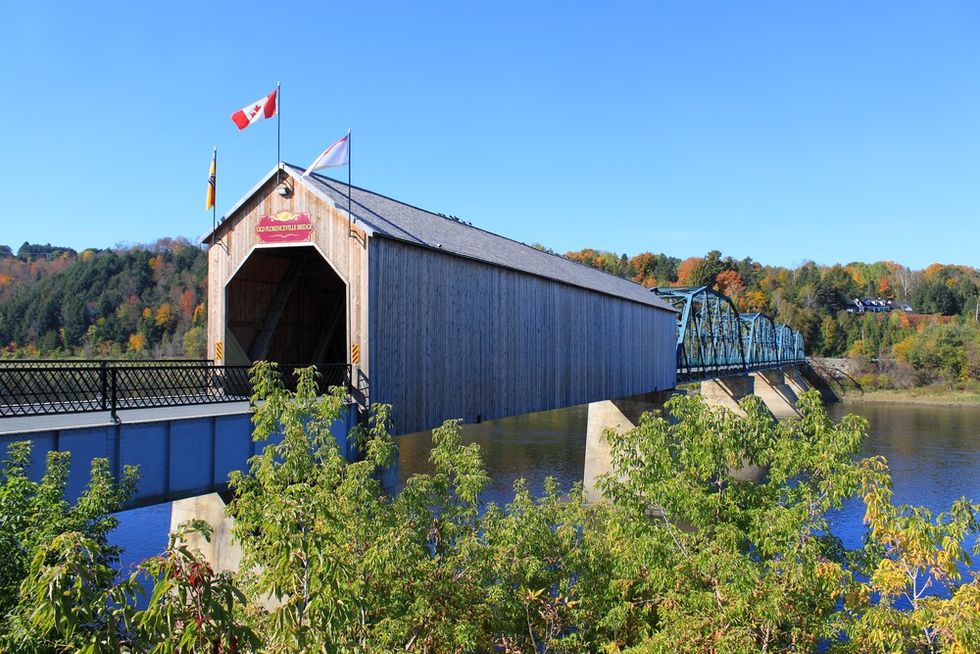 Florenceville Bridge, New Brunswick/Shutterstock
For those debating the move -- or even the draw of the province in the first place -- a new campaign called "Live for the Moment NB" highlights all of the perks that come with New Brunswick living. Created by the Province of New Brunswick in partnership with the economic development committees of some of its largest cities, the campaign targets Canadian urbanites from across the country.
"As a result of large, urban-based companies offering a permanent work-from-home option to their employees, these individuals are discovering that not being tied to an office means they can say good-bye to expensive, dense urban areas and do their jobs from anywhere," says Susy Campos, CEO of 3+ Corporation and "Live for the Moment NB" campaign spokesperson.
"This work-from-anywhere culture has opened up the possibility of these employees considering a move to New Brunswick, where they can continue in their careers while enjoying greater affordability, an improved quality of life, and an improved work-life balance." 
Designed to get the wheels turning, the campaign website clearly outlines how much money someone in Toronto, Montreal, Calgary, or Vancouver would save by buying a home in New Brunswick, compared to in their current city. In figures that are a shock to the system for anyone watching Toronto's dramatic real estate scene, the average cost of a home in New Brunswick costs just $135,213 in the province's northwest region and $225,200 in the southeast (!).

liveforthemomentnb.ca
But it's not just the affordability factor that's drawing people to New Brunswick. A move could also improve one's quality of life, especially for burnt-out pavement pounders who crave more space. For many living in Toronto's small, concrete-surrounded condo units, COVID-19 brought a collective desire to connect with nature.
"The campaign highlights the key benefits of life in New Brunswick, including affordability, work-life balance, a great geographic location, and community connectedness you can only find in a province like New Brunswick," says Campos. "It offers short commutes, a closeness to nature, and diverse and growing urban centres that offer all the amenities you're looking for."
Anywhere you are in the province, you're just minutes from rivers, lakes, and beaches, she adds.
"New Brunswick offers the warmest salt-water beaches north of the Carolinas, an abundance of freshwater lakes, extensive parks, and wide-open natural spaces."
Andrew and Danielle recently packed up their belongings and their two kids and moved from Toronto to a small Atlantic town in New Brunswick. "We had already planned to sell our Toronto home in September but weren't sure what our next steps were," said Danielle. "We wanted to cash in while the market was hot, but also realized that if we wanted to stay in the GTA, we would have to purchase in a hot market."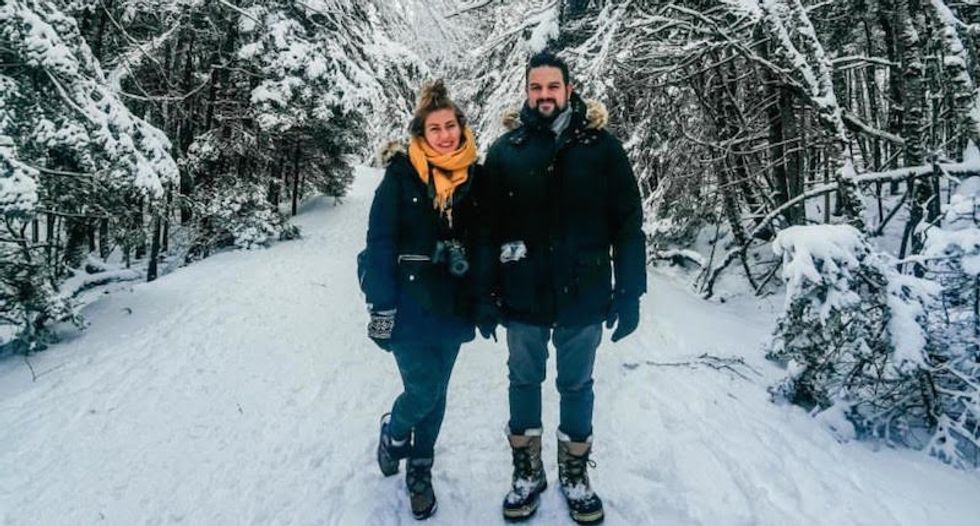 Danielle and Andrew
Their dilemma is a common one in Toronto's current housing market. Andrew works for a large company and -- after doing their research into perspective places where he would be able to transfer -- the couple kept coming back to New Brunswick. 
"It looked like the perfect place to raise a family, and our children are very nature loving and wild," says Danielle. "The idea of living on the coast was very appealing. We moved to a beautiful neighbourhood with lots of lakes and forests and nice neighbours."
Andrew and Danielle researched the right schools and community before settling into the St. John area. "We no longer have traffic jams and high-stress commutes, and I'm able to be home for my daughters," says Danielle. She acknowledges, however, that -- while it's "been a good choice" overall -- it hasn't all been easy, especially in the midst of the ongoing pandemic.
"We left absolutely everyone we know and love back in Ontario. Our daughters are very close with our mothers and it's been hard on them to be so far away," says Danielle. "The distance is a challenge, but the border closure because of COVID is making it even harder. We were hoping to travel back to see our family this summer, but it doesn't look like that will be possible."
For anyone looking to make the move, she recommends finding a good local realtor who has lived in the neighbourhood for a long time. "Find someone who can give you all of the details that you can't Google," says Danielle. "I would also recommend doing satellite views of the property and the area, as well as Google Street views. We saw some very interesting things that led us not to purchase certain properties."
While New Brunswick has undeniable appeal for young families, it's also alluring for twenty-somethings like Madeline Taylor (24) and Mitchell Kingsley (26). After saving enough for a down payment thanks to decent paying jobs out of university (an appreciated rarity, they acknowledge), the once Toronto-based couple purchased a New Brunswick cabin in January 2020 for $190,000. "Buying in Ontario was never an option for us," says Taylor.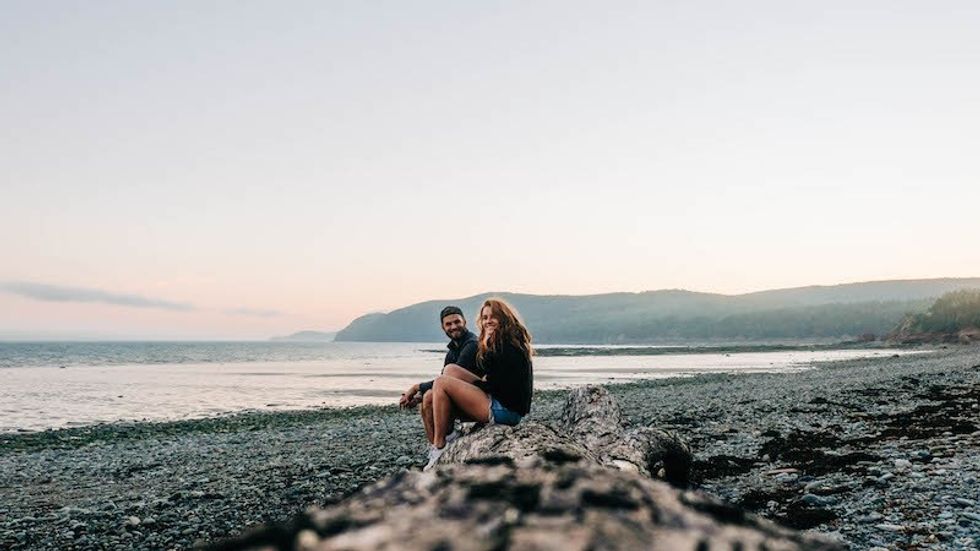 Mitchell and Madeline. Photo credit: Madeline Taylor
The plan was to use the spot as a summer escape and to potentially relocate there years down the road. Its discovery was the result of summer visits with Kingsley's parents, who had retired to New Brunswick from Flesherton, Ontario a few years prior ("they wouldn't have been able to retire in Ontario because it was just too expensive," said Kingsley). After a few weeks into the pandemic and quarantine measures in their small Toronto apartment, the couple decided to relocate to New Brunswick in what would become a full-time move.
Located about 45 minutes from Moncton, near the picturesque Hopewell Rocks village, their charming 245-acre property sits off a country road and is complete with its own private lake.
"It's hard to put into words how different our lives feel, but how much better they are at the same time," says Taylor. "Granted, it isn't for everyone. We're in the middle of nowhere and are essentially in one large room together all the time." Instead of grinding it out in the downtown Toronto core like they did pre-pandemic, the pair enjoys daily nature walks and lunchtime swims right in their backyard.
"I grew up on a farm, so I was used to a lot of space for a long time," says Kingsley. "After living in Toronto for so long, it was nice to return to that space, especially during COVID times. Now, we don't have to jump in the car to go for a nice long walk in nature."
Aside from the refreshingly slower pace, neighbours that have become family, and the picture-perfect landscape, a major benefit of relocating is the amount of flexibility afforded by the low cost of living. Rather than dishing out $1300 a month for a Toronto basement apartment in a house they didn't own, the couple now maintains a $600 monthly mortgage on the cabin.
Living in rural New Brunswick also means saving money on the lifestyle front, especially when so much time is spent outdoors doing things that don't cost money, says Kingsley. "A trip to the grocery store definitely requires more planning these days because going into town is a big deal, so we get groceries for two weeks," he says. "But it makes our purchases more intentional, and we spend less money in total."
The extra money has opened up opportunities, enabling them to freely pursue passions and dreams. Both started their own businesses; she, a brand design business (in addition to a new full-time job at a Moncton cannabis company), and he, his own engineering consulting company. Furthermore, the money saved allows the couple to invest back into the property -- something they document on their Instagram page.
This involves making improvements to the cabin wherever they can, the addition of gardens, a green house, and a new micro cabin to help in another new business venture -- hosting elopements on the stunning property.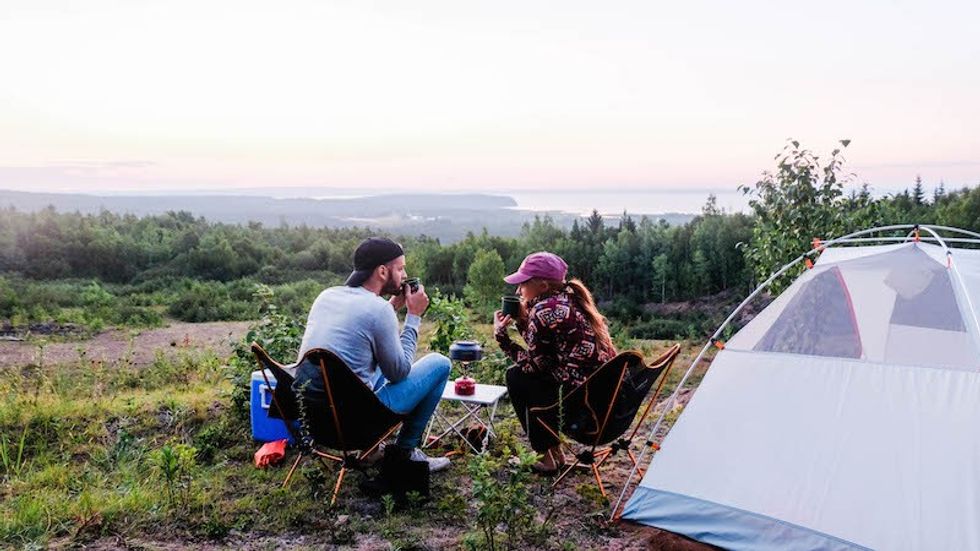 Mitchell and Madeline. Photo credit: Madeline Taylor
It was through their thoughtful and high-quality Instagram page that the pair made friends in the region. "Through Instagram, we've met some of our most favourite people in New Brunswick," says Taylor. For those entertaining a similar move east, the couple suggests joining a Facebook group like Canadian Escapees to New Brunswick. "It's effectively a question board to people who have made the move already," says Kingsley.
But -- in offering advice -- Taylor and Kingsley both stress that, if you're going to buy in New Brunswick, you should live there too.
"Unlike Ontario, there isn't renters protection in New Brunswick, so people from Ontario have been buying duplexes and jacking up the rent on them," says Taylor. "People who grew up in New Brunswick can't compete with the housing market from Ontario in that respect and it's causing a bit of a housing crisis for some locals."
It's a situation that mirrors the larger picture of Canada's real estate market, where offshore capital unfairly inflates home prices. "Move here to live here; to build here and grow here," says Taylor. "There's so much opportunity. If you start a small business, people in New Brunswick will rally up around you because they want their small towns to have businesses because that's what keeps them alive." She also says the trades are in hot demand, especially on the home improvement front.
Taylor and Kingsley have jumped into the community as much as they can, with a strong desire to give back. After all, the locals have made them feel right at home with everything from lending a helping hand when needed, to pointing out where delicious apples grow on their property.
"It's a different vibe in New Brunswick," says Taylor.
Real Estate News