Real Estate News
Average Canadian Home Price Passes $800K for First Time on Record
The average Canadian home price has hit yet another new record, broaching the $800,000-mark for the first time in February. Home buyers across the nation can now expect to shell out $816,720 — up 20.6% from the same time last year, according to the latest data from the Canadian Real Estate Association.
That's a 3.5% uptick from January, and reflects a record 29.2% year-over-year increase in the Home Price Index benchmark. Of course, that's heavily influenced by the nation's largest markets; stripping Toronto and Vancouver out of the equation would reduce the average by $178,000, to $638,720.
READ: The Average Detached House in Toronto Has Officially Crossed the $2M Mark
This is despite the fact that the market is finally enjoying some badly-needed supply; it would appear sellers are coming out of the woodwork, as a total of 77,352 new listings (seasonally adjusted) hit the market last month — a whopping monthly increase of 23.7%, and a considerable turnaround from the 10.8% decline seen in January.
That helped cool — slightly — the sizzling sellers' conditions that have defined the market in recent months, lowering the sales-to-new-listings ratio to 75.3% from 89% at the start of the year, roughly in line with where the market was at in the summer of 2020. It should be noted that this is still well above the long-term average of 55.1%. According to CREA, two-thirds of all local markets could be considered sellers' markets, with the remaining in balanced territory.
The GTA, Fraser Valley, and Calgary enjoyed the largest influx of newly-listed homes for sale.

However, that still reflects a very competitive market for buyers, as they came out in droves to scoop up newly-available listings. A total of 58,209 homes traded hands last month, up 4.6% from January, though still lagging 8.2% below last February's record-breaking activity. CREA reports sales were up in 60% of all markets, led by huge growth in Calgary and Edmonton, as well as gains in the Greater Toronto Area.
That effectively offset the supply of new listings, meaning the long term supply of homes for sale hasn't changed; overall inventory remains at 1.6 months, tied with January and December for the lowest on record. The long-term average for this time of year is just over five months, says CREA.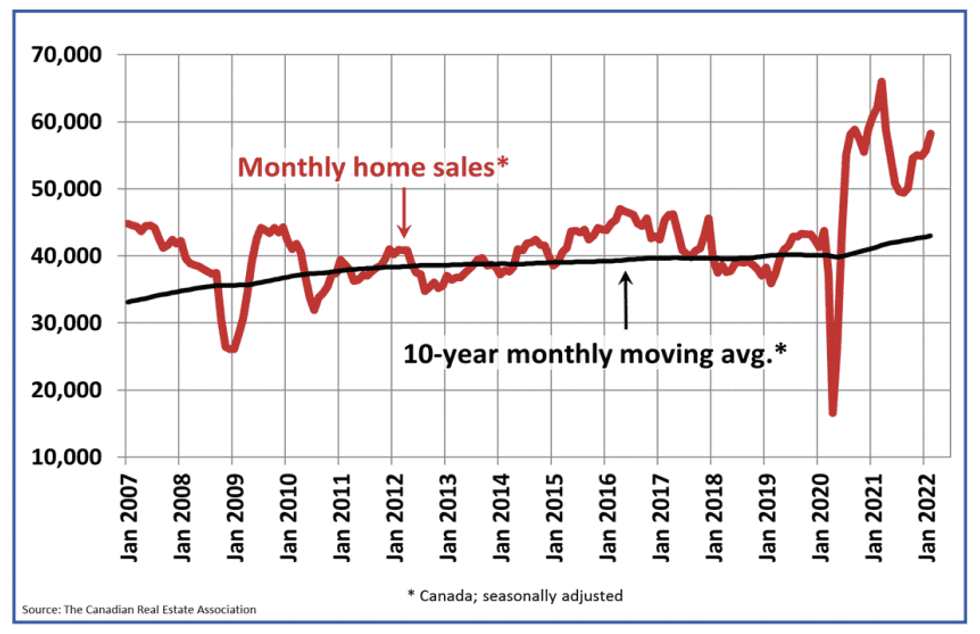 "As expected, after a bit of a lull in January, we saw the first batch of spring 2022 listings come to market in February, and they were quickly scooped up by buyers" said Cliff Stevenson, Chair of CREA. "It's unclear if this is the beginning of a re-emergence of some of the many would-be sellers who have been dormant for the last two years, or if the supply will fade towards the summer like it did in 2021."
"New supply bounced way up in February, which is similar to what we saw play out in 2020 and again in 2021," said Shaun Cathcart, CREA's Senior Economist. "The real question is what comes next? In the short term, expect at least one more month of stronger sales as the majority of those new listings came onto the market near the end of the month so many of the associated sales likely won't happen until early March. Ideally, listings will continue to come out in big numbers in the months ahead. Combined with higher interest rates and higher prices, we could be at a turning point where price growth begins to slow down and inventories finally begin to recover after seven years of declines. Still, in order to turn this market back towards balance long-term, building more new homes across the spectrum remains the key."
Prices to Keep Rising This Year and Next
The uptick in both sales and supply was enough to prompt CREA to revise its forecast for 2022 and 2023; the national association expects a total of 612,800 homes to sell this year — down 8.1% from 2021, but still the second-highest on record in terms of sales. That's expected to ease slightly in 2023 to 596,150 (-2.7%), which would still be the third-strongest year in history.
The average price (the aggregate year) will rise 14.3% on an annual basis to $786,000 this year, before increasing another 3.2% to $811,000 in 2023.
CREA points to a few ongoing trends underpinning its updated outlook; listing supply is expected to continue to be tight over the long term. Of course, the rising cost of borrowing will be a considerable factor as the Bank of Canada hiked its trend-setting interest rate from 0.25% to 0.5% this month. Another nine increases could be in the cards before the rate lands in a range between 1.75 – 2.75%. Fixed mortgage rates, meanwhile, have been steadily on the rise as of this fall.
READ: Variable Rate Mortgages Still Make Sense; Here's How to Take Advantage
However, CREA notes, as Canadian mortgage applicants have been stress tested at a rate roughly 2% higher than their actual mortgage rate since 2018, it's unclear how much this will impact buyer demand.
"As such, recent higher market rates have not really made it any more difficult to qualify for a mortgage and borrowers are still being stress tested at a very robust level," CREA states.
Other "wildcards" for the housing market include the Russian invasion of Ukraine, and its resulting impact on fuel prices, inflation, and global supply chains, as well as whether the federal Department of Finance will pass down any of their election-promise housing policies by budget time this spring.