The 2022 national housing market kicked off with more of the same in terms of supply-and-demand imbalances, as the Canadian Real Estate Association (CREA) reports the number of homes for sale remained at its lowest-ever level in January.
---
However, too-few homes to go around was hardly a deterrent for homebuyers; it was still the second-strongest January on record with a total of 33,166 transactions (not seasonally adjusted). While 10.7% below the record-breaking benchmark set during the same time period last year, CREA notes that activity has been roughly flat for four consecutive months -- up just 1% from December levels -- indicating that stability may be returning to the market.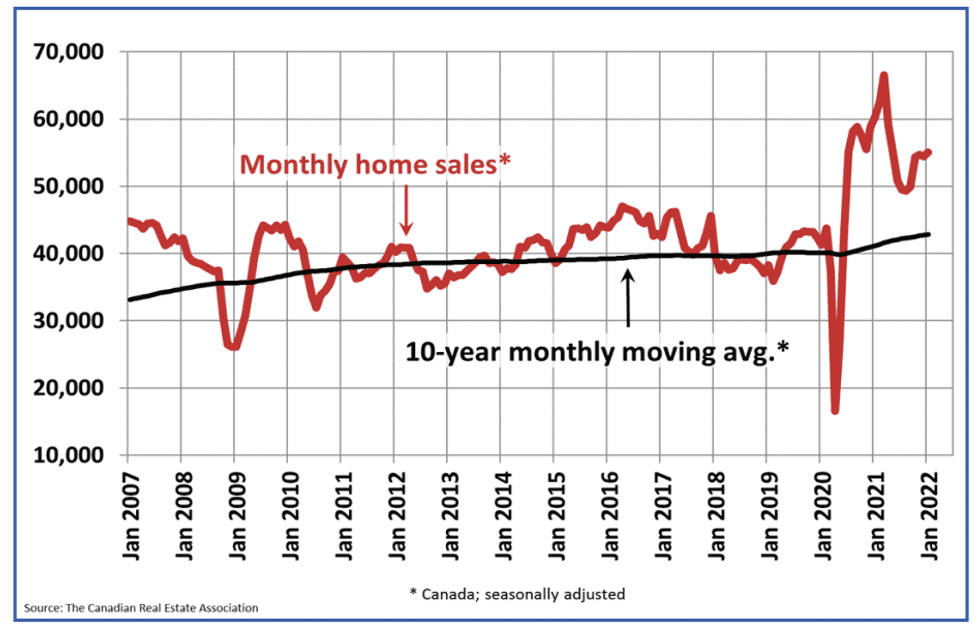 Canadian Real Estate Association
Sales gains were largely split across the nation with cities like Calgary, Greater Vancouver, and Ottawa seeing strong increases, offsetting declines in Winnipeg, Montreal, the Fraser Valley, and Hamilton-Burlington.
New Listings Declines Outpacing That of Sales
As has been the long-term trend, new listings levels declined year over year, overtaking that of sales, at 11%. That's continued to put upward pressure on home prices, with the national average increasing 21% annually to $748,450. Removing the priciest urban centres of Greater Vancouver and Greater Toronto from the equation would strip out $160,000, reducing the average to a somewhat more palatable $588,450.
Read: Toronto's Home Prices Are Now Officially Higher Than Vancouver's
The MLS Home Price Index, which reflects the value of the most typical home sale in the market, hit a new year-over-year record, up 28%, and 2.9% month over month, with the benchmark home price now at $836,300. While price growth remains uneven across the provinces -- the prairie markets continue to see just single-digit increases -- Ontario continues to be a behemoth, reflecting price jumps around 30%. Vancouver remains in line with the national average at 28%, with Greater Montreal up 20%, and increases around 30% in the Maritime markets.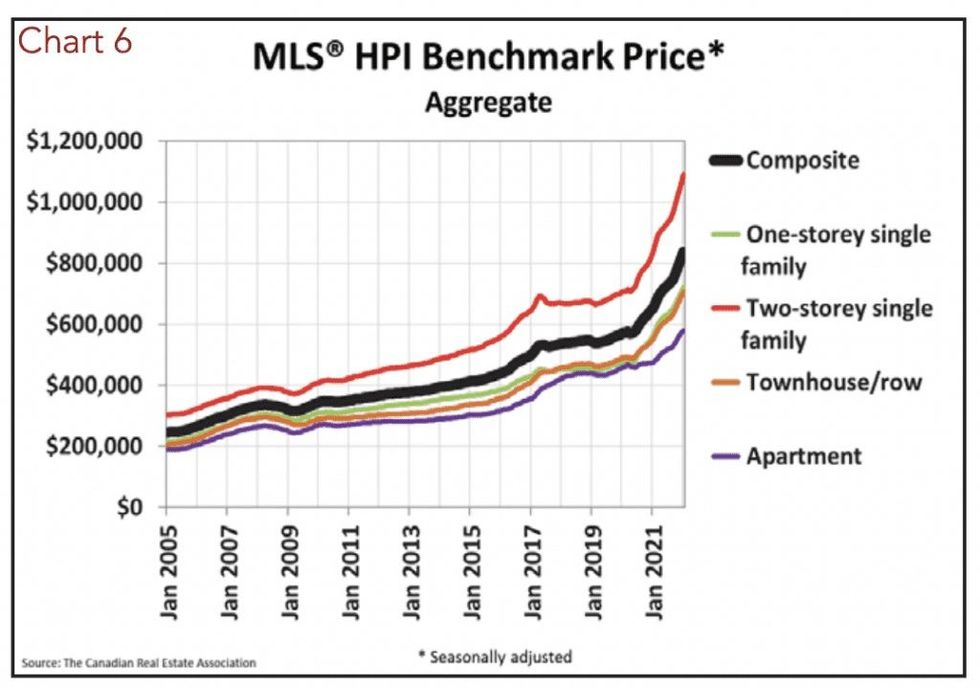 Canadian Real Estate Association
The Second-Toughest Market Conditions in History
In all, Canadian real estate remains in the vice grip of an incredibly tight sellers' market. The sales-to-listings ratio, which reflects the level of competition in the market, rose to 89.4% from an already steep 78.7% in December. This is the second-highest level ever for this measure, coming in second only to the sizzling 90.2% recorded last January.
According to CREA, a ratio between 40 - 60% reflects balanced market conditions, with above and below that threshold indicating sellers' and buyers' markets, respectively.
According to this measure, about 85% of local housing markets are considered to be seller-friendly, with just 15% sitting in balanced territory. In fact, a number of the 26 urban centres tracked by CREA had SNLRs above 100% last month, indicating a depletion in long-term supply levels. This was especially acute in Calgary, as well as secondary markets in Ontario, such as Hamilton-Burlington, and London St. Thomas, as well as in eastern Canada; Saint John had the highest SNLR of all CMAs last month, at a whopping 158.9%.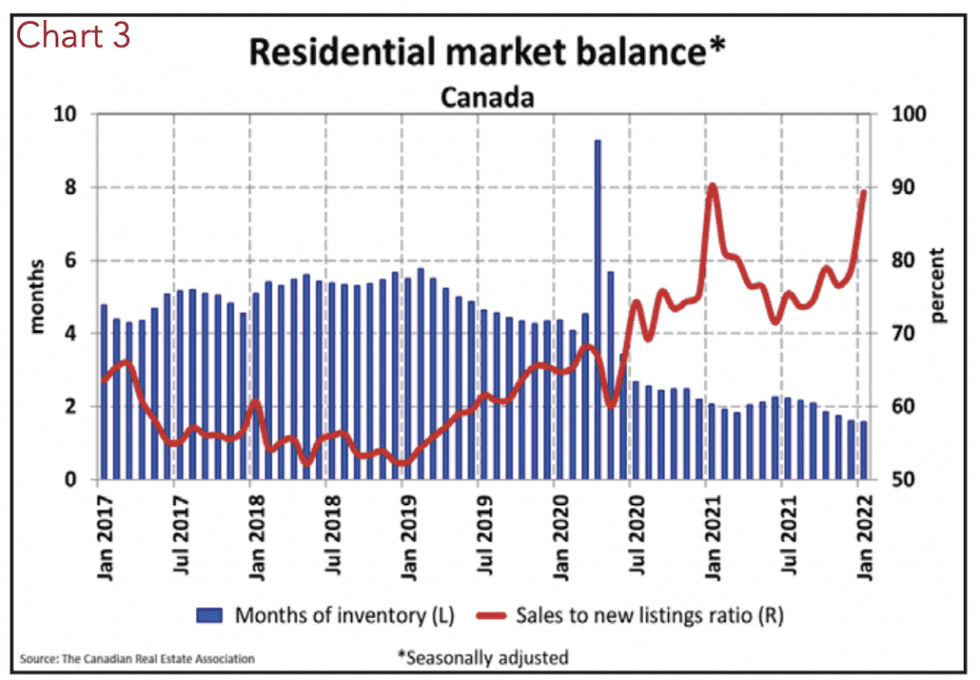 Canadian Real Estate Association
That's all contributed to overall inventory remaining at just 1.6 months in January -- tied with December for the lowest level in history, and well below the long-term average of five months.
Hope for Spring Supply Influx
CREA Chair Cliff Stevenson is optimistic conditions will ease slightly as the spring market brings some badly-needed supply online. However, he notes, it remains to be seen whether fresh listings will be effective in establishing better balance, as buyer demand remains frenetic.
"As expected, January was pretty quiet on the new listings side of things, with this year's first big new supply numbers unlikely to emerge until the weather starts to warm up a bit," he says. "The question is will that supply be overwhelmed by demand as it was last spring, or will we start to see the re-emergence of some of the many would-be sellers who have been hunkered down for the last two years?"
CREA's Senior Economist Shaun Cathcart echoes this sentiment, saying the warmer selling season will truly be defined by "how many properties come up for sale in the months ahead."
"The ideal situation between now and the summer would be that a huge surge of sellers come forward looking to sell in the spring 2022 market," he says. "If that were to occur, similar to 2021, we'd likely see a massive number of sales take place which would get a lot of frustrated buyers into homeownership, and we'd likely see some cooling off on the price growth side if those offers are spread across more listings. Those are all things this market needs."
Real Estate News