While many thought we'd never see the day, it's finally happened.

Toronto is now outpacing Vancouver when it comes to home prices, taking the crown for Canada's most expensive housing market.
---
Toronto's composite MLS HPI benchmark ($1.26 million) edged out Vancouver's ($1.255 million) in January, according to a report by RBC Economist Robert Hogue. Known for its notoriously pricey home costs, Vancouver has held the title of Canada's most expensive market for decades -- and by a wide margin. 

"It's a stunning development though not entirely surprising considering how hot the Toronto-area market has become, especially since the fall," writes Hogue. "Toronto's benchmark price soared over the past five months, including a mind-blowing 4.3% monthly increase -- or nearly $52,000 -- in January alone. Vancouver prices have accelerated as well, just not to the same extent."
Read: Dwindling Supply Slows Vancouver Home Sales in January
Despite a major snowstorm and (yet another) lockdown, the market started the year off strong; Toronto's home sales ticked down just 0.7% from a strong December level. Supply remained exceptionally tight, with active listings ending the month near historical lows, down 44% year over year. Not surprisingly, competition between buyers was as fierce as ever, according to Hogue. Dramatic bidding wars have pushed Toronto's home prices to record-breaking heights both in level ($1.26 million for the composite MLS HPI benchmark) and rate of increase (33.3%).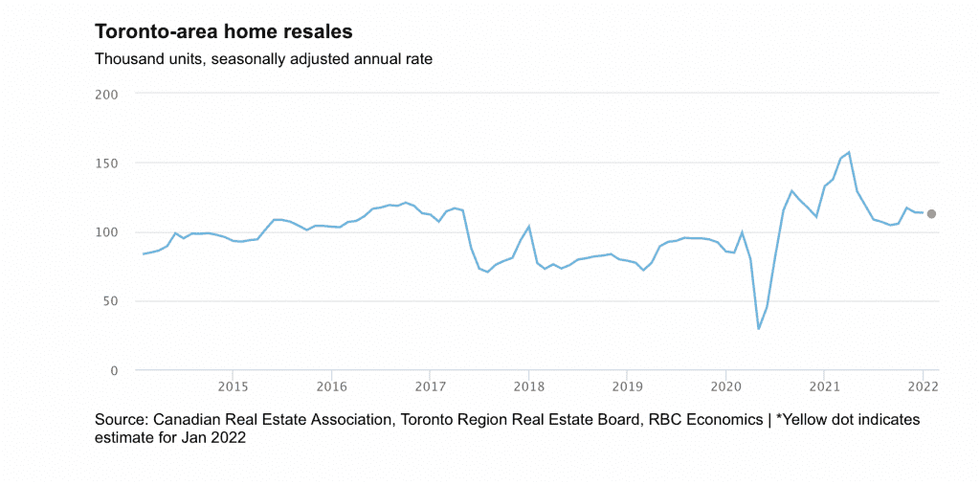 As Hogue highlights, single-family homes are particularly a hot commodity in Toronto, with prices up an "astounding" 36% year over year. Gains exceeded 40% in Durham and Peel regions. Likely a by-product to these sky-high prices that render the prospect of purchasing a house a pipe dream for many young Toronto residents, condos are also having a major moment in Toronto. The city's condo prices are up a dramatic 26% year over year. 
"We see little that will materially alter these trends in the near term though expect that higher interest rates will gradually cool things down later this year," reads the report. 
Vancouver Sales Limited by Record-Low Supply
Meanwhile, Vancouver continued to experience rock bottom inventories in January. According to Hogue, active listings barely increased from a decade-low last month, resulting in slim pickings for homebuyers. 
"Still, we estimate home resales rose 8% m/m (seasonally-adjusted) -- though they were down 4.4% relative to exceptionally strong levels a year ago -- as buyers pounced on what new listings became available," writes Hogue. "Successful bidders had to be more aggressive on offered prices."
This drove up Vancouver's composite MLS HPI benchmark 18.5% year over year to a new high of $1.255 million. Like Toronto, single-family home prices in Vancouver lead the increase, with a 22.7% year-over-year increase. Condos continued to narrow the gap, with a 14% price increase. "We expect tight demand-supply conditions will maintain considerable upward price pressure on all housing types in the near term," writes Hogue.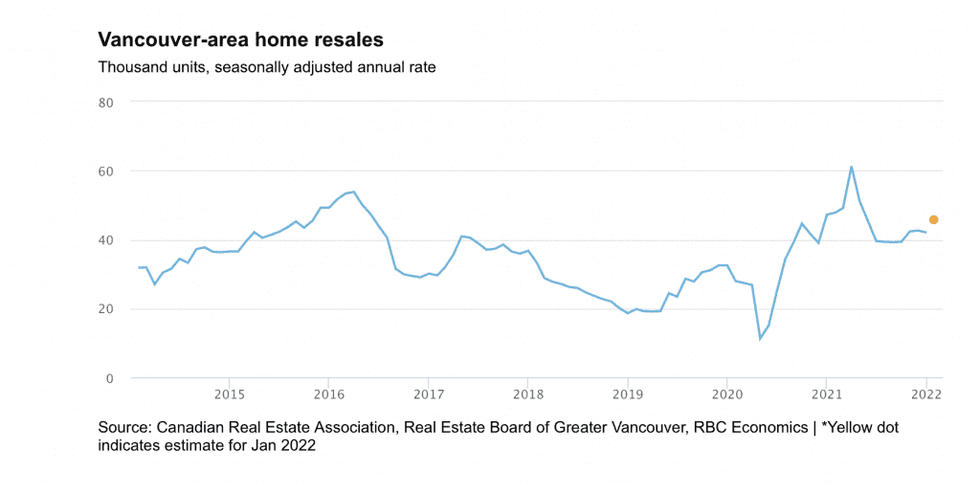 In other parts of Canada, the story isn't too different. As Hogue reports, solid demand and exceptionally low supply kept conditions red-hot in Canada's major markets. He expects activity to remain exceptionally string nationwide in the near term. With the Bank of Canada expected to hike interest rates in the spring, however, we could see the market start to cool down later this year. 
"Accompanied by an expected material increase in housing completions, we believe this will gradually ease the extreme imbalance in the market and in time moderate the pace of price appreciation," writes Hogue.
Vancouver