Toronto is quickly catching up to the infamously expensive Vancouver on the home cost front, as the gap in the average price dramatically narrows. 
---
As highlighted in a report by Rishi Sondhi at TD Economics, home prices for the Greater Toronto Area (GTA) were only 4% below those for the Greater Vancouver Area (GVA) in December -- the smallest price gap since 1991. 
Sondhi points to a few factors at play that have contributed to this narrowing of prices between Toronto and Vancouver in recent years. In a nutshell, the GTA's tighter markets, fewer restrictive markets, and less responsive supply have all contributed to the region's accelerating prices. 
Now, the average price for a GTA home has climbed 17.8% over 2020's record ($929,636) to reach an average sale price of $1,095,475.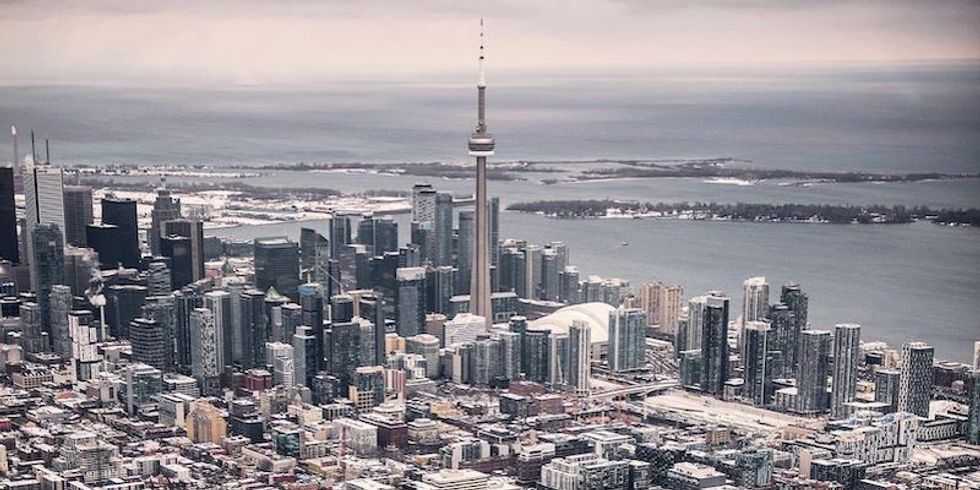 '@iflygta/Instagram
Meanwhile, the conditions in Vancouver set the stage for the narrowing of the price gap between the west coast city and Toronto. As Sondhi highlights, the implementation of a 15% foreign buying tax in the GVA in 2016 coincided with "runaway strength" in the GTA market and led to a temporary price convergence in both markets during 2016/2017.
Vancouver Harder Hit by Housing Policy
Another hit for Vancouver's home prices came in 2018.
"In 2018, GVA home prices were dampened by additional policy measures meant to combat affordability challenges, including raising land transfer and school rates on highly expensive homes, increasing the foreign buying tax rate, and applying it to more parts of the province," reads the TD Economics report.
In contrast, the GTA has been lighter in the restrictions department -- and the market has certainly responded. "Accordingly, prices have increased by 40% since the end of 2018 in the GTA, compared to the more pedestrian 13% gain seen in the GVA," writes Sondhi. 
Sondhi says that Vancouver's policy measures have generally targeted the higher end of the GVA housing market, likely impeding the sale of the city's higher-valued homes. "This, in turn, would have weighed on average home prices, given the shifting composition towards sales of more moderately priced dwellings," explains Sondhi.
Sondhi points to data that shows that sales of homes valued at $2M or above in the GVA declined about 10% in 2019, before recovering to grow strongly in 2020 and 2021.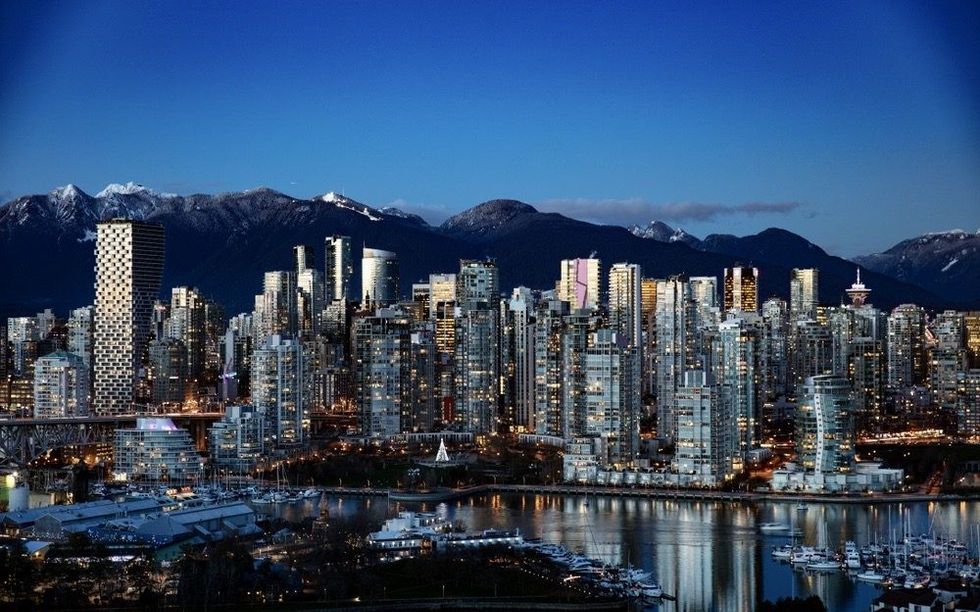 Vancouver Cityscape
Like the Canadian Real Estate Association (CREA) also recently pointed out, Sondhi says that data gaps admittedly prevent a true comparison between the GTA and GVA. Still, Sondhi notes that the sales of GTA homes valued at over $1M have increased by 200% since the end of 2018, while those in the GVA increased at 120%.
"Oversupply" a Factor in the GVA
Sondhi says these policies left housing markets in GVA extremely oversupplied (there's a word you don't hear often in talks of Canada's current real estate climate) relative the demand heading into 2019. "Markets have generally remained comparatively loose in the GVA since then, muting home price growth. This gap has recently narrowed however, as GVA sales have outperformed," reads the report. 
As Sondhi highlights, both markets have benefitted from heightened demand brought on by the pandemic, "but Vancouver has also been boosted by recovery from the restriction-driven slowdown in 2018."
However, supply has also outperformed in the GVA, says Sondhi, with new listings advancing 16%, compared to a 6% increase in the GTA, from 2019 to 2021 -- a figure that translates to 1.7 units listed per home sold in Vancouver versus 1.6 new units sold in Toronto. 

"It remains clear that robust price growth in Toronto has not stimulated a meaningful increase in supply. In fact, potential sellers who would be more active in 'normal' times may be holding back their listings due to a dearth of inventory to relocate to, and intense competition for available properties," reads the report.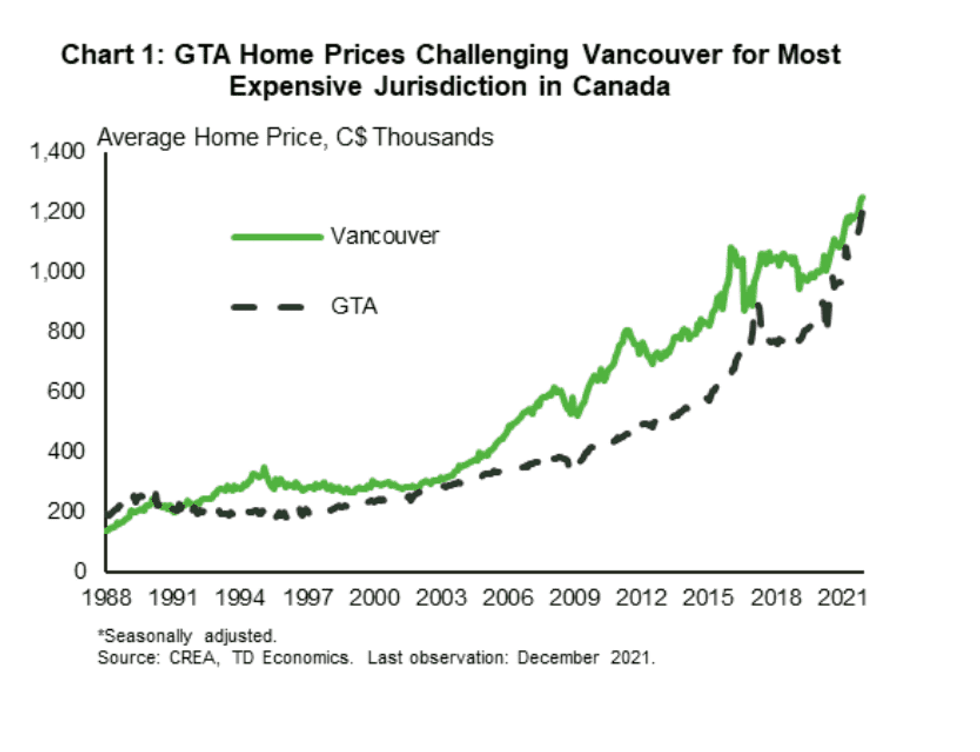 Furthermore, in the new home market, the number of completions in Toronto declined in 2019. In the new home market, the number of completions in Toronto dropped in 2019, and have yet to return to their 2018 level. In the GVA, they increased slightly, on average from 2019 to 2021. This suggests some more supply relief has come in Vancouver, writes Sondhi.
According to the report, shorter-term metrics suggest the potential for further narrowing in the price gap, as home prices were up 30% on a three-month annualized basis in the GTA versus 23% in the GVA. While the narrow price gap will persist, however, it likely won't continue to dramatically narrow in the longer term, says Sondhi.
"After several months of strong sales performance relative to listings, the GVA's markets have become even tighter than the GTA. Meanwhile, affordability pressures will become an increasing constraint this year, likely leading to a slowing in price growth in both regions," reads the report.
Moving forward, Sondhi expects the current narrower wedge between Toronto and Vancouver to persist as home prices likely move in sync. "Both markets will feel the pinch from higher interest rates. On the margin, Vancouver's market is now tighter than Toronto's, and both jurisdictions may not see too much relief from new supply this year. However, investor activity remains a wildcard which could swing the pendulum in the GVA's favour."
Another wildcard, highlights Sondhi, is the possibility that detached housing may be under built to a somewhat larger degree in the city relative to Toronto. "This is too difficult to know for certain. However, detached completions have been falling in Vancouver," reads the report. "And, combining past preferences for detached housing in Toronto and Vancouver with population growth (and its age-distribution) in both regions, suggests that these units may have been more under built (relative to demographically-driven demand) in Vancouver."
This could result in a price hike in Vancouver's average home prices.
Furthermore, says Sondhi, if this narrow gap continues, it could further fuel interprovincial migration from Ontario to BC (may as well get the oceans and mountains included in sky-high real estate costs, right?), strengthening the latter's economy later this year.
Vancouver