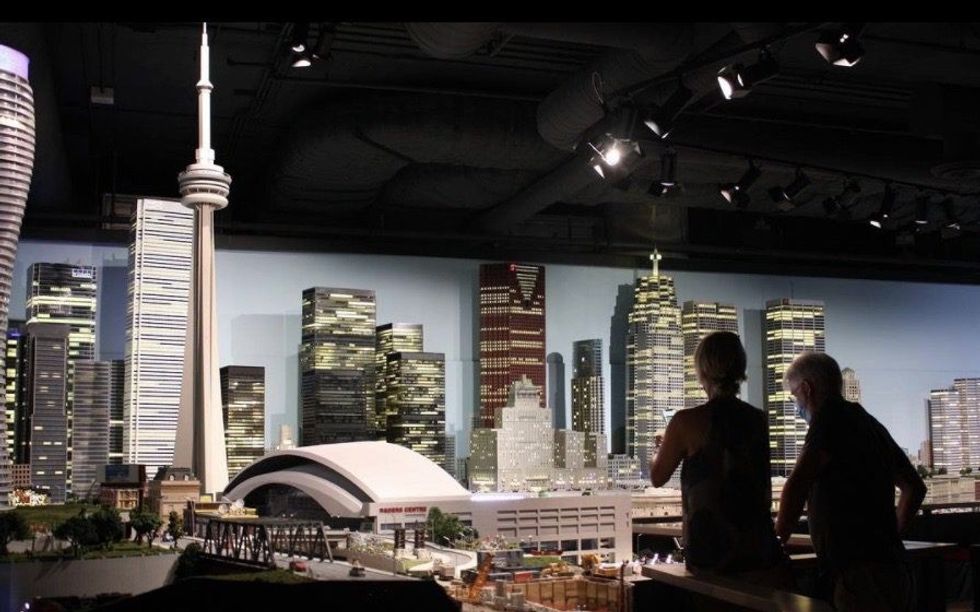 Ready to leave Toronto for Ottawa, Quebec City or Hamilton? Or for any of the other 15 cities that outrank Toronto as Canada's best cities for jobs and affordable homes?
---
That's right. Canada's best cities for jobs and affordable homes, according to a new report compiled by the Bank of Montreal, places Toronto near the bottom of the Canadian barrel.
Perhaps it is an oversimplification of Canada's labour market attractiveness, but there is no denying that Toronto is Canada's most expensive city.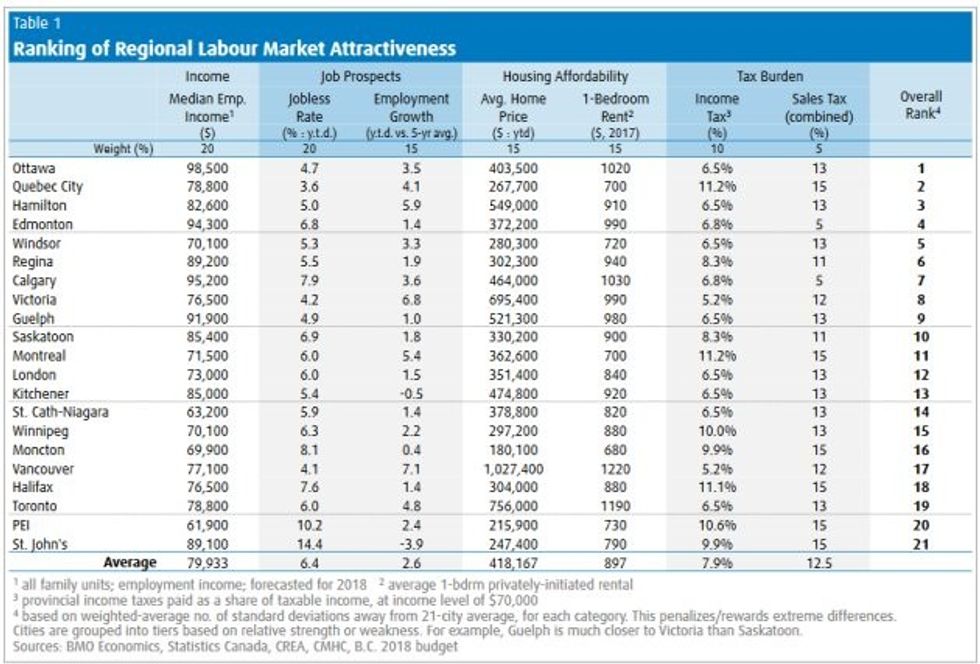 (Image courtesy of BMO)
The Bank of Montreal had its economists rank 20 cities and Prince Edward Island, assessing the strength of their job markets, housing affordability and taxes.
"There are two key reasons to move, to find a job, if you don't have one; or to take a better-paying job, if you do," notes BMO senior economist Robert Kavcic in the report.
The Labour Market Attractiveness report is purely data-driven.
BMO studied factors such as median household income, job growth, house prices and rental rates to determine their rankings.
And things have changed a lot in Canada since 2013.
Five years ago, the list was shaped by the oil price boom and Western Canada's cities ranked highest.
In 2018, its top cities are both government towns: Ottawa and Quebec City. Edmonton, also a government town, came in fourth.
Toronto and Vancouver, Canada's two most expensive cities, placed 19th and 17th respectively. Their housing costs obviously contributing, or perhaps, detracting factors.
Only P.E.I. and St. John's rank lower than Toronto.
Toronto's ranking may also be affected because central cities in metro areas "will often show less favourable median income and jobless rate metrics," says BMO in its analysis.
But Hamilton has been attracting Torontonians in search of affordable housing options, which has helped the Steel Town's economy, boosting it to third place on BMO's list.
Canada's Top 10 Cities For Jobs And Affordable Homes
1. Ottawa
Median Income: $98,500
Housing Affordability - Average Home Price: $403,500
Housing Affordability - 1 Bedroom Rent: $1020
2. Quebec City
Median Income: $78,800
Housing Affordability - Average Home Price: $267,700
Housing Affordability - 1 Bedroom Rent: $700
3. Hamilton
Median Income: $82,600
Housing Affordability - Average Home Price: $549,900
Housing Affordability - 1 Bedroom Rent: $910
4. Edmonton
Median Income: $94,300
H0using Affordability - Average Home Price: $372,200
Housing Affordability - 1 Bedroom Rent: $990
5. Windsor
Median Income: $70,100
Housing Affordability - Average Home Price: $280,300
Housing Affordability - 1 Bedroom Rent: $720
6. Regina
Median Income: $89,200
Housing Affordability - Average Home Price: $302,300
Housing Affordability - 1 Bedroom Rent: $940
7. Calgary
Median Income: $95,200
Housing Affordability - Average Home Price: $464,000
Housing Affordability - 1 Bedroom Rent: $1030
8. Victoria
Median Income: $76,500
Housing Affordability - Average Home Price: $695,400
Housing Affordability - 1 Bedroom Rent: $990
9. Guelph
Median Income: $91,900
Housing Affordability - Average Home Price: $521,300
Housing Affordability - 1 Bedroom Rent: $980
10. Saskatoon
Median Income: $85,000
Housing Affordability - Average Home Price: $330,200
Housing Affordability - 1 Bedroom Rent: $900
19. Toronto
Median Income: $78,800
Housing Affordability - Average Home Price: $756,000
Housing Affordability - 1 Bedroom Rent: $1190
Personal Finance