Ah, December. The days are short, the weather's frigid, and -- especially these days -- there's very little reason to venture beyond your front door.
All that is to say, it's peak bath season.
---
Beyond amping up the hygge-factor in your home's decor, there are few activities more ideal for winter than drawing a hot bath, pouring in some magnesium salts or plopping in a sudsy bubble bar, and settling in for a good, long soak.
Baths are healing for the body and the mind, which is a double-whammy all of us can benefit from as the year from hell "trying" year that has been 2020 (finally) comes to a close.
READ: Toronto Storeys' Real Estate Project of the Year: Reina
To inspire you to make the most of your abode's indoor hot tub -- which is basically what a bathtub is, right? -- we've collected snapshots of the most stunning baths we've seen in real estate this year.
Some of these tubs are in Toronto, others are in cottage country, and a few are even further away from home. But no matter where these porcelain treasures exist in the tangible realm, we can guarantee that they're always living rent-free in our hearts.
(And we're not saying that this story serves as a form of escapism for a writer who doesn't actually have a bathtub in their home... but we're not not saying it, either.)
Take a gander through the images below if you're seeking some at-home spa inspiration for the chilly season that lies ahead:
The Enchanted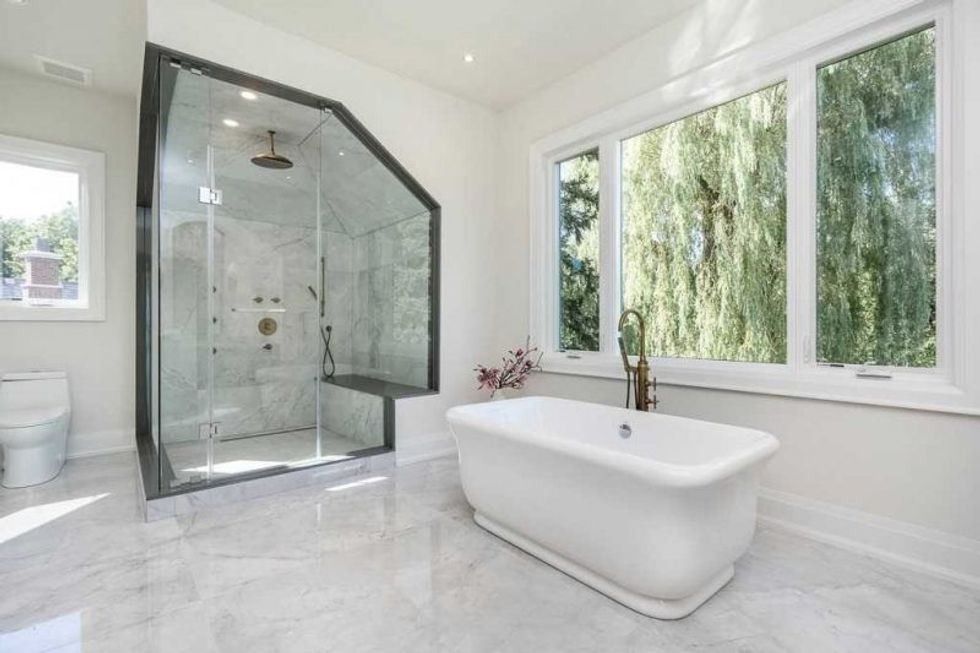 Whimsical, breezy, where a fairy might go to wind down... these are all ways this Toronto tub could be described. With stunning greenery views out the window and full separation from the enclosed shower, the bath rests like a sacred watering hole atop the washroom's glassy floor. This is a tub that would suit some lavender essential oils quite nicely, we think.
Address:3 Masters Road, Toronto
Listing status: For sale
Price: $5,988,000
The Modern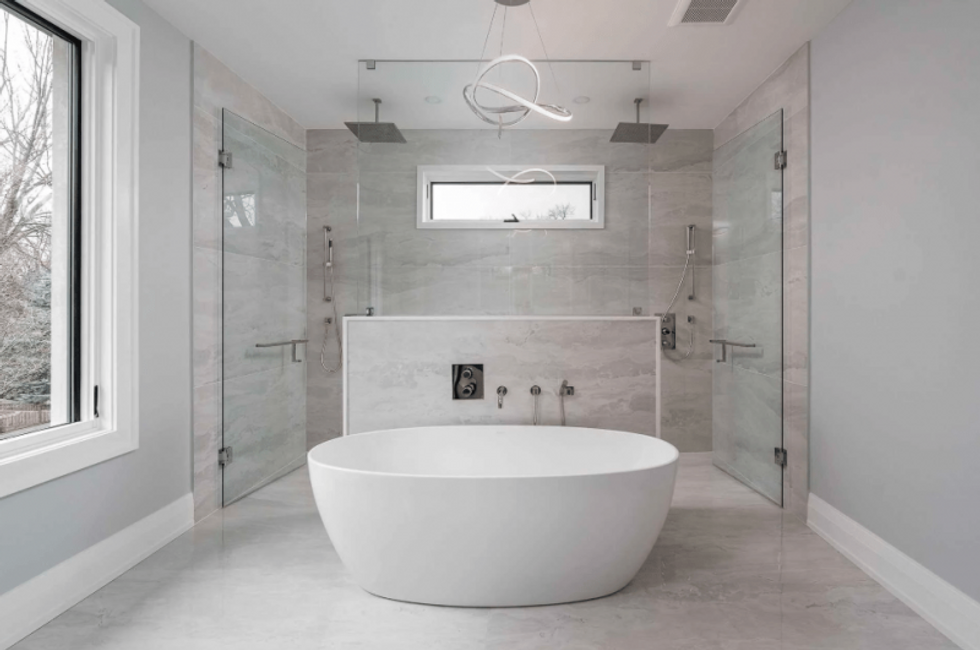 Excuse us while we set down our copy of "Minimalist Weekly" (a (somewhat ironic) magazine we just made up right now) so we can fully take in this modern treat. Seated, meditation-style, outside this home's glassed-in extra-large shower, this tub is as basic as they come, except for where it isn't. The light fixture that hangs above adds the little bit of oomph necessary to take this soaker from simple to simply sophisticated.
Address:6 Wendover Road, Toronto
Listing status: For sale
Price: $4,998,000
The Zen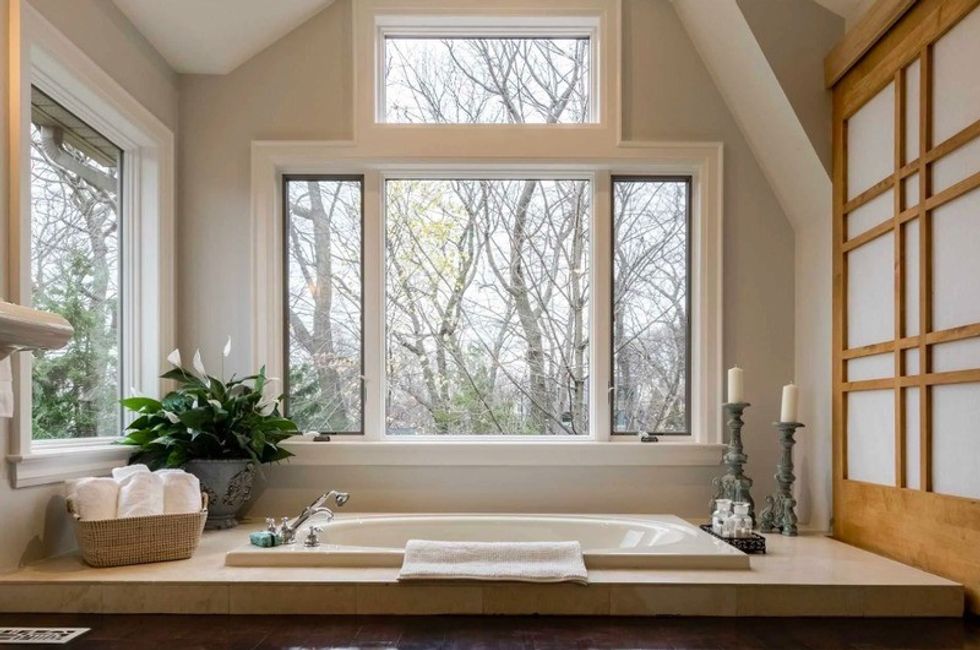 If you, like us, are banking on 2021 feeling like a silent retreat away from the woes 2020 brought about, you should probably buy this house. Because if you do, you'll be able to spend as much of the year as you wish basking in this spa-like bathtub, where we can only assume it's impossible to feel anything but peak relaxation. Look at that window! Look at that wall!
Address:34 Hollywood Crescent, Toronto
Listing status: For sale
Price: $3,799,000
The Stoner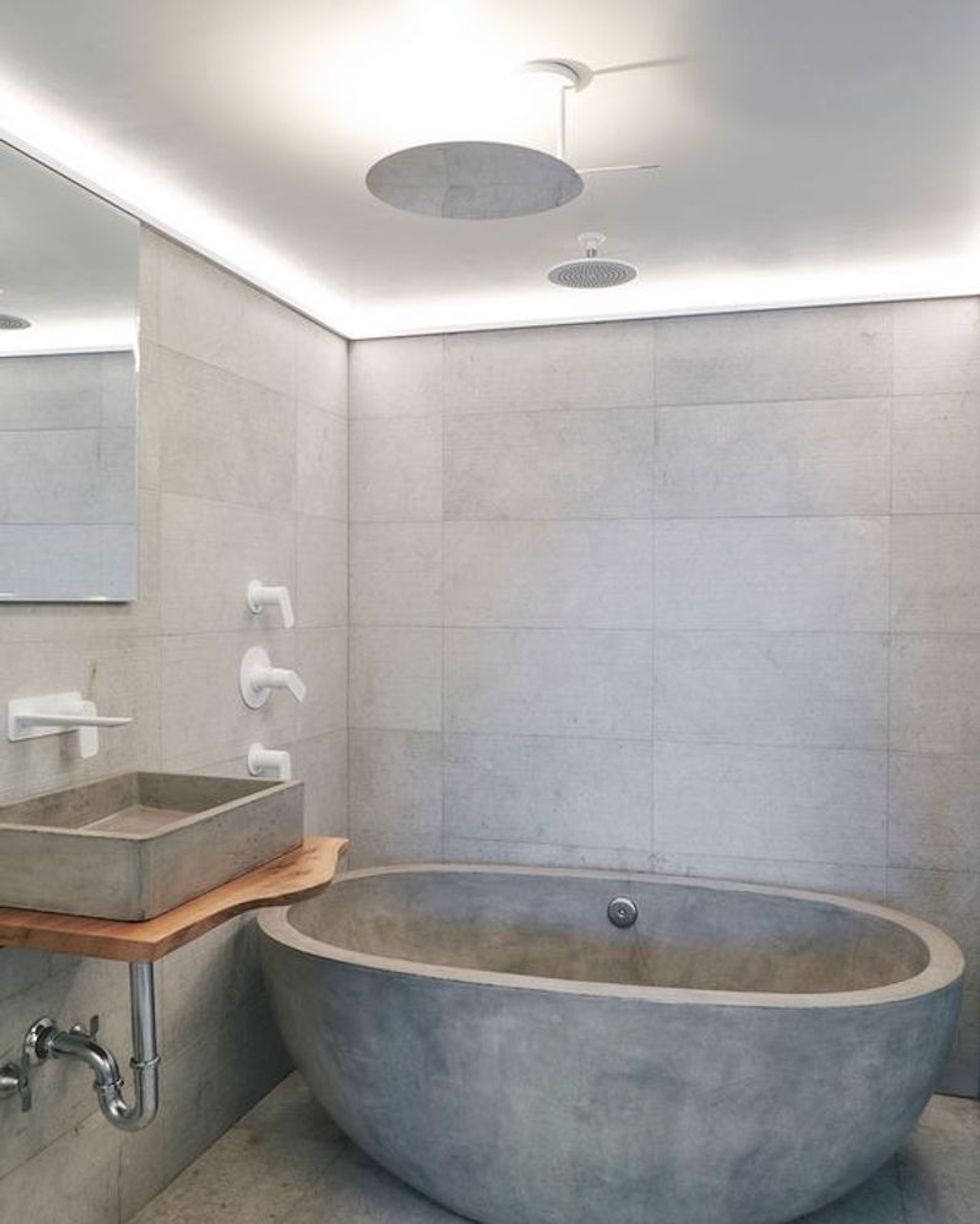 You can have your weed, you can have your tub, and you can even have your weed in the tub... unless this is your soaker of choice. Reason being, this slate-grey dream is in New York. While it's unlikely you'll be lounging in this exact bath any time soon, we did think it important to include this stunner in our list, to inspire those looking to upgrade their water closet with renovations that aren't just cool, but stone cold.
Address:#PH3 - 170 West 76th Street, New York, New York
Listing status: For sale
Price: $2,850,000 USD
The Escapist
Believe it or not, this dream of a spa doesn't rest at the base of Mount Fuji. Instead, it's waiting at The Bear Stand in Haliburton, just a few hours north of Toronto. The modern abode is a rental, which means -- you guessed it -- you can go to there. The experience won't come cheap, as stays start at $1,200 per night. But if you ask us, a few hours in that dreamy bath would be well worth the investment.
Address:Contau Lake, Highlands East, Ontario
Listing status: For rent
Price: From $1,200 per night
The Elaborate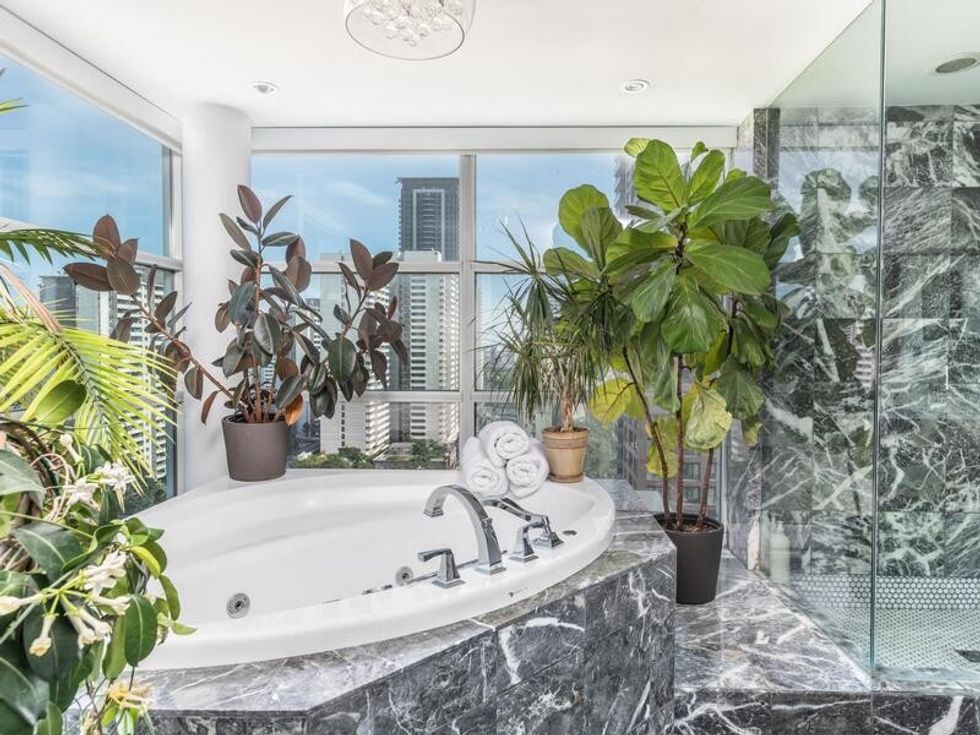 This corner-bath in a Bloor East penthouse is one of the best of its kind. Providing a cozy place from which to take in the city sights below, the tub is a metaphor for urban life: both bustling and calm -- often at the same time -- with either vibe available to you depending on how you'd like to feel. Close the curtains to escape from it all, or keep them open to savour the best of both worlds.
Address:PH-1 - 409 Bloor Street East, Toronto
Listing status: Inactive
Price: $4,100,000
The Spacious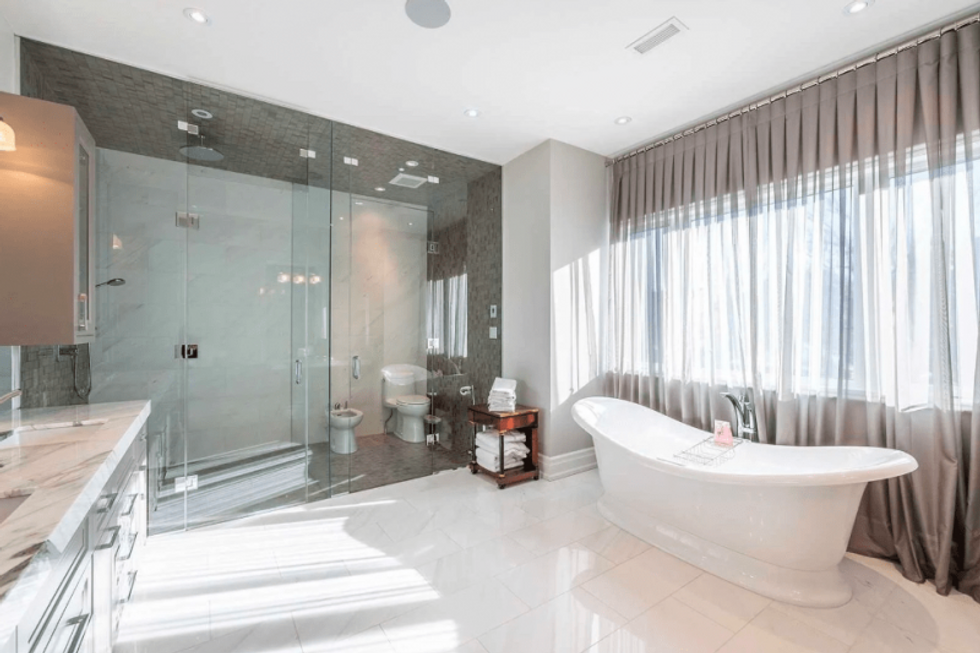 Sometimes you need to take a soak in a room that would be large enough to play host to a pre/post-COVID party. You don't ever want to feel stuffy in the steam, after all! This listing in Midtown is serving a chance to experience open-air bathing, with the tub taking up the length of a long, lavish window, and the shower and toilette situation completely separated from the spa's environment by means of a glass enclosure.
Address:185 Cortleigh Boulevard, Toronto
Listing status: For sale
Price: $5,690,000
The Centrepiece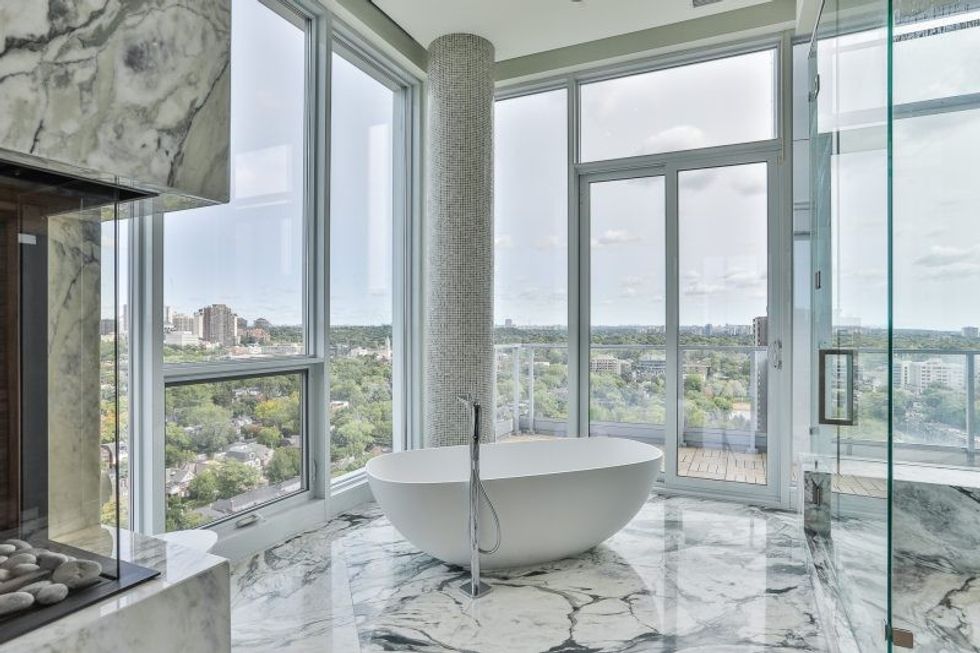 Take the perks of The Elaborate above, add in a pinch of minimalism and a sprinkle of spaciousness, and you have The Centrepiece. Standing as, per its title, the main attraction in this penthouse bathroom, this tub serves Matrix pod-esque vibes while overlooking all of midtown. Sink into this soaker with a book and a bottle of red, and you'll have little reason to move for hours on end.
Address:PH-2 - 170 Avenue Road, Toronto
Listing status: Inactive
Price: $7,500,000
The Cozy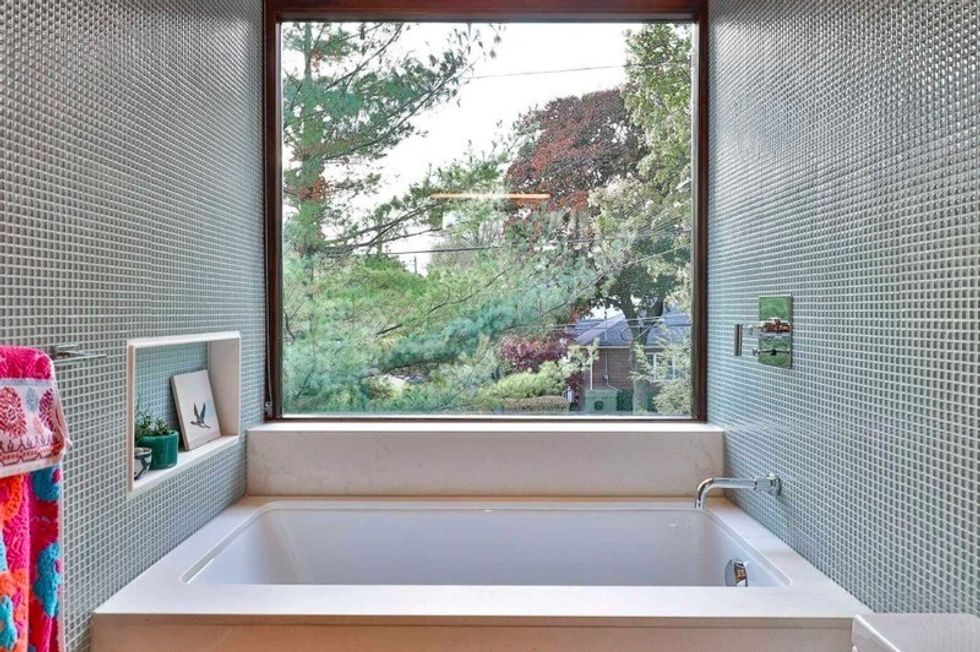 Aw! Hi! Lumley Avenue house, we love you. This tub's light-coloured wood frame maintains a modern vibe, while the tiny tiles that line the walls nod to a playful, vintage, 70s-inspired design scheme. The nook is tied together by the massive window which takes up the whole wall and, we'd imagine, would provide picture-perfect views of the clear night sky on a winter's night. We feel safe here, and because of that -- especially now -- we think we'll stick around for a while.
Address: 11 Lumley Avenue, Toronto
Listing status: For sale
Price: $6,495,000
The Fresh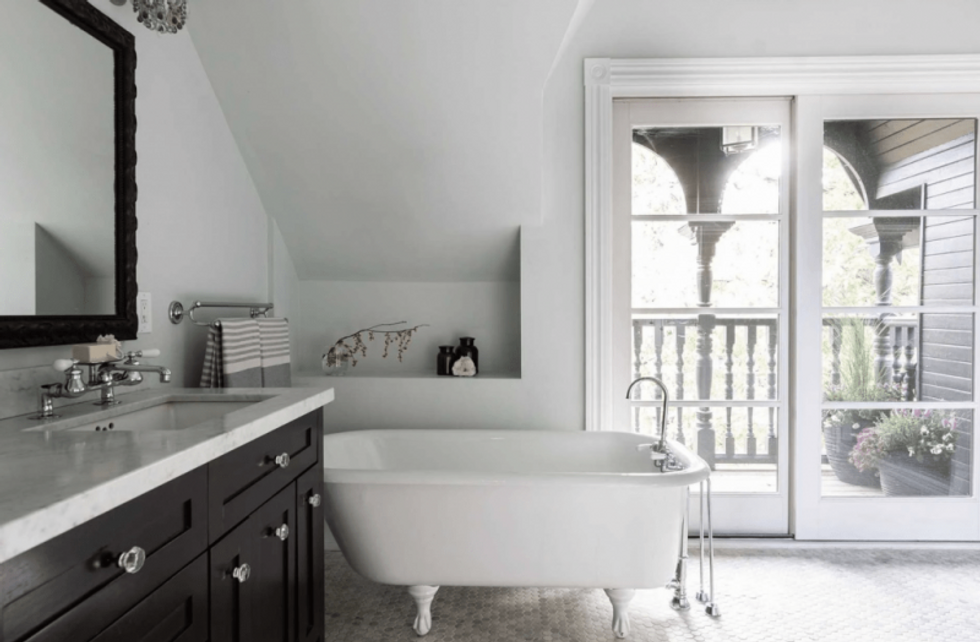 This bathroom is the fresh-linen scented Dr. Bronner's soap we've been waiting to scrub over the entirety of 2020, and its clawfoot tub is the sprig of lavender we're leaving as an offering to the universe for a better 2021. Even the way the light pours through that sliding door looks like hope, and -- overall -- that's what we sense we'd feel after a bath here, too. If the water's hot enough, we may even slide that door open a crack. Ah... refreshing.
Address:557 Euclid Avenue, Toronto
Listing status: Sold
Price: $3,350,000
The Regal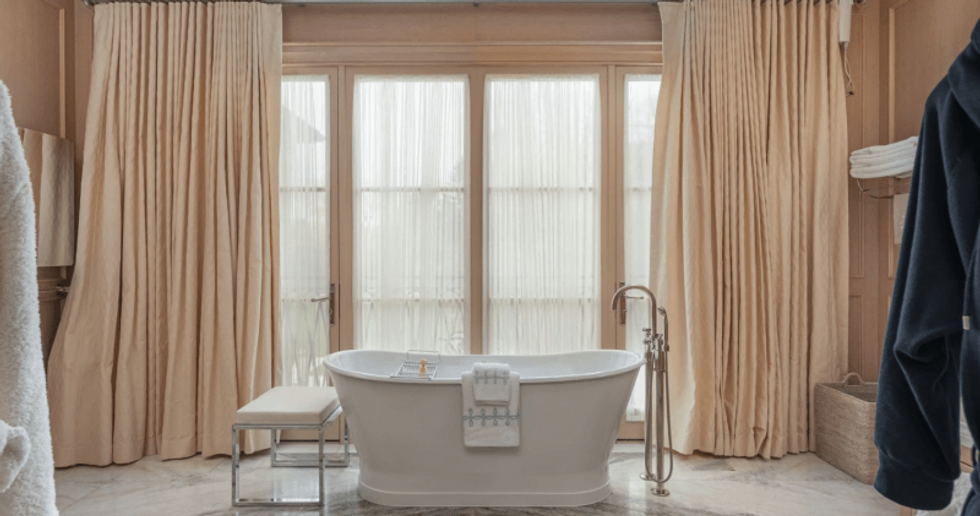 Never has there been a time more appropriate for self-care, and this luxe bathroom in a Bridle Path home looks like the ideal place for such a practice. The curtains, the faucet, and the way the soaker stands in the middle of the room like it's the main character... it all adds up to this tub being the hero you've been waiting for.
Address:93 The Bridle Path, Toronto
Listing status: Sold
Price: $28,800,000
The Floater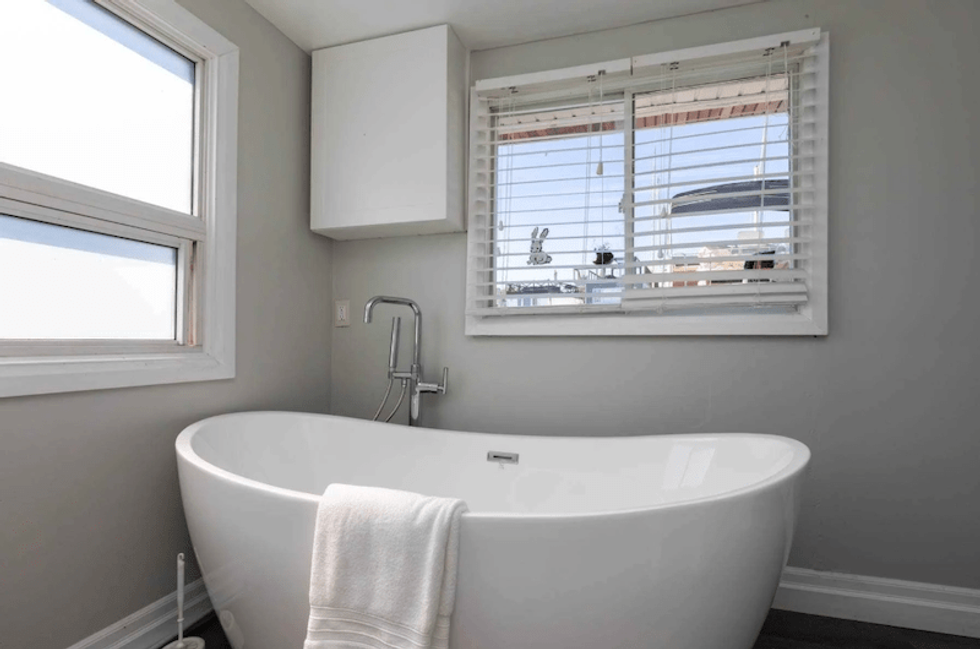 It's not every day one get's the chance to take a bath on a boat. But this winter, one lucky buyer is going to be able to do exactly that, as many times as they wish. Someone snatched up this house boat after it was listed for just over $300k this summer, and as winter descends and cozy spaces become that much more inviting, the appeal of a floating respite -- especially one complete with a bathtub -- only continues to increase.
Address:7 Brimley Road South, Toronto
Listing status: Inactive
Price: $325,000
The Keeper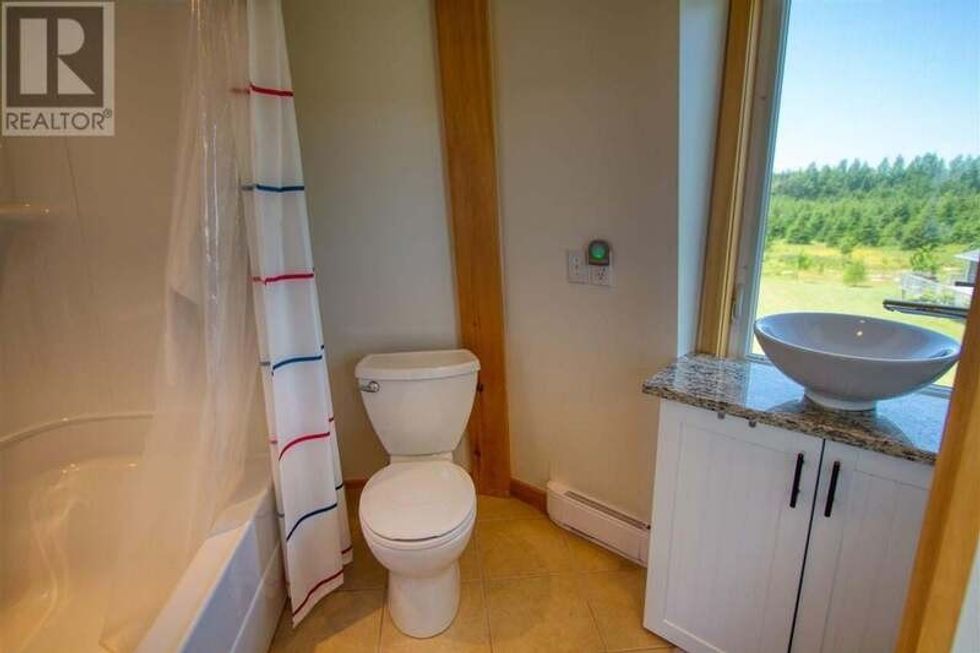 Okay, before you say it: no, this bathtub isn't anything particularly special. But its location? That's a different story. This washroom sits on one of many floors in a lighthouse on Prince Edward Island. The tall and cylindrical dwellings overlooking Rustico Bay feature full floors dedicated to private chambers, dining spaces, or living room-style setups, and the home is fitted with three bathrooms. Winter-lovers keen on natural surroundings and building lots of snowmen would appreciate all this property offers, bathtubs included.
Address:251 New Seabury Drive, Rustico, Prince Edward Island
Listing status: Inactive
Price: $599,900
The Stairway to Heaven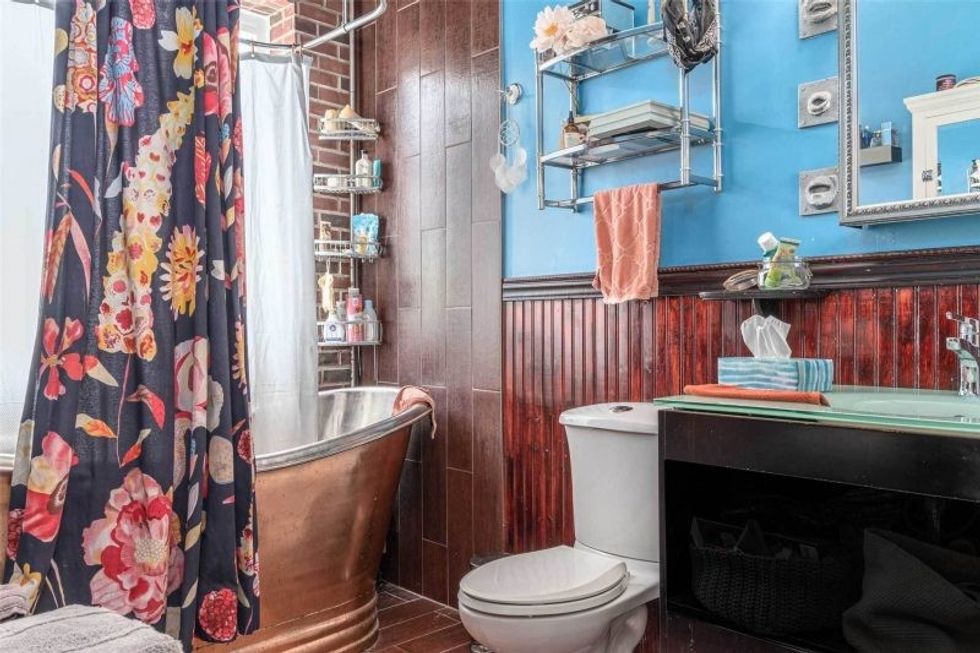 The house that stands at 23 Kintyre Avenue was built in the 1980s as the main clubhouse for the Hells Angels, and the entirety of it is dangerously good looking. Of course, the impressive details carry through to the bathroom, where a bathtub that's akin to a Moscow Mule mug waits to be soaked in. Made up of giant cinder blocks, the home kept the motorcycle gang protected from frigid cold winters, and a lounge in this heavenly tub would only mean another layer of protection from the frost.
Address:23 Kintyre Avenue, Toronto
Listing status: Inactive
Price: $2,189,000
The Classic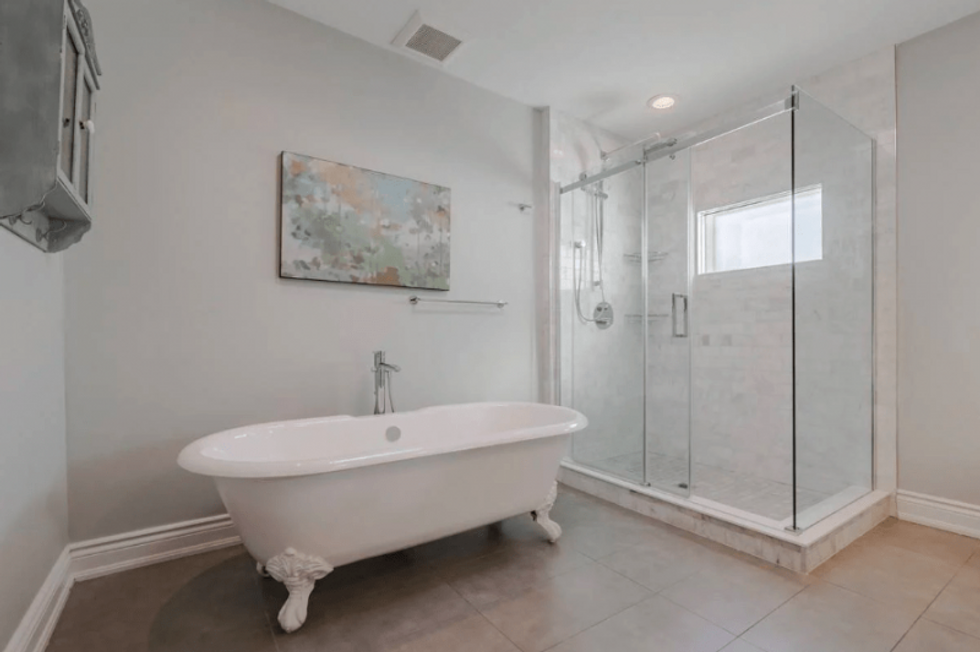 Sometimes, relaxation doesn't mean a whole to-do. Sometimes, relaxation is a candle, a glass of wine, a bottle of bubble bath, and a claw-foot tub. This no-frills bathroom on Christie Street is serving up these (relatively) simple goods, and -- if you ask us -- the setup looks just about perfect. All we might add is a little side table or stool at one end of the soaker. You'll need somewhere to place your glass of red, after all.
Address:556 Christie Street, Toronto
Listingstatus: For sale
Price: $999,000
Urban Living