---
National home sales and price growth continued to come in well below last year's activity levels in August, but there are signs the bleeding is being staunched.
The Canadian Real Estate Association (CREA) reports home sales dipped by -1% between July and August, marking the sixth consecutive month-over-month decline, at a total of 39,914 transactions. 
However, the report notes, that's the smallest drop noted over that time frame. As well, on an annual basis, sales are down -24.7% -- a lesser degree than the YoY -30% drop recorded last month, and an indication homebuyers may be adjusting to today's overall higher interest rate environment.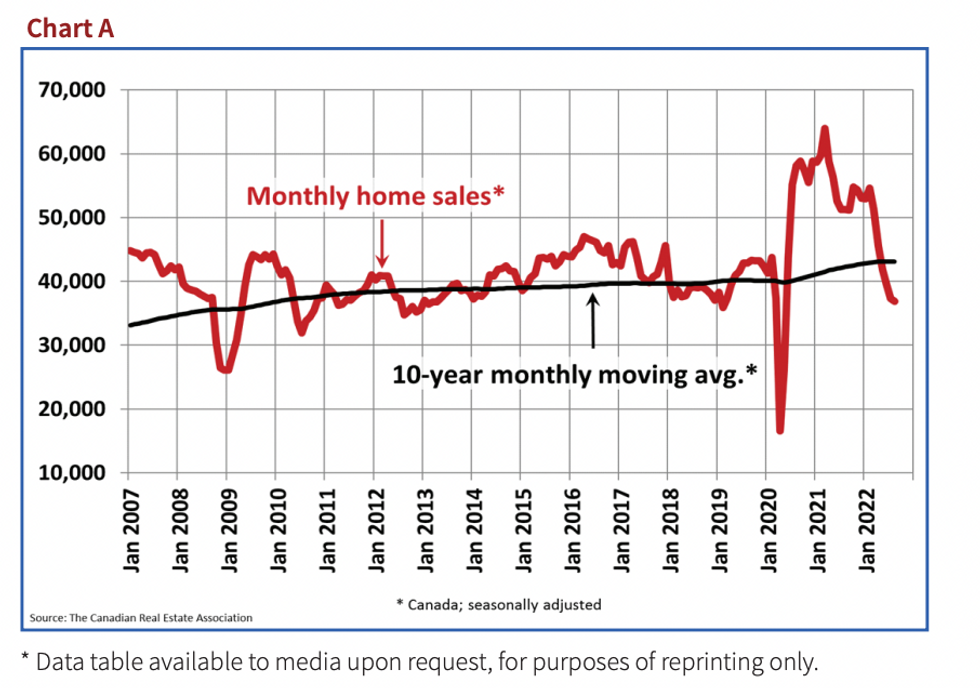 Canadian Real Estate Association
There's also evidence price declines are lessening; while, at $637,673, the average abode still costs -3.9% less than last year, that's posted a modest gain of 1.9% from July. The MLS® Home Price Index (HPI) edged down 1.6% MoM, but was still up 7.1% on a yearly basis.
However, prices remain nearly 22% below the February peak, at a dollar loss of $179,047, with sales down by 26.5%.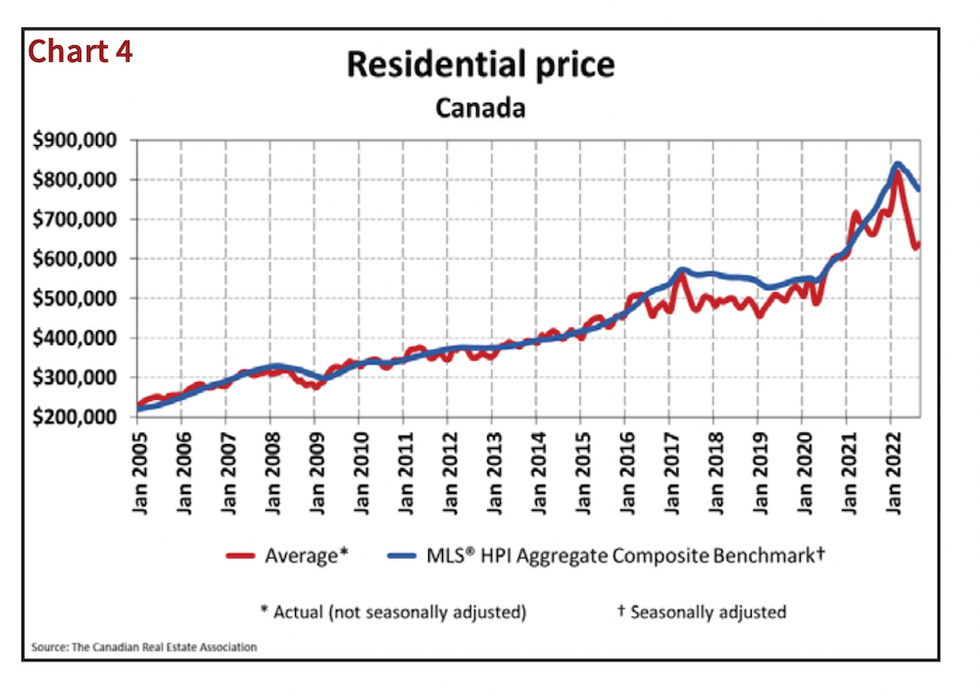 Canadian Real Estate Association
"August saw national sales hold steady month-to-month for the first time since February which, along with a stabilization of demand/supply conditions in many markets, could be an early sign that this year's sharp adjustment in housing markets across Canada may have mostly run its course," said Jill Oudil, Chair of CREA. "That said, some buyers may choose to remain on the sidelines until they see clearer signs of borrowing costs and prices also stabilizing.
READ: Just How Much is Riding on the Fall Real Estate Market?
The main challenge facing market balance, says CREA, is a lack of supply; the number of newly-listed properties dropped -5.4% from July with 67,775. That's made the market slightly more seller-friendly, pushing the sales-to-new-listings ratio to 54.5%, though that remains well within balanced territory and close to the long-term average of 55.1%. According to CREA, the total inventory of homes for sale is slowly recovering, up to 3.5 months; while still below the long-term trend of five months, that's a significant improvement from the record low 1.7 months at the beginning of the year.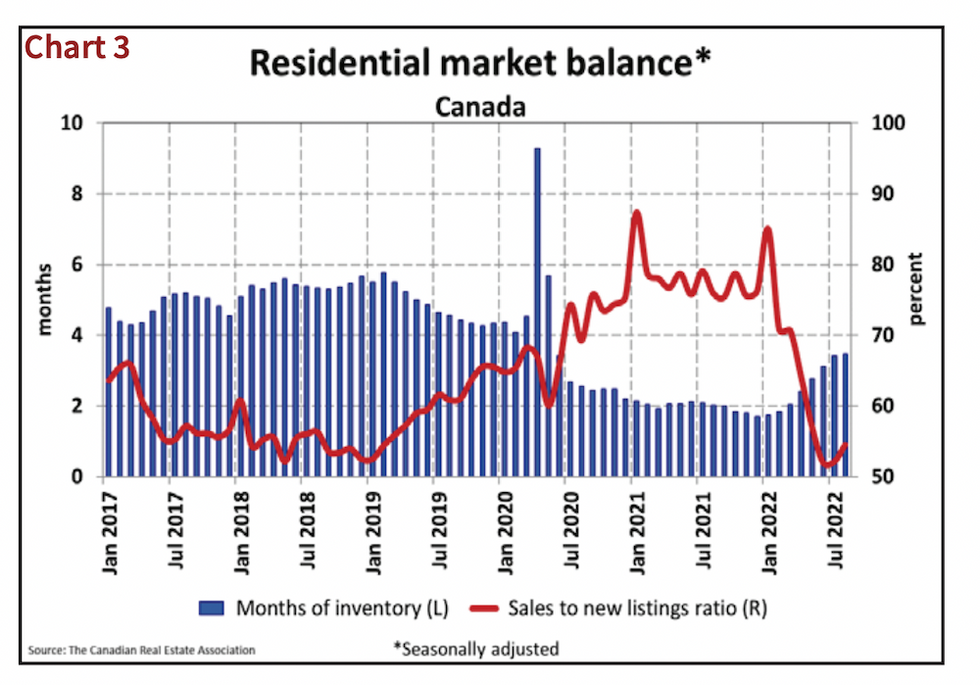 Canadian Real Estate Association
However, this ongoing lack of supply, combined with the impact of rising interest rates, has prompted the national association to update its forecast for the year, calling for a total of 532,545 properties to be sold in 2022 -- a YoY decline of 20%. The downward revision is mostly attributed to softer sales in Ontario, as well as smaller revisions in BC, Alberta, and Quebec, says CREA. The national average home price, meanwhile, will rise 4.7% this year to $720,255, with the largest gains in Quebec and the Maritimes.  
"With interest rates on the rise, home sales have continued to cool. In some parts of the country, home prices have fallen from their peaks reached earlier this year, are flat in some regions, and are still climbing in others. The issue of not enough homes for sale has not gone away," reads CREA's updated forecast.
And, any growth is set to be short lived, with sales expected to decline again by 2.3% in 2023, and prices to remain flat at $722,000 (+0.2%).
Shaun Cathcart, CREA's Senior Economist, says given how the Bank of Canada's hiking cycle has impacted the housing market, it's now time for the federal bank regulator to take another look at the criteria facing today's mortgage applicants.
"The stress test was unpopular with some when it was introduced. But as we have all now watched the Bank of Canada raise its key interest rate by 300 basis points in the space of five months, it's clear many Canadians were protected by it," he stated in a release. 
"But should there not be a flipside to the coin? The overnight rate is now officially above the Bank of Canada's "neutral" range and not expected to go too much higher. This is not about "looser" or "tighter", it is about what is appropriate given where rates are and where they are likely to go moving forward. OSFI is likely thinking hard about what makes sense given the new realities, and how to balance the community of interests they are tasked with securing."
Real Estate News