Real Estate News
Canadian Home Prices Fall 5% in July, Down 23% Total From Market Peak
The Canadian housing market is holding its breath.
That's what the latest national numbers from the Canadian Real Estate Association suggest, as sales and new listings continue to slow by the same degree, indicating both homebuyers and sellers are sticking to the sidelines amid an uncertain interest rate environment.
A total of 37,633 homes traded hands in July, marking a 5.3% decline from June, and down 29.3% from the same time period last year.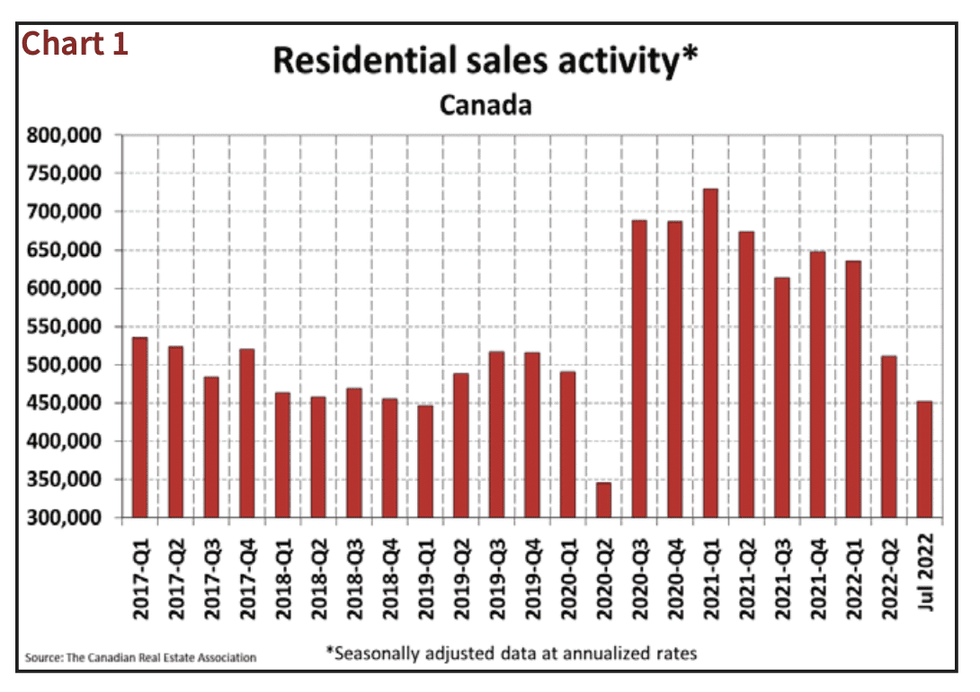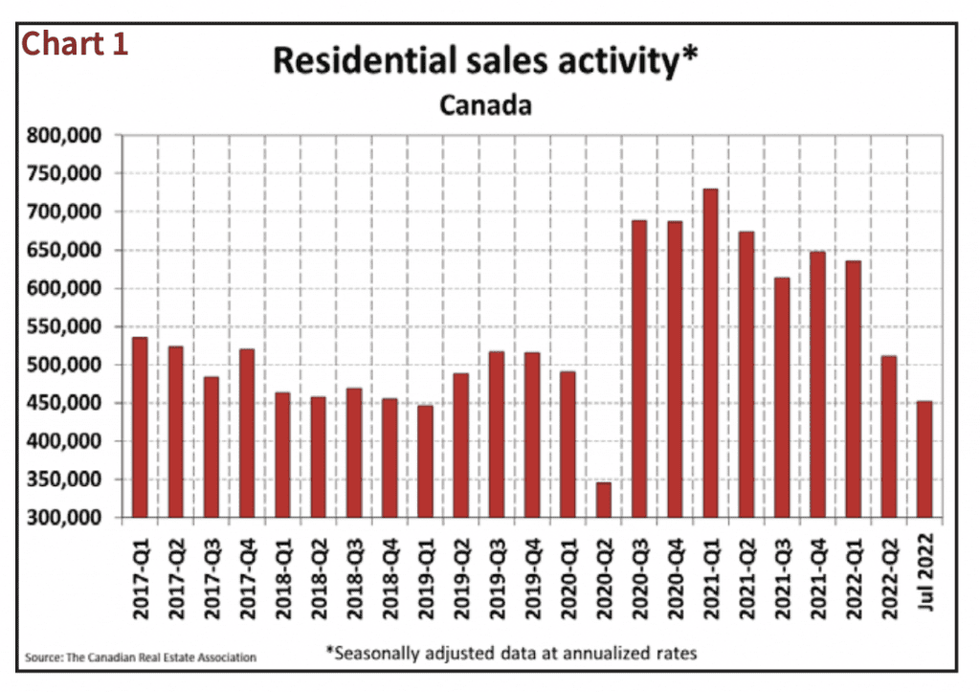 Sales were down in about three-quarters of all local markets, led by the Greater Toronto Area (GTA), Greater Vancouver and the Fraser Valley, Calgary and Edmonton.
READ: GTA Home Prices Flatten in July as Sales Plunge Nearly 50%
Home prices have also continued to soften, falling for the fifth month in a row to an average of $629,971. That's down 3.1% on a non-adjusted basis from the previous month, and a year-over-year decline of 5% — the second consecutive annual drop.
However, CREA points out that the pace of price declines appears to be slowing; this month's decline has been the smallest thus far, and while the MLS Home Price Index also inched down by 1.7% monthly, it was by a smaller margin than the 1.9% decline recorded in June. On an annual basis, the index posted a 10.9% gain.

However, compared to the market's February peak, home prices have fallen by $186,749, or 22.8%.
Ontario is experiencing the steepest price declines, with British Columbia to a lesser extent. Prices remained fairly flat across the Prairies, with small declines in Quebec, and moderate increases in the East Coast markets, with the exception of Halifax-Dartmouth.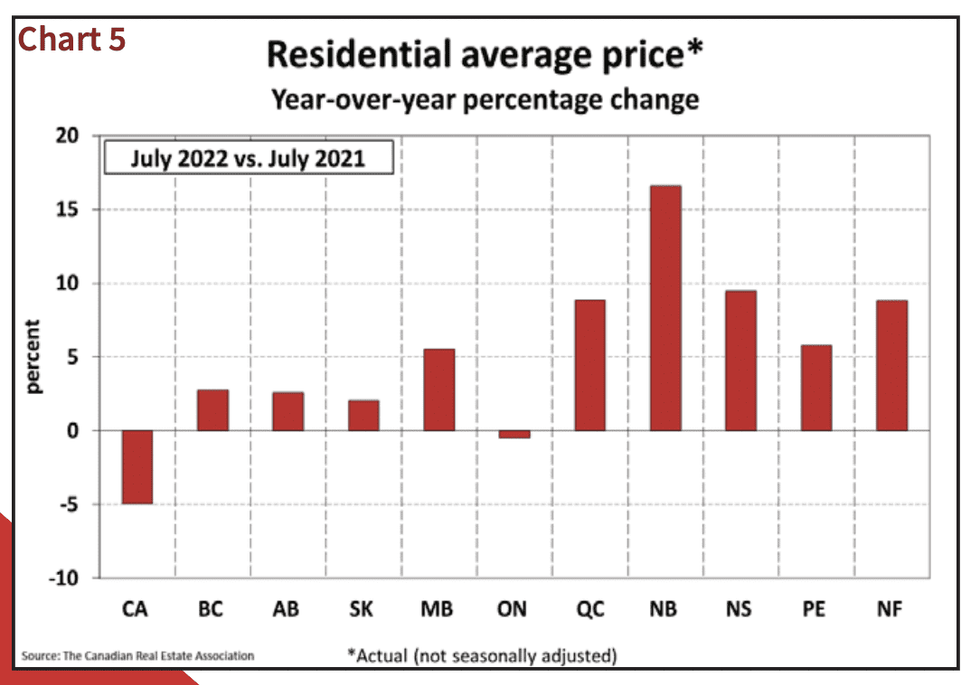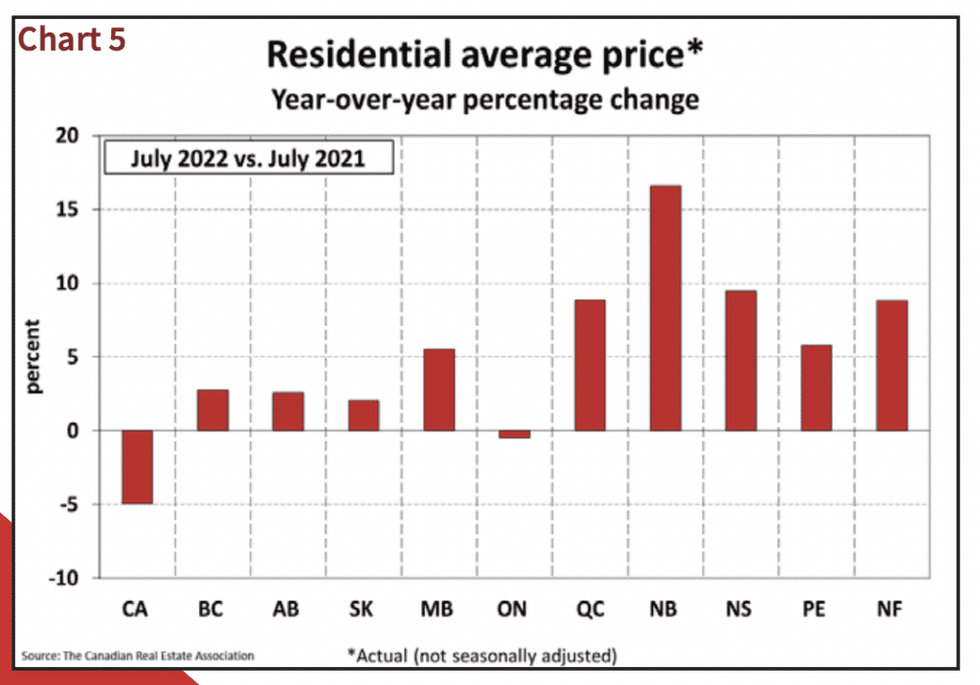 CREA attributes this disparity to the "Simpson's Paradox", which reflects steeper declines in the most expensive markets and disproportionately in the priciest market segments.
"This explains how the national average price is down 5% year over year in July despite average prices being down just 0.4% in Ontario and still up in every other province," states the national association. Removing Toronto and Vancouver from the national average would strip out $104,000.
"July saw a continuation of the trends we've been watching unfold for a few months now; sales winding down and prices easing in some relatively more expensive parts of the country as well as places where prices rose most over the past two years," said Jill Oudil, Chair of CREA.

"That said, the demand that was so strong just a few months ago has not gone away, but some buyers will likely stay on the sidelines until they see what happens with borrowing costs and prices. As they re-enter the market, they'll find a bit more selection, but not as much as might be expected."
Indeed, prospective buyers hoping for more lax market conditions may be disappointed, as the supply of new homes is starting to dry up. A monthly decline in new listings matched that of sales at -5.3%, meaning market conditions remained more or less as competitive as before. Listings were down in three quarters of all local markets, reports CREA.

Overall inventory — the number of months it would take to fully sell off all available home for sale — now sits at 3.4, which is still low from a historical perspective but an improvement from the record low of 1.7 recorded at the beginning of the year.
"One new piece of the puzzle was the decline in new listings in July. It was of the same magnitude as the decline in sales, and in many of the same parts of the country," said Shaun Cathcart, CREA's Senior Economist. "It's only one month of data at this point but it suggests that some sellers are also playing the waiting game, and that is with an overall inventory of homes for sale that is still historically low."
Cathcart also expressed optimism that market conditions could stabilize further as the Bank of Canada is expected to finish up its hiking cycle within the next few months." We've already witnessed a sharp housing market adjustment this year, but it will hopefully be short-lived if conditions continue to show signs of stabilizing," he stated."