Editor's Note: This article has been updated to reflect information received from Westbank after initial publication.
Behind both closed doors and keyboards, rumours have been swirling over the past week that a notable Vancouver developer may be in serious financial trouble. Perhaps it's their history of delivering buildings that appear artful on the outside but have problems on the inside — Vancouver House, Shangri-La Vancouver, among others — combined with social media echo chambers, but one name has repeatedly surfaced: Westbank.
---
Speculation has become so strong that Westbank has now responded publicly, refuting that they are in financial trouble or near insolvency.
"We have been made aware of malicious rumours circulating online surrounding the integrity of our company and success of our developments," said Michael Braun, Westbank's Director of Marketing and Sales, in a statement to STOREYS. "These rumours are inaccurate and hold no merit. We would not typically address unfounded rumours from anonymous sources, however, these rumours have unfortunately been a distraction. We place great value on our reputation and relationships within the community, and will act to protect our name against these libellous remarks."
Braun also points to two of Westbank's projects as evidence of fine standing, saying that they recently completed their high-profile Alberni project by Japanese architect Kengo Kuma in Vancouver and that the Mirvish Village project in Toronto is continuing construction despite "challenging times for the industry as a whole," with the first residential tenants expected to move in in early-2024.
Those are two positive signs, but several other projects across Vancouver, Toronto, and Seattle have been the subject of lien claims.
Toronto
Westbank and long-time partner Peterson Group — as 500 Bloor Street Property Inc. — acquired the site (581 Bloor Street W) for Mirvish Village, also known as the Honest Ed's Redevelopment, in 2013 for the principal amount of $69,250,000, with plans for around 900 rental units across five towers. Construction began in 2020 and Westbank's website says the project is expected to be completed in 2023.
Since May 2023, however, 500 Bloor Street Property Inc. has been the subject of several liens filed by various contractors, including — in chronological order — EllisDon (construction manager), Flat Iron Building Group (planning and construction management), BV Glazing Systems (exterior glazing and cladding), and Global Precast Inc (concrete), with the latest filing occurring in late-October.
All four parties allege in their claims that 500 Bloor Street Property Inc. has failed to pay them for their work, with the total outstanding amount at over $26M.
Responding to an inquiry about the four claims, Braun said that Westbank is "in the process of resolving these claims with each trade and, while negotiations are ongoing, they will be resolved," and notes that lien claims are not the same as lawsuits and are also not uncommon in the industry.
Since the claim by EllisDon, the construction management role has been transferred to the owners' own team, EllisDon says. According to Google Maps images dated September 2023, on-site signage now features Icon West Construction, a company owned by Westbank.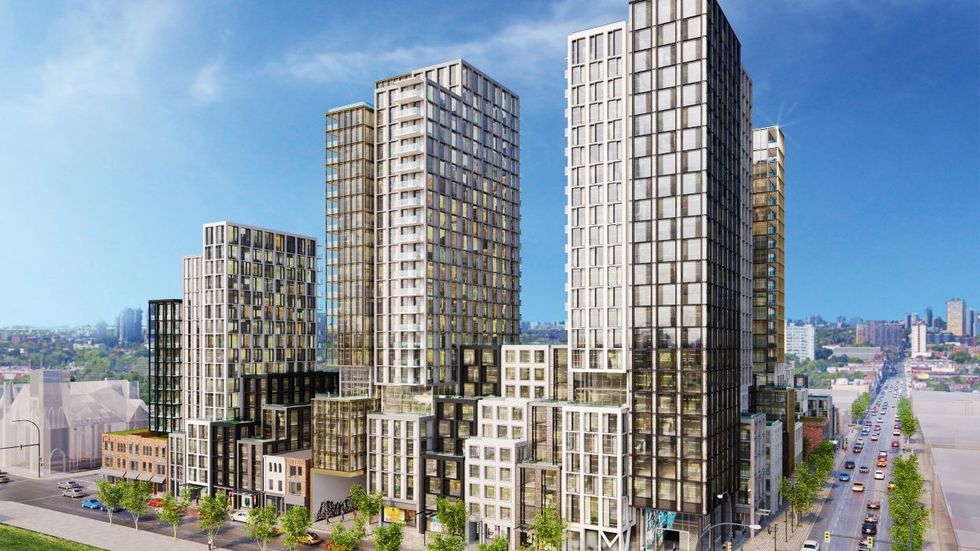 Mirvish Village.(Peterson Group / Westbank)
Similar events have transpired for another Westbank project in Toronto: the 57-storey high-rise set for 19 Duncan Street, which is a joint venture between Westbank and Allied Properties REIT. According to Westbank's website, the project completion date had been set as 2022, but construction appears to still be ongoing, according to Google Map images dated September 2023.

EllisDon again served as the construction manager for this project, beginning in 2018, but filed a lien claim for $4,428,312 on June 2 — one day after filing its claim on the Mirvish Village project — against 19 Duncan Property Inc. (DPI) and the related entities on the project.
According to EllisDon's statement of claim, "DPI issued changes, including those related to additional material, rental equipment, and labour, all of which were performed by EllisDon," but DPI made the decision in November 2022 that it would complete the project as its own construction manager, and EllisDon obliged. EllisDon's claim then came after DPI failed to make the full payment to EllisDon, but the claim has since been discontinued as of late-June.
Google Maps images dated September 2023 again show Icon West Construction signage.
Elsewhere around Ontario, Westbank is also working on the King Toronto project, again with Allied Properties REIT, but no other liens are registered on the land title besides a lien for $37,157 by Architectural Cladding Manufacturers on October 25. Earlier this year, Westbank was also chosen by the University of Toronto to develop The Gateway, an addition to its St. George campus.
Seattle
In Seattle, Westbank currently has three notable projects underway: WB1200, Museum House, and First Light.
Westbank acquired the site for WB1200 — 1200 Stewart Street — in 2015 and has planned two 47-storey residential towers with around 1,000 units for the site, which will notably feature a full-size Boeing 747. According to Westbank's website, completion is set for 2024, but locals have reported that construction appeared to have halted for some time earlier this year.
According to Levelset, a construction and contractor payment management platform, 1200 Stewart Street has a lien history that total to 38 liens and a value of $180,305,661 between June 2018 and October 2023. There is no indication that the liens are active and a representative of Westbank says there are currently no open liens on the WB1200 project.
A party who filed one of the largest liens was Graham, the general contractor on the project who are themselves subject to some liens from subcontractors. According to local media, Westbank took Graham to court earlier this year over the amount. The two sides later released a joint statement in June saying their negotiations over the liens had been "amicably resolved," that Graham had removed its lien, and that the project had entered the final stage of construction.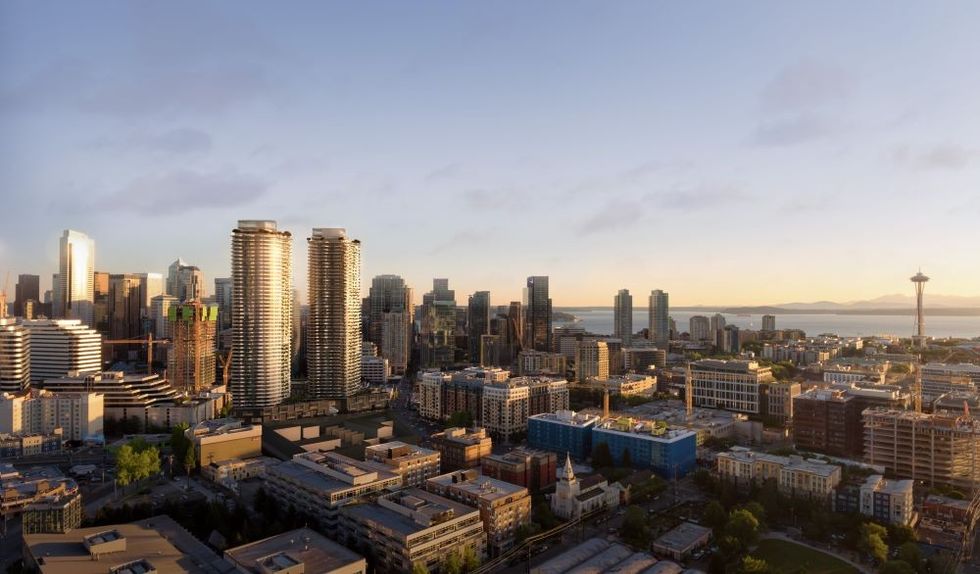 WB1200.(Westbank)
For the Museum House project, located at 707 Terry Avenue, Westbank — in partnership with OPTrust, which administers the Ontario Public Service Employees Union pension plan — is planning twin 33-storey towers that are expected to be completed this year, according to Westbank's website.

Data from Levelset shows that 707 Terry Avenue has a history of 45 liens filed between September 2018 and July 2023, for a total value of $67,530,639. The general contractor on the project is once against Graham, whose website says their work completed in July 2022.
Court records show that both the WB1200 and Museum House projects — legally owned under Project Stewart LLC and Project Terry LLC — are also each the subject of various legal actions by a handful of subcontractors. One such subcontractor is Ferguson Enterprises LLC, a distributor of plumbing-related products, who filed a claim on both projects on July 24, 2023. According to both complaints, which were obtained by STOREYS, Westbank defaulted on payments to Ferguson and owes $2,427,029 and $198,196, respectively, on the projects. A trial date of July 22, 2024 has been set for both cases, as well as for the cases involving other subcontractors.
Westbank is unable to comment on cases before the court.
Westbank's third project in Seattle, a 48-storey tower called First Light, is also scheduled to be completed in 2023, according to Westbank's website. First Light, with Build Group as the general contractor, topped off in mid-October, LevelSet data shows that there are no liens attached to the site — 2000 3rd Avenue at the intersection with Virginia Street — and there are no court filings by contractors against the legal owner, Virginia Street Joint Venture.
Vancouver
Closer to home, Westbank has another group of projects all scheduled to complete this year or next year, but there are fewer noticeable issues.
The project that has received the most attention lately is the Alberni project on 1550 Alberni Street, Westbank's 43-storey tower designed by Japanese architect Kengo Kuma that's another partnership with Peterson Group. Westbank's website says Alberni is slated to be completed this year, and Braun confirmed that Alberni did in fact complete recently. Several lien claims were made, according to court filings, but have since all been removed from the land title, including one filed by the project's general contractor, Graham, whose website indicates their contract ended in May 2023.
However, real estate watchers have speculated that units in the Alberni building are now valued at prices that are much lower than what they pre-sold for years ago. For buyers, this can result in having to find the money to cover that gap, which can be more difficult than usual now, given economic conditions. For developers, if buyers are unable to close, then developers will see a shortfall with income.
I'm Vancouver, Westbank's three big towers, Vancouver House, Butterfly, and Kengo all presold at higher $/sf than worth at completion. Will be interesting to see how Butterfly and Kengo completions go…
— Cameron Davis (@camdavis) October 30, 2023
According to listings for units in the building as of this week, four different two-bedroom units are currently listed for between $2.4M and $4M. However, according to reports in 2017, starting prices for two-bedroom units ranged from $2M to $4.5M depending on size of the unit, so it's unclear if this concern will truly come to fruition.
Upon inquiry, Westbank's Michael Braun said the company has closed on 122 of the 188 units as of this week.
"We expect to receive the occupancy permit for the final tranche of homes soon and we look forward to welcoming the remaining homeowners to the building over the coming weeks," he added.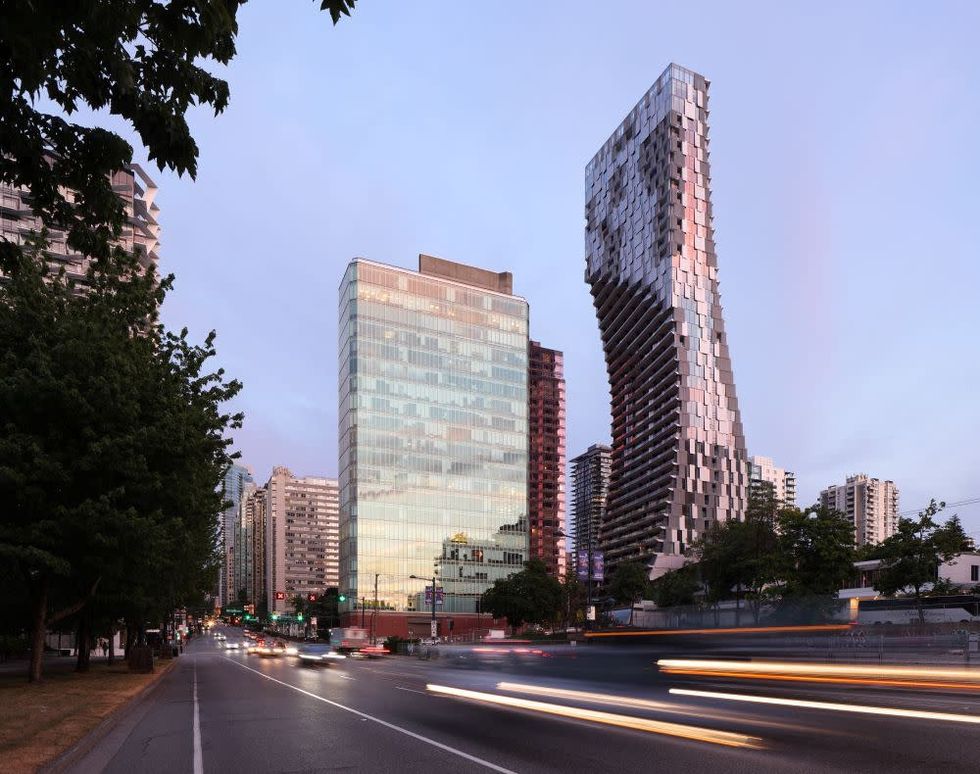 1550 Alberni.(Peterson Group / Westbank)
For The Butterfly, the 57-storey tower designed by Revery Architecture, the story is similar, with completion now likely delayed until early-2024. Again a handful of lien claims were made in the past few months, but all have subsequently been removed, and construction is currently ongoing.
A third project is Broadway & Alma, located at 3701 W Broadway, which is slated for completion in 2024. While locals had reported that construction seemingly paused earlier this year, Westbank has confirmed this pause was due to a permit issue that has since been resolved and construction on the site has now resumed.
Land title records show that a lien claim was made in March, but was cancelled in September. Two new mortgages were also registered on the land in May, with the Royal Bank of Canada.
Locals are reporting that work has absolutely stopped, it seems, at this Westbank / Gillespie rental tower site at Alma and Broadway. About 6 months. What's the story? #vanpoli pic.twitter.com/6aLNRZFe6z
— CityHallWatch (@CityHallWchVAN) August 1, 2023
The most notable project Westbank is currently working on is the Oakridge Centre Redevelopment, also known as Oakridge Park, which is a partnership with QuadReal Property Group and is not expected to be completed for several more years. Construction remains ongoing and land title records show that two lien claims were made in March and April, but were both cancelled within a month.
Liens
Satinder Sidhu, a Partner at Vancouver-based Clark Wilson LLP who specializes in construction and insurance law, says liens are less common when economic conditions are good and the market is hot, tending instead to appear more often when times are tough, as they are now. Sidhu confirms she has indeed seen more instances of liens lately.
The existence of lien claims is not itself evidence that a company is insolvent, but Sidhu says bankruptcies are often preceded by a "surge" of lien claims by those across the construction contract chain.
Developers and property owners often take liens seriously and will seek to have them removed from the land title quickly, because liens on title can result in construction financing not being advanced, says Sidhu.
One common way to have liens removed from the title is through a security agreement.
In the case of one of the lien claims made by Flynn Canada, a roofing and glazing contractor, for the Alberni project, Westbank filed a petition to the court in July seeking to remove the lien, saying that the removal is "urgently required" because they are "obliged under the terms of the construction loan facility with the project lender to clear all financial charges from the title that may affect their priority under the mortgages or other financial charges," and proposed a security agreement, as allowed under Section 24 of British Columbia's Builders Lien Act.
A second way of having a lien removed from title, defined under Section 23, is by making a payment into court, which clears the lien from the title and re-attaches it to the money instead. The lien can then be handled separately and can also be negotiated if needed — similar to what has been seen with the Mirvish Village and WB1200 projects. In the meantime, the encumbrance on the title is removed and construction can continue.
In other words, a lien being removed from title is not always equivalent to it being resolved.
When things get particularly dire and a developer may be nearing insolvency, lien claims are often followed by claims made by lenders in the same position, with the various parties oftentimes fighting over debt priorities, which could eventually lead to companies filing for creditor protection, or being placed under receivership, or worse.
For Westbank, there has been no public evidence that things have gotten to this stage. Such a day could also be less likely to happen — at least publicly — considering Westbank's deep ties with Peterson Group and Allied Properties REIT, who are partners on several of the aforementioned projects, among others, and therefore have a significant interest in avoiding such scenarios.
What the collection of liens across all these projects seems most likely to indicate is that cash flow may have been tight for Westbank in Q2 and Q3, as a majority of the liens were filed between June and August.
One thing is for sure: with so many of Westbank's projects coming to completion, and more and more contracts likely set to end, many in the industry – and beyond – will undoubtedly be watching closely.
Future Developments