---
This week, Bosa Properties, one of Metro Vancouver's leading real estate developers, unveiled IPB Properties, the new subsidiary they will be operating under in the United States, after previously operating under the Bosa name in the US as well.
IPB Properties is based in Seattle, with their offices located at 116 Fairview Avenue North, a short walk away from REN, a 41-storey rental building with 457 units located on 2014 Fairview Avenue that the company completed in 2022.
IPB Properties also has an upcoming project in Nashville, Tennessee on 1401 Church Street, which was proposed in October 2022 under CCB Nashville Developments 1 Limited Partnership and will consist of a seven storey, 30 storey, 35 storey, and 45 storey building.
REN is the first project Bosa Properties / IPB Properties completed in the United States. Bosa's entry into the American market with that project also resulted in a lawsuit filed by Bosa Development, the developers of the Bosa Waterfront Centre office building on 320 Granville Street in Downtown Vancouver.
Bosa Development -- which is also based in Metro Vancouver and operates in Alberta, Washington State, Oregon, and California -- was founded by Natale "Nat" Bosa, whose brother, Robert Bosa, founded Bosa Properties. Bosa Development is now headed by Nat's son, Ryan, while Bosa Properties is now helmed by Robert's son, Colin. Other than the familial lineage, the companies are independent of each other.
In April 2022, Bosa Development filed an intellectual property lawsuit in Western Washington District Court against Bosa Properties over the trademarks of the two companies, which Bosa Development believed to be trademark infringement and trademark counterfeiting, among other legal complaints.
Bosa Development was concerned about market confusion, and contractors reportedly contacted Bosa Development thinking it was Bosa Properties. (Confusion occurs in Vancouver as well.) In the lawsuit, Bosa Development requested an injunction prohibiting Bosa Properties from using any mark similar to that of Bosa Development.
BlueSky by Bosa Properties, another division of Bosa Properties sometimes referred to as BlueSky Properties, was pointed to in the lawsuit as an example of the similarity between the two companies' logos, as the BlueSky logo features a "B" that is similar to that in Bosa Development's logo. Additionally, images of the BlueSky logo sometimes included "a Bosa family company" as a tagline.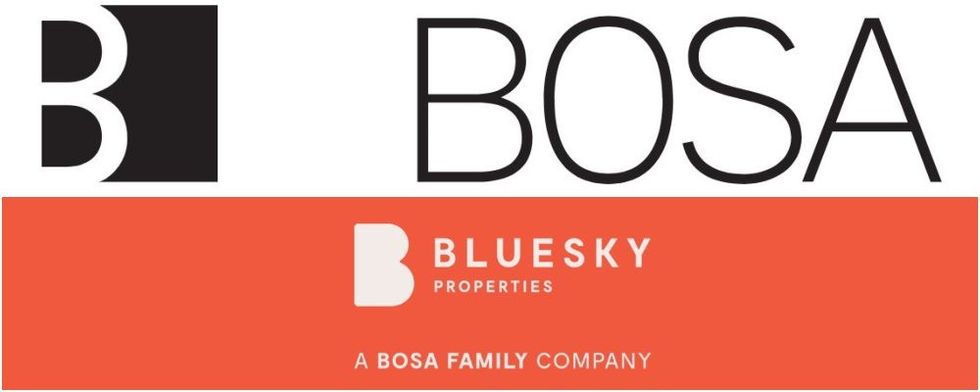 (Top: Bosa Development / Bottom: Bosa Properties)
The two companies ultimately reached a settlement in October 2022, according to PacerMonitor, a website that tracks court cases in the US, as well as a source familiar with the proceedings.
Bosa Properties declined to comment on whether the changes they unveiled this week were a condition of the settlement, but, nonetheless, Bosa Development has gotten the result it was seeking with Bosa Properties now operating in the US under IPB Properties. The website for BlueSky also now redirects to Bosa Properties, and the Facebook, and Instagram page for BlueSky have both also been removed.
Also introduced alongside the new American subsidiary was a "reimagined brand architecture," where projects that commenced under Bosa Properties, BlueSky, Bosa4Rent, and Bosa Commercial will now all be consolidated under Bosa Properties Inc., according to a media backgrounder.
The parent company of the family-held group of companies is now IPB Group. Beneath that is Bosa Properties, of which IPB Properties is a subsidiary. Sibling companies to Bosa Properties are Bosa Construction, Axiom Builders, as well as IPB Investments, a new "scalable investment platform of diversified businesses" the company is currently creating, according to its website. Also under IPB Group is the Robert Bosa Foundation.
Aside from the new company structure, Bosa Properties also introduced a new look and logo for the company's brand, which now emphasizes "Bosa" and "Properties" equally in all-lowercase lettering, matching the font of IPB Properties. The company's new look also appears to have shifted away from the various shades of blue that the company has used for a long time.

(Bosa Properties / Facebook)
According to the backgrounder, the company began the reimagination in 2021 "as the company sought to drive clarity in the market," a subtle acknowledgement of the Bosa Properties-Bosa Development confusion. The new IPB name stands for the company's three core pillars: imagine, plan, and build. The IPB name is also an anagram for BPI, the acronym for Bosa Properties Inc.
While they may now be armed with a new look and a new name in the US, one thing that likely won't be changing is the competition Bosa faces in Seattle.
READ: Coromandel Properties Exits 3 Development Partnerships With Peterson Group
Across the street from IPB Properties' REN project in Seattle is a twin 42-storey project on 1120 Denny Way by none other than Vancouver-based Onni Group. On the other side of REN is a twin 47-storey project on 1200 Stewart Street by another big Vancouver-based developer: Westbank. Both are currently under construction.
As they say: the more things change, the more they stay the same.
Real Estate News