---
Sir Elton John is the latest famous face to scoop up a pricey piece of Toronto real estate. 

In an interview with the Globe and Mail's Johanna Schneller, the British superstar revealed that he and his Canadian partner David Furnish had purchased a penthouse in King West's upcoming King Toronto development.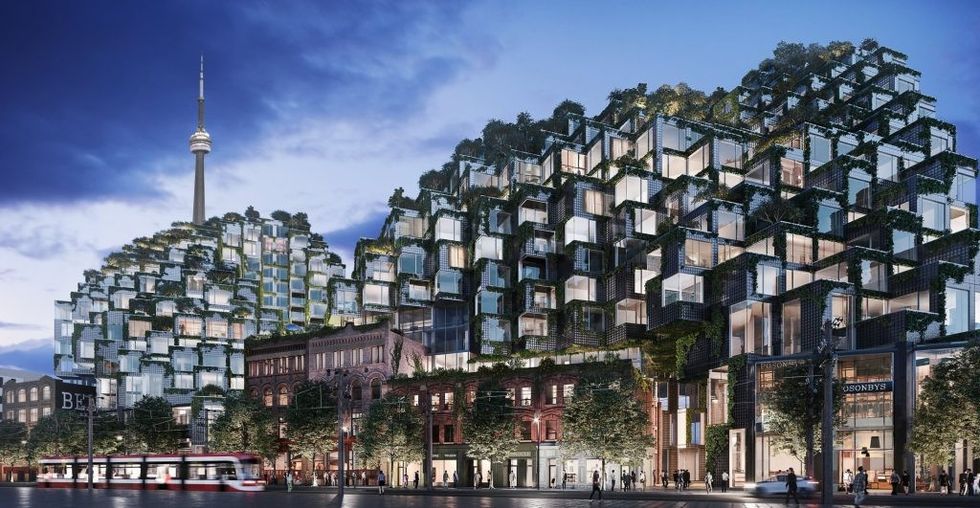 Image: Westbank
Designed by famed Danish architect Bjarke Ingels, the highly anticipated complex will be impossible to miss, thanks to its distinct LEGO-like design that resembles a mountain of stacked, light-filled boxes. A departure from a sea of rectangular glassy condo buildings, King Toronto is unlike anything the city has seen.
The six luxurious penthouses are described as "living on a mountaintop" and are all one of a kind, according to developer Westbank. The common denominator is a deep integration of nature through the incorporation of trees, foliage, outdoor terraces, meaningful sustainability, a commitment to artistry, and no shortage of stunning panoramic views. 
Image: Westbank
Naturally, the penthouse suites are fit for royalty -- and let's be honest, the "Rocket Man" is practically a member of the royal family himself. John's two-storey, three-bedroom, three-bathroom "Treehouse" penthouse boasts an actual tree, an inner courtyard, and four breezy terraces throughout the impeccably designed space.

The sleek and sun-drenched sanctuary in the sky will feature custom brass detailing, custom bookshelves, a wine cellar, and a stunning curved sculptural staircase that doubles as a work of art. 
"It has great views over the west and south," says Riz Dhanji, president at Rad Marketing, who represents Westbank. "It has a unique tree in the middle of the unit as part of an artistic factor, a custom brass kitchen designed by Bjarke Ingels, and a stunning brass curved staircase that's custom designed. The hardwood flooring is custom designed to mimic the exterior expression of the penthouse itself."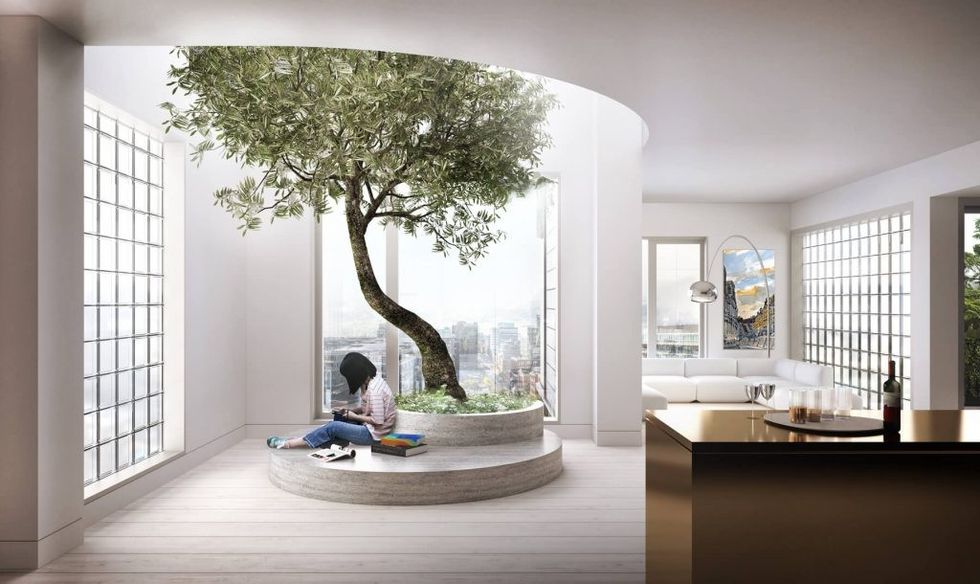 Image: Westbank
The architectural details of the sprawling home are inspired the light and futuristic design of Euro Saarinen, according to its developers. In total, the penthouse features 2,602 sq. ft of interior space and 597.2 sq. ft of terrace space. 

With John currently on his self-proclaimed last tour ever, it's safe to assume that he, Furnish, and their two young children (Zachary, 11 and Elijah, 9) will be spending a lot more time in Toronto. As Schneller reports, Furnish's brothers and their families call the city home.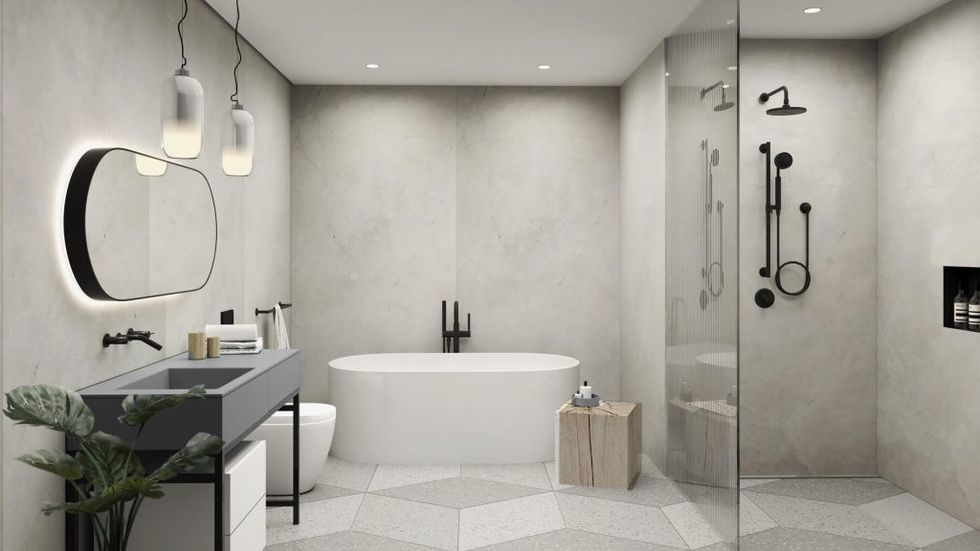 Image: Westbank
The choice to locate smack centre in the downtown core -- cool condo building or not -- may come as a surprising one for a superstar as big as Elton John. After all, the masses have easily been able to track down homegrown superstar Drake at his sprawling Bridle Path home about a half an hour from the core. But, the public location is clearly "no sacrifice" for the magnificent new home -- even if it doesn't come with a private elevator.
"It's going to be very secluded and private," says Dhanji. "Because it's on that top floor, it's very difficult for people to look up to it. It's also surrounded by greenery."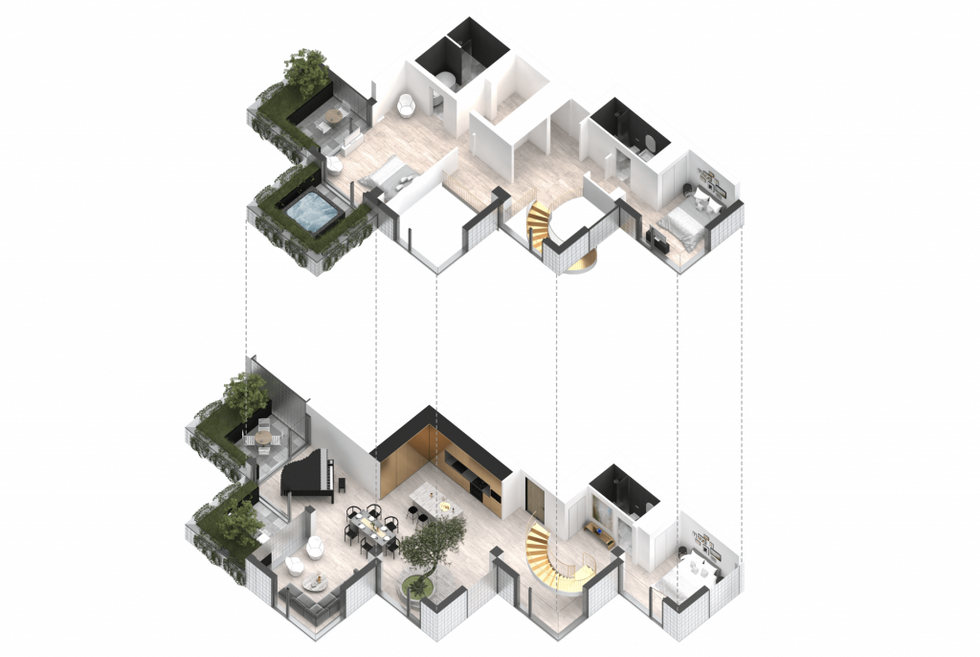 Image: Westbank
Dhanji would not disclose the price of the penthouse, nor the date of the sale, but says it was about a year in the making.
"Elton and his partner David could buy anywhere in the city and they were really drawn to the architecture and design of King Toronto and what Westbank has done with Bjarke Ingels," says Dhanji. 
For those in the market to call Elton John their neighbour (and Shawn Mendes, for that matter, who lives around the corner) can scoop up one of the few remaining units in the anticipated development. Prices start at a cool $1.3M, and the celeb-worthy building is expected to be completed by fall 2023.
Real Estate News