---
An upcoming mixed-use Toronto condo project will house a vertically integrated school, marking the first such initiative in Ontario -- but likely not the last.
Setting the stage for the future of urban education, the Ontario government is investing $44M to build the new Lower Yonge Precinct Elementary School through a collaboration with the Toronto District School Board (TDSB) and Menkes Developments.
The vertically integrated school will be located at Yonge and Harbour Street in Menkes Developments' upcoming Sugar Wharf Development. The anticipated community development will comprise a total of six towers; five residential and one commercial. Located in the mixed-use condo project, the podium school is unique to Ontario and will provide 455 student spaces for families in the lower Yonge and waterfront neighbourhoods. 
RELATED: Menkes on the Evolution of Toronto's Waterfront Commercial Real Estate Scene
"It's official, the Ministry of Education has announced Toronto's first vertically integrated school. I am so proud to announce that Menkes will be bringing Lower Yonge Precinct Elementary School to our Sugar Wharf Development," says Jared Menkes, Executive Vice President High-Rise Residential at Menkes Developments Ltd. "This will serve the future waterfront community; an amazing milestone for the City of Toronto, and of course for the many young families who have transitioned to high rise living. Urban families can count on having a school close to work and home."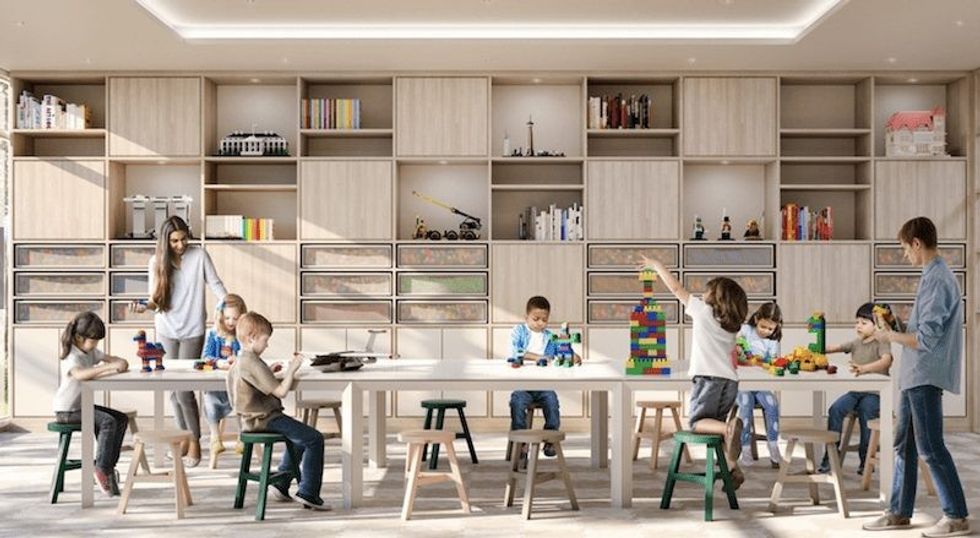 Image: Sugar Wharf Kids Hobby Room; Menkes Developments
The investment in the space is part of the Ontario government's commitment to building modern, accessible, and technologically connected schools for Ontario youth, according to a Province-issued press release. 
With an increasing number of young families living in condos -- thanks, in part, to Toronto's sky-high and increasingly unattainable prices for single-family homes -- Toronto's first vertically integrated school could very well be replicated as an innovative solution to meeting the education needs of working urban families.
"With many families living in condos and high-density urban communities, we believe their children deserve access to modern and safe schools in the hearts of their communities," said Ontario's Minister of Education, Stephen Lecce. "I am proud to deliver this progressive urban school within a high-density condominium project. This innovative partnership will provide access for young families to a state-of-the-art school in the heart of Toronto."
The project is part of a province-wide investment of more than $600M to support new school and child care spaces that was recently announced by Minister Lecce. The overall investment will support 78 school and child care related projects. As part of this investment, the province will dish out more than $565M to create more than 19,700 new student spaces and 1,500 child care spaces at schools across the province.
"We know that in a growing city like Toronto, we need unique and creative approaches to creating important public spaces like schools," says Toronto mayor John Tory. "This new project between the provincial government and Menkes Development will bring the school right into the community at a new mixed-use condominium. If we want to build up this city and our neighbourhoods, we need to ensure that residents have access to all the services they need, including schools -- this is one example of how we will achieve this."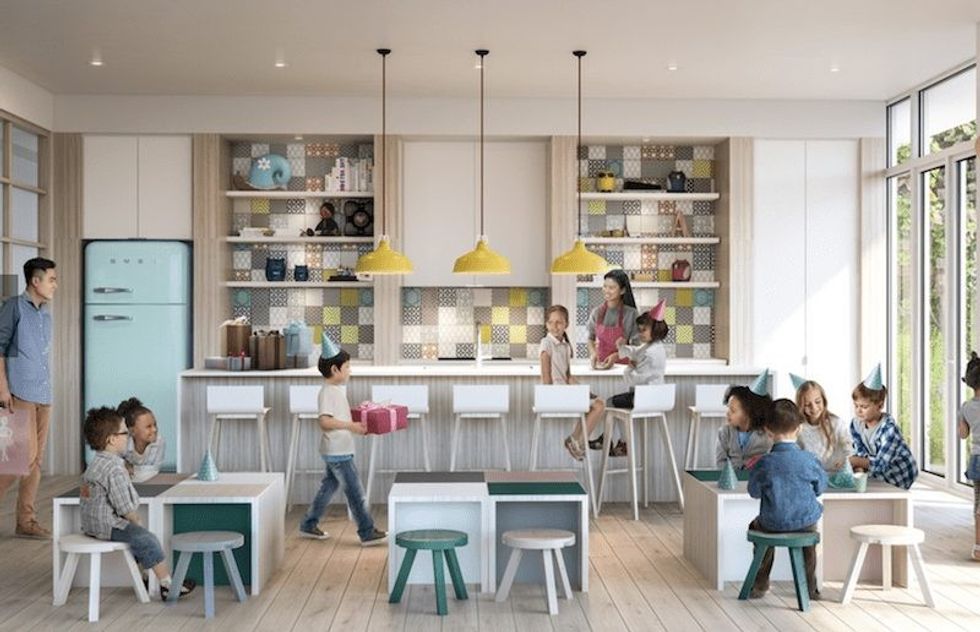 Image: Sugar Wharf Kids Party Room; Menkes Developments
The investment is part of the Ontario government's commitment to provide $14B to support school construction over 10 years. There are currently more than 300 childcare and education building-related projects in development across Ontario with more than 100 actively under construction, says the Province.
Most likely, we will see some of these located in other mixed-use buildings.
In addition to the affordability factor of condo living, urban families are also drawn to the lifestyle associated with it. Taking a page from Manhattan and many European cities, many of today's young families want to be in urban centres, close to work and city life and all of the amenities that come with it. 

And Toronto's developers have been aptly adapting. Menkes has been a leader in this shift, as the first Canadian developer to introduce a combo of indoor and outdoor play spaces in its Harbour Plaza Residences back in 2018. And now, it continues to pave the way with the city's first vertically integrated school. 
"We've been advocating for family-friendly condo living for more than a decade, starting with being the first Toronto developer to introduce both indoor and outdoor children's spaces in condominiums, an exceptional first-of-its-kind combination for high rise living, and the catalyst for family-friendly buildings in the downtown core," says Menkes.
"I'm so proud of our team for being innovators in vertical living. Thank you to Stephen Lecce, Minister of Education; Kinga Surma, Minister of Infrastructure; John Tory, Mayor of Toronto; Michael Thompson, Deputy Mayor; and the TDSB staff for working with us to make this happen and recognizing the needs of Torontonian families."
Future Developments