Location, location, location has always been core to real estate, but Steve Fudge located another need — a niche as it were. The realtor is one of one of the early adopters who targetted not only location, or property type, but also added the "creative lifestyle market."
He's a representative with Bosley Real Estate Ltd., Brokerage — a division of which is his company, Urbaneer.com. Urbaneer is renowned for having pioneered the innovative space marketplace comprised of character dwellings, loft conversions, architect designed homes and low-maintenance living. And when it comes to location, just ask him about any of the 42 "village" neighbourhoods in Toronto, because he can tell you all about them — in detail.
---
So we sat down with the Urbaneer to get his take on pioneering a new urban spirit.
You've built your career in the shelter industry renovating, designing, developing and marketing unique urban spaces in the City of Toronto. Tell us about your favourite project that you've done.
I have enormous affection for The Button Factory, which was my first project back in 1993 — and where I lived for many years. The developers were really receptive to selling the spaces as "shells" so it could be affordable to artists, while adding a custom-design component for the creative and white-collar professionals seeking to put their own stamp on a loft.
I also have great affection for The Movie House on Euclid at College Street, which I owned for 18 years.
Urbaneer is renowned for having pioneered innovative spaces ... How did the idea for Urbaneer come about?
Ever since I was a child I've been obsessed with housing and home. I spent hours designing dwellings, reading construction manuals, and had my father take me to weekend real estate open houses. This continued with my university education at the graduate and post-graduate level in various facets of housing and design. My multi-disciplinary education — along with my passion for home renovation and design — served as the foundation for Urbaneer.com, which I launched in 1995.
My sales and marketing brand — and my training to a be housing conceptualist — served developers seeking to tap into the growing creative class of pro-urbanites seeking unique spaces. Since then, the amazing Urbaneer team and I continue to serve city dwellers at all price points, for all types of housing (as seen in my Testimonials).

The Movie House on Euclid Street
 What's been your greatest challenge as a pioneer — and how have you overcome it?
My challenge was cultivating a market which was in its infancy, and unknown by most. Realtors have historically focused on specific geographies when building their business, operating on the "location, location, location" mantra. In the '90s, I was one of the early adopters who targeted not location, or property type, but the "creative lifestyle market."
However, finding unusual architect-designed dwellings, adaptive reuse conversions and lofty properties weren't easy to locate. The challenge was not only classifying the stock of existing and potential innovative spaces, but educating all the players (including appraisers) on the intangible value of lifestyle architecture, while promoting it with wordplay. When this niche market went mainstream in the '90s, I was sufficiently established to transition with this evolving marketplace.
You take homebuyers beyond the typical questions ... For instance, your blog post on the difficulty in choosing a couch, is as long as many posts on the difficulty in choosing a home. How do think connecting with potential home buyers on this level affects your brand?
As a realtor celebrating 25 years as a top-producer, I can attest navigating the purchase or sale of a property can be complex, challenging and stressful. Owning a home extends far beyond the physical space, so I employ a holistic approach to where and how we live.
My blog attempts to explore all the facets of shelter, including the cultural amenities of Toronto, our personal relationship to space and place, plus the importance of health and well-being in our home. My readers and clients recognize the added-value benefits of this multi-faceted perspective, as it enables me to guide them effectively on how to elevate a property to garner top dollar — whether we're preparing it to sell using my Free Style Enhancement Service, or they're exploring ways to increase their return on their next purchase.
Incidentally, "Choosing A Couch" is from my Dear Urbaneer Series, which is a monthly advice column where I answer questions from the public.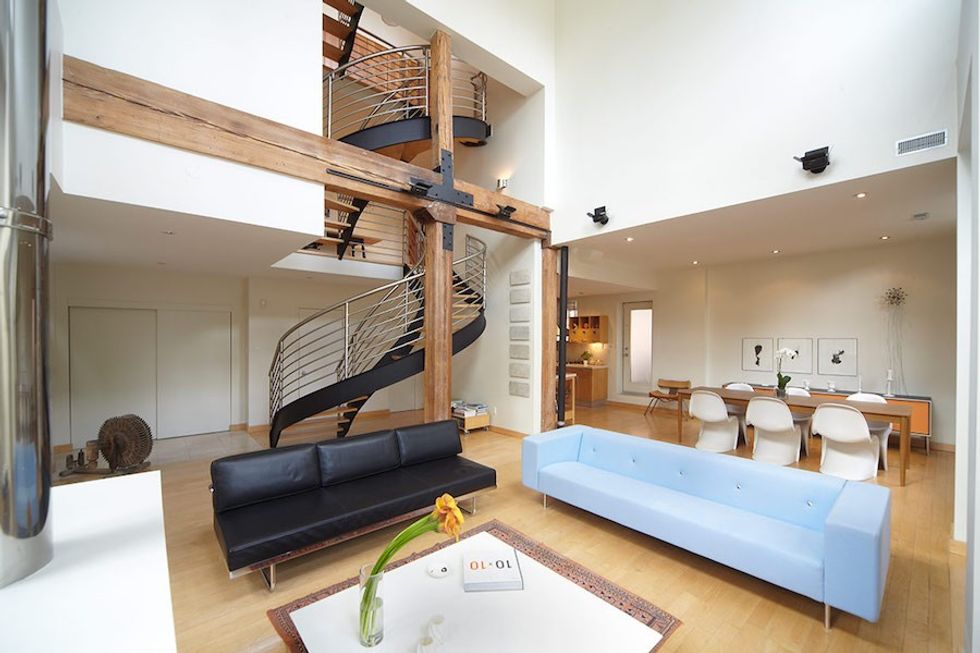 The Button Factory on Clinton
You were in the business before social media showcased it. How has your social media strategy evolved?
Along with my blog on Urbaneer, which was recently listed as one of the Top 50 Blogs in Toronto, Zolo.ca recently ranked my Twitter account as one of the Top 25 Realtors To Follow In Toronto. With my background in the history of architecture, the psychology of home, urban design, urban planning, construction and finance, tapping into the zeitgeist of social media has elevated my own engagement and expanded my awareness of Canadian real estate.
Five years ago I launched a second site, Houseporn.ca, which focuses on architecture, design, landscape and products in Canada. It's a vehicle for me to mentor university students across Canada in the fields of housing, while curating Canadian content on shelter.
What's the biggest lesson you've learned through your career?
I've learned when we operate with patience, clear intention and trust, the universe will guide us to the right home. In the Toronto real estate market, where bidding wars are common, it's not unusual for buyers to become emotionally defeated and weary after losing multiple times. When my buyers ultimately do secure a property, they often acknowledge it's more perfect than all the previous dwellings they lost in competition. That's the ultimate affirmation for a job well done.
If you could rejuvenate one neighbourhood right now, which would it be?
My challenge with this question is that when a neighbourhood rejuvenates, it changes the existing fabric of the community and we risk losing the very qualities and colour that make it special. The success of a city includes its capacity to accommodate all walks of life.
Today, Spadina's Chinatown, and the Little India and Chinatown on Gerrard East are at risk of being displaced by new businesses and residents who have no cultural affiliation. I recognize the irony that this is coming from someone who spearheaded a market where places of industry were converted to contemporary housing. While this is considered part of progress — and an inevitable by-product of an expanding post-industrial global economy in urban centres — it does come at a historical cost, including the eradication of neighbourhood character.
Where do you see Toronto real estate going this year?
I'm confident the Toronto real estate market will weather the interventions we've seen by all three layers of government. And, barring any calamity, real estate in the original City of Toronto will continue to be an excellent investment, even as the suburbs may experience price declines. I've long subscribed to the buy and hold mentality. After all, people only lose money if they have to sell, or choose to sell. I recently explored this in my Winter Forecasts on Urbaneer. Here's Part One and Part Two.
Industry Profiles