Real Estate News
TRREB Agents Are Increasingly Transacting Outside of Their Board
Toronto real estate agents are becoming very familiar with parts of Ontario outside of the Greater Toronto Area (GTA) confines.
As migration continues out of the GTA and into other parts of the province, realtors are doing more transactions outside of their board.
Jason Mercer, Chief Market Analyst of the Toronto Regional Real Estate Board (TRREB), says that the total number of transactions outside of the TRREB Market Watch Geography — namely, the GTA, plus south Simcoe County and Orangeville — are growing and have been for some time.
"This is part of the broader trend we're seeing not only during the pandemic, but in the years leading up to it. Homebuyers were looking further afield than the GTA proper into the Greater Golden Horseshoe (GGH)," says Mercer.
READ: The Great Migration: Nearly 70K Ontario Residents Moved to Suburbs Amid Pandemic
Mercer says that migration outside of the GTA actually began around 2015/16 .
As a result, realtors are covering more geographical ground.
"We have members that are working at the geographic margins of the GTA and certainly have clientele outside of the traditional GTA proper and other parts of the Greater Golden horseshoe," says Mercer. "Their clients have decided to look beyond GTA borders due to affordability issues and the work-from-home climate and that's being reflected in where some of our members are helping our clients."
Mercer says, for example, that members working in south Simcoe, would also be active in other parts of Simcoe County. "Similar examples could be found in the eastern and western GTA — for example, Durham-Northumberland, Halton-Hamilton, Halton-Guelph," he says.
READ: GTA Residents Relocating North Are Driving Barrie's Red-Hot Housing Market
As Mercer highlights, realtors may very well be duel members with other boards within Ontario.
He points out that TRREB provides MLS® System services to three partner boards: the Brampton Real Estate Board, the Durham Region Association of REALTORS®, and the Northumberland Hills Association of REALTORS®. "Many Members of these associations will be reporting transactions outside of the Market Watch geography based on their proximity with other regions and counties in the GGH," he says.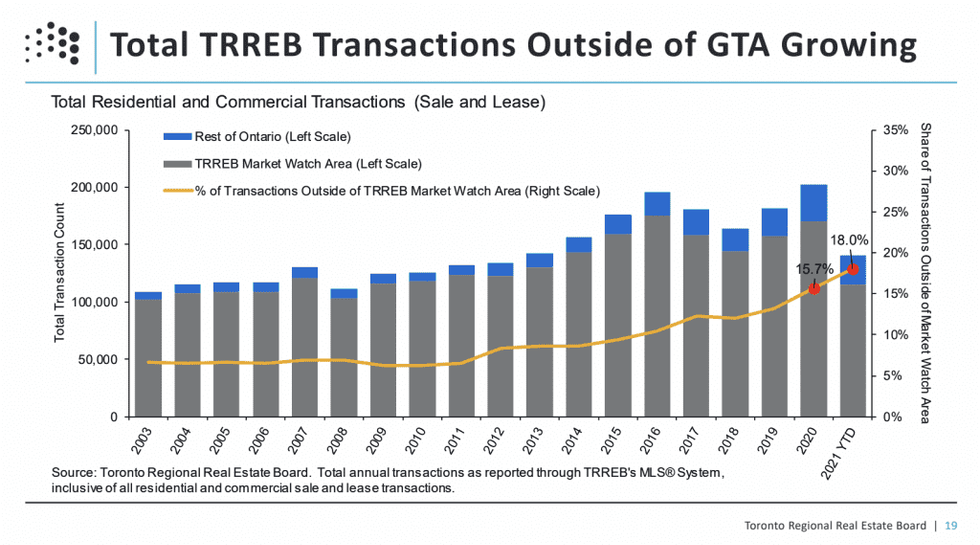 A lot of this movement has come to the forefront as we've moved through the pandemic, but it's not entirely the driving force.
"We were starting to see the out-migration of the GTA proper long before COVID and that speaks to the broader story of not a lot of supply available for homes, which has led to more competition between buyers, accelerating price growth," says Mercer. "From an affordability perspective, people have had to look further afield to meet their housing needs. It's a broader story than COVID-19; the pandemic just put it under the microscope."
With the supply of coveted single-family homes in the GTA limited and a bubble that shows no signs of a dramatic burst, it looks like this trend won't disappear any time in the near future.