---
As cities around the world continue to rebuild and emerge from the COVID crisis after the pandemic shuttered economies and forced businesses to close, Toronto has proven to be one of the top promising investment locations in North America.
On Thursday,  fDi Intelligence -- a specialist publication from the Financial Times -- released its 6th annual Americas Cities of the Future 2021/2022 ranking, revealing that North American cities fared much better than other regions during the pandemic, and are well-positioned to experience a faster recovery. 
New York once again held the top ranking, retaining its status as a magnet for foreign investors. However, following close behind is Toronto, which moved up to second place from last year's third place in the overall 2021/2022 ranking -- reflecting the city's rising stature as an international centre of investment, commerce, trade, development, and innovation.
Only one other Canadian city made it into the top 10 overall ranking, with Montreal coming in fourth place after San Fransisco.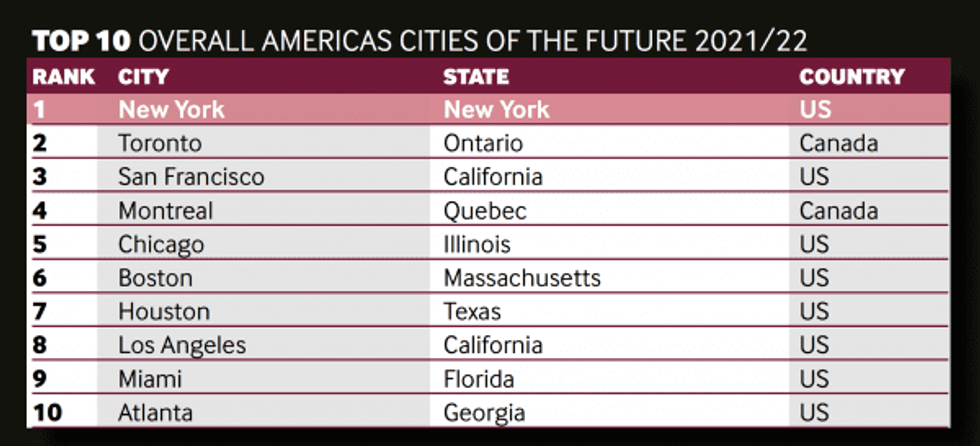 fDi Americas Cities of the Future 2021/2022
READ: Unpaving Paradise: In Possible First, a Toronto Parking Lot Will Be Turned into a Park
"Toronto has moved into second place in the overall ranking, and trails only New York across the region for Economic Potential and Business Friendliness," reads the report.
This year, Toronto also made it into the top 10 for Human Capital and Lifestyle category, which is measured through indicators including the number of universities, the skillset of graduates, ease of finding skilled employees, the Social Progress Index, and the Human Capital Index.
Toronto also moved from seventh to sixth in Connectivity -- measured through indicators covering both information and communications technology and transport infrastructure.
Aside from outperforming its nearest competitor, San Francisco, in Economic Potential, Toronto also advanced from third to second place in Business Friendliness, while San Francisco dropped from fifth to seventh.
Additionally, fDi Intelligence said the software and IT services sector is the top recipient of foreign investment in Toronto, which received only two fewer projects in 2020 than in 2019. Among other notable projects, Google announced in February 2020 that it will open a new 37,160-square metre office tower in the city.
The City of Toronto says international rankings of this kind confirm that the city is increasingly recognized for its smart --and mutually reinforcing -- investments in business development, culture, people and neighbourhoods. Together, these resources and attributes make Toronto attractive to international investors, companies, visitors, and talent.
With travel restricted due to the pandemic, Toronto and partners such as Toronto Global, pivoted from in-person interactions to online engagement and digital trade missions to maintain and increase the city's visibility to foreign investment.
Strategies included attending and organizing virtual events, meetings, and site tours; providing more information digitally, and launching innovative programs such as the Toronto Clean Energy Partnership.
Despite the pandemic, there remains a sustained interest by major international companies, with several recent investments taking place throughout the region, including:
DoorDash
HCL
Reddit
Cloudflare
Twitter
Pinterest
Netflix
Additionally, in 2018, Toronto was also in the running to secure Amazon's H2Q. Drawing together the region's many municipalities, along with the province and other partners, Toronto Global created a compelling, concise snapshot of the city's many advantages into a public Bid Book.
The Bid Book received more than 20,000 downloads and helped attract more than 100 investments across the Toronto region worth more than $1 billion in CAPEX and 5,000 jobs.
"As Toronto continues to safely reopen from the COVID-19 pandemic, I am committed to leading a strong economic recovery and attracting more investment and more jobs," said Mayor John Tory.
"This ranking confirms that Toronto is one of the best places for businesses to invest, build, expand, and succeed. Toronto is the economic engine of Canada, and I'm confident that our city will come back stronger than ever in the years ahead because of the work we are doing to build our city up and continue to attract people and businesses," said Tory.
Toronto