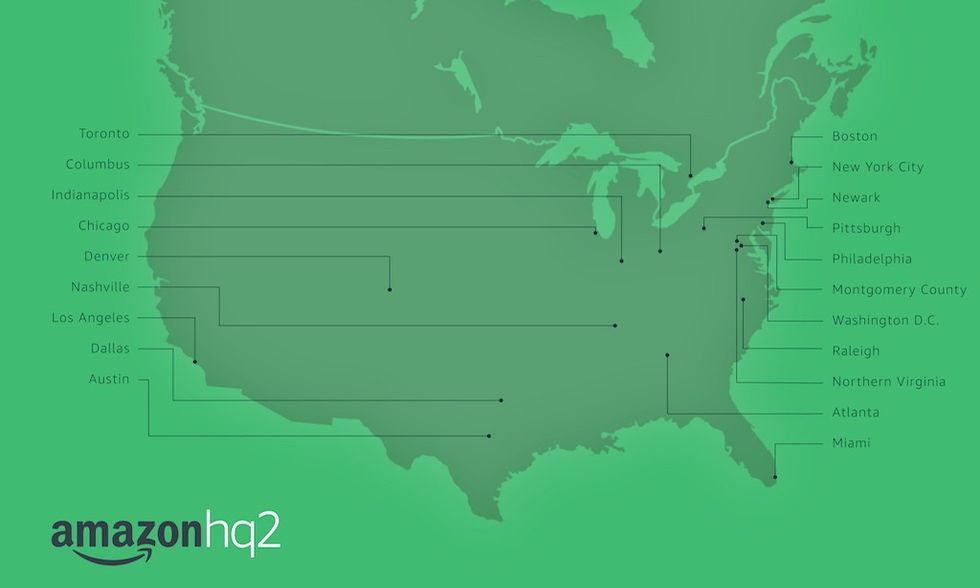 Toronto Second Only To New York City For Best Shot At Amazon's New HQ [Study]
The case for Amazon's new HQ2 landing in Toronto just got better.
There are 20 cities left vying for Amazon's HQ2, and Toronto is behind only New York City. In fact, Toronto is the only Canadian city still in the running.
---
Amazon's new headquarters would mean a $5-billion investment and 50,000 jobs for the city.
Now, a new report from real estate services company CBRE ranks Toronto as No. 4 for tech talent — out of 50 cities in the U.S. and Canada.
Washington, D.C. is the only city vying for HQ2 that outranks Toronto. (San Francisco is tops in this tech study, while Seattle, Amazon's hometown, ranks second.)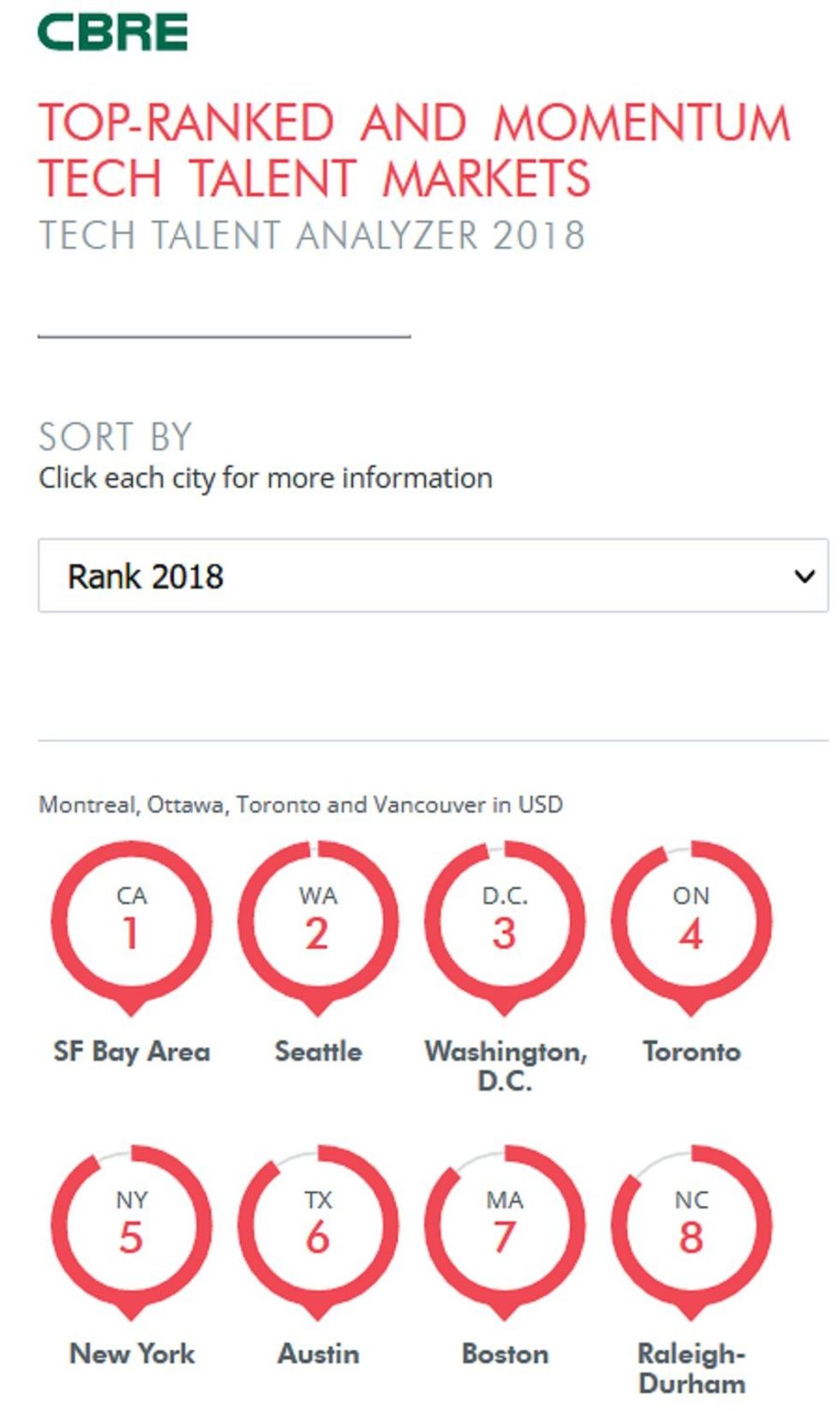 CBRE top-ranked and momentum tech talents markets (Image courtesy of mapping.cbre.com)
According to CBRE, Toronto added nearly 29,000 tech-related jobs last year. That number is up 14 per cent from 2016. The next highest city on the list was Seattle, with 8,200 new jobs. New York was a close third, with 8,100.
What's more, CBRE says that a third of all demand for office space in downtown Toronto came from tech companies.
This is good news when looking at Toronto's prospects to secure Amazon's much-desired second headquarters.
Toronto's tech talent pool is made up of over 240,000 workers, which is a 51 per cent increase since 2012.
And the 416 is No. 1 when it comes to "brain gain," says CBRE. This means tech workers educated in Toronto typically remain in the city after graduating.
Perhaps most important to Amazon, Toronto is also one of the cities where technology employers get the most bang for their buck.
For instance, the average salary for a software engineer here is less than $100,000. Much higher salaries are afforded in Washington, D.C., Seattle, and San Francisco.
Of note, talent is one of the most important criteria when it comes to Amazon's HQ2 decision.
Then, there's the Trump factor. The American president could actually be helping Toronto to win over Amazon.
For months, the president has been attacking Amazon on Twitter. He accuses the company of exploiting the U.S. Postal Service, underpaying taxes, and using The Washington Post (owned by Amazon CEO Jeff Bezos, independent of Amazon) as a propaganda tool.
Does this mean Toronto will win over Amazon's decision to make its second home here?
Will Amazon want to share Toronto with another tech giant? Remember, last year, Google announced it will move its Canadian headquarters to Toronto and innovate our waterfront.
At this point, only time will tell.
Amazon has visited each of the 20 cities still in the running for its HQ2. The company plans to reveal the "winner" sometime this year.
Personal Finance