In the pre-COVID world, Toronto's rental market was on fire. From the constant flow of international students to young professionals and working adults, rental units were in hot demand, which led to Toronto being home to some of the most expensive rental averages in the country. Then the pandemic happened.
---
As the novel coronavirus began to spread, the borders closed, businesses shut their doors, residents lost their jobs, and tenants struggled to afford their rent. And now, rental rates are finally starting to decline in the Greater Toronto Area (GTA).
According to a Toronto GTA May Rent Report, which uses TorontoRentals.com data, the average rental rate for all property types in the GTA declined by 2.7% monthly to $2,180 per month.
READ: GTA Rental Market: Trouble for Airbnb Condo Owners, Relief for Renters
In the former City of Toronto (pre-amalgamation boundaries), at the start of 2020, the average rental rate (for all property types) was $2,571, but as the pandemic began, the rental rate began to gradually decline and reached an average of $2,362 in April.
According to the report, Richmond Hill had the highest rent in April at $2,387 per month, most likely because there are more "large single-family homes offered for rent that pull the average up, and fewer small, older, and worn-down rental apartments that pull the average down." Among the top municipalities in the GTA, Scarborough had the lowest average rent at $2,023 per month in April.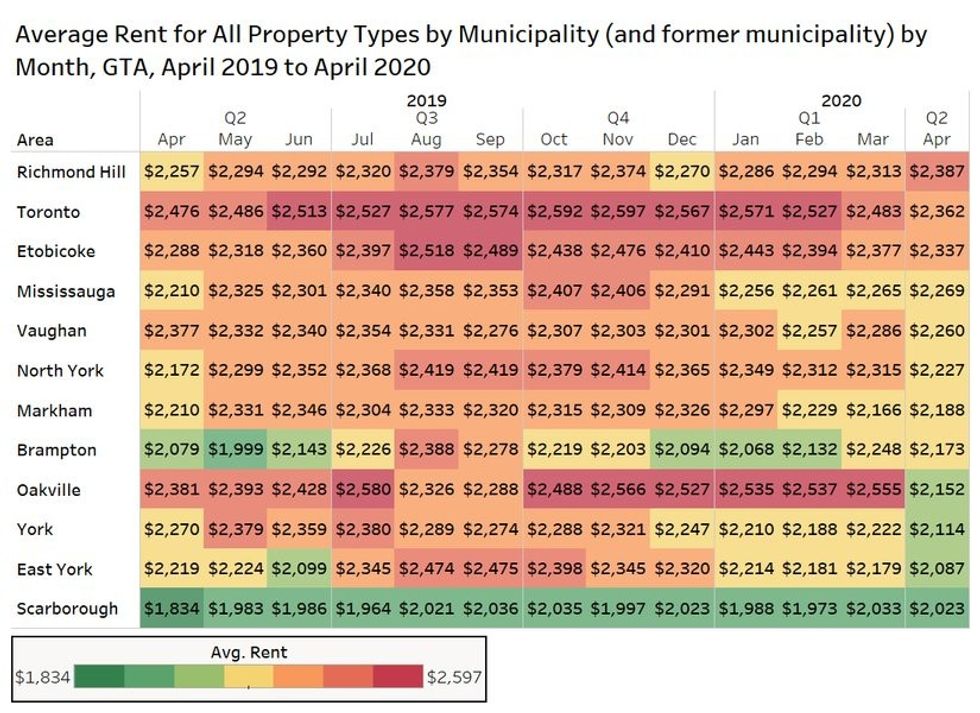 May Monthly Rent Report/Torontorentals.com
Here in Toronto, rents declined 5% both monthly and annually in April. At least part of that decline can be attributed to an increase in former short-term rentals hitting the market, which introduced a new supply to a market already weakened by the pandemic and the economic and health uncertainties involved in moving.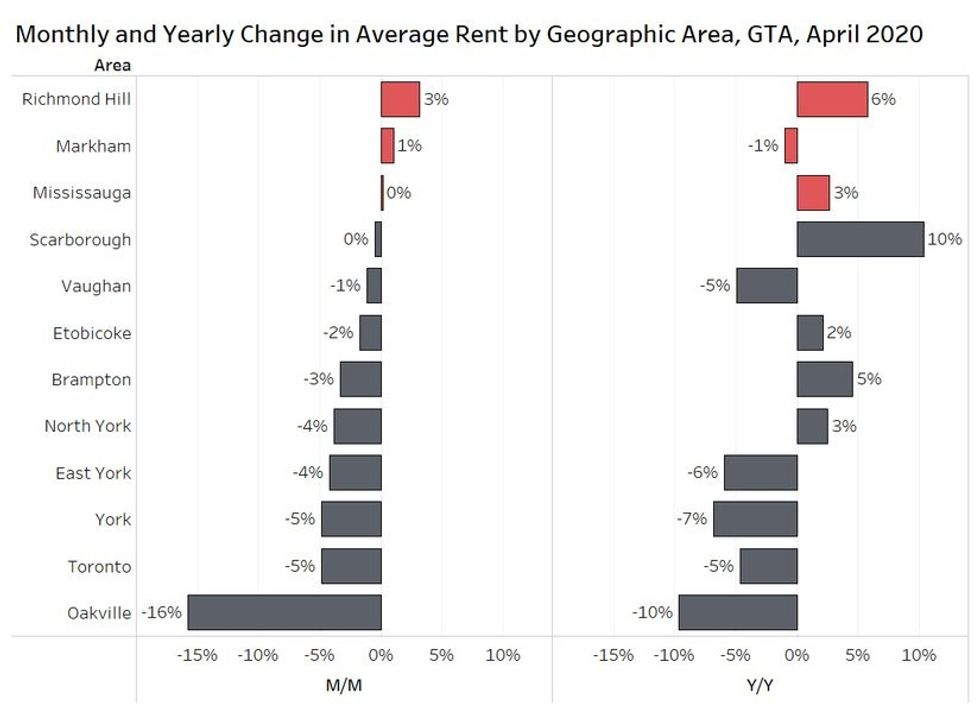 May Monthly Rent Report/Torontorentals.com
According to the report, much of the short-term rental supply to hit the market comes furnished, which causes the rental rate to fluctuate. In old Toronto, where there is the largest supply of furnished units, the average unfurnished condominium apartment was offered at $2,416 per month or $3.51 per-square-foot, compared to $2,652 and $3.94 for a furnished unit. Monthly rent is 10% higher for furnished condos on average, with the average per-square-foot rental rate 12.3% higher in Toronto.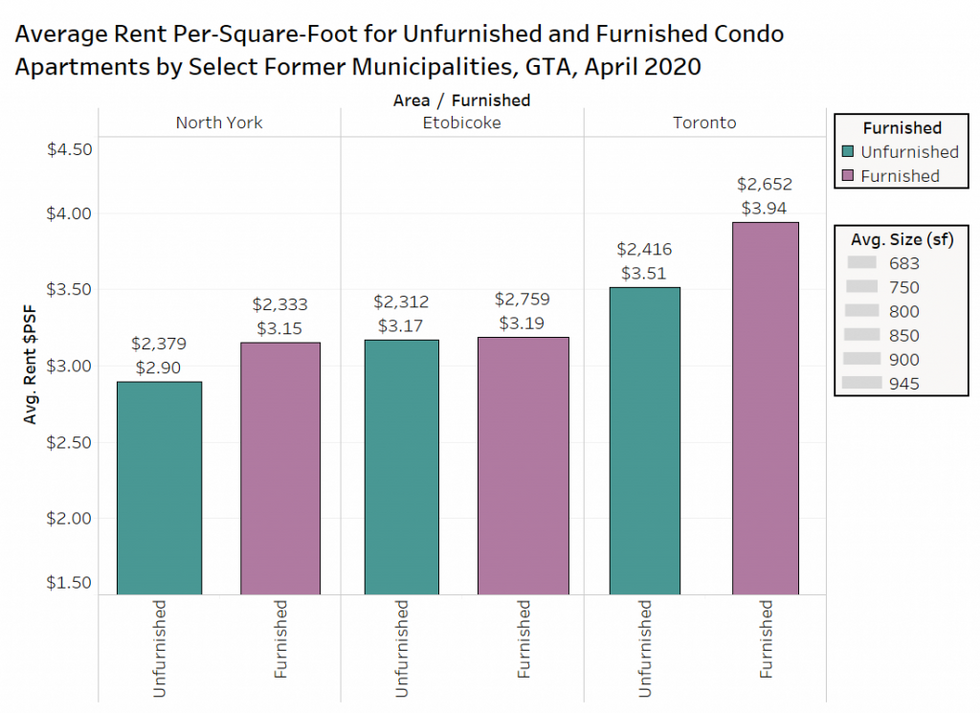 May Monthly Rent Report/Torontorentals.com
When it comes to rents for specific property types, the report revealed both condominium apartments and rental apartments in the former City of Toronto saw "significant" declines month-over-month in April. Median rental rates for condos fell 4.2% month-over-month, while rental apartments dropped a whopping 11.2% monthly.
What's interesting to note is that the smaller sample size of single-family (singles and semis), and townhouse properties saw their average rental rates increase month-over-month, which is likely because more large units are sitting unrented, pulling the average up, as opposed to an increase in demand.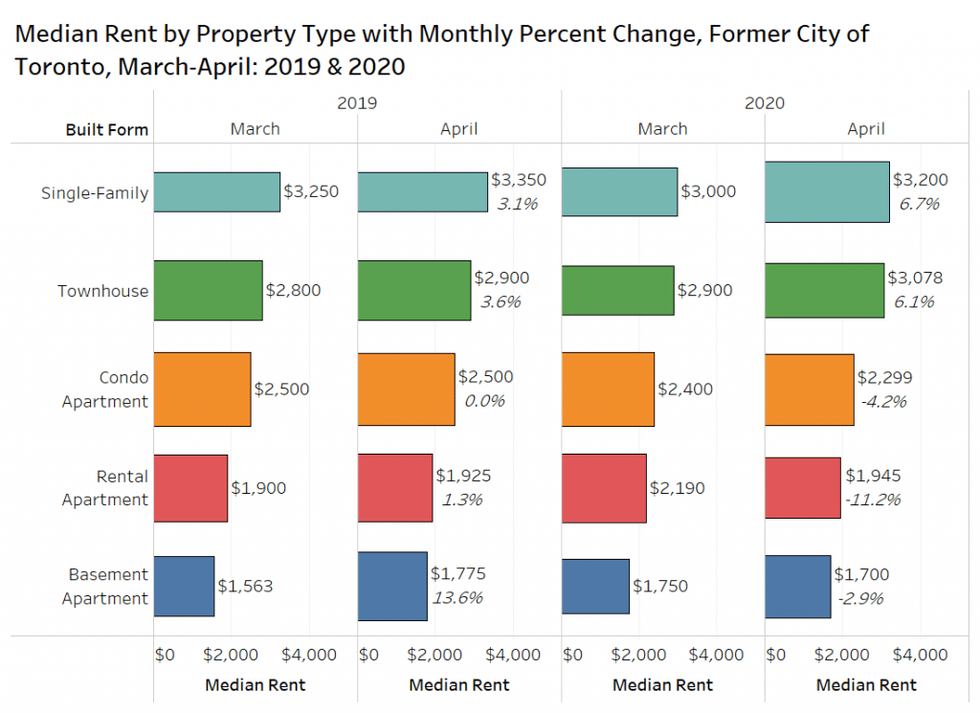 May Monthly Rent Report/Torontorentals.com
The median condominium apartment in April was listed at $2,299 per month, down over 8% from April 2019 ($2,500). The median rental apartment in April 2020 was up by just $20 per month over April 2019.
The average asking rents also declined by bedroom type, with three-bedroom apartments in the former City of Toronto experiencing the largest declines, falling by 16% month-over-month (Avg $PSF rent: -19%), while still remaining above the average rental rate from April 2019. Two-bedroom apartments experienced a monthly decline of 14% (Avg $PSF: -19%), and are now down 6% from one year ago.
One-bedroom suites declined by 7% monthly and studios dropped by 3% from March. One-bedrooms are now down annually, while studios are still up 6% year-over-year.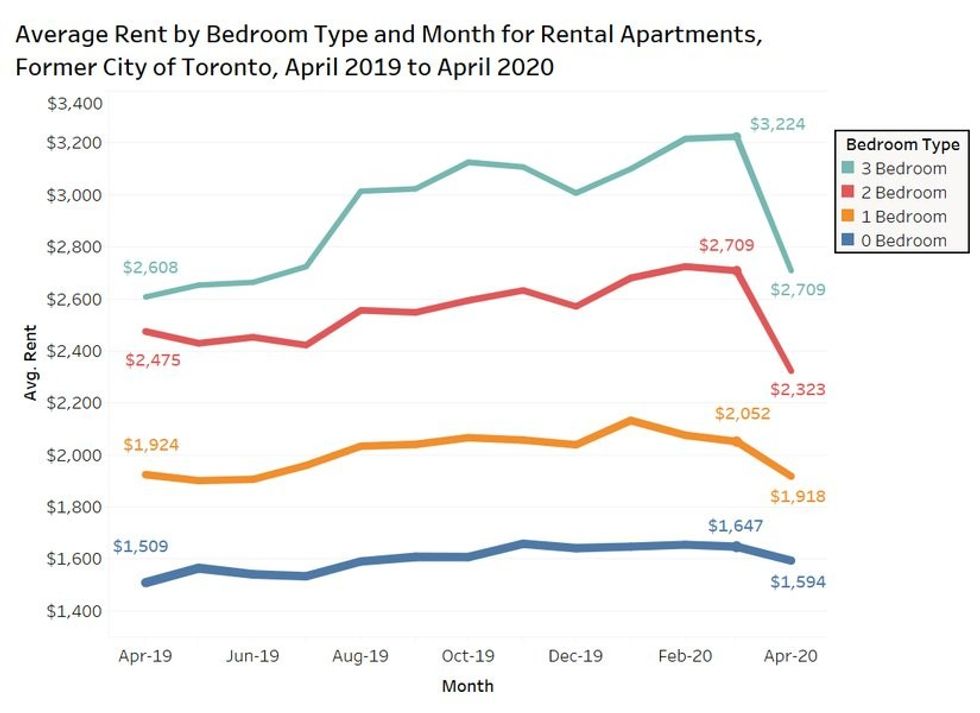 May Monthly Rent Report/Torontorentals.com
Renting