---
Well, Toronto rent deals weren't going to last forever.
After a pandemic-inspired drop in Toronto rent prices, the city's rental market has bounced back to life – and it's as dramatic as ever. 
In July, the average rental rate across the Greater Toronto Area (GTA) increased month-over-month by 3% to $2,078, with Toronto experiencing the largest monthly increase at 4.7% to $2,167, according to the latest Bullpen Research & Consulting and TorontoRentals.com Toronto GTA Rent Report.  
Of course, anyone who's browsed Toronto rental sites as of late probably doesn't need the reminder. "Frustrating" could be one word to describe the current rental market frenzy for those looking (i.e. desperately searching) to rent a half decent spot in the ever-expensive city. 
In fact, bidding wars for rentals properties -- once reserved for the buyers' market -- are becoming the norm in Toronto (and in Vancouver, for that matter) as demand surges.
July's steady increase marks the fourth month in a row to see climbing rent prices in Toronto following 14 consecutive months of decline brought on by the pandemic. With COVID-19, a newfound remote work culture resulted in a subsequent exodus from the city -- whether that meant a move back in with the parents or the inevitable purchase of a home in suburbia and beyond.
But clearly, eyes and rent dollars are turning to Toronto once again. And the pandemic rent deals are disappearing as fast as we wish the pandemic was.
In what surely comes as a relief to condo-owning landlords, the condo rental market in particular has seen a significant spike in action in recent months. The latest data from Urbanation Inc. reveals that that a record 5,221 Toronto condos were leased in July -- a figure that's up 40% from July 2020. Furthermore, by the end of the month, the city featured just 1,727 open lease listings, the lowest figure since this time in 2018.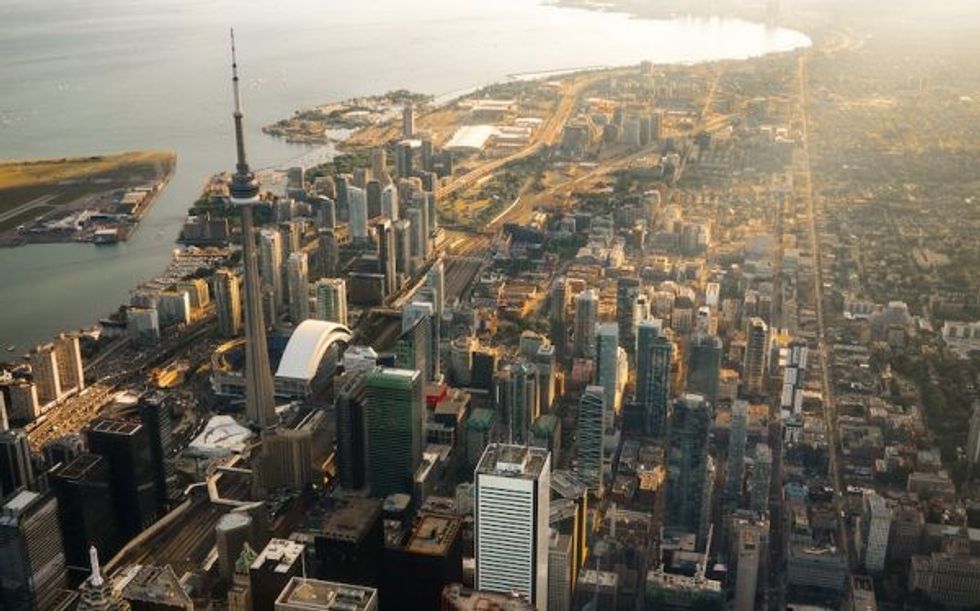 Toronto skyline/Shutterstock
Naturally, the increase in demand has caused rent prices in condo buildings -- which dropped significantly during the thick of the pandemic -- to increase. In July, the city's condo rent prices rose 5.3% from June to an average cost of $2,277 per month, according to Urbanation. 
The Monthly Market Report for August from Move Smartly notes that the number of leased condos has remained at a historically high level since the second half of 2020. 
"Toronto's condominium (condo) rental market, characterized by an unprecedented drop in demand due to the onset of the Covid-19 pandemic in March 2020, has been showing signs of rebounding strength since the end of 2020 – and now has been red-hot over the past couple of months," reads the report. 
Industry professionals agree that the recent rent uptick is largely driven by a rush of students looking to secure housing for the fall.
"The big issue is that we are having a massive boom in demand driven by people who want to return to urban living (surprise, surprise, downtown living isn't dead after all); but more recently, the boom has been driven by students who are planning to return to school in-class during this calendar year," says John Pasalis, President of Realosophy Realty. "We went from less than 10% of condo rentals leasing for over the asking price to over 25% getting more than asking right now."
As lockdown measures lifted, Toronto's glassy condos became attractive to renters looking to move back into the city. But some never left, instead choosing to upgrade.
"This year had the added impact of workers starting to return to the office and generally people wanting to be back downtown, as lockdown measures were lifted," says Urbanation president Shaun Hildebrand. "Rental absorptions have been really strong as people have been moving and taking advantage of rent discounts, which has brought down the excess supply levels the market was grappling with last year and sets the stage for further rent increases."
While the bold return of the Toronto rental market was to be expected given the anticipated vaccine rollout and loosening of pandemic-inspired restrictions, what's surprising many is the rate at which rents have hiked back up.
Potential renters are now facing much steeper rents than they did just a few months ago -- a time when the pandemic situation was as uncertain as ever and likely prevented would-be renters from pulling the trigger and signing a lease. Now, many of these people are shocked to find the opportunity of locking into a one-bedroom-plus-den within budget is less and less likely, thanks to the drastic rent hikes. And they're not the only ones surprised.
"It has come back faster than I anticipated," says Ben Myers, president of Bullpen Research & Consulting. "I expected a slower pick-up as many downtown companies remain closed, in-person classes have not started yet for universities and colleges, and new completions have been strong, adding a decent amount of supply."
Other real estate professionals share the sentiment.
"I did not expect the rental market to recover as strongly as it has the past couple of months," said Pasalis. "We were seeing early signs of strength earlier in the year, which was not surprising, but the sudden turnaround over the past couple of months was surprising."
Pasalis says that new listings have been quite strong compared to historical levels.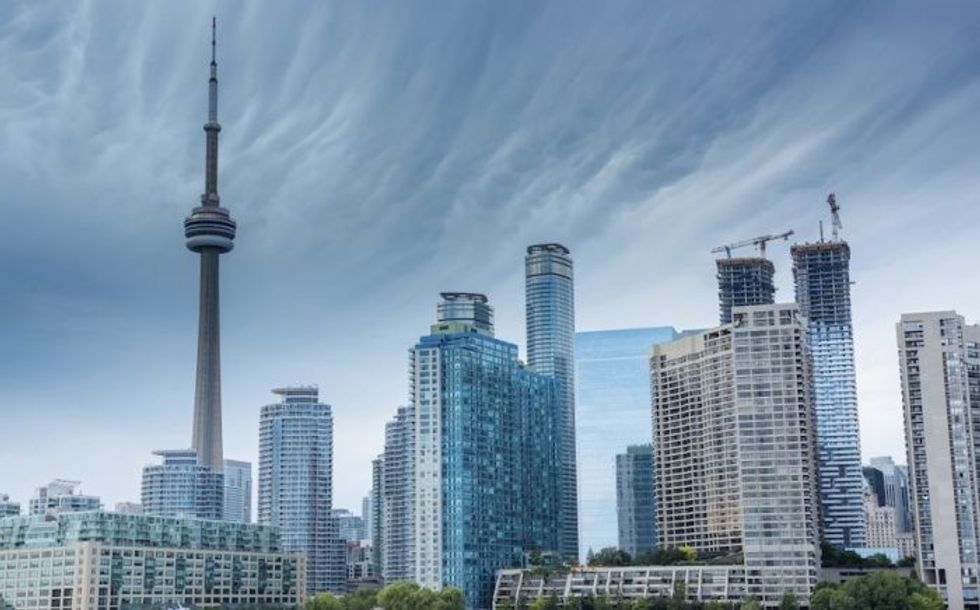 Shutterstock
As Hildebrand also highlights, momentum was building in the condo rental market since the beginning of this year, with condo rents increasing by an average of about 1.5% with each passing month to June. "Then in July, rents jumped 5.3% over June, which was surprising given the growth trends we were seeing, but not altogether shocking given that in most normal years rents tend to increase by about 3% in the summer compared to the spring due to seasonal factors," says Hildebrand. 
And -- as a sense of normalcy continues to return to city streets and offices -- this demand isn't going anywhere at the moment. 
"I think the re-openings and the anticipation of future openings have spurred rental demand, as well as a desire to take advantage of rent levels that are still well below pre-pandemic levels," said Myers. "Some tenants are still expected to work from home for the foreseeable future and are using their 'commute' money to rent a larger apartment."
While the flurry of activity on the rental market -- especially if it is indeed driven by a wave of returning students -- may cool, rent prices won't likely enter into a more attainable price territory any time soon (don't shoot the messenger).
"I suspect we'll see some of the pressure come out of the market as the school year starts and the surge in demand from students cools down," says Pasalis. 
However, with COVID-19 numbers slowly climbing and talk of a fourth wave becoming impossible to ignore (along with the daunting possibility of another lockdown), if we've learned one thing from the pandemic on the real estate front, it's that it's full of surprises and tricky to predict. 
"Barring a fourth wave, I expect rents to continue to increase, but at a slower pace than the 3% monthly increase in July," says Myers. "I still think we could see double-digit rent growth in Toronto in 2022."
Hildebrand says that -- with rents near 8% of pre-pandemic highs in 2019 -- that there's still room for recovery-based growth for rents within the next six months. 
"But I think that growth will begin to taper off as we get closer to those previous highs and also seasonal factors — rents tend to stay pretty flat between the summer and winter months," says Hildebrand. 
"However, the medium-to-longer-term outlook for rents is strong and demand will continue to outpace new supply as reduced ownership affordability pushes more would-be first-time buyers with higher income levels into rentals. Even factoring in the declines from COVID, the GTA rental market was averaging rent growth of 5% per year in the previous 10 years – we are likely to see that again if not stronger."
Renting