Toronto
Real Estate News
Bidding Wars for Rental Units Becoming Norm in Toronto and Vancouver as Demand Spikes
It was once common to only hear of bidding wars happening in traditional housing markets, especially for detached homes that were scarce in availability.
However, in the lead up to this fall's anticipated return to offices and post-secondary campuses, bidding wars for rental properties have become the norm in Vancouver and Toronto, two of Canada's most competitive markets.
With tenants continuing to show a preference for larger suites — likely due to the number of people working from home — average prices for two-bedroom condominiums and rental apartments are increasing faster than one-bedrooms, according to Rentals.ca's and Bullpen Research & Consulting's latest National Rent Report.
According to the report, the average rent in Canada increased for the third month in a row, rising to $1,752 in July, up 1.8% month-over-month. While this is still down 1.1% year-over-year, rents are trending upward: In April, average annual rents were down 9% annually, 5.7% in May, and 2.7% in June.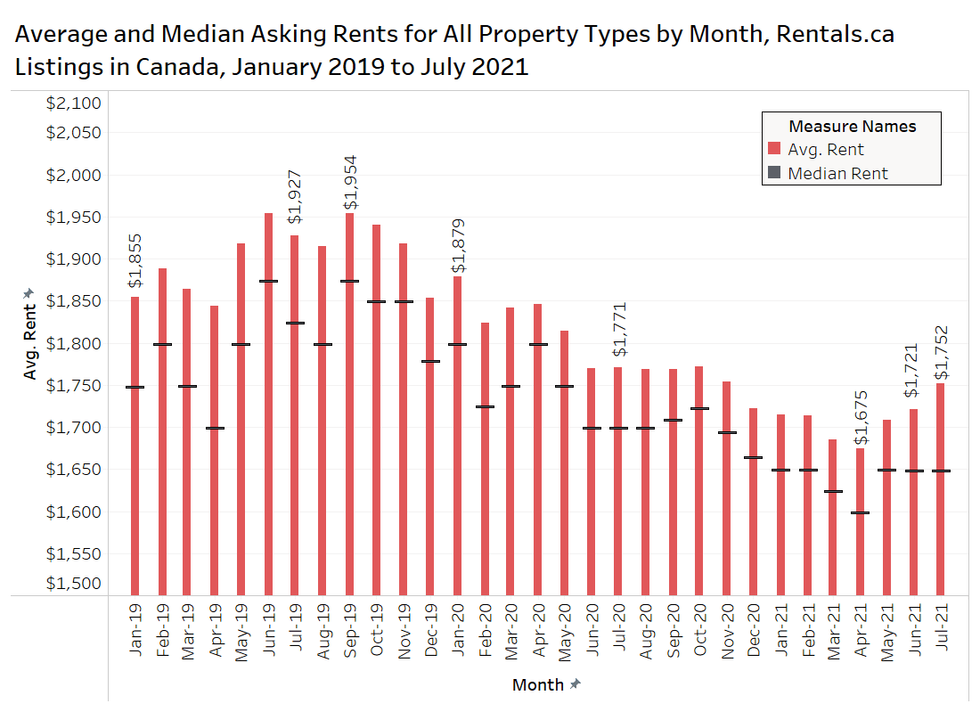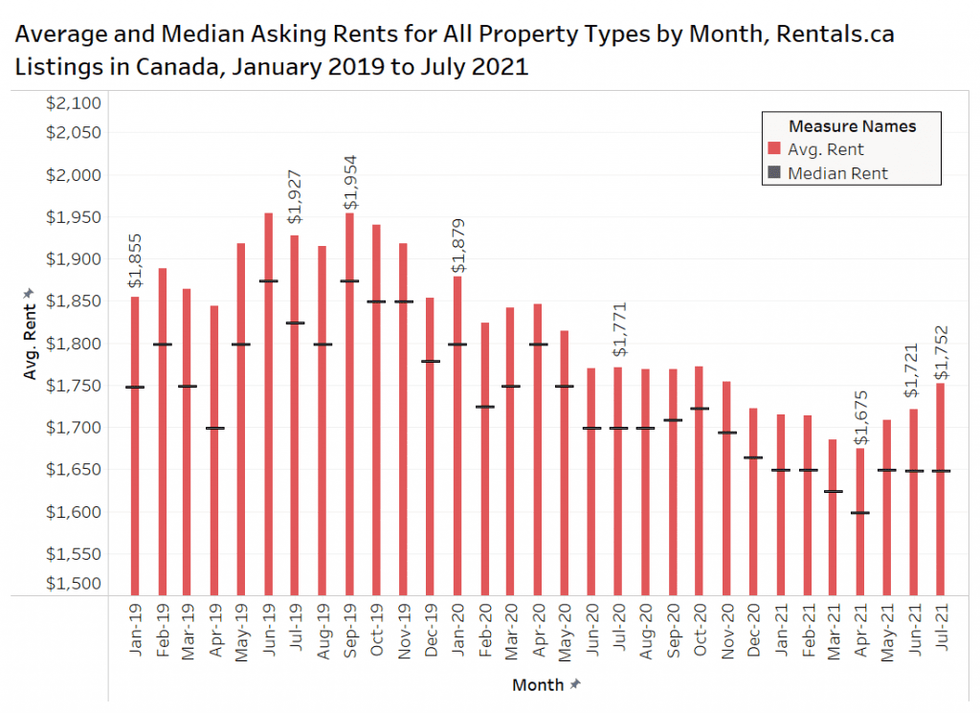 READ: Toronto Rental Market Recovery Sparks Bidding Wars, Rising Rents
"As employees get called back to the office, and colleges and universities announce their reopening plans, demand has increased significantly in central locations, especially in Toronto and Vancouver where bidding wars are being reported again for rental properties," Ben Myers, President of Bullpen Research & Consulting, said in the rent report.
"The luxury rental market is returning, pulling average rental rates up with it," he added.
Out of the 35 cities across Canada analyzed in the report, Vancouver maintained its position as the country's most expensive rental city. In July, the average cost of a one-bedroom increased 6.3% month-to-month and 14.4% annually to $2,185. Two-bedroom rentals also saw growth monthly and yearly, climbing 10% and 14.5% to $3,041.
Toronto finished second on the list, with one-bedroom rents rising 1% monthly, but falling 9% annually to $1,855. Two-bedroom rentals also increased 4.2% month-over-month and down 3.2% annually to $2,606.
However, the report found that larger and more centrally located luxury units in Toronto are increasing in demand and price at a faster rate than smaller, more affordable units.
"This continues to bolster the idea that more and more tenants are searching for larger living spaces to accommodate working from home and going out less. As the average monthly rental rates for larger units continue to recover, so will the overall rental market," reads the report.
Etobicoke earned the third spot in the ranking, with one-bedroom rentals reaching $1,802, while two bedrooms climbed to $2,606 in July. Victoria trailed closely behind as the fourth most expensive location, reporting average rents of $1,756 for one-bedroom residences and $2,103 for two-bedroom residences.
Mississauga earned fifth place within Rentals.ca's top-five ranking, with one-bedroom rentals reaching $1,753 and $2,129 for two bedrooms last month.
When looking at provinces as a whole, British Columbia recorded the highest rental rates in July at an average of $2,175 for all property types, up 10% monthly and 7% annually.
Ontario reported the second-highest rental rates last month, averaging $2,024 for all property types, marking a 3.3% monthly increase. However, average rents in Ontario dropped 2.2% annually.