Toronto is a big city, but its population is getting out of hand. In fact, a new study found that the city is growing at such a rapid pace, that pretty soon housing supply won't be able to keep up.
The report was conducted by Ryerson University's Centre for Urban Research and Land Development. It found that Toronto is the fastest-growing city in Canada and the U.S. by a huge margin.
---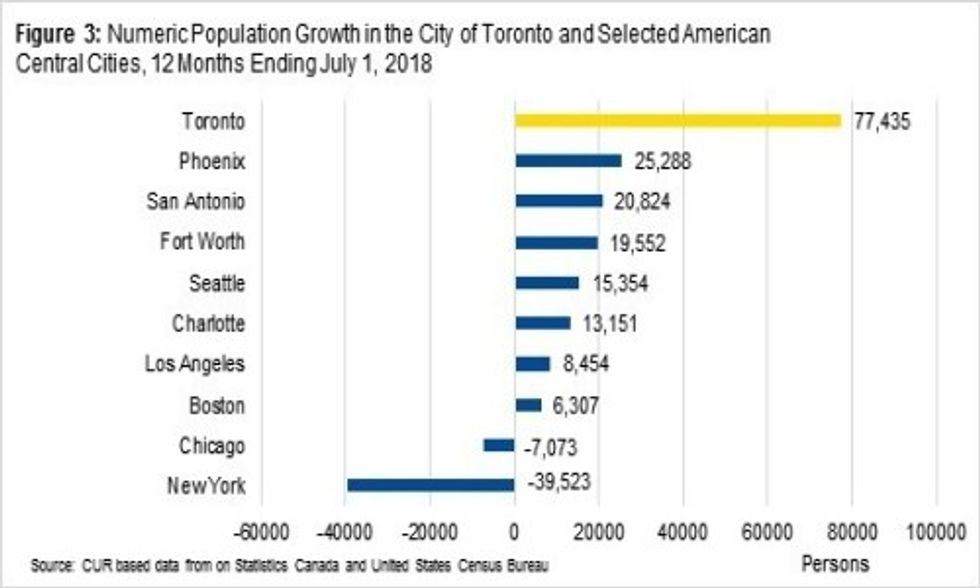 Chart courtesy of Ryerson University
Between July 2017 and July 2018, Ontario's capital gained 77,000 net new residents. That's more than three times as many people as the second fastest-growing municipality, Phoenix, Ariz., and it's more than the "combined gains of the three fastest growing central cities in the United States" — Phoenix, San Antonio, Tex., and Fort Worth, Tex.
Toronto also ranked high on the study's list of fastest-growing metro areas in Canada and the U.S. The city came in at number two with 125,000 new additions, just behind Dallas-Fort Worth-Arlington, who added 131,000.
"Net international migration (both permanent and temporary residents) was the dominant source of population growth in metropolitan Toronto, followed by births," the report noted.
It's no surprise that Toronto is growing exponentially. A previous RBC analysis noted that the city is a "magnet for young, mobile talent," which is why there are more millennials coming to Toronto than those leaving, despite the high cost of housing.
So what does this rapid population growth mean for the city? According to urban economist and study co-author Frank Clayton, it means Toronto is "risking a serious housing crisis."
"We need more housing supply," Clayton said in a HuffPost Canada interview.
Canadian home sales might have perked up in April, but the market has slowed down overall. As a result, new construction has declined.
In Ontario, housing starts fell by 28 per cent from Q1 2018 to Q1 2019, according to data from Canada Mortgage and Housing Corporation. And in Toronto, specifically, new builds are down by 24 per cent this year, HuffPost Canada reports.
A quarterly housing report by Altus Group previously predicted that new construction in Toronto would take a dip in 2019 as a result of affordability issues. Home prices have been on the rise due to steady demand and lack of available units in the GTA. As a result, only "very high-income buyers" can afford a home in Toronto, which turns out to be just 10 per cent of the city's top earners, a Zoocasa study found.
If housing supply doesn't keep up with demand, Clayton predicts more people will be "doubling up" or "tripling up" on housing and more homes will become multi-generational.
Real Estate News