If you (somehow) still don't own a face covering or mask, we suggest you get one ASAP.
---
No longer only a safe and considerate idea (but it's still that too), wearing a mask or face covering in Toronto's indoor public spaces is now required by law. The bylaw will go into effect on Tuesday, July 7, as an additional measure taken by the City to reduce the spread of COVID-19.
READ: How to Make Your Own Non-Medical Face Mask at Home
Face coverings can either be purchased or made with household items. The mask or face covering should cover your nose, mouth, and chin without gapping. It should comprise at least two layers of tightly woven cotton, fit securely to the head with ties or ear loops, be easy to breathe through, and not lose its shape in the laundry.
By this point, it simply makes sense to carry a mask on you at all times, adding it to your checklist of things to gather before leaving the house. Masks are already required on the TTC. In a matter of days, they'll be required for everything from a simple convenience store run, to a visit to the mall.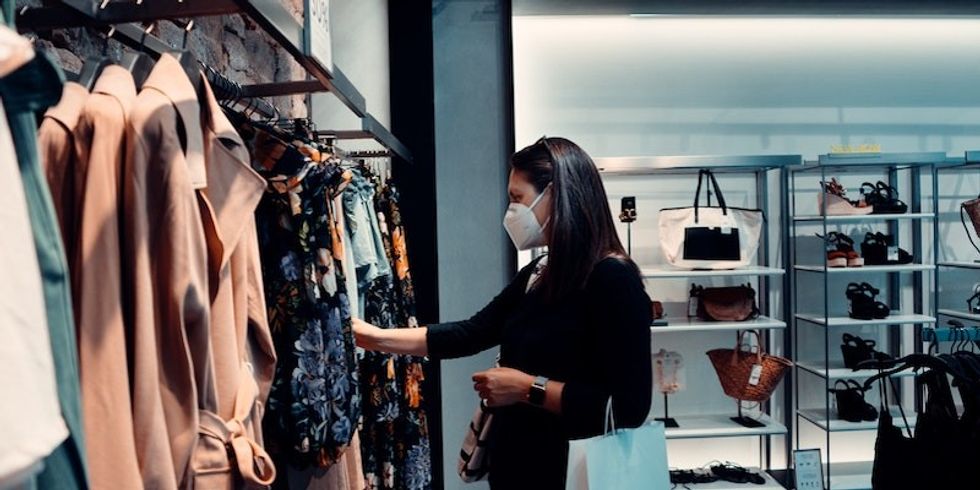 Photo by Arturo Rey on Unsplash
Here's where you'll need one:
retail stores
convenience stores
malls, shopping plazas
grocery stores, bakeries
farmer's markets (indoor sections)
restaurants, bars (indoors, when permitted to open)
indoor recreational facilities, gyms, swimming pools (when permitted to open)
libraries
community centres
day camp activities taking place in indoor facilities open to the public
community service agencies
personal service settings
churches, mosque, synagogue, temples and other faith settings
art galleries, museums, aquariums, zoos
banquet halls, convention centres, arenas, stadiums, and other event spaces
open houses and presentation centres for real estate purposes
common areas in hotels, motels and short-term rentals (e.g. lobbies, elevators, meeting rooms)
entertainment facilities including concert venues, theatres, cinemas, casinos
Business owners will be required to create and enforce their own mask policy for their establishment, whereby all staff and guests must have their faces covered while indoors. They are required to communicate the policy to all staff members and to post signs reminding patrons to wear masks or face coverings.
Business exempt from requiring masks:
schools
post-secondary institutions
child care facilities
private and public transportation (the TTC has its own new bylaw)
hospitals, independent health facilities
offices of regulated health professionals
apartment buildings and condominiums, including their common areas
an area that is not enclosed or indoors (e.g. restaurant patio)
Naturally, there are some individual exceptions. A person with a medical condition that makes it difficult to wear a mask, someone who is unable of putting a mask on or removing it, and those under the age of two are not required to do so. You don't need to bring proof of your exemption.
The bylaw also allows for the temporary removal of a mask or face covering when receiving services (such as having a meal), or while actively engaging in an athletic or fitness activity that would make wearing a mask difficult or hazardous (i.e. swimming).
Of course, the hope is that this can function on an honour system and that everyone who is able to comply will. Here's to hoping...
Toronto