---
According to the latest Toronto Housing Market Outlook from RE/MAX, home prices in the increasingly unattainable city could climb another 10% this year. 
With supply as tight as ever and a relentlessly unwavering demand, the city's real estate market will most likely remain in a strong seller's territory through 2022, with home prices only set to rise (no bubble burst here, sorry). According to RE/MAX, move-up and move-over buyers continue to drive demand in the red-hot region. 
Single-detached homes experienced the greatest year-over-year price appreciation last year on a year-over-year basis, rising from $1,477,519 in 2020 to $1,710,304 in 2021 (+15.8%); followed by the increasingly popular townhomes, which rose from $835,615 in 2020 to $935,015 in 2021 (+11.9%); and condos, which increased from $673,708 in 2020 to $709,602 in 2021 (+5.3%).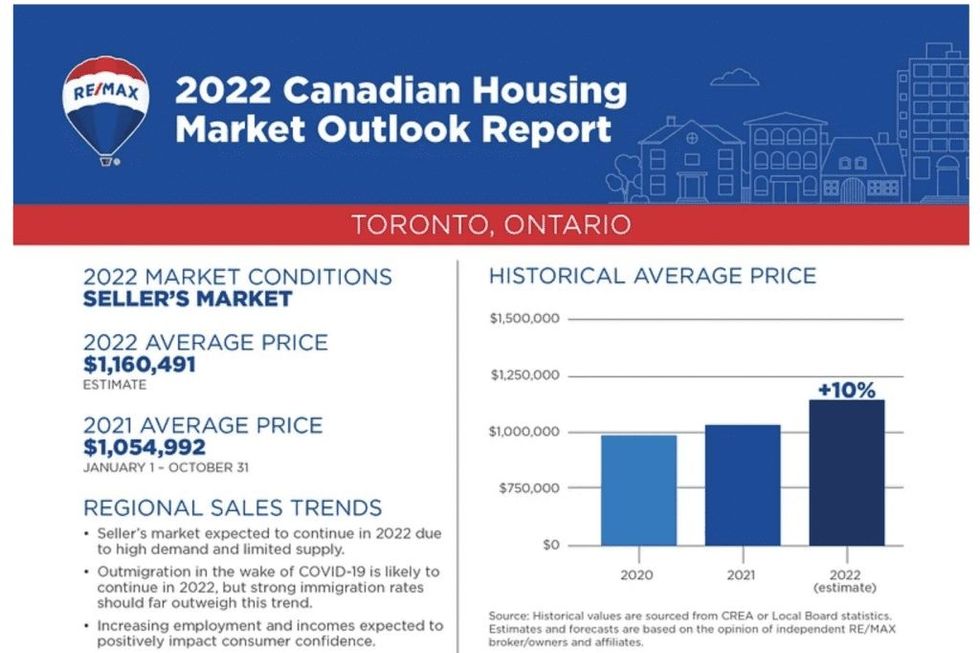 Toronto's condo market sprang back to life in 2021, with the fall experiencing the highest level of activity across all property types. This is anticipated to continue into 2022 due to higher levels of inventory available, according to RE/MAX.
"Increasing employment and income levels, which are both likely to continue to rise post-COVID-19, will continue to be key factor in the growing real estate market," reads the report. 
READ: Canada's Immigration Quotas Just Grew, But Can the Country Sustain It?
The report also points to the impossible-to-ignore trend of inter-provincial migration that emerged very early in the pandemic, something that was fuelled by a new-found remote work culture and a collective craving for more space to live (and to work remotely). 
Despite the easing of pandemic restrictions -- which will inevitably mean a return to the physical office for many, if even on a hybrid basis -- RE/MAX says this inter-provincial trend will continue through 2022. 
"That being said, immigration rates in Toronto far outweigh the out-migration trend, putting further pressure on Toronto housing supply levels in 2022," reads the report.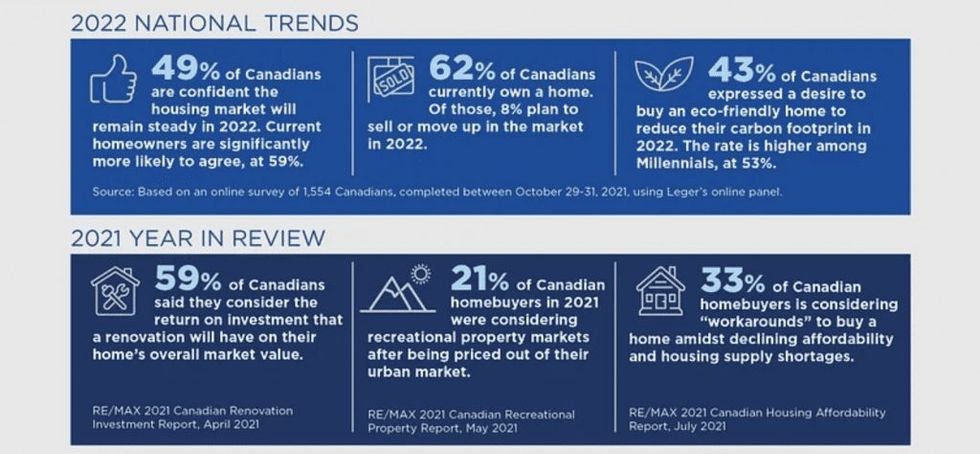 Meanwhile, the real estate market throughout the country tells a similar story to Toronto.
From a national perspective, RE/MAX is anticipating steady price growth across the Canadian real estate market in 2022, with inter-provincial migration continuing to be a key driver of housing activity in many regions, based on surveys of RE/MAX brokers and agents, as reflected in the 2022 Canadian Housing Market Outlook Report.
Of course, this is welcome news for the country's homeowners. For (would-be) first-time buyers, however, the defeating reality of sky-high home prices may be enough to give up on the housing market all together.
Real Estate News