Real Estate News
Average Toronto Home Price Falls Nearly 4% in First Half of April: TRREB
It's been just under a month since Ontario's province-wide pause on non-essential businesses and tightened physical distancing measures were implemented to curb the spread of COVID-19, and Toronto's real estate market continues to feel the effects.
In this short time, home prices have fallen, fewer transactions are taking place, and there has already been a significant drop in new listings coming on the market, according to the Toronto Regional Real Estate Board's (TRREB) mid-April market update.
RELATED:
During the first two weeks of April, home sales in the Greater Toronto Area (GTA) have already declined 69% compared to the same time last year, with just 1,654 transactions recorded through TRREB's MLS System.
On a y-o-y basis, TRREB says sales declines were greatest in the detached and condo segments, with detached sales particularly down in Toronto.
New listings during the same period were also down y-o-y, falling 63.7% to 3,843. TRREB says since listings trended so similar to sales during this period, it shows market conditions remained right enough to provide support for the average selling price in line with 2019 levels. Speaking of which, the average selling price for all GTA homes in the first half of April hit $819,665, down 1.5% y-o-y.
TRREB says uncertainty about market conditions as a result of the pandemic and the changing composition of home sales played a role in managing the pace of y-o-y price growth during the first half of April.
For example, in Toronto, the number of homes sold for more than two-million dollars declined more than overall sales, which also had an impact on the average selling prices.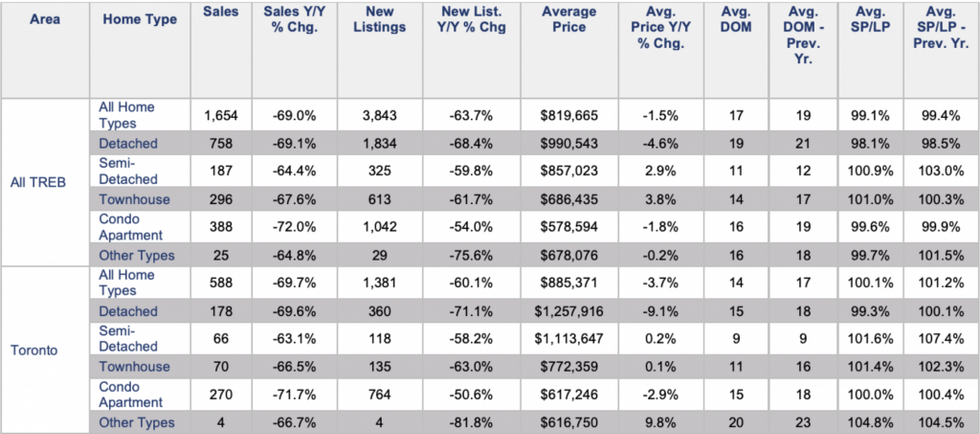 Preliminary Market Outlook Guidance/TRREB Mid-April Market Update
Here in Toronto, sales of all home types fell 69.6% y-o-y, while new listings also declined, hitting 1,381, down 60.1% from the same time last year.  The average price for all home types during the recorded period fell 3.7% to $885,371.
"All of the COVID-19 related issues and measures have translated into a temporary drop in the number of transactions – a drop that will persist until we experience a meaningful and sustained decline in the number of cases," said TRREB president Michael Collins.
"However, once recovery begins, it will likely accelerate in earnest as buyers seek to satisfy pent-up demand that will build up over the course of the spring and at least part of the summer."
Looking forward, TRREB expects the decline in home sales to be strongest in Q2 2020, as strong social distancing measures remain in place for most of the spring.
However, if the current social distancing measures in place play out as expected, TRREB says there will likely be market activity improvement in the summer.
TRREB says we can expect the real recovery to begin in the fall, as social distancing measures are substantially relaxed, people return to work from furlough, and homebuyers take advantage of very low borrowing costs that will remain in place to spur economic recovery.