Toronto's first modular container laneway suite is now a reality. 
---
Ballance Containers, one of the few companies that specializes in sustainable living solutions, recently opened up options for laneway suites with the construction of the innovative new home.  
Located in the city's Leslieville neighbourhood, the structure is a modern and compact 225-square-foot studio suite with a kitchenette and is connected to the home's electrical, water, and sanitation systems. 
Whereas laneway suites -- which became legalized in 2018 in Toronto -- can take months to build, a container home can be fabricated in four weeks. The installation is much easier, quicker, and less taxing for all parties involved (including the neighbours). In addition to secondary suites, modular construction also allows homeowners to add a second level in the future, providing they abide by zoning and permit rules. 
"We have been building with modified containers for the events industry since 2017," says Eric Ballance, founder and CEO of Ballance Containers. "We were forced to pivot in 2020 due to the effects that covid had on the events industry, as a result Ballance started to build residential grade container homes. Covid and the pandemic fuelled the need for this new forward thinking, rapid housing solution." 
Both laneway suites and the recently-approved (but hotly contested) garden suites offer possibilities for homeowners looking for extra space for everything from offices and gyms, to living quarters for aging in-laws. Furthermore, they offer a means to generate rental income in a climate of sky-high home and mortgage prices.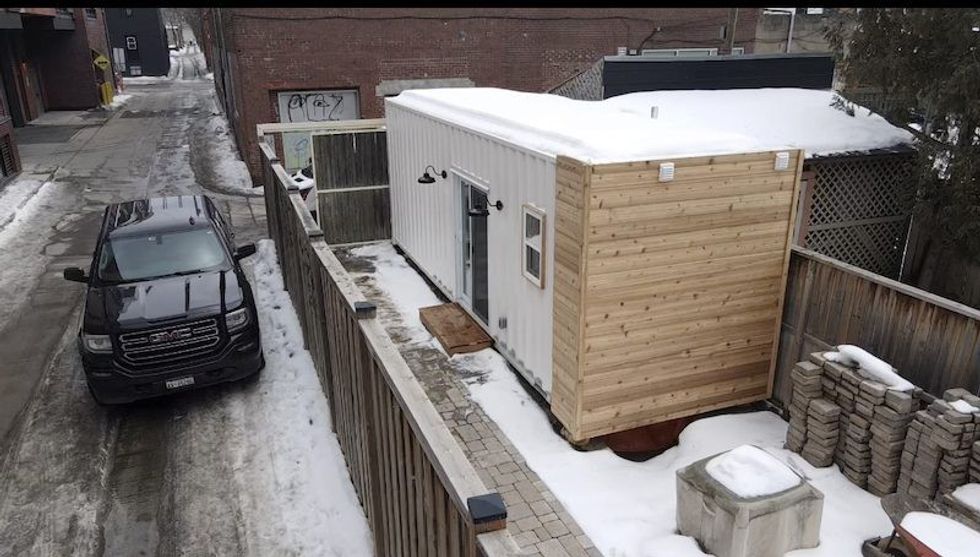 In the case of the new Leslieville suite, the homeowner was looking for an affordable housing option for her retired brother with health issues, who had previously been renting an apartment in Riverdale for $2,000 per month. As a younger senior living on a fixed income, his rent was too expensive to be sustainable over the long term. A container laneway suite offered a budget-friendly option; one where his sister could keep her brother close, but he would have separate living quarters from the main house and be able to maintain his independence and privacy.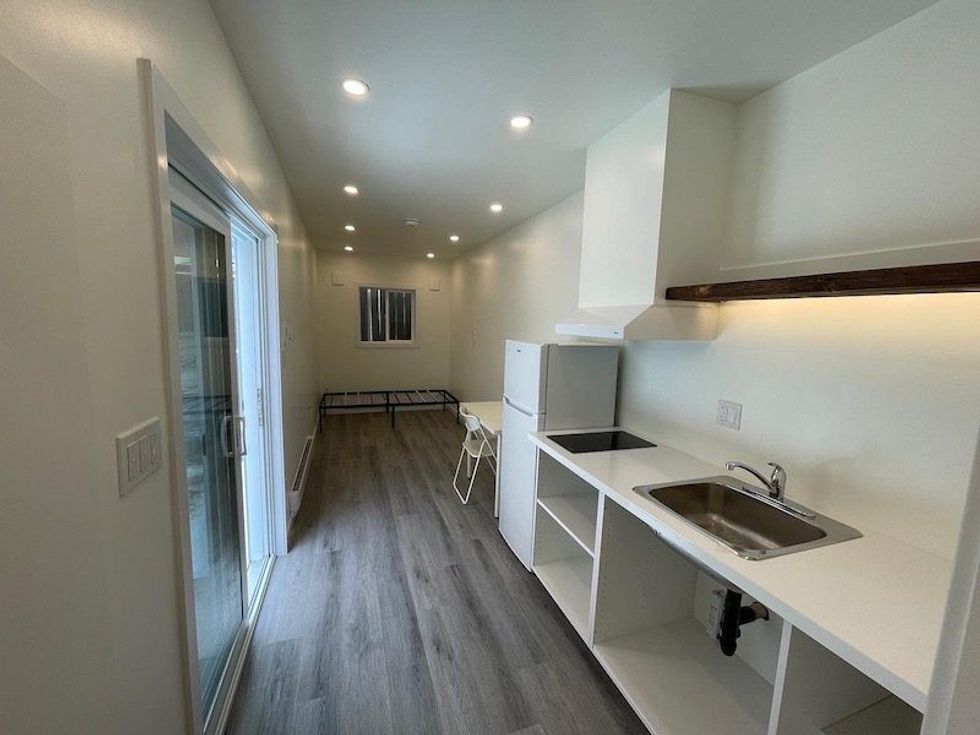 Ballance designed the compact suite based on their client's needs and property zoning, with its architects having prepared all permit drawings and managed the application process. Onsite preparation was needed for the pier foundation and connection of service to the main house. The laneway suite was fabricated in Ballance's Mississauga facility and the suite was delivered by a flatbed truck to the client's property and craned into position, something that required a road closure permit. Onsite connection to the suite was completed through a floor hatch, and landscaping -- the last step to completing the project -- will start this spring. 
The container laneway suite itself cost $80,000. Additional costs included delivery, permits, site preparation, connections, and landscaping, all of which totalled approximately $52,000. In comparison, rental prices in the GTA for a small bachelor or one-bedroom costs $2,000 per month plus utilities. One can take a home equity line of credit against the main home or use a traditional mortgage to finance the building cost of a laneway suite. Finance costs are as low as $500/month to afford $132,000 plus utilities. A notable bonus in creating a laneway suite -- especially in this red-hot real estate market -- is that the value of the property increases more than the cost of the suite.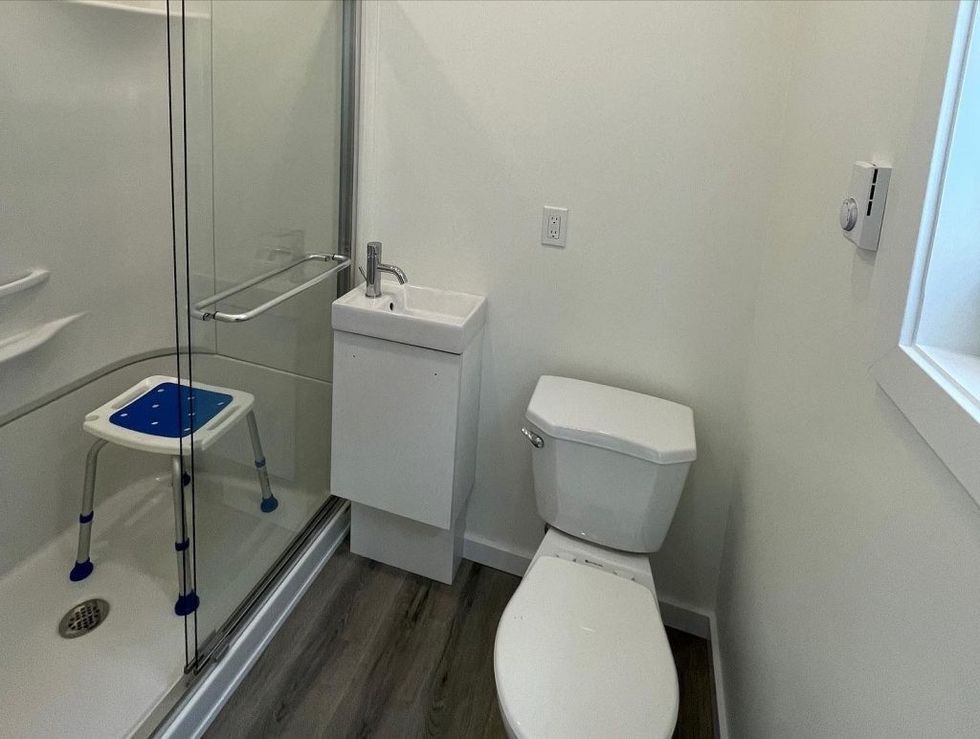 "A Lot of Education and Work Needed"
While there is a strong interest in container homes, Ballance says there is a notion that they may not be allowed in certain townships. "The reality is a container is a structural box and when you apply for a proper building permit, a container will easily meet the structural requirements of the building code," he explains. "There is a lot of education and work needed so that modular construction can be adopted as a regular building process, however, as it currently does not fit within typical inspection processes of building departments." 
As Ballance highlights, there are many benefits to modular construction. Not only is the material cheaper than traditional home building materials but the production time and all the hiccups and headaches that come with a home build are drastically reduced. He points to finance cost savings; with a production time of two to four months compared to 12-15 months for traditional builds. Furthermore, with prefab construction, buildings are 75%-90% constructed in a climate-controlled shop, resulting in increased efficiencies, less waste, and reduced costs. 
Thanks to their metal construction, containers also meet and surpass building codes and are superior to wood framing. "They are rugged and are ideal in harsh climates and rough terrain," says Ballance. "Furthermore, containers are spray foam insulated, therefore are much easier to heat and cool and keep drafts and bugs out." 
Finally, containers offer environmental benefits, as they can be equipped with energy efficient heating, cooling, lighting, solar, and smart technologies to reduce energy use and create net zero homes. We have a feeling we'll see a lot more of these structures throughout Toronto in the not-to-distant future.
Affordable Housing