Walking along Toronto's Strachan Avenue at any point over the past few weeks has meant encountering an onslaught of sidewalk signs at virtually every corner, all advertising available units inside new residential developments.
Whether you head east towards Alexandra Park or west into Liberty Village, the small A-frames follow.
---
It's no secret that new condo sales have struggled significantly this year, as many would-be buyers keep their feet firmly planted on the sidelines amid sky-high interest rates and an uncertain market. In fact, a recent report from Urbanation found that year to date, new condo sales in the Greater Toronto Area were down a staggering 47% compared to the same time frame in 2022, striking a 10-year low.
So, to make sure their offerings get seen by that shrinking pool of potential buyers, residential builders are putting significant effort into advertising and promotions.

"Developers are investing more in their marketing for sure," said President and CEO of RDS Brokerage Charles Jaque, who has worked for many years selling new condo projects, including the well-advertised 101 Spadina condo tower from developer Devron.
On the receiving end of that effort are not only potential buyers but realtors like Cliff Liu , Broker at Toronto-based brokerage Strata. Liu says he's noticed a substantial uptick in marketing efforts for projects in the Greater Toronto Area since the summer.
"They've been, every day, just cold calling agents, trying to push out events, and trying to do in-house presentations for agents because it's just really, really slow for developers," Liu said.
Jaque notes that although there is certainly still buyer interest to be had, especially for buildings like 101 Spadina that he sees as adding something different to the market — larger units targeted to end users rather than investors — the numbers are nowhere near what they were during the pandemic boom, or even in the years preceding the pandemic.
"We were in a market where we were used to, in one quarter, projects selling out to 75% on average," he said. "Now, in a three-month period of time, projects are averaging about 45%. That's still very good, but it is a low number, so developers are spending more money on marketing and they need to be strategic and differentiate themselves, whether that's through incentives or pricing or [by] offering something really unique through architecture design."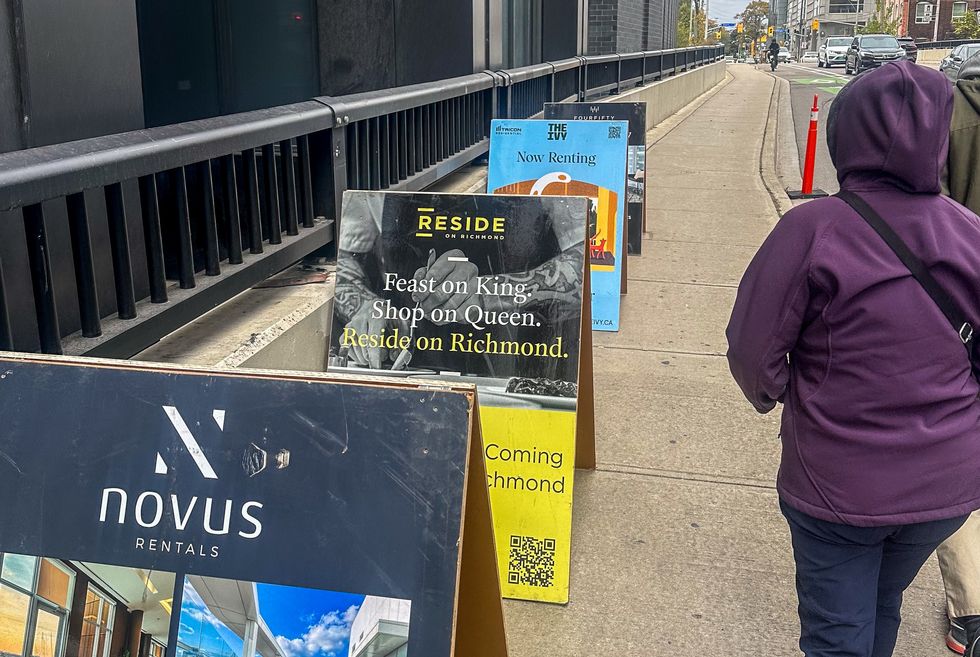 Sidewalk signs at Strachan Avenue and East Liberty Street. (STOREYS)
Not everyone, however, is convinced there's been a dramatic shift in advertising efforts, but rather a shift in where those efforts are being focused.
"I do think that during COVID, there was a really big push towards digital advertising," said Jordan DeBrincat, Vice President at Altree Developments . "Now that we're kind of out of that COVID world and things have started to go back to normal on that front, I do think print [advertising] is definitely back up there. I don't necessarily know that we're changing the way that we're spending money on media and advertising — I do think that we're spending more because there's a longer period of time that we are spending money."
Incentivize, Incentivize, Incentivize
To get more eyes on their projects, and hopefully more buyers interested in handing over deposits, developers have been advertising purchase incentives at unprecedented levels. What seemed to begin with developers allowing more flexible deposit structures has now spiralled into offers of free lockers, free parking spots, free cars, and, perhaps most surprising of all, free mortgages.
Earlier this year, a Concord Adex project in North York, Saisons, was offering to pay its purchasers' mortgages for up to a year. On a $1.4M three-bedroom suite, this came out to $74,700 in mortgage payments that would be covered by Concord, according to promotional materials.
"Some of the builders, they're promoting using interest rates," Liu said. "They're collaborating with the banks and will guarantee you a mortgage rate of 4% in 2027 or something like that."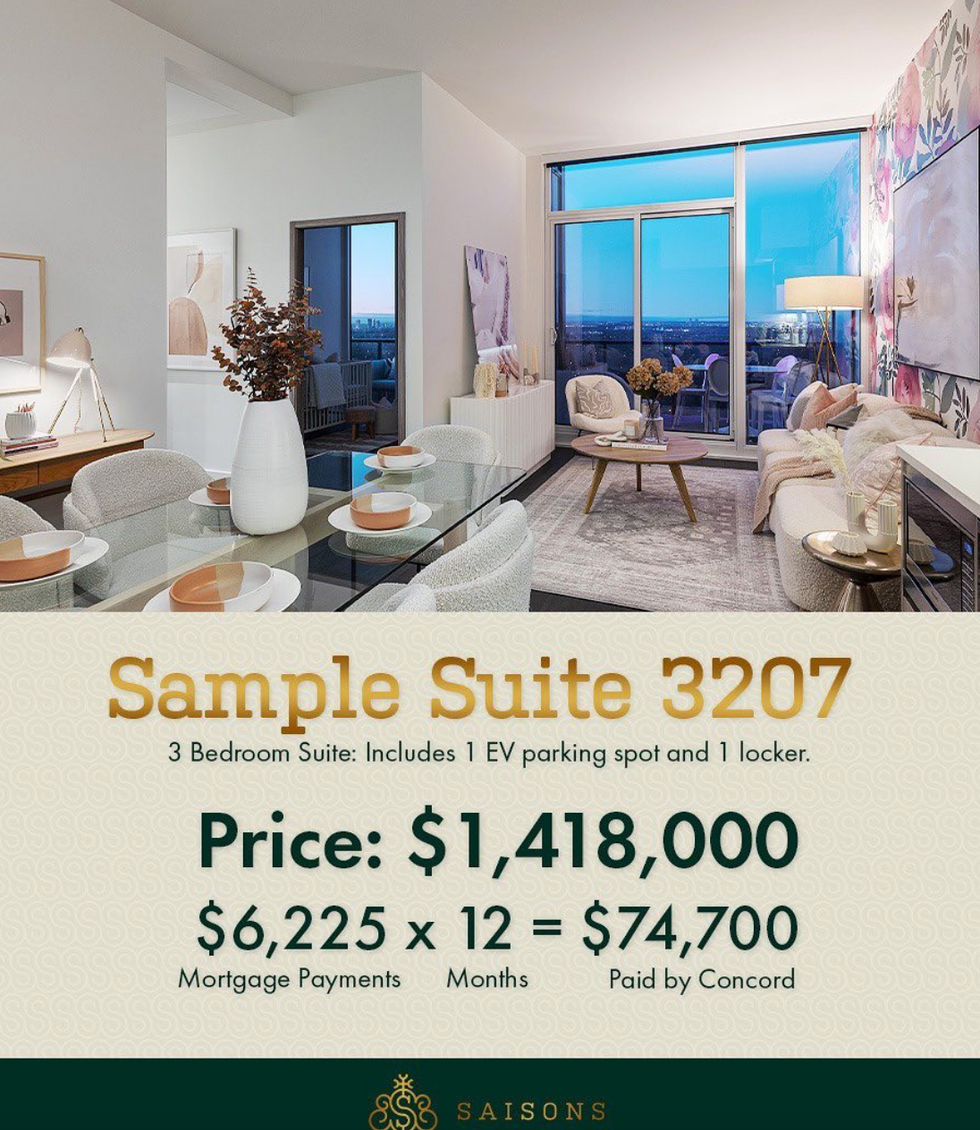 Concord Adex
On the developer side, DeBrincat says this variety of incentives — often all within one development — is intentional and strategic.
"I think we're at a point of our cycle where you have to come up with creative things in order to capture people, and you can't just come up with one incentive, there have to be multiple because there's multiple different buyers," she said. "There's still the investor out there — I know they're few and far between and they're hard to come by, but there are investors that are still out there — so you need to be able to offer incentives that are going to appeal to them. And then on the user side, you need to be able to offer incentives that appeal to them."
If You Build It, They Might Come?
Slower sales are unsurprisingly having a trickle-down effect on the launches and construction of new buildings — without buyers purchasing pre-construction units, developers typically don't have a way to secure financing for the project. So far this year, the number of presale launches has fallen 36% compared to 2022, with the Urbanation report counting 40 projects, totalling 13,721 units, that were expected to launch this year but have been kept on the shelf.
As for projects that are actually making it to the construction stage, there are significantly fewer of them. A more than 10-year low of 1,798 condos started construction in the GTA during the third quarter — a 72% decline from Q2 and a whopping 86% decline from the same time last year.
Demand is still there for units at the right price point and in the right location. Liu and Jaque both point to the recent runaway success of Pickering City Centre , a large-scale condo development in Pickering that saw its first tower sell out 95% of its 513 pre-construction units in just the first week of its launch.
With that in mind, developers are picking and choosing wisely when and where they launch a new condo project, Jaque says. DeBrincat agreed, noting that for Altree's summer launch of Kingside Residences in Scarborough, the market was being watched very closely before deciding to pull the trigger.
"You really do want to make sure that you're putting your best foot forward so it definitely did play a part as to when we launched and why we haven't launched anything since," she said, adding that Altree has "a couple of projects that are potentially hitting launch in Q1 of next year, but that's all market dependent."
Urbanation notes that lower presale activity tends to impact construction starts with a 12-18 month lag, meaning "the slowdown in new condo sales that began in the second half of 2022 is expected to continue weighing on construction starts in the coming quarters."
"I do think that it's going to get a little bit worse before it gets better," DeBrincat said. "My advice for people would be to hang on. I think real estate has always been a long-term play."
Real Estate News