---
"People have this picturesque vision of what it's like living in this off-grid, tiny cabin in the woods, but very rarely are you kicking your feet up and relaxing," says Rachelle Wintzen. "It's a lot of work. There are never-ending chores, constantly things that require work, and always things that need to be fixed -- on top of your day job. So, it's definitely a challenging lifestyle, but I honestly love it."

During the thick of the pandemic, Wintzen, formerly a full-time Toronto resident, moved into her tiny, off-grid cabin about three hours east of Toronto, in the Central Frontenac region's wilderness. At the time, the pandemic and its relentless lockdown measures had wreaked havoc on her Leslieville yoga studio, Chi Junky, which she opened back in 2014. Wintzen had purchased the design-forward cabin a few years prior to COVID-19.

"I never grew up with a cottage or being exposed to anything like that," says Wintzen, who also spent a decade working in New York City's fast-paced club scene before finding yoga. "It wasn't until I was an adult and started going to friends' cottages when I realized it was amazing. I was feeling burnt out being a small business owner and living in the city in general, so it had always been a dream of mine to have a place outside the city where I could escape. I had my eye out and nothing was ever within the realm of possibilities or my budget. So, I started to discover tiny homes and cabins and found them really appealing. I got really lucky with a private sale. It popped into my inbox, and within five minutes, I responded and asked to see it. I closed on it within a week because it was all I needed."
While she loved the cabin, Wintzen wasn't getting there often because the popular yoga studio kept her so busy. Then the pandemic hit -- and decided it wasn't going anywhere any time soon. 
"In September 2020, I was very close to losing the business completely because I got flatlined," says Wintzen. "I'm single income and don't have investors at the studio, so everything fell on me financially. I was carrying a ton of financial burden during the pandemic on my own. So, in order to save the studio, I decided in May 2021 to give up my place in the city -- I was renting a loft in Corktown. My landlord was amazing. I ended up leaving and turning the manager's office at the studio into a little pied-à-terre. After a while, I was working remotely, the city was closed, the studio was closed, so I thought I would go and try living at the cabin full-time."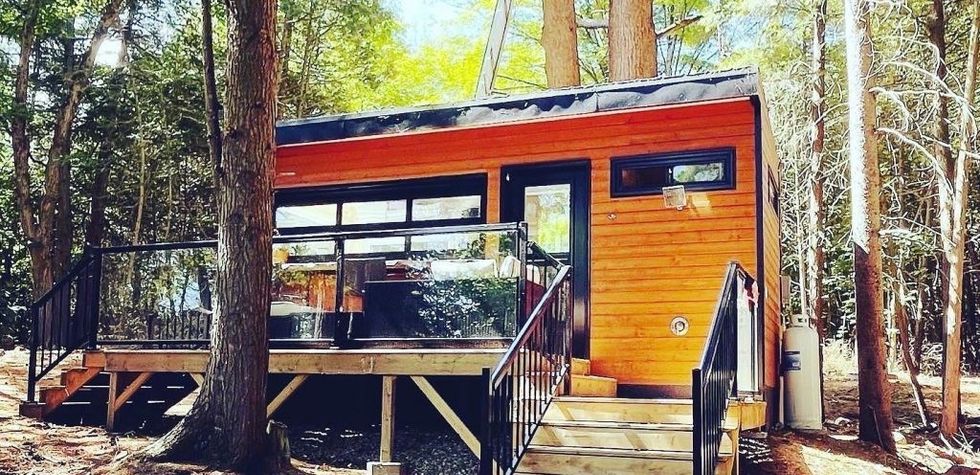 So, Wintzen packed up her things and moved into her tiny home. "I brought my computer up and started working remotely and it worked surprisingly well," she says. She got a larger data plan on her phone and a cell booster to increase the signal. "It costs the same as if I were to pay for wifi and a cell phone; I can stream movies, do Zoom meetings, conduct online classes at Chi Junky, and do all of my work," says Wintzen. "I work anywhere from 50 to 90 hours a week, so I was still pulling a ton of hours, but being here was infinitely better. It ended up helping so much in the finances for the studio."
As its first occupant, Wintzen bought the cabin fully constructed; it was turn-key from the built-in bed, right down to the plates. "It's a completely modernized cabin," says Wintzen of the strategically compact space. "I wouldn't change a single thing. The design is perfect. It has this garage door window that opens up, with a live edge bar, so you're inside and outside; it has big windows all around -- all you see is 360-degree trees and nature. When I'm lying in bed, I can look at the lake and see the sun rise, which is stunning." 

Outside, the cabin features two fire pits, hammocks, lake access, and an outdoor shower. "It's like you're taking a shower in the trees, it's just beautiful," she says. "Being in nature itself is so nice; it's peaceful, it's quiet...there are so many elements that make it so lovely." 
Of course, there's a big difference between enjoying cabin life in the summer and in the frigid winter. Wintzen quickly realized she would need to put a lot of work into it to make it livable for the four seasons.
"Summer off-grid is a breeze -- it's super easy. But when it was getting close to the winter, that's when I started doing a lot of the work," says Wintzen. "It was really built as a three-season, or even a two-season, warmer months only cabin. So, I had to figure out how to make it a four-season dwelling when I knew I'd be there all year long. I had to put in septic, because before it was a composting toilet, which is not the most fun thing in the world. Putting in a flushing toilet was life-changing. I put in a well, so I would have running water year-round, because before I was on lake access water; with that, once everything freezes over, you have no running water."
In addition to relying on propane for heating and hot water, Wintzen also insulated the cabin to arm it against Canadian winters. She also had to upgrade all of the solar power. "Solar was not cutting it for what I was doing," she explains. "I needed to be able to work, plug things in, have a flushing toilet, and running water. You have to upgrade your soler immensely, so I did an overhaul on the entire system and now it works like a breeze. It pretty much functions like a regular home you'd find in the city. So, all of that took months and months and cost a lot of money. But now it's great."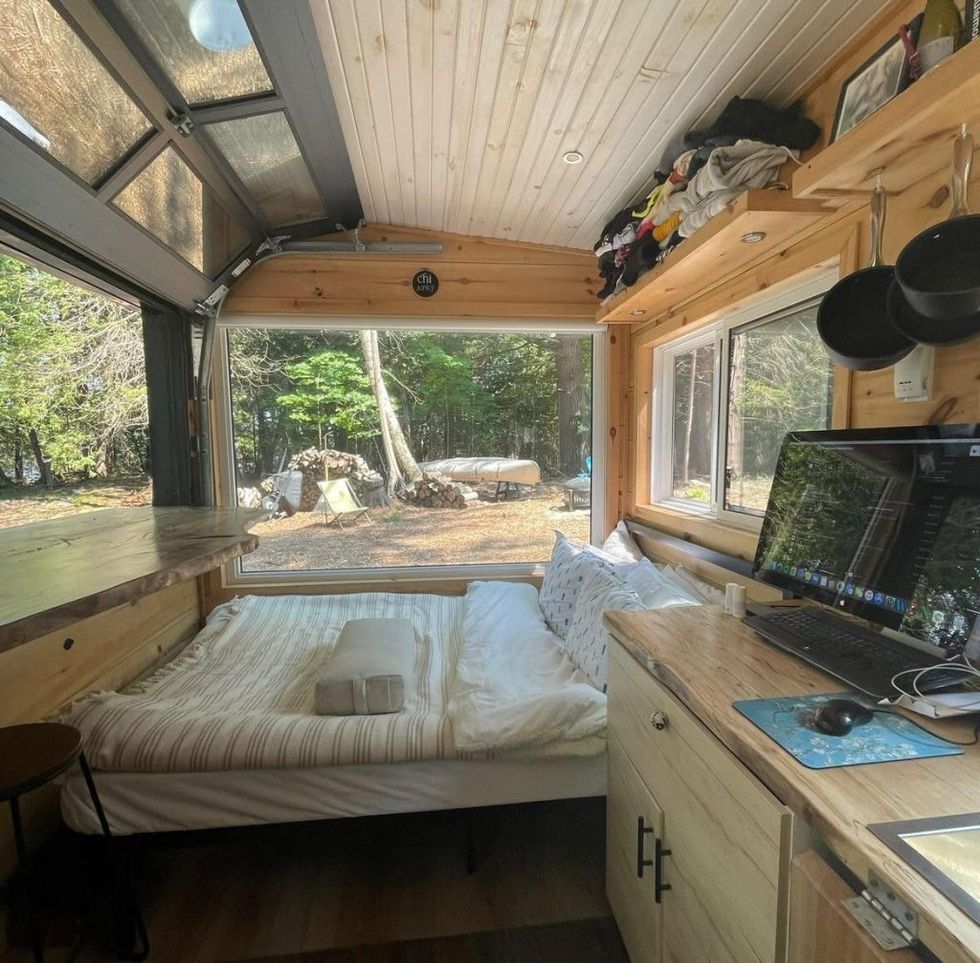 While Wintzen made the home more livable, she didn't change the aesthetic. Naturally, the entire undertaking is filled with learning experiences -- and no shortage of perpetual challenges. 
"I'm a single female, off-grid and by myself in a very remote area, so you learn how to fix pretty much everything on your own," says Wintzen. "You have to troubleshoot things. You build a network of people you need to rely on for certain things. But you become incredibly self-sufficient. So, in terms of surprises, I feel like there were so many. In the winter, it's incredibly hard; every time something doesn't work -- and that happens often -- you've got to figure out, 'Is it this?,' or 'Is it this?,' and when you've done all the things and still can't figure it out, you have to call on somebody. But every day there's something."
For example, Wintzen cites having to run a generator in the winter when she doesn't have enough power. "In the winter, you can't rely completely on solar; you need a backup generator and it's hand-held," she explains. "So, I'll be there outside at 6 a.m. in the morning in the pitch dark because I have no power or heat, trying to start the generator; put the gas in, pull it, and sometimes it takes half an hour, because it's so cold that it's frozen." 
Not only is Wintzen's cabin off-grid, it's also off-road, making it a challenge to navigate in the depths of winter. "It's completely unpaved," says Wintzen. "So, in the middle of winter, my car -- a Jeep Wrangler -- was always getting stuck. You get snowed in sometimes in the middle of winter; I've had so many adventures. I've run out of heat and the propane truck couldn't make its way down the road to re-fill and it's -30 outside. These propane tanks are like 100lbs a piece. So, I've had to load it into the truck, drive it all the way up, hope I don't get stuck, fill it up, and drive it all the way down to re-hookup the house in the dead of winter."
Wintzen also has to stay on top of the taps, turning them on in the middle of the night to ensure they don't freeze. "It did freeze on me this past winter when it was so cold and I didn't have water for three days because everything was frozen," she says. "So, I had to wait for the temperatures to rise. You learn all of these things yourself and get thrown into the deep end."
So, clearly the lifestyle isn't for everyone. In addition to logistics of running a remote off-grid cabin, Wintzen admits that the initial period of off-grid living wasn't without some nerves. "The first few months by myself as I was settling in…it's pitch black," says Wintzen. "You can't even see you hand in front of your face when you go outside in the dark. So, the first few months, I was on edge. But now it just feels like home. I'm totally not afraid of anything out here. I'm so settled in."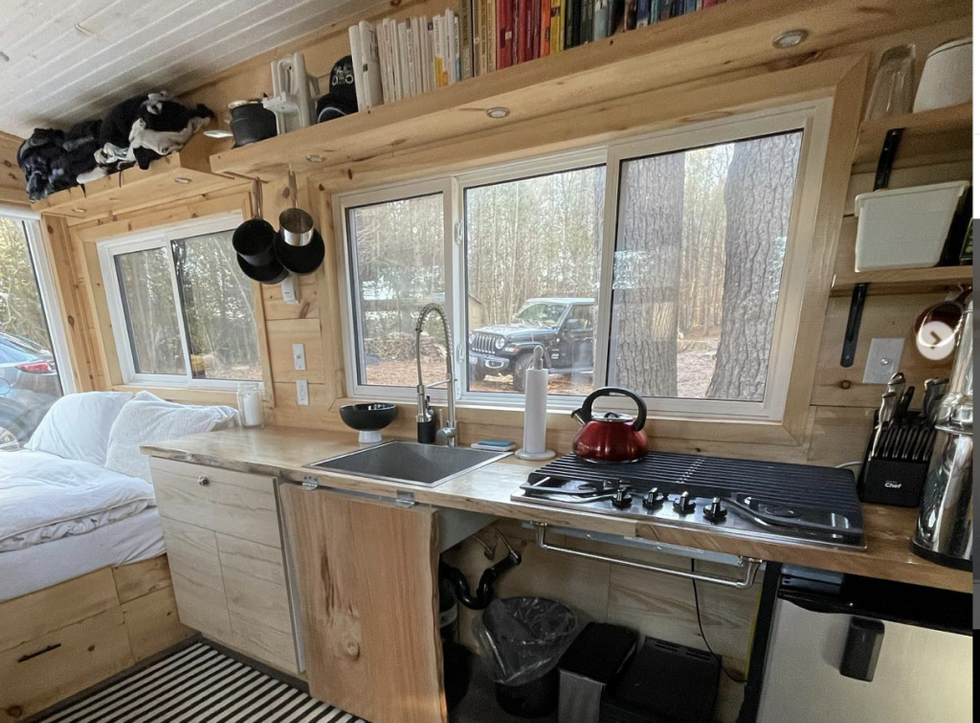 While it may have made a significant dent on her bank account to winterize the property, Wintzen says her costs of living are now extremely low. "I got lucky with the turn-key property, but the biggest expense for the off-grid is setting it up so that you can live there full-time if that's what you choose," she says. "Once that foundation is done, your cost of living is minimal. The only thing that I have to worry about right now is paying for propane, which you only use for heat and hot water, and that's pretty much in the winter. It may cost a few hundred dollars for propane in the winter, but other than that, my expenses are pretty much nil."
As for her beloved Chi Junky, Wintzen says it's still rebuilding. "I think people have this impression that the studio re-opens and everything is back to normal," she says. "But, for so many studio owners, we're still 50% down. We haven't come up to where we were pre-pandemic. We're seeing that across the board with small boutique studios. It's been a steady build, but it's been slow. I'm hoping for a strong remainder of the fall and more normal numbers in 2023. But it's still been a huge loss."
Conveniently, Wintzen still has the crash pad in the studio for when she's in the city. "There's no point in renting an apartment and paying crazy Toronto rents," she says. "It's worked really well. I love being out here in the cabin and actually get more work done than when I'm physically at the studio. So, it's been great." 
Real Estate News