---
"I'm in absolute heaven here," says Shelly Burton from her new home in Nosara, Costa Rica. "I'm so happy and free. Life is amazing."
Burton is among a community of friends both old and new. "It's 'Toronto central' down here," she says. "Many are Canadian COVID refugees."
As Toronto sits as a shell of what it once was, the past 15 months has seen an exodus of people from the city core to suburbia and beyond – sometimes across provincial and federal borders.
Naturally, a newfound, pandemic-inspired work-from-home culture (or from anywhere, really) facilitated this shake-up. And Toronto's increasingly unattainable and dramatic housing market added to the appeal of parting with the urban core, as did a lockdown-inspired craving for more space to live and work – and maybe even a backyard. For many, the move was always inevitable; the pandemic simply acted as a catalyst.
But there are others, like Burton, who unexpectedly changed course and packed up their lives in favour of a more enriching and lockdown-free existence. In other words: Premier Doug Ford and his government's handling of the pandemic essentially drove them out of the province -- and with no regrets.
In fact, I know well over a dozen acquaintances from a wide range of backgrounds and professions that got out of dodge, relocating -- even if temporarily -- to "freer" pastures that included everywhere from Vancouver, Los Angeles, and Austin, Texas all the way to Mexico, Spain, and even Chile.
At this point, it's no surprise that many Ontarians from both ends of the political spectrum are fed up, defeated, or skeptical of seemingly arbitrary choices made in Ontario by the Ford government and other elected officials. It's a sentiment reflected in group text message chats with friends, in casual conversations with the neighbours, and -- increasingly -- on social media.
There have been head-scratching and debate-inspiring questions and concerns from the start of the COVID-provoked state of chaos in the province -- ones that have diminished trust in elected officials for many people.
Why are Costco and Walmart stores packed with people when independent flower shops and hardware stores are closed? Why did Doug Ford celebrate Mother's Day with his family when he told us not to? Why was the (now former) finance minister in St. Barts? Why can't we see the data? Why don't we have paid sick days? Do we live in a police state now? The list goes on (and on).
But the biggest and most important question for many is as relevant as ever: Why does Ontario have some of the strictest and longest-lasting lockdown measures on the entire planet ?
While lockdowns -- if done properly (we're looking at you, Australia) -- aren't without their merits when it comes to controlling the spread of a potentially deadly disease like COVID-19, they come at the cost of devastating collateral damage. Especially after seven months(!) of being told to stay in our homes by the monotone voices of officials.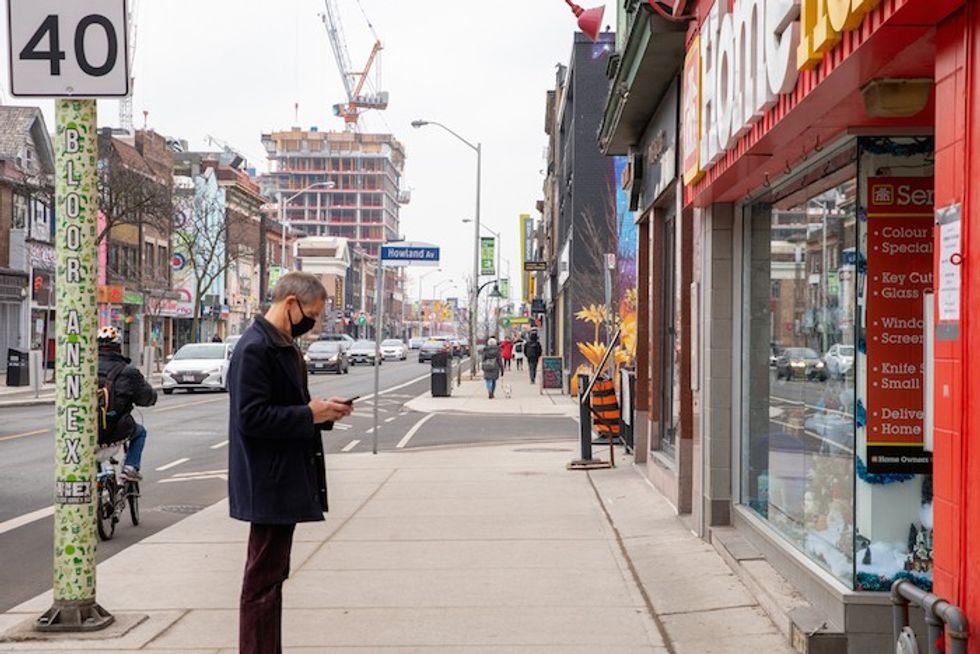 TORONTO, ONTARIO, CANADA - JANUARY 14, 2021: PEOPLE WEARING MASKS, ON NEAR-EMPTY STREETS DURING COVID-19 PANDEMIC.
As far as I'm concerned, the most dangerous and widespread byproduct is the resulting mental health crisis. I've watched people hit absolute rock bottom (or below rock bottom, frankly) as I anxiously hung on by my own thread all winter long.

Think about it: for the past decade, the government has participated in a widespread initiative to drive home the all-too-real messaging that mental health is just as important as physical health. Yet, mental health has taken a backseat in the whole pandemic response -- with countless stats showing that mental health has taken a major dip across all demographics.
For some Ontario residents, their dwindling mental health was the only justification they needed to pack their bags. And I don't blame them.
Pre-pandemic, Burton had an energy healing practice in Toronto for nine years, as well as a horse medicine practice in Aurora. The pandemic forced the horse medicine practice to shut down and Burton did her best with distance healing from Toronto.
"When the winter lockdown happened and kept getting extended, I finally realized I couldn't trust the government anymore," says Burton. "What they said and what they did didn't match up. They kept saying it would be lifted, and it wasn't. Their actions showed it would keep getting extended, so I knew I needed to make an exit plan from Toronto. Still, I was patient, because I support a lot of people and that is a responsibility I take very seriously."
Once travel within Ontario was banned, things hit another level, says Burton. Realizing she was forcing her living situation in Ontario and that her own mental health was suffering, Burton found herself in Nosara, a yoga and surf town on Costa Rica's Nicoya Peninsula.
In the meantime, the Ford government approval ratings had taken a nosedive, especially after than now infamous press conference on April 16 (after which Ford admitted they "got it wrong").
"The day I was moving out, Ford tried to issue that crazy policy of the police stopping you to question why you were out of the house," says Burton. "I made the right choice absolutely, and am so grateful to have made it... at a time when very few were flying here from Canada."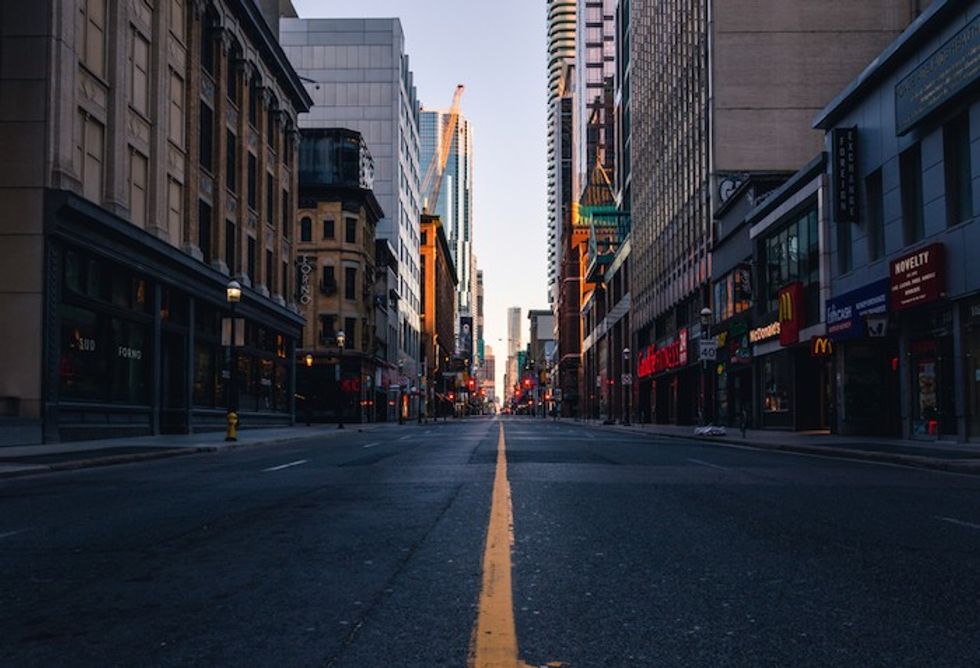 Toronto, Ontario / Canada - April 11 2020: abandoned yonge street during pandemic
Yulia Danilova, a former producer from Toronto, has called Tulum, Mexico home for the past five months after spending most of 2020 travelling. Spending the winter elsewhere has been part of the dream for a few years, she says, but the decision made all the more sense once lockdown hit. "With the lockdown -- seeing every other place of business that had shut down had turned into a pot shop -- we were even more motivated to get out," she says.
She points to different cities experienced in her travels that tackled the pandemic differently -- for the better, in her opinion. "Based on the survival rate, we don't believe that shutting down the entire city was the way to go," she says.
While some may be quick to judge the decision to get out of dodge while the rest of us suffered in Ontario, it's important to point out that many fleers (at least, many of those I know) aren't denying the severity of the COVID-19 pandemic. They just believe the response could have looked a lot different, for example, by taking a page from Vancouver's book. Our friends in the west have managed to avoid a strict and never-ending lockdown like Toronto.
"It's been totally different here," said Michael, a mid-30s finance professional who swapped his concrete-surrounded Toronto condo for Vancouver's mountains when his mental health went downhill. 'Everyone wears a mask, gives space, and goes about their day. Most people are in the office. Like everything in life, do what's best for you unless it's hurting someone." He says he's actually around fewer people there than he would be in Toronto (despite the lockdown).
While we've been locked inside, the fleers have been taking full advantage of their freedom.
"Tulum is pretty much entirely open. We enjoyed great weather, the beach, meeting people from all over the world, and trying new food," says Danilova.
Danilova does plan to return to Toronto; but she's weary of making a permanent move. She already sold her house in July 2020. "If the vaccines become mandatory, we will be looking to move away; the question will be where in the world we can go. We will have to wait and see," says Danilova.
As for Burton, she has no plans of returning any time soon and is looking for long-term housing. "This is my new home, and I'm so thankful! I will return eventually of course for visits for a few months once Ontario becomes free again," she says.
One thing is for sure; if another lockdown rolls around in the fall, I'm out of here too (in all of my vaccinated glory, that is).
Real Estate News