Toronto, it's almost time to set your clocks forward for Daylight Saving Time this weekend, which means we'll soon get to enjoy one more hour of daylight.
When you're heading out this weekend, don't miss Toronto's 186th birthday at Nathan Phillips Square or the return of Toronto's Vintage Clothing Show and the Antique & Vintage Market taking place in the Queen Elizabeth Building. You also can't forget to celebrate all the incredible females in your life (or yourself) for International Women's Day.
---
READ: 7 Home Maintenance Tasks to Tackle When Daylight Saving Time Arrives
Check out more ideas below on our list of the best things to do in Toronto this weekend.
Running through March 29, Winter Stations has transformed four unused lifeguard stations along Woodbine Beach into works of public art inspired by the theme Beyond the Five Senses. Now in its sixth year, Winter Stations is an international design competition and exhibition held annually as a collaboration between RAW Design, Ferris + Associates, and Curio.
When: On now through March 29
Where: Along Woodbine Beach
Price: Admission is free
The third-annual Winter Light Exhibition is on at Ontario Place's west island this weekend, featuring creative light exhibits from local artists under the theme 'Cocoon.' Fridays through Sundays, visitors can check out community bonfires, paint classes, and the snack shop serving up a variety of food and beverage options.
When: On now through March 29
Time: 4 pm to 11 pm
Where: Ontario Place, West Island
Price: Admission is free
The aquarium's annual beach bash returns this weekend, transforming Ripley's into a tropical paradise. Guests can enjoy fully-loaded cash bars, food stations, music by DJ Shamz, and of course, plenty of fish. Wear your best beach attire for all of the photo ops.
When: Friday, March 6
Time: 8 pm to 12 am
Where: Ripley's Aquarium, 288 Bremner Boulevard
Price: $32
There's a new photo exhibit open in the city that will give the public the chance to explore the facts (and the fiction) behind ten of the city's best-known landmarks. The exhibit, which is a unique collaboration between the CN Tower and Toronto Public Library, aims to celebrate Toronto's diversity and thriving communities through stories and images, which will all be drawn from the library's digital archive.
When: On now through May 31, 2020
Where: CN Tower, 290 Bremner Boulevard
Admission: Entry is free with the purchase of General Admission to the CN Tower, or for those dining in 360 Restaurant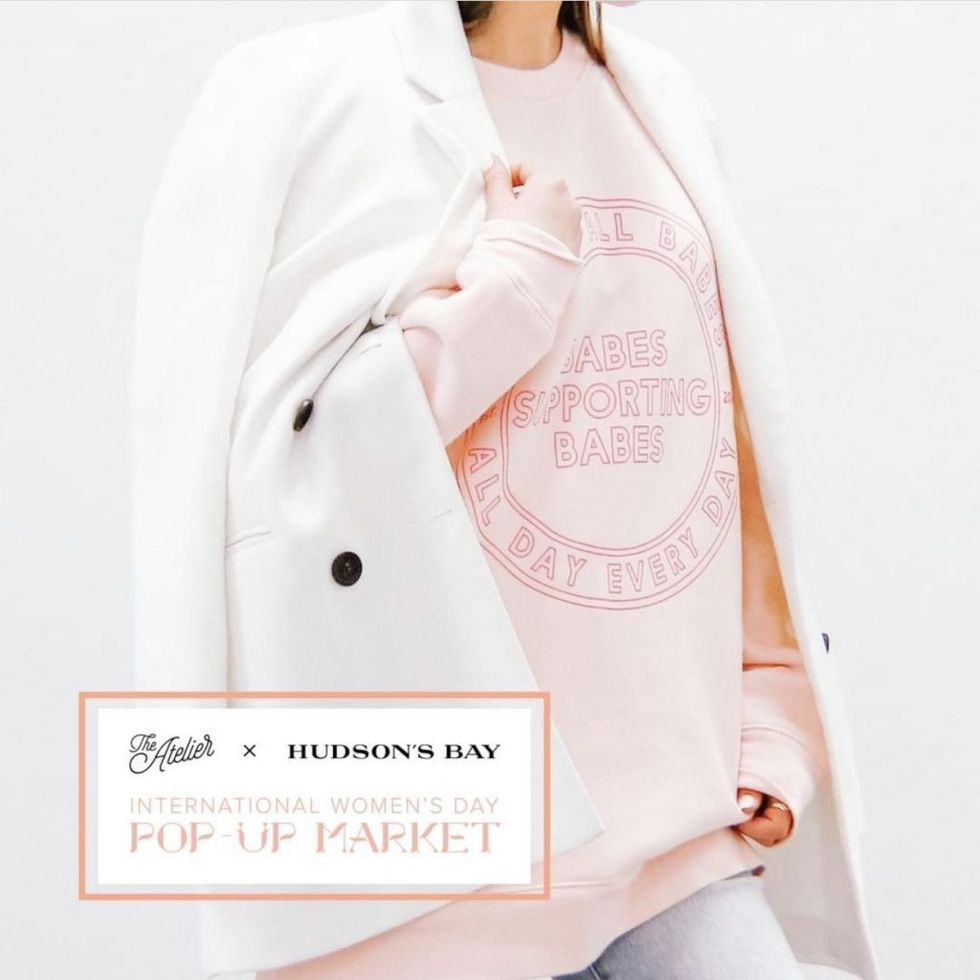 The Atelier Collective
In celebration of International Women's Day, Hudson's Bay and The Atelier Collective are hosting a four-day pop-up market featuring a curated collection of Canadian, women-led businesses in the flagship Toronto store. The market will feature emerging and established lifestyle brands, ranging from natural beauty and skincare to wellness and fashion, including Evio Beauty, Mrkt Gallery, Brunette the Label by Fashion Truck, and more.
When: From March 5 and 8
Where: Hudson's Bay, Queen Street Flagship (2nd Floor, 176 Tonge Street)
Price: Admission is free
Canada's largest sale of vintage clothing returns to Toronto this weekend, featuring clothing from the 1920s-1980s
plus accessories, handbags, jewellery, and designer vintage.
When: March 7 and 8
Time: Saturday, 10 am to 6 pm; Sunday, 10 am to 5 pm
Where: Queen Elizabeth Building at Exhibition Place
Price: Admission is $12
In honour of the City's 186th birthday, Celebrate Toronto is throwing a two-day bash at Nathan Phillips Square this weekend. The free event, running Saturday and Sunday will celebrate all things Toronto, highlighting local vendors and the city's diverse culinary scene. Plus, there will be live entertainment and family-friendly activities to look forward to as well.
When: March 7 and 8
Time: 12 pm to 8 pm
Where: Nathan Phillips Square
Admission: Free
Winnie the Pooh: Exploring a Classic
Starting this weekend, you can visit a silly old bear and his friends in the Hundred Acre Wood during the ROM's new Winnie-the-Pooh exhibit. Come and re-experience some of the most adored fictional characters at this immersive and playful exhibition, featuring interactive activities and larger-than-life environments.
When: The exhibit opens to the public on March 7
Where: Royal Ontario Museum, 100 Queen's Park
Price: Adult tickets are $31
What: Calling all yogis and beer aficionados. This Sunday, you can kick off your morning with 60 minutes of Vinyasa Flow yoga led by Becki Charles, followed by a well-deserved flight of People's Pint beers with a tutored tasting with owner and Prud'homme Master Sommelier Doug Appeldoorn.
When: March 8
Time: 10 am to 12:30 pm
Where: People's Pint Brewing Company — 90 Cawthra Avenue
Admission: Tickets are $25 and available online
International Women's Dat Toronto Rally and March
You can show your support for women both at home and abroad during this year's IWD march and rally in Toronto. Organized by Women Working with Immigrant Women and the IWD Toronto Organizing Committee, the event supports indigenous justice, climate and economic justice, and ending violence and war.
When: March 8
Time: 11 am to 1 pm
Where: OISE, 252 Bloor Street West
Admission: Free to participate
Toronto