After years of pushback, it looks like a massive – and ever-evolving – new development could transform the midtown corner of Yonge and Davisville.
While just a few blocks south from the intersection of Yonge and Eglinton, which has seen a large-scale transformation in recent years – something that involved the disappearance of long-time local businesses and the addition of towering, glassy buildings – Yonge and Davisville has managed to keep its low-rise buildings that have sat there forever.
---
But that's about to (inevitably) change.
According to a development application submitted to the City of Toronto, a new high-rise condo build from Times Group could replace the current row of two-storey commercial and residential buildings on the east side of Yonge Street, between Davisville Avenue and Millwood Road. It would also replace an existing parking lot. The new home to hundreds would be just west of Davisville Public School.
It's called The Millwood, and it's sure to become the talk of the (mid)town.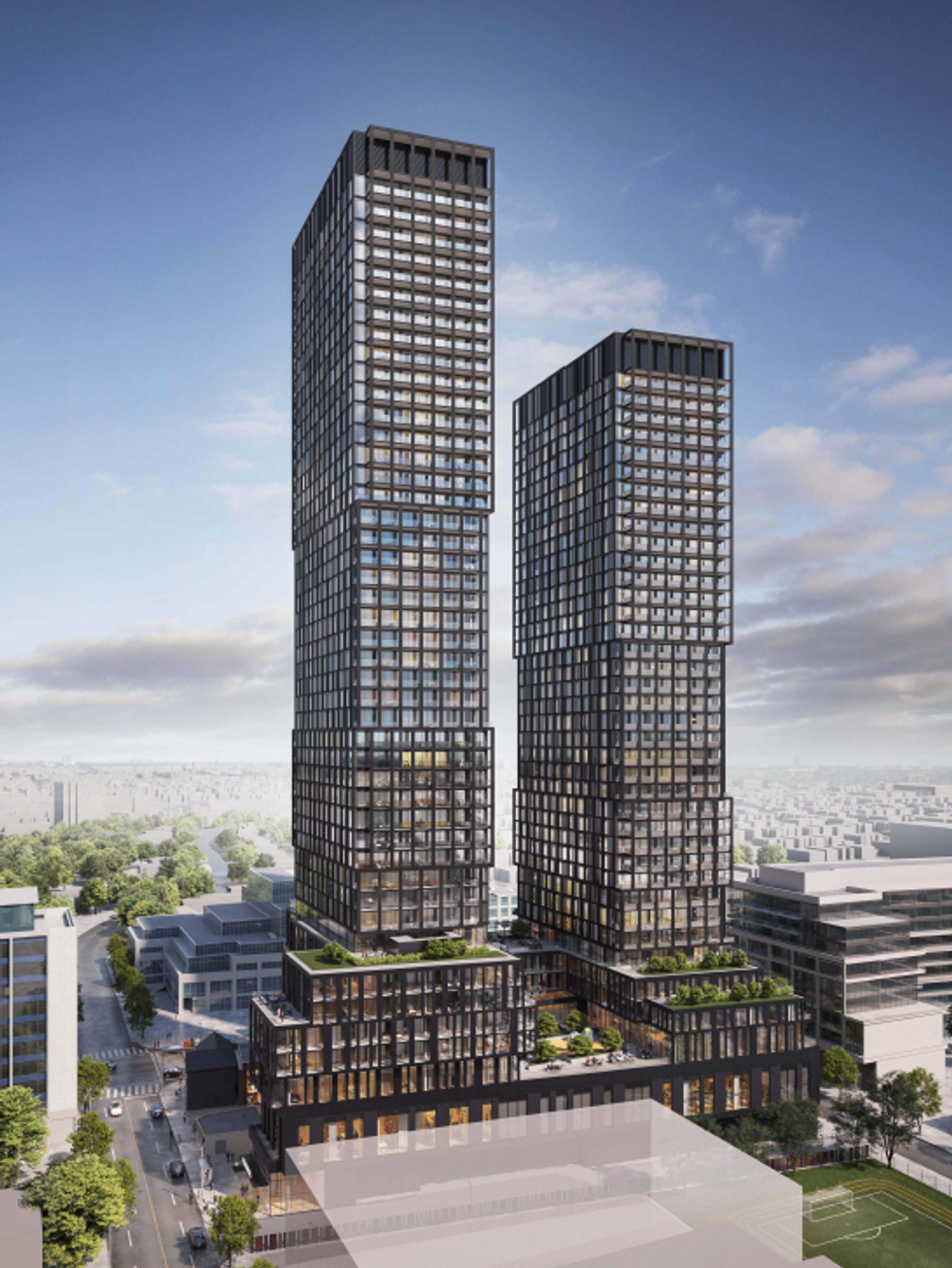 The development has been a long time coming. According to the application documents, Times Group submitted an initial application back in 2017 to permit a mixed-use development comprised of 25- and 34-storey towers on the properties at 1925-1951 Yonge Street, 22 Davisville Avenue, and 17-21 Millwood Road, which form part of the current subject site.
The application was appealed to the Local Planning Appeal Tribunal (now the Ontario Land Tribunal) on November 2, 2017. On September 23, 2019, the Zoning By-law Amendment component of the application was withdrawn and the Official Plan Amendment, which proposed to re-designate 17-21 Millwood Road from 'Neighbourhoods'to 'Mixed Use Areas,' was resolved through the updated Yonge-Eglinton Secondary Plan.
In September 2020, a newly submitted proposal for 1951 Yonge replaced the withdrawn 2017 submission with an even larger footprint, despite existing density concerns. This proposal called for a larger plot of land – growing to include nearly all of the properties on the block – and an increase in height to 30 and 45 storeys. This increased the number of units from 450 to 821. Furthermore, the 2020 application increased the height of a podium from four storeys to eight storeys.
The 2020 application was appealed to the Ontario Land Tribunal (OLT) on December 16, 2020 and was subsequently approved by the OLT on consent with the City pursuant to a decision issued in August 2022. As the subject site contains a designated heritage property at 1913 Yonge Street, an application to alter the heritage property to accommodate the proposed development was submitted and approved by City Council on July 19, 2022, subject to a number of conditions. A delegated Rental Housing Demolition and Conversion application was also submitted and approved.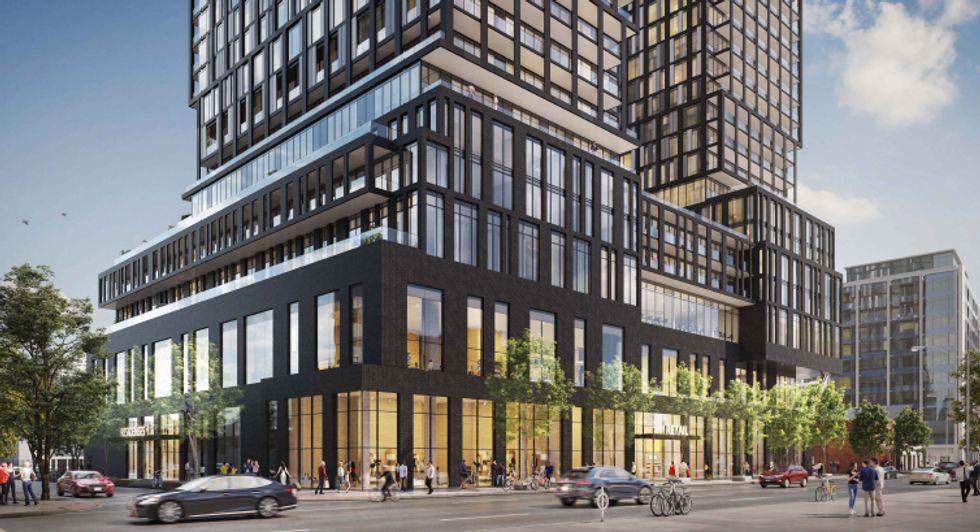 Now, as approved, the rezoning application permits a mixed-use redevelopment consisting of towers of 38 and 45 storeys – with suites that range from bachelor units to three-bedroom homes – with a shared five-storey podium that will house street-facing retail and amenities. The retail spaces will be large and suitable for things like a grocery store, LCBO, or drug store.
The development's proposed total gross floor area is approximately 65,049 sq. m, comprising approximately 59,092 sq. m of residential gross floor area and 5,957 sq. m of non-residential gross floor area.
In addition, the proposed development includes a privately owned publicly accessible space within the southern portion of the site, providing for a pedestrian connection linking Yonge Street and Davisville Avenue.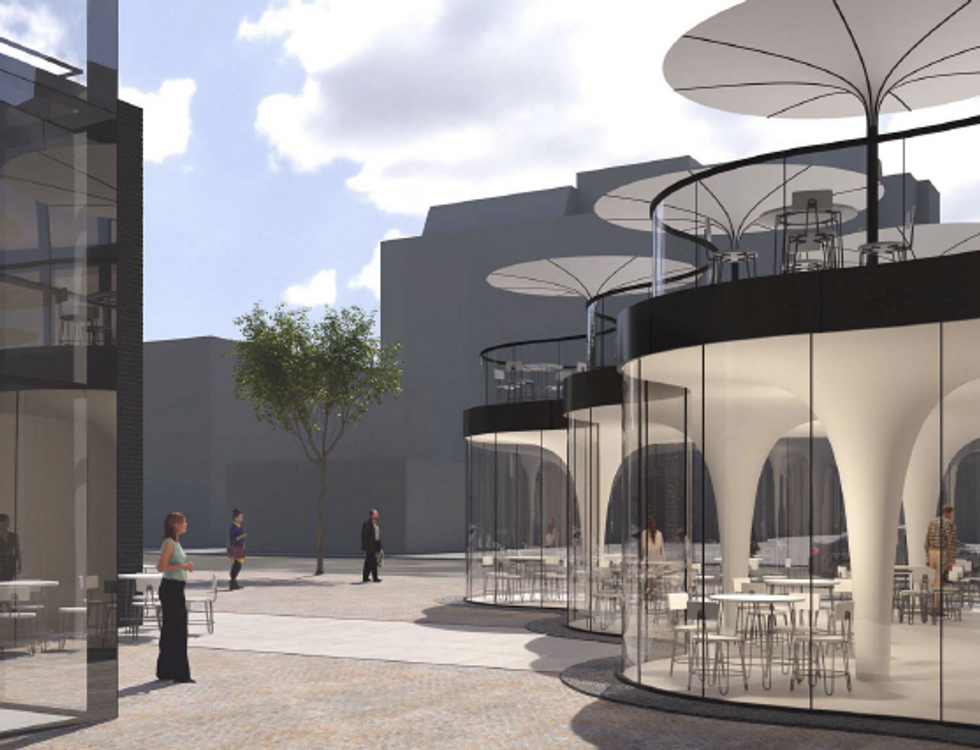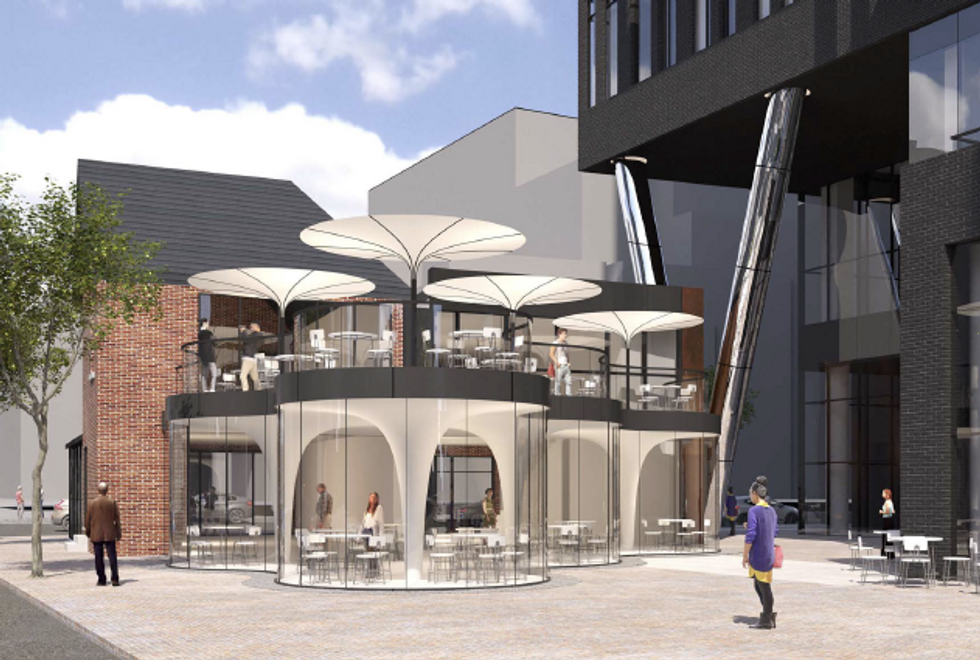 The subject property is adjacent to 1909 Yonge Street, formerly The Davisville General Store and Post Office (1894), which has been listed on the City's Heritage Register since 1973. The new development will preserve this building (which is best known in recent years for housing a Starbucks). The new development will tower over the charming two-storey late-vernacular building, leaving it intact and offering a juxtaposition that reflects Toronto's past amid its glassy future.

Core Architects, known for their stylish buildings throughout the city, has signed on to helm the design of the sprawling new development project.
Naturally, The Millwood will dramatically increase the density at the midtown site, which sits across the street from Davisville TTC station. Local city councillors have long expressed concerns around density growth and its pressure on existing infrastructure. But, in a city where low-rise commercial buildings are becoming a thing of the past in the city core, the addition of a towering new condo development was inevitable.
Currently, there are at least two boarded-up houses on Millwood Road, land that the north part of the building will one day occupy. As for the existing local businesses, residents will have to kiss a local fruit shop, a long-time fruit/flower shop, a Pizza Pizza, and Kramer's Bar and Grill goodbye.
Future Developments