---
Amidst soaring home prices and rising mortgage rates, renters in the majority of Canada's largest cities can't afford to buy a starter home where they currently live.
While a "starter home" used to mean a smaller abode with a roughly $200K price tag, the concept has taken on a more literal definition in today's pricey real estate markets -- regardless of size or price, a starter home is a property that starts a buyer's entry into the ownership market.
With the average home price exceeding $1M in some cities, affordable entry-level properties are increasingly hard to come buy.
To determine where renters can still afford to make the jump to homeownership, Point2Homes reviewed starter home prices -- considered to be half the value of a city's benchmark price -- and the median household income of renters in Canada's 50 largest cities.
Point2Homes also calculated the minimum income required to afford the monthly mortgage payments on a starter home, assuming a 5.75%, 25-year fixed-rate mortgage and a 20% down payment. The calculation also considered that monthly payments should not exceed 30% of a household's income.
According to the report, renters are priced out in 36 cities, making up to $99K less than what they would need to buy a starter home where they currently live.
In the 14 least affordable cities, all of which are in Ontario and British Columbia, renters earn 42% to 59% less than the income required to purchase property. In 10 of these cities, the price of a starter home exceeds $500K; in three of them, it's over $700K.
The greatest gap was found in Richmond Hill -- renters earn an average of $70,422, but need to make $169,749 to buy a starter home. Similar discrepancies can be seen in Oakville, Markham, and Vaughan, where renters earn between 56% and 58% less than the income required for an entry-level home.
"Starter homes come in all shapes and sizes, and now they run the gamut in terms of price as well," Point2Homes wrote.
"Although an entry-level home used to be synonymous with a home that costs around $200K, this money wouldn't even buy a room in a starter home in the 14 cities that are the least affordable for renters who want to switch to homeownership."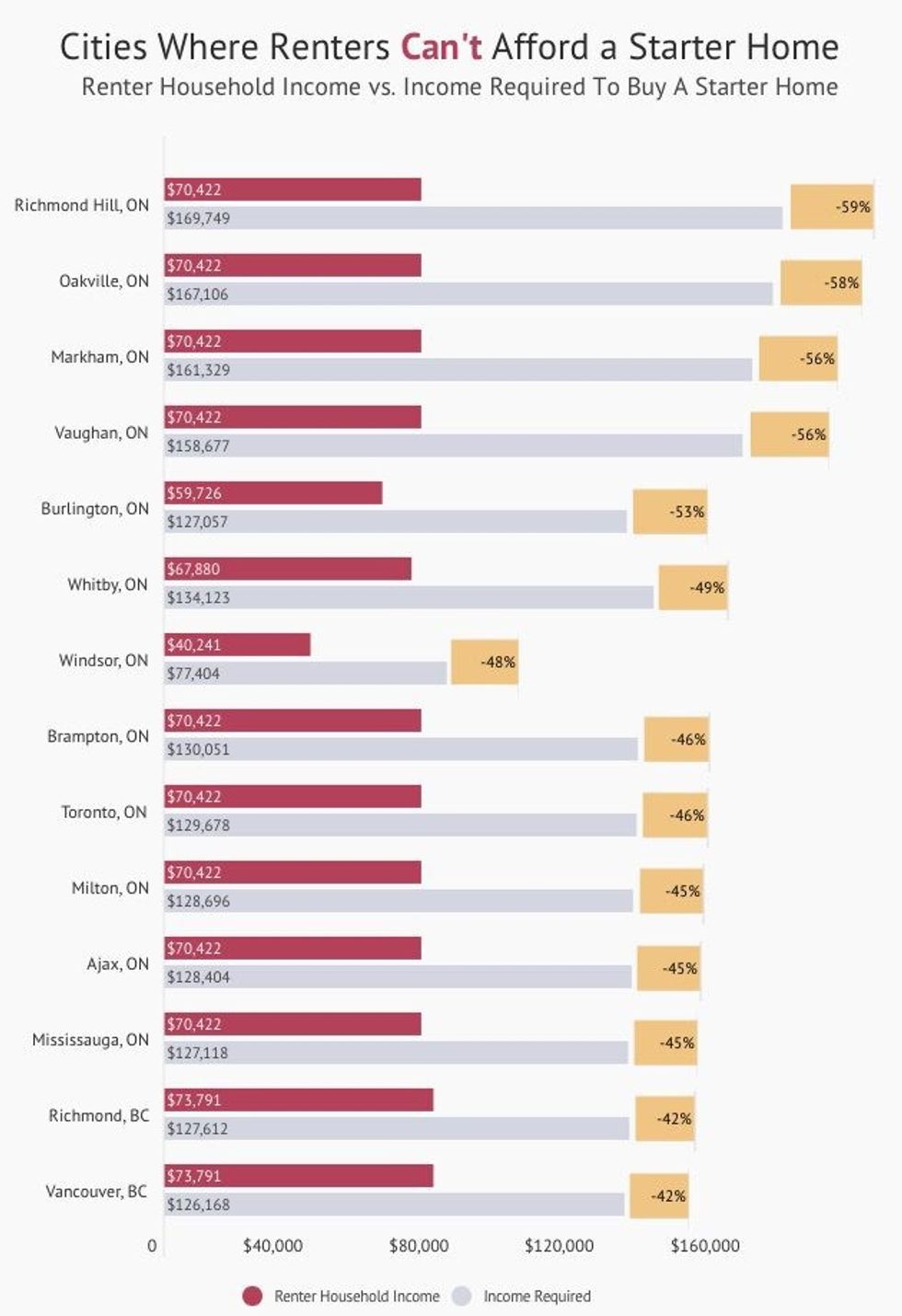 Point2Homes
Although the majority of Canada's large cities are inhospitable for first-time buyers, renters in 14 municipalities -- eight of which are in Quebec -- are well-positioned for homeownership, earning between 2% and 52% more than the minimum income required for a starter home.
Renters in Edmonton earn an average of $70,573, nearly on-par with those in Richmond Hill. But, unlike their Ontarian peers, residents of Alberta's capital city only need to make $46,483 to afford a starter home.
Renters in St. John's and Regina are also primed for homeownership, earning 40% and 50% more, respectively, than the income required for an entry-level abode in their city. Those in Lévis, Quebec City, Trois-Rivières, and Saguenay earn between 26% and 36% more than the income required for a starter home.
While income plays an important role in the quest for homeownership, the real reason renters are able to make a purchase in the aforementioned cities is their lower property prices. In 10 of the cities where renters can comfortably afford a starter home, such properties cost less than $200K.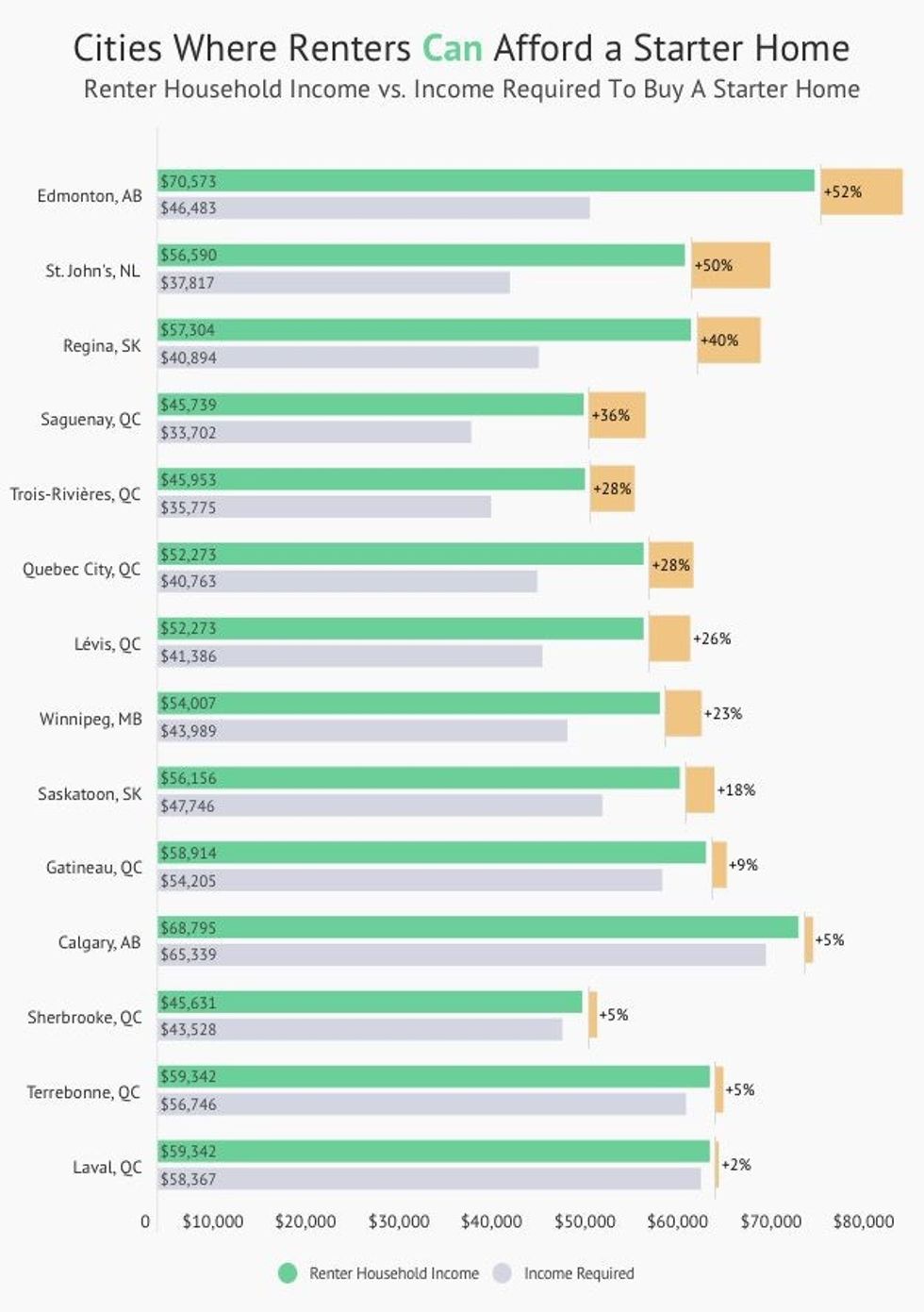 Point2Homes
While starter homes are attainable in more than a dozen cities on paper, the reality is much starker. Only 13 cities have shares of starter homes higher than 10%, and only five meed the criteria for affordability.
In Regina, Calgary, Edmonton, Saskatoon, and Winnipeg, renters earn the minimum income or higher, starter homes are reasonably priced, and the market has a high share of entry-level properties.
Markham (18%), Vaughan (17%), and Richmond Hill (15%) have some of the highest shares of starter homes available, but their high prices put them out of reach for the majority of renters.
In 11 markets, including Barrie, St. Catharines, and Kingston, the share of starter homes is less than 2%, or fewer than 10 properties on the market. In Ajax and Cambridge, there were zero starter homes for sale.
"The starter home's new and simplified definition is 'the cheapest home in town.' However, this simplified definition does nothing to simplify matters for renters and first-time buyers," Point2Homes said.
"The change in definition can't mask the painful reality: Even starter homes — which should represent the epitome of affordability — are increasingly becoming anything but."
Real Estate News