It's a tale as old as time -- well, at least as old as COVID, anyway. Residents living in dense urban centres turned to suburban areas outside of large cities, searching for more space and affordability amid the pandemic as they continued to work remotely from home.
---
Throughout the pandemic, condo-dense cities like Toronto lost tens of thousands of residents to neighbouring regions. Statistics Canada said between July 1, 2019, to July 1, 2020, Toronto experienced a population loss of 50,375 as people moved to surrounding cities such as Oshawa, which experienced a population growth of 2.1%, and Kitchener-Cambridge-Waterloo, also up by 2%.
As a result, average downtown rents in Canada's largest city fell between 20-25%, while condo vacancies and listings began to spike.
Now, over a year later, we're just starting to see Toronto's condo and rental market showing signs of a comeback, as demand for both segments is increasing month over month, suggesting that the return to urban centres is more promising than ever.
During a recent webinar titled New Frontiers in Housing Supply: Built-to-Rent in Canada, which featured Benjamin Tal (Deputy Chief Economist, CIBC World Markets), Corey Hawtin (Founder and CEO, Core Development Group), Ben Myers (President and Owner, Bullpen Research & Consulting), and Susan Tjarksen (Managing Director, Cushman & Wakefield), the panellists discussed the future of returning to city life both amid and following the pandemic.
Tjarksen, who tracks data on young people returning to cities, said there's no coincidence that young professionals are moving back into cities faster than any other age group.
"What's interesting is if you put the clickbait headlines to the side, 85% of the people who left an urban environment stayed within 10-20 miles from where they started out. So, this great migration wasn't to the other side of the world or the other side of the country for the most part," said Tjarksen.
Tjarksen said that in major metropolitan areas, where more offices are re-opening, she's seeing cell phone usage and subway rides going up downtown. "We track Open Table for reservations and Door Dash, and you can see all those trends, particularly in January, accelerate. If you look at the age demographic it's everybody under 32."
Here in Toronto, Myers says while people aged 30-35 with babies are leaving the city as they look for more space, younger people want to be downtown near the action.
"They're less concerned about the size of their unit, they care more about the neighbourhood they live in. You have everything you could ever want as a single person or as a young couple downtown. I think people will be back once things open up, and those who did leave to save on rent will return," said Myers.
With this return to urban centres and given that rental prices in Toronto have already appeared to have hit bottom, Myers said he believes Toronto's rental market "will explode" in 2022.
While this is promising news from a demand perspective, Toronto still faces a crucial issue: a lack of affordable supply.
During the webinar, panellists Tal and Myers highlighted the dangers of Canada's growing demand and supply gap. They explained how large Canadian cities are experiencing double the population growth of comparable cities in the US but face decreasing supply rates, producing 25-30% less housing supply in recent years in comparison to the respective 2002 rates. 
Because of strong demand and rapid growth, the shortfall in rental housing will continue to place upward pressure on already unaffordable rent prices in urban areas.
As the panellists mentioned, this will only be exacerbated as vaccine rates increase and we move towards a recovery period, revitalizing the interest among young professionals, millennials, and international students to live in the downtown core of these cities.
When looking at Toronto, Tal said demand is much stronger than supply. "The rental solution needs to see some sort of affordability added to the system, and I believe purpose-built is the only way to do it."
"The new wave of renters will be young families with kids, young people and older people downscaling... they need stability," said Tal, explaining that a solution for this could be to introduce more purpose-built rentals. He added that while there are some, supply is not "even close" to where it needs to be.
Hawtin echoed a similar statement and said, "the trends are clear, we need more affordable supply."
As explained by Hawtin, Core Development Group aims to help solve this supply shortfall by institutionalizing the built-to-rent model in Canada, adapting it to fit the needs of the Canadian urban market.
Built-to-rent properties, which represent a streamlined alternative to traditional rental investments, are especially attractive for millennials who continue to be priced out of low-segment homes and are opting to rent instead of buy. These properties represent everything a homebuyer would be getting, but without the monumental cost of down payment and homeownership. 
Given that 'roommating' has grown to represent 30-50% of all rental households in a number of US urban centres and an estimated 60% of people are roommating in the Greater Toronto Area (GTA), according to Hawtin, built-to-rent is a great alternative to combat supply issues.
Core Development's wholly-owned subsidiary, Avanew's focus, is acquiring and developing urban and suburban income-generating assets. Its co-living model, which meets the growing demand for living solutions that offer greater affordability, convenience, and community, streamlines and improves this already prevalent practice.
The co-living model provides high-density shared rental housing that comes with all-inclusive amenities, furnishings, and flexible lease structures to match the demands of this new and growing demographic.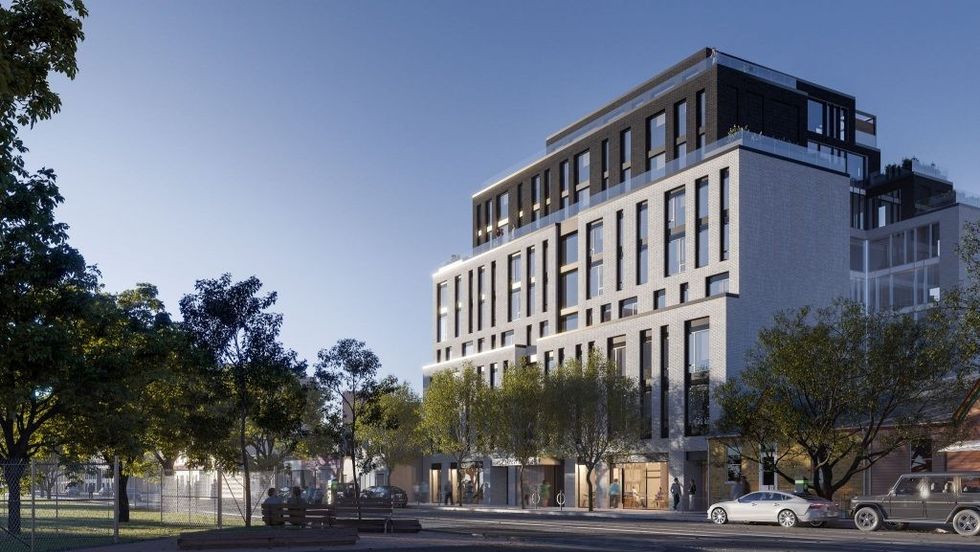 Rendering of Core Development's first Co-Living Building at 252 Parliament in Toronto.
Hawtin says he likes co-living as a solution because not only does it help solve affordability issues, it also helps with loneliness, even post COVID.
"60% of Canadians are roommating already, though many buildings aren't designed to facilitate that. Co-living allows us to bring on more affordable supply and they generate higher yields and outperform KPIs than multi-family units can," said Hawtin, adding that residents get a sense of community within the building that they might not find otherwise.
With immigration set to rise in the coming years and people relocating to Toronto for work, Myers says this alternative housing solution works.
"Just to think, you can come into a fully furnished apartment with a roommate. You just don't have to worry, you can get your suitcase, and move in and you'll be paying less than what you would for a bachelor or a 1-bedroom," said Myers.
"I'm bullish on it, and I think it has legs. I always thought it was an interesting idea to essentially build condos with no kitchens, and just have a central eating space where people can come down and get some healthy food and not have to worry about cooking and Uber and Door Dash and all those things and get together with people in their own building," said Myers.
While this alternative shows promise, Tal said there is still a lack of innovation in the housing market.
"We basically build the same way we built 20, 30, 40 years ago; there's very little difference. I think that's the number one issue. We need to be much more creative about innovation and research and development," said Tal.
"Much more than that can be done. We don't see much innovation in the real estate market with the way we build and with the way we think about real estate. So, I think that co-living is a very interesting idea that was not there before.
"But overall, in terms of innovation, I don't see much quite frankly, and I think that's something we need to improve because the supply issue is the major issue," said Tal.
Real Estate News