While the average asking price for national rent prices continues to decline, there are now signs that Canada's rental market may be on the mend as tenant demand is showing signs of improvement following months of declines.
---
Although rents continued to fall on a national basis in April, they are up regionally and by product type, according to Rentals.ca's and Bullpen Research & Consulting's latest National Rent Report. The average asking rent for all Canadian properties listed on Rentals.ca in April was $1,675 -- a decrease of $167 (or 9%) from $1,842 in April of last year, and down 1% month-over-month.
After hitting a high of $1,954 in August 2019, the average monthly rental rate has steadily declined in Canada -- now down $279 from the peak.
Ben Myers, president of Bullpen Research & Consulting, said the overall drop in Canada is likely the result of a lower share of listings in Ontario in April compared to March. Myers said he believes this is the result of units leasing faster than more vacant units in the other provinces.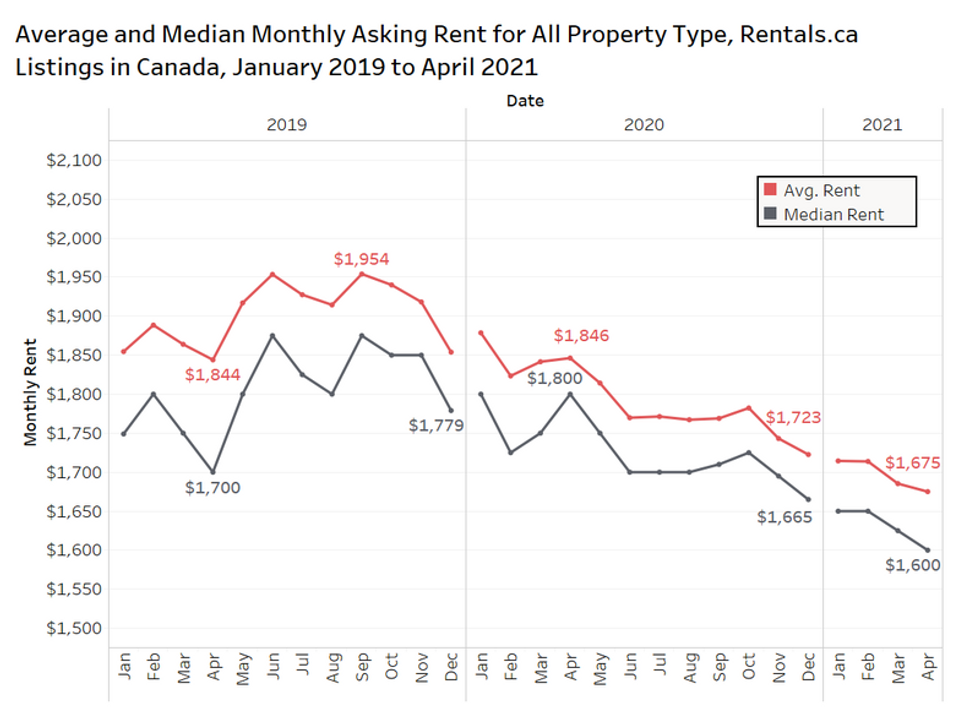 Rentals.ca
While rents may be down on a national level, the report says average rental rates show improvements in some major markets -- with month-over-month increases happening in British Columbia, Alberta, Ontario, and Quebec -- which suggests the market might have turned a corner with increased tenant demand. 
This comes as the third wave of COVID-19 continues to wreak havoc in some regions of the country. However, this hasn't stopped residents from trying to get into the rental market, or from looking for better rental deals and more space before rents start moving up consistently. 
"Despite the continued decline in average rents on a national level, the rental market has started to turn up with rents increasing month-over-month in most of the largest provinces in the country," said Myers.
For example, in Toronto, monthly average rents are up slightly for 1-and 2-bedroom units. However, rents for 1-bedroom and 2-bedroom units are still down year-over-year, 14.7% and 10.4%, respectively.
In April, Toronto finished as the second priciest city in the country for average monthly rents, trailing behind Vancouver, with 1-bedrooms now going for $1,816 and $2,407 for 2-bedrooms.
For overall average asking rents for condo rentals and apartments, Vancouver claimed the top spot for the highest average asking rents in Canada in April for condo rentals and apartments at $2,200 per month. Toronto followed behind at $2,004 per month.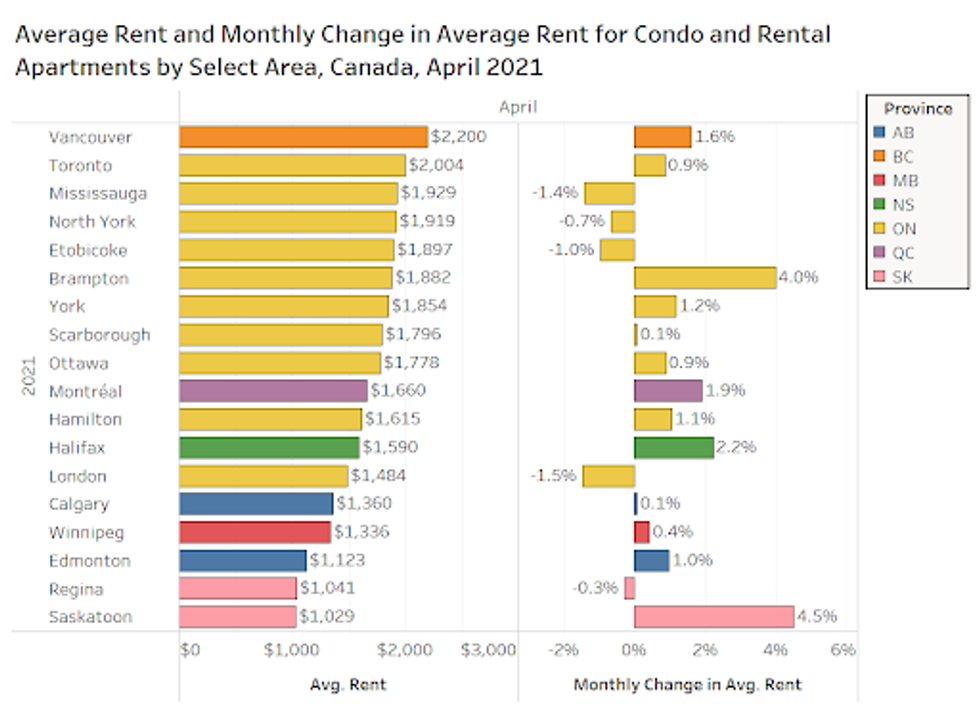 Rentals.ca
There are also signs that the rental market is improving, as different property types experienced notable year-over-year increases.
Apartments, which make up most of Rentals.ca's listings, experienced a year-over-year increase of 5.9%, up from $1,495 in April 2020 to $1,583 this April. Of course, we need to keep in mind that rents dropped drastically in April last year when the first impacts of the pandemic began to take hold.
Single-family properties increased the most month-over-month, rising 4.9% from $2,385 in March to $2,502 in April. While the average rent for 1- and 2-bedroom units in April decreased 9% year-over-year, larger units showed improvements, with 5-bedroom properties up 9% annually.
Additionally, the average rents for 600-sq.ft and 700-sq.ft units are down 20% annually from January-April 2020 to January-April of this year. But units 1,600-sq.ft and larger have seen rents increase 4% annually for the same time frames. 
The report said larger rental properties perform well during the pandemic as tenants seek out more space to work from home and for virtual learning for their children. 
Renting