Toronto
Real Estate News
What it Costs to Rent an Apartment Near Every Toronto Subway Station
When it comes to living in downtown Toronto, we all know that the cost of living is amongst some of the most expensive in the country. Because of this, many are taking a closer look at properties further away from the downtown core but still close to transit.
But with this in mind, renting near the city's many subway stations can still get pricey, it just depends which station you decide to live by.
If you're a transit rider looking to enter Toronto's rental market, MovingWaldo has made it easier for subway riders to simplify their apartment search by calculating the average cost of renting an apartment near each subway station in Toronto in 2021 for 1 and 2-bedroom apartments.
To give you some perspective of what rents are currently going for in Toronto, the average price for rental and condo apartments reached $1,987 in March, down 19% compared to $2,454 the year prior.
According to the data, Dundas West is the most affordable subway station to live nearby, with rents averaging $1,356 per month for a 1-bedroom apartment, while a 2-bedroom is pricier at an average of $2,849. Considering that you have High Park just a short walk away, this definitely a place to have in mind if you enjoy nature.
On the other hand, Bay Sation, located in Toronto's Yorkville neighbourhood, is the most expensive station to live by, with the average price of a 1-bedroom coming in at $2,356 each month. Though, considering you'll have restaurants, shopping, bars, and pubs within walking distance, this is a good option for someone who wants to live the heart of it all.
If you've been thinking of living in the middle of the action near downtown Yonge, where shopping and nightlife is bountiful, average rents for 1-bedrooms near Dundas Station are $1,740, while 2-bedrooms are $2,469. The station above, College, prices increase slightly for 1-bedrooms to an average of $1,801 per month, while 2-bedrooms are cheaper at $2,221.
For those interested in living in the downtown core, while the convenience of living in the centre is unmatched, the expense makes it quite hefty on the wallet. For example, a 1-bedroom at King Station averages at $2,158, while a 2-bedroom is $2,634. If you're looking to live closer to the waterfront, 1-bedrooms average at $2,190 and 2-bedrooms are $2,223.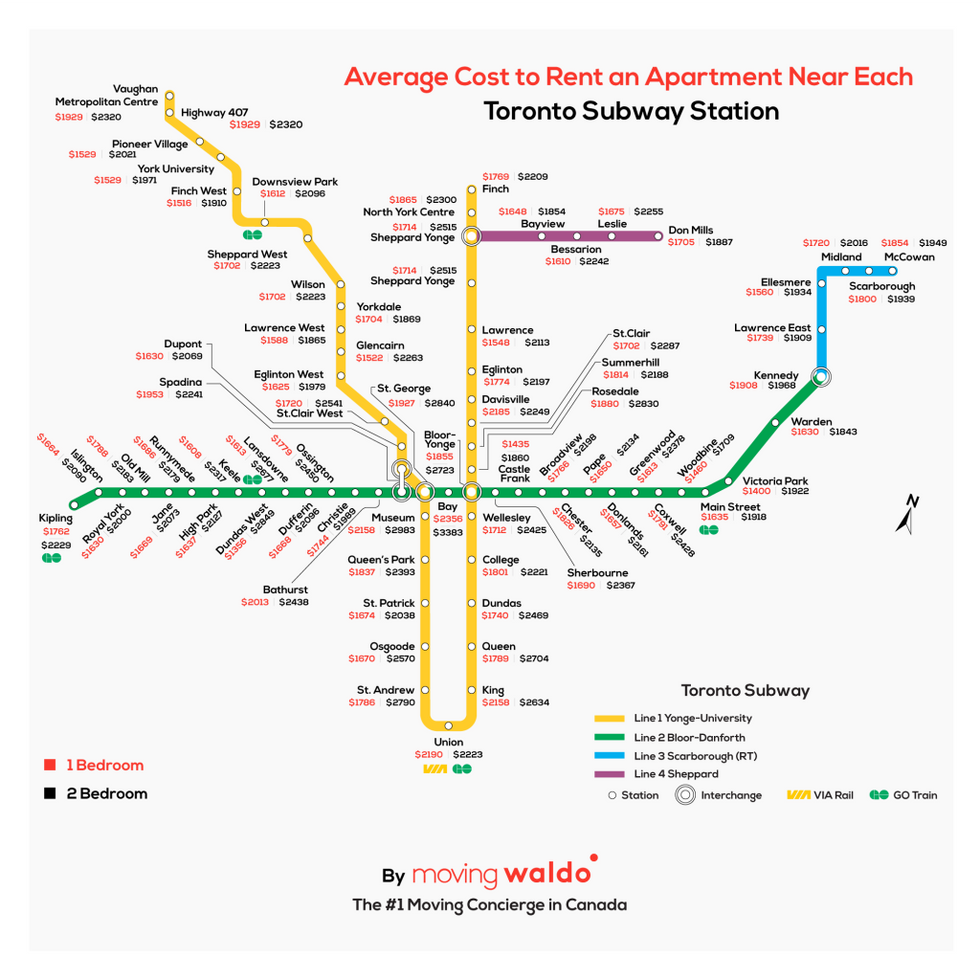 While living near a subway station can be expensive, it does come with benefits, including being in close proximity to all the basic necessities and, of course, a shorter commute to work.
You can read the full report here.