Toronto's lingering heatwave, nearly four months of quarantine mode (and counting), and Ontario's flattening of the COVID-19 curve make a visit to one of the city's parks or beaches understandably appealing.
But, too many people finding one park or beach appealing won't do anyone any favours in the middle of a global pandemic.
---
In advance of another steamy summer weekend, Mayor John Tory is urging Toronto residents to practice a little "common sense" and opt for less crowded areas should they head to a beach or park to cool off.
Anyone who saw photos of the large crowds that packed Cherry Beach and Woodbine Beach in recent weekends would probably agree that the scene didn't look too different from photos of Wasaga Beach that are currently making headlines. In response to a clear lack of social distancing on Canada Day, local officials have now closed part of the beach and half of the parking lot at the famed Simcoe County hot spot.
While Tory has said he has no plans of closing Toronto's beaches a la High Park in cherry blossom season, he is driving his point home loud and clear. Hopefully, Toronto residents are listening.
"I think it is just a matter of people making a conscious decision to say 'there are other beaches to go to.' We have dozens of beaches in Toronto," Mayor Tory told CP24. "There are pools, there is the Toronto Islands now, and there are patios."
"I think a lot of it just has to do with common sense as opposed to us trying in a city of three million people to close beaches on the hottest days of the year. If people regulate their own behaviour and cast an eye and see if it is a crowd scene when they get there, then they probably shouldn't add to it."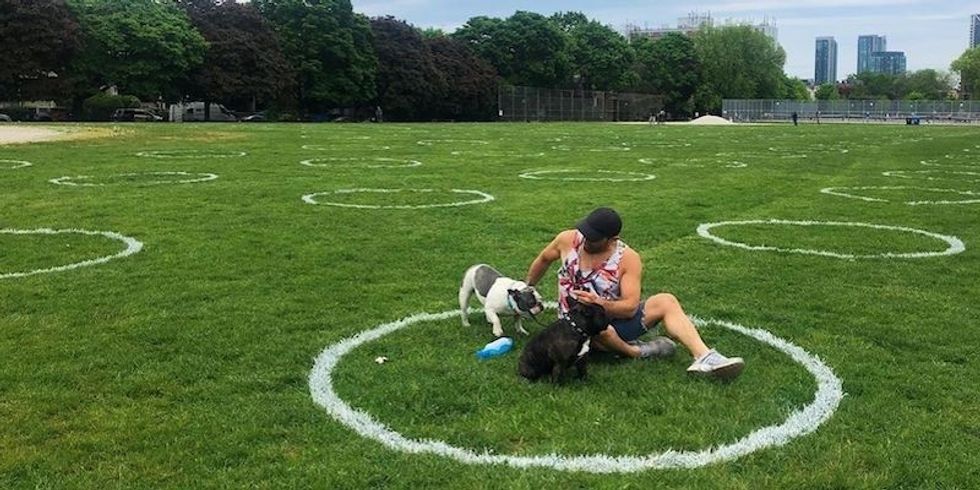 @joelgerson/Instagram
Tory points to lessons learned from May's Trinity Bellwoods park fiasco when thousands of people broke social distancing guidelines on a sunny Saturday. He said a similar incident hasn't occurred at the popular Queen West park since then, predominantly because "people just decided they were going to go somewhere else" (and perhaps the social distancing circles and public shaming also played a role).
So, you see the park or beach you've been enjoying the sun at start to get alarmingly crowded (even through potential beer goggles), opt for a change of scenery at another park (the city has many) or beach, public pool, or patio.
If relocating sounds like a lot of effort, ask yourself if you really want to end up labelled a "COVIDiot" in a photo or video circulating on the Internet – because there's a good chance that could happen.
Toronto