Leon Ng has spent nearly 18 years around the real estate industry, but what he really wanted to do was make video games.
Born in Singapore, Ng came to Canada in his early teens after living in Hong Kong, and eventually enrolled in Queen's University as a computing science major. Shortly after beginning his degree, he realized that what he was studying really had little to do with making video games, and graduated with a degree in film studies while also spending some time at the Vancouver Film School.
---
By then, something happened to him that happens to many Asian creatives early in life.
"What are you going do with your life? You're going to be a filmmaker? A starving artist?" Ng's parents asked him.
Thus, he got a bit more "practical," but not without completely dropping the passion for storytelling that drew him to gaming.
After beginning a stint at Novus Entertainment, a telecommunications company, as an Executive Producer on the TV programming side, Ng launched the Real Estate Channel in 2006, a channel that showcases residential and commercial listings through photos and voice-overs that remains on TV today.
Following the 2008 financial crisis, the real estate market was in a downturn, so Ng revived his earlier video game design passions and founded LNG Studios, a visualization company that creates 3D renderings, animations, and other digital assets for (primarily) real estate developers and marketers.
Since founding LNG Studios, whose clients include Reliance Properties and Polygon Homes in Vancouver and Daniels Corporation and Brixen Developments in Toronto, Ng also became a partner at Periphery Digital — a bilingual digital marketing agency with a focus on Chinese audiences — and iShot — a real estate photography and videography studio that Ng says works on about 30 properties a day.
Then came another pivot — the COVID pivot.
The real estate world was once again greatly affected, with many developers and marketers no longer able to utilize sales centres and instead having to provide interested purchasers with what Ng calls "pretty much a digital sales centre experience," which prompted his latest venture with Co-Founder Zhong-Yan Chen: Proxima HQ, which is named after Proxima Centauri B, the closest habitable planet to Earth.
Chen's career in real estate began when she returned to Vancouver after a gap year abroad, saw the changes the city was going through, and decided she wanted to be involved in the world of building and place-making. She lined up a series of interviews for executive assistant positions at various development companies, but was offered a position immediately after her first interview at Holborn Properties and skipped the remaining interviews.
After almost a decade at Holborn, Ng asked her to help temporarily oversee LNG Studios as COO, while the two also explored starting a consultancy firm to take advantage of Ng's visualization skills and her branding skills. Once the COVID-19 pandemic hit, they thought it wasn't a good time to start a new business. But then the market spiked, and they realized there was an opportunity.
"Everyone was in a panic," says Chen. "How are we going to continue marketing and showing units for sale during COVID? And it was really out of that that we were like 'I think there's something here. I think we can turn our skills and all this demand into an actual product,' and I think that was where the first idea of Proxima began brewing."
One of the core reasons people start businesses is because they see a hole in the market, or a problem, that they can solve, and the chaos around pre-sale marketing campaigns that they have both experienced from various vantage points is the reason why Proxima HQ exists.
By and large, few developers are like Concord Pacific, Ng says, which is fully integrated and does everything in-house. In many cases, developers hire marketing firms such as MLA Canada, rennie, or Magnum Projects to take care of the marketing component for them, but even in those cases, those marketing firms often then seek out various other companies for renderings, or web design, among other things. That multi-level process requires a lot of coordination, which is where much of the "chaos" stems from.
"I've been doing this for quite a long time now, almost 18 years," says Ng, "and I wanted to productize what I've been doing and what I've learned in the industry. And what I've learned is that project marketing is very time-consuming, very resource-heavy, lots of coordination, lots of headaches around this space, and I wanted to solve that with a product."
"When I was at Holborn," adds Chen, "we launched a few projects and I had the privilege of working with some of the great marketing minds in this industry — MLA, Fifth Avenue, rennie, Magnum — so I got to see that, of course, these consultants bring a level of expertise and advisory services, but when it comes down to executing the projects and the launches, it's always chaos."
Chen has been on both sides of it. From the developer perspective, they typically will listen to pitches from marketing firms, with decisions then often coming down to the bottom line. After she joined LNG Studios, it was the same thing, and they'd pitch developers, only to have to wait for them to hear pitches from other firms. Rinse, repeat, and so forth.
"Why is it that we have to vendor it out every single time? And why is it that we always have to start from scratch? Why does the process always have to be so tedious? There has to be a better way. That was the pain that I felt firsthand. The marketing is supposed to be fun because you're creating a brand and turning lifestyle photos into beautiful assets, but the process of it is so painful that it takes the fun away."
With Proxima HQ, Ng and Chen are positioning the company as a one-stop shop that can create all of those various digital assets — renderings, web design, touchscreen displays — without clients having to seek out multiple vendors.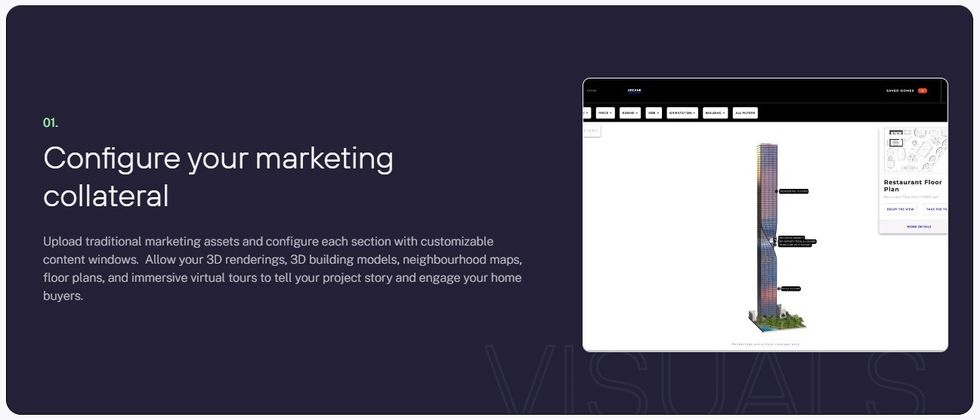 Proxima HQ
"I would say our key value proposition is time," says Ng. "Traditionally, if someone has a brand already and they give it to an agency to create, it would take a month, six weeks, or maybe two months to create a website, then a different guy for touchscreens could take another five weeks, and the whole campaign can take about three months. If we get the assets from a client, we can turn around a teaser or landing page within a week."
Another value proposition Ng says is as it relates to cost, which he says will be a fraction — as little as one fifth — of what developers typically pay for marketing campaigns. Because all the various digital assets are being handled by one firm, they will likely also be much more cohesive, and Proxima can do it all quickly because their propriety backend technology makes use of Generative AI to create the digital assets.
If one were to consider real estate marketing as a linear timeline of steps, Proxima HQ aims to take care of the earlier stages, by creating the visualization assets that are required to begin marketing projects. Other companies, such as Spark, then take care of the latter portions, whether it be inventory management or data regarding sales leads, before the process then ends with companies like Avesdo, which primarily deals with the contracts.
Viewed this way, the founders of Proxima HQ are not positioning themselves as competitors to those other companies but more like colleagues, with full integration with Spark, and likely more integrations to come.
"We want to be able to integrate with any CRM system," says Chen. "Lasso. Salesforce. Hubspot. Whatever our clients are using, we want to be able to integrate."
For developers, this means they can update their inventory on Spark and it will automatically update on Proxima. For prospective buyers, this means that they will be less likely to be faced with conflicting information from different sources, and that once they are aboard the train, they don't have to switch to a different platform.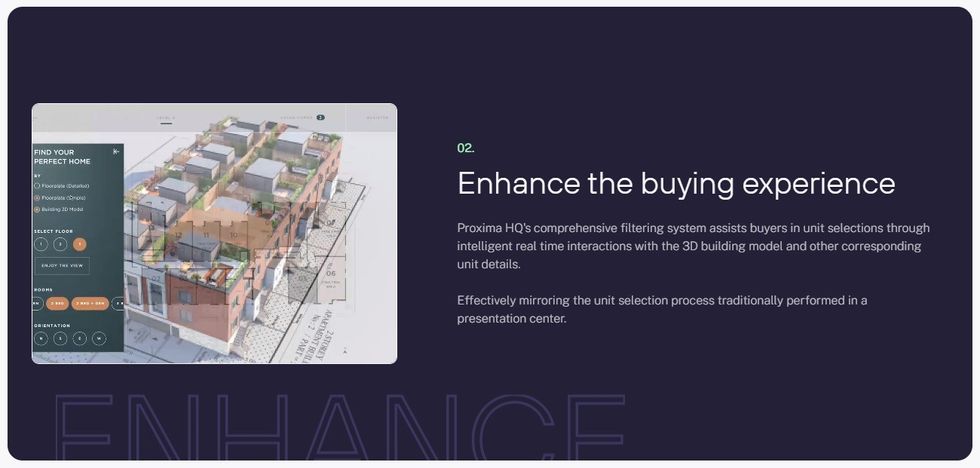 Proxima HQ
"All the developer has to do is update inventory and not have to worry about 'Oh no, I have to go update the website. Oh no, I have to go update my sales team at the sales centre,'" says Chen. "It's just one platform, because our platform is a website, is a touchscreen, is a digital brochure. So it just makes the experience and process smooth for the client."
Proxima HQ soft launched in late 2022, and officially launched on November 1, when the company also announced that it had been selected as one of seven companies by REACH — a prop-tech accelerator program — and had raised $1.35M in pre-seed funding.
Since the soft launch last year, the two founders — now both solely focused on Proxima — say they've learned to shift their thinking towards adding features that real clients want, not just adding in features they think will be nice to have. They've launched with about 20 projects in the works, intend on extending their product to commercial real estate, and have sights on expanding out of Vancouver and into the rest of North America in 2024.
Here in British Columbia, Ng points to the recently announced provincial legislation that will allow up to six units per residential lot as a sign of growing potential demand, as the change potentially turns many homeowners into developers who may need marketing services and will likely find their one-stop shop solution appealing.
"With how everything is going with technology," says Chen, "I just think that hopefully it helps to bring the real estate industry to the next level."
Condos