---
The province-wide stay-at-home order is finally coming to an end this week, and while this is promising news for Ontario residents, we're not out of the woods yet.
In fact, the woods don't seem to have changed much at all.
The order, which has been in place since April 7, will expire on Wednesday, June 2. The Ford government enacted the order in response to the rapid increase in COVID-19 transmissions driven by new, more contagious variants. The stay-at-home order required Ontarians to remain home except to exercise, go to the grocery store or pharmacy, or access health care services.
As of Wednesday, these restrictions will no longer be in place, however, all other public health and workplace measures will remain in effect province-wide until Ontario enters Step One of the Roadmap to Reopen.
Only then will we finally see restrictions ease, particularly those impacting outdoor settings.
READ: Ford Announces Ontario Will 'Safely' Reopen In Coming Weeks
Once the order lifts, Ontarians will still have to adhere to restrictions on gatherings, businesses, services, and activities. This includes limiting indoor gatherings to households only and outdoor gatherings to up to five people, subject to limited exceptions, maintaining a cap of 25% capacity for essential retail where only certain goods are permitted to be sold, restricting non-essential retail to curbside pickup and delivery only.
Other restrictions remaining in place are limiting short-term rentals to individuals in need of housing and allowing Ontario Parks and campgrounds on public lands to be used for day-use only, subject to limited exceptions.
However, the government says Ontarians will be able to leave home to travel within the province to a secondary residence for any reason. Though, they are not permitted to host family members indoors except for a person from another household who lives alone or a caregiver.
"We've seen great progress in our fight against COVID-19 in recent weeks, but now is not the time to let our guard down," said Solicitor General Sylvia Jones.
"With the stay-at-home order set to expire, we need to provide people with certainty so that they can continue to follow public health guidance. Doing so will help us to meet our goal of starting to gradually lift some restrictions when we enter Step One of the Roadmap when it is safe to do so."
According to the government, Step One will begin as soon as 60% of all eligible Ontario residents have received their first of two COVID-19 vaccine doses. This phase is primarily focused on resuming outdoor activities where there are small crowds.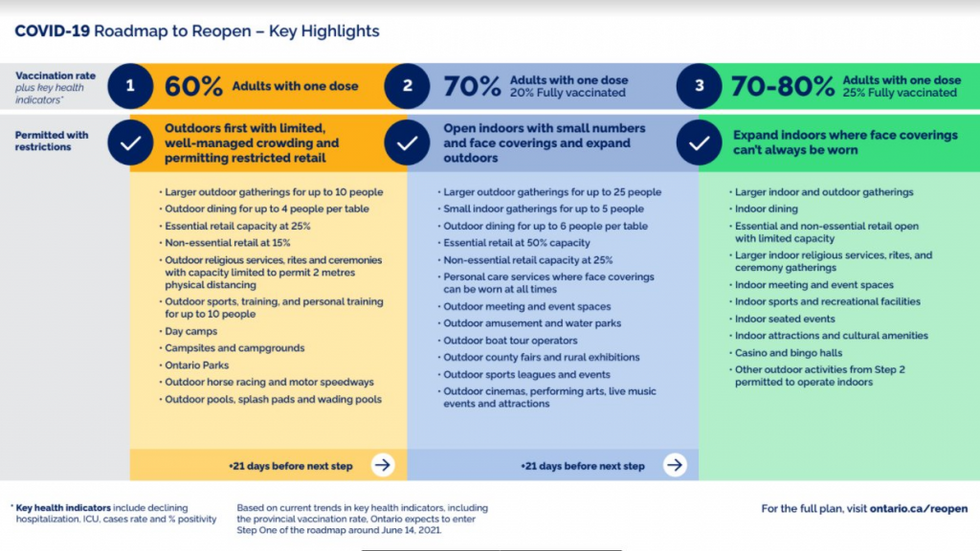 Once 21 days have passed and 70% of adults have received their first vaccination and 20% have been vaccinated with both doses, the province will move into Step Two, further expanding outdoor activities and resuming limited indoor services with small numbers of people where face coverings are worn.
This includes outdoor gatherings of up to 25 people, outdoor sports and leagues, personal care services where face coverings can be worn and with capacity limits, as well as indoor religious services, rites or ceremony gatherings at 15% capacity.
After an additional 21 days, and 70 to 80% of adults vaccinated with one dose and 25% vaccinated with two doses, Ontario will move into Step Three.
The third phase will expand access to indoor settings, with restrictions, including where there are larger numbers of people and where face coverings can't always be worn. This includes indoor sports and recreational fitness, indoor dining, museums, art galleries and libraries, and casinos and bingo halls, with capacity limits.
This comes as Ontario reported 699 additional cases of COVID-19 on Tuesday -- the fewest on a single day since October 2020, during the earlier weeks of the second wave of the pandemic.
Ontario News