The Ford government says the province will reopen "safely" in the coming weeks through a three-step plan, starting with outdoor recreational amenities, as it gradually prepares to ease pandemic restrictions amid the weeks-long province-wide stay-at-home order, which is in place until June 2.
---
"We've been through so much in the past 15 months … We're in a better place right now and that's a result of your commitment of keeping each other safe and getting vaccinated," Premier Doug Ford said Thursday.
Based on current public health trends, the government said step one of the three-tier plan will likely begin on the week of June 14, though some restrictions being lifted in time for the May long weekend.
As of Saturday, May 22, outdoor recreational amenities including golf courses and driving ranges, soccer and other sports fields, tennis and basketball courts, and skate parks will be allowed to reopen, the government said.
Additionally, outdoor limits for social gatherings and organized public events will be expanded to five people, which will allow these amenities to be used by up to five people, including with members of different households. All other public health and workplace safety measures under the province-wide emergency brake will remain in effect.
According to the government, phase one will begin as soon as 60% of all eligible Ontario residents have received their first of two COVID-19 vaccine doses. This phase is primarily focused on resuming outdoor activities where there are small crowds.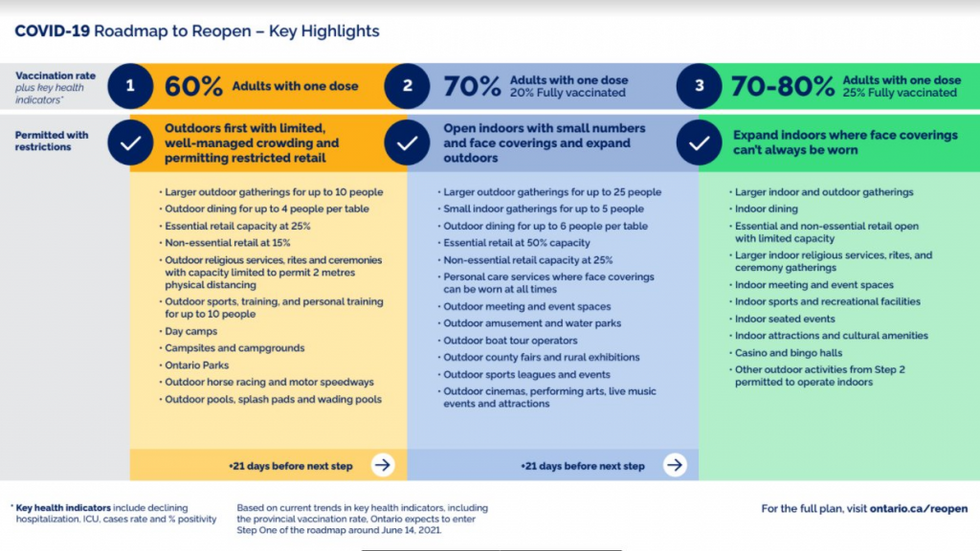 Under the first phase, outdoor gatherings of up to 10 people will be permitted, while patios will be able to have up to four people at each table.
Retail will also begin reopening with a 15% cap for non-essential businesses and 25% for essential retail.
Outdoor religious ceremonies and rites will be permitted with capacity limits and two-metre physical distancing requirements in place.
Additionally, outdoor sports and training of up to 10 people will be allowed, while day camps, campgrounds, Ontario Parks, horse racing, speedways, outdoor pools, zoos, and splash pads can reopen.
Once 21 days have passed and 70% of adults have received their first vaccination and 20% have been vaccinated with both doses, the province will move into phase two, further expanding outdoor activities and resuming limited indoor services with small numbers of people where face coverings are worn.
This includes outdoor gatherings of up to 25 people, outdoor sports and leagues, personal care services where face coverings can be worn and with capacity limits, as well as indoor religious services, rites or ceremony gatherings at 15% capacity.
After an additional 21 days, and 70 to 80% of adults vaccinated with one dose and 25% vaccinated with two doses, Ontario will move into phase three.
The third phase will expand access to indoor settings, with restrictions, including where there are larger numbers of people and where face coverings can't always be worn. This includes indoor sports and recreational fitness, indoor dining, museums, art galleries and libraries, and casinos and bingo halls, with capacity limits.
"While we know that now is not yet the moment to reopen, Ontarians deserve to know the path forward on what we will carefully reopen and when, starting with the settings we know are safest," said Christine Elliott, Deputy Premier and Minister of Health.
"Brighter days are ahead and we believe this Roadmap represents a path out of the pandemic and will encourage Ontarians to get vaccinated and to continue following public health advice."
This announcement comes as Ontario recorded 2,400 new cases of COVID-19 and 27 more deaths linked to the virus. To date, Ontario has seen 517,090 COVID-19 cases and 8,552 deaths.
Ontario News