Premier Doug Ford announced Thursday that Ontario's province-wide stay-at-home order, which was scheduled to end on May 20, has been extended to June 2... And yes, your May long weekend plans for cottage country are affected.
---
The elongated stay-at-home order means the continued closure of all non-essential retail outlets for in-person shopping, other than grocery stores and pharmacies.
Ford's springtime the stay-at-home order mirrors the one Ontario underwent earlier this year, which means -- yes -- both gatherings, and short-term rental permissions, are feeling the impacts.
The order prohibits indoor social gatherings and outdoor gatherings with more than five people and, indeed, bans cottage rentals.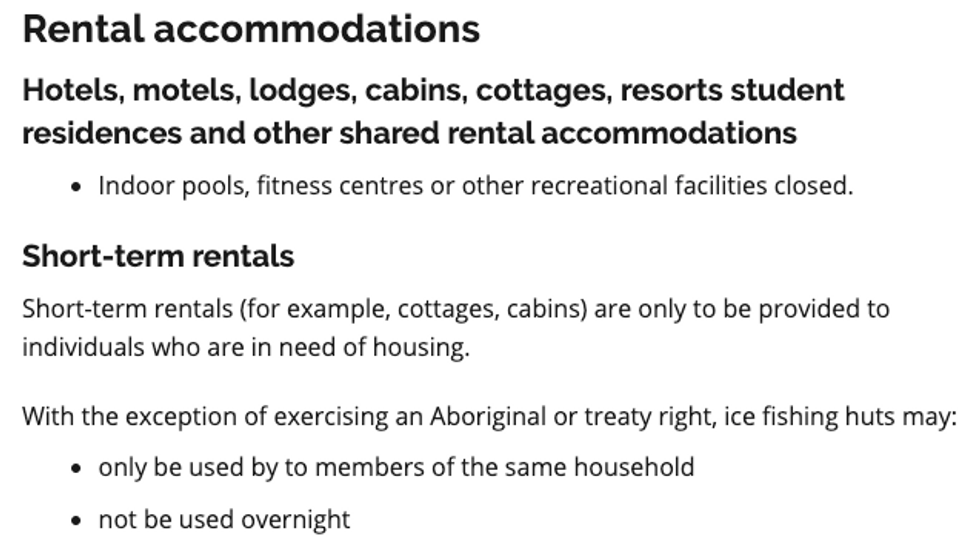 ontario.ca
"We have 16 reservations between May 20 and June 2... People are surprised when we tell them they won't be able to come," says Maryrose Coleman of both Muskoka District Rentals and Sotheby's International Realty Canada.
Unlike the rules in place during a province-wide lockdown, wherein pre-booked vacation rentals are given a green light, a stay-at-home order means those who were planning to visit cottage country over the May long weekend -- or any time between now and June 2 -- are not permitted to do so.
"[This situation is] frustrating for people who are trying to get a bit of a break from the city, and it's frustrating for property owners who have offered up a place that people might safely escape to," Coleman told STOREYS after the initial stay-at-home order announcement.
Speaking today, she added, "The concern is that the May 24 weekend is traditionally a party weekend."
Indeed, it is. As Ross Halloran of Sotheby's International Realty points out, many people see the Victoria Day long weekend as a "right of passage into summer."
"I think we're going to see a lot of violations," he adds. "We're going to see a lot of complaints against families who are legitimately self-isolating."
Coleman, meanwhile, emphasizes that cottage country is a particularly safe space for people to hunker down... especially when those individuals may live in a condo as their primary residence, where lobbies and shared elevators are commonplace.
"I was surprised that they had the [initial] lockdown date end right before the long weekend," she says.
News of the extended stay-at-home order comes on the heels of Ontario's case-count surpassing 500,000, with Toronto reporting 744 new cases on Thursday morning.
Muskoka