---
Condo seekers have turned their eyes and dollars to Pickering, Ontario -- and it has proved a lucrative move on the property value front. 
The once underdog city -- which many have historically associated with its eponymous power plant -- has seen condo values increase about 40% since the start of last summer(!), according to a new report from Strata.ca. 
The heightened interest and slew of activity in the condo market comes as Pickering prepares to add a shiny new 240-acre entertainment district to its downtown core and the city positions itself for massive growth.
If all goes according to plan, the eastern city will step up its entertainment game with the addition of a massive stimulation-filled district called Durham Live. Set to open its first phase this fall, it's meant to create a bustling downtown core in Pickering, and will bring a casino resort, luxury hotel, high-end retail, restaurants, a golf course, an amphitheatre, and the largest film studio in the GTA, among other alluring venues. In other words, it will redefine Pickering as we currently know it.
With the new district, Pickering residents will no longer have to make the trek into Toronto for a quality urban nightlife scene. In fact, it could even become a destination in its own right (at least, that's the intention). The Durham Live site is directly connected to the GO station to facilitate this.
"Strata.ca shows that the eastern city is showing signs of a rebirth; one marked by surging property values and electrifying anticipation of what Pickering could become," reads the Strata.ca report. 
But the promise of a new Pickering downtown core isn't the only appeal of real estate in the city or elsewhere in the Durham region. The collective re-evaluation of living spaces and a work-from-home culture brought on by the pandemic resulted in an exodus from Toronto to larger, more affordable pastures in suburban cities like Pickering.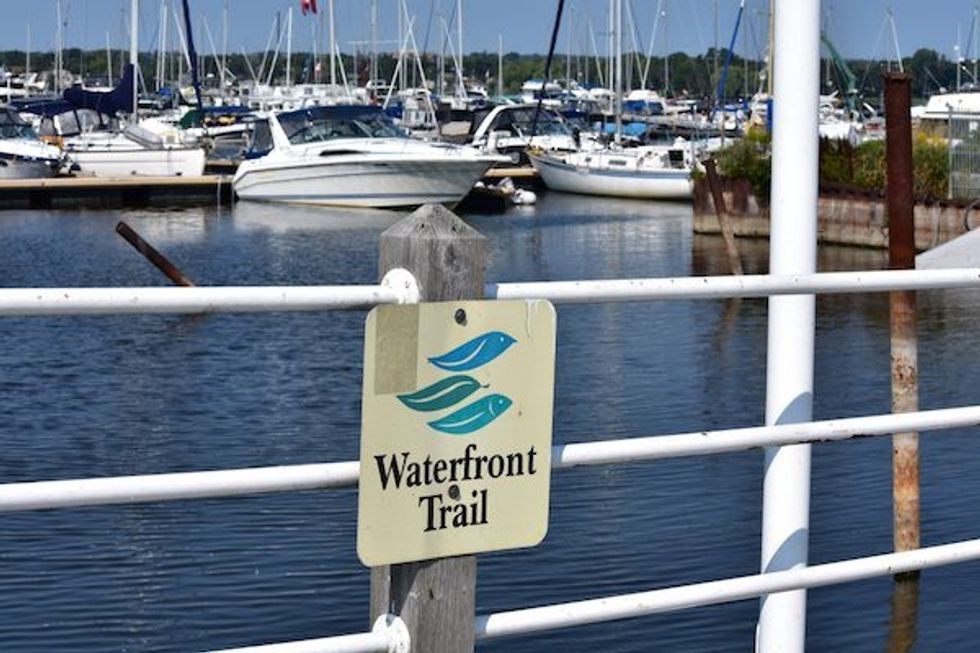 Frenchman's Bay Marina as seen from the Waterfront Trail in Pickering, Ontario, Canada
That brings us to Pickering's now dramatic condo market, which hasn't stopped sizzling since last summer. 
The average cost per square foot (PSF) of a condo went from $440 in June 2020 to $614, resulting in the aforementioned 40% increase. Now, the average Pickering condo will set you back about $599,900, an increase from $489,000 a little over a year ago. On the positive side, this is obviously still significantly cheaper than Toronto, where the average condo is about $726,000. 
"The Pickering condo market was previously a heavily under-appreciated sector in GTA real estate," says Zain Jafrey, a realtor who specializes in the Durham Region. "When people think about purchasing a property in the suburbs many do not necessarily consider a condominium; the immediate thought goes towards a house with some exclusive backyard space."
While this is definitely the case for many -- something that's reflected in Pickering's bustling single-family home market -- for others, the city's condo market offers an undeniable appeal.
"In the last 12-15 months, we saw thousands of people leave their properties in the city of Toronto in hopes for more space and a change in lifestyle, many looked at the real estate market in Pickering and realized it was a best of both worlds; affordable prices for properties, especially condominiums, with easy accessibility to the city of Toronto through GO Transit or the 401/407, and a quiet suburban lifestyle," says Jafrey. 
As Jafrey highlights, purchasing a condo in Pickering has allowed many young families to get into the real estate market. "With appreciation that we have seen on those condos over the span of the last year, now those families are able to move up the property ladder to possibly a townhome, semi, or even a detached property," he says.
Barbara Lawlor, CEO of Baker Real Estate, also points to Pickering as a solid city to invest in the condo market, citing both transit and development as reasons for its growth.
"Transit is of the utmost importance when investing in Real Estate and Pickering has the GO station and proximity to Toronto -- it's an easy commute. Prices are still affordable right now, but will rise because of all of the development planned for Pickering. It also has good schools, is family oriented, and offers lots of outdoor space, including golf courses and parks. Overall, it's a great place to invest."
While, according to Strata.ca's Broker of Record, Robert Van Rhijn, Pickering is one of the places best positioned to provide the biggest return on your investment. "You're getting in on a housing market that's about 17% cheaper than Toronto's, says Van Rhijn. "And yet, Pickering condo owners have seen gains more than double that in just 12 to 13 months alone."
But that doesn't mean that finding that perfect forever home in Pickering will be that easily attainable. The Durham real estate market was red-hot in the past year, with prices for single-family homes soaring to never-before-seen heights in the region. 
Still, it's cheaper -- AKA slightly more attainable -- than a home in Toronto (not that anyone really needs the reminder). 
And if Durham Live just doesn't cut it and you miss Toronto's lights and action, the city skyscrapers can be reached in a short GO train ride. 
Condos