Money
This Developer Defers Profit to Help More Homebuyers Get in the Market
The unavailability of a down payment prevents countless Canadians from entering the world of homeownership.
Those with decent jobs and a relatively healthy cash flow are stuck in a cycle of renting as a result – unless they can turn to the parents to help out with a generous chunk of change, that is.
But there's another "option" that can turn the lost dream of home ownership in the Greater Toronto Area (GTA) into an attainable reality.
Perhaps one of the best-kept secrets in the industry, non-profit developer Options for Homes offers help on the down payment front. With 5% down, homebuyers can obtain a high-quality condo with the lowest possible maintenance fees and an additional down payment loan worth up to 25% of the purchase price at their newest pre-construction development, The Humber Condominiums.
"Our model helps with down payment support, which is a critical issue right now, because many people have solid incomes, but with all the other costs in their lives, it's difficult to save for a down payment," says Heather Tremain, Chief Executive Officer, Options for Homes. "We help make the down payment possible with a deferred profit in the project."
Operating for over 25 years, Options develops condos in the GTA with building partner Deltera (of the Tridel Group of Companies). With their award-winning model, when buyers purchase a condo in a shiny new Options for Homes building, the rest of their down payment is paid via a loan through their funding partner.
This model boosts a down payment of 5% by 10% to 15% of the purchase price of a new home to help homeowners secure a conventional mortgage. Because the amount is lower, the homeowner's monthly carrying cost is lower too. When they sell or move out of their condo, or pay their primary mortgage in full, the loan gets paid back, plus some appreciation. If the loan towards the down payment was 10% to 15%, now 10% to 15% of the current home value is due back.
Instead of interest, homeowners just need to pay back the percentage of the current value of the property. This ensures that Options can raise the value of the properties in which they build.
With the pandemic and the red-hot real estate market in the GTA, Tremain has noticed a spike in demand. "In the single-family market, we've seen a really big change and that's pushing more people to the condo market, which is the market that we operate in," she says.
Options has often been the first builder in upcoming markets says Tremain, of the company's backstory and strategic selection of locations. "We're helping people get into a new market at an early stage," she says.
Options began their efforts with the introduction of affordable developments in Toronto's Distillery District in the 90s. Since, the company has been an early arriver in other once up-and-coming neighbourhoods, including The Junction in the 2000s.
Located in the rising Weston neighbourhood, The Humber will be a 22-storey tower building that sits on the edge of the Humber River, with stunning views of the city and down the river. Notable talking points of the pet-friendly building include stylish interiors, a beautiful rooftop amenity space, and no shortage of green features. Its convenient location offers the best of both worlds: access to trails along the Humber River at your doorstep, and to downtown Toronto in 15 minutes, thanks to the UP station across the street.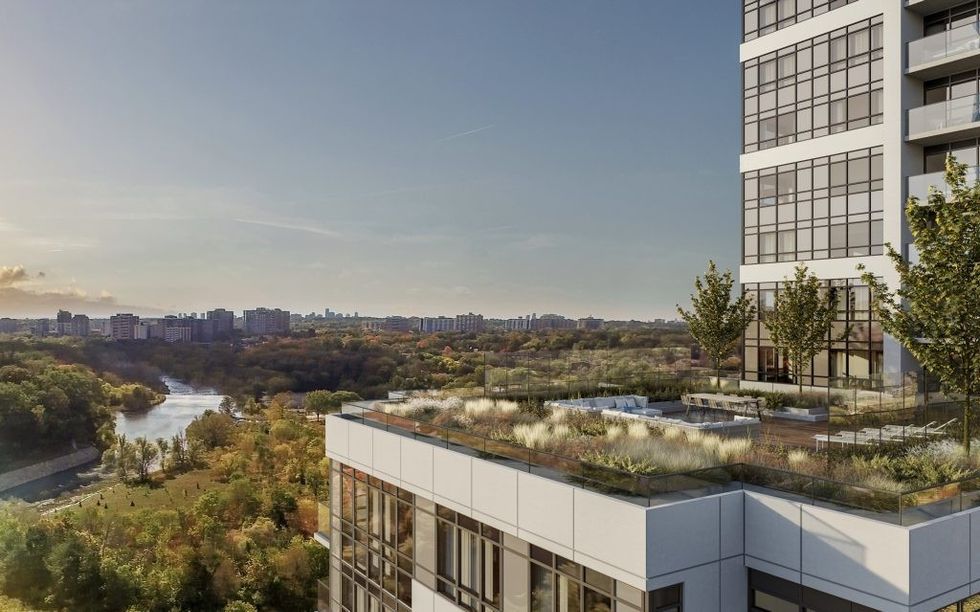 "We've really designed the building for homeowners to make it a home, as opposed to for investors," said Tremain. "We've put a lot of effort into making great livable spaces throughout."
The Humber is currently selling its units, which range in size from studio to three-bedroom.
"I think that there's a real pride in ownership" says Tremain when asked about a potential stigma surrounding Options' developments. "Nobody is going to look at The Humber and say it's an affordable housing project. It looks like a beautiful, well-designed building. We take pride in building really high-quality buildings."
So, why is this option of down payment support still relatively unknown? According to Tremain, about 50% of new clients are referred to Options by other happy homeowners and most advertising to-date has been low-key, grassroots, and on a local scale. "If we're building in a neighbourhood, we will flyer its streets instead of opting to advertise broadly to help people In the neighbourhood become owners," says Tremain.
The initiative really is that simple and free of fine print.
"It's like that helpful aunt or uncle who says, 'I want to help you get into the market,' says Tremain. "This creates equity for them that they wouldn't otherwise have if they remained a renter."