Regardless of your age, chances are, you've heard of 'hot or not' lists. (We see you, boomers.) And while these lists often cover celebrities and prominent figures, sometimes they can apply to real estate, particularly here in Toronto.
---
Such is the case for a new ranking of Toronto neighbourhoods from local realtor and chartered accountant, Scott Ingram. This list looks at 'Who's Hot and Who's Not' in regards to which of the city's neighbourhoods saw increases in average sale prices of detached homes sold in 2020 compared to 2019.
Across Toronto, many pockets are recording impressive price growth in the single-detached housing sector, and this momentum is expected to continue.
For this year's list -- which highlights 15 neighbourhoods -- the change in average prices varies from 18.6% to 28.9%, showing just how much values shifted from neighbourhood to neighbourhood.
According to Ingram, these are the 15 hottest neighbourhoods that are driving this market:
Henry Farm
Rouge
Eglinton East
Clanton Park
Scarborough Village
Princess-Rosenthorn
Yorkdale-Glen Park
North Riverdale
Humber Summit
Guildwood
Birchcliffe-Cliffside
Mount Pleasant West
Mount Dennis
Centennial Scarborough
Junction Area
Topping the list as the 'hottest' neighbourhood is Henry Farm, located in the north-central part of the city within the former city of North York. Here you'll find housing consisting of a good mix of Georgian and Tudor Revival style houses, split-level homes, and bungalows, while condominium townhouse complexes and high-rise apartment buildings are located on the periphery of the neighbourhood.
According to Ingram, the average sold price of all detached home sales in Henry Farm in 2020, compared to 2019, increased by 28.9%.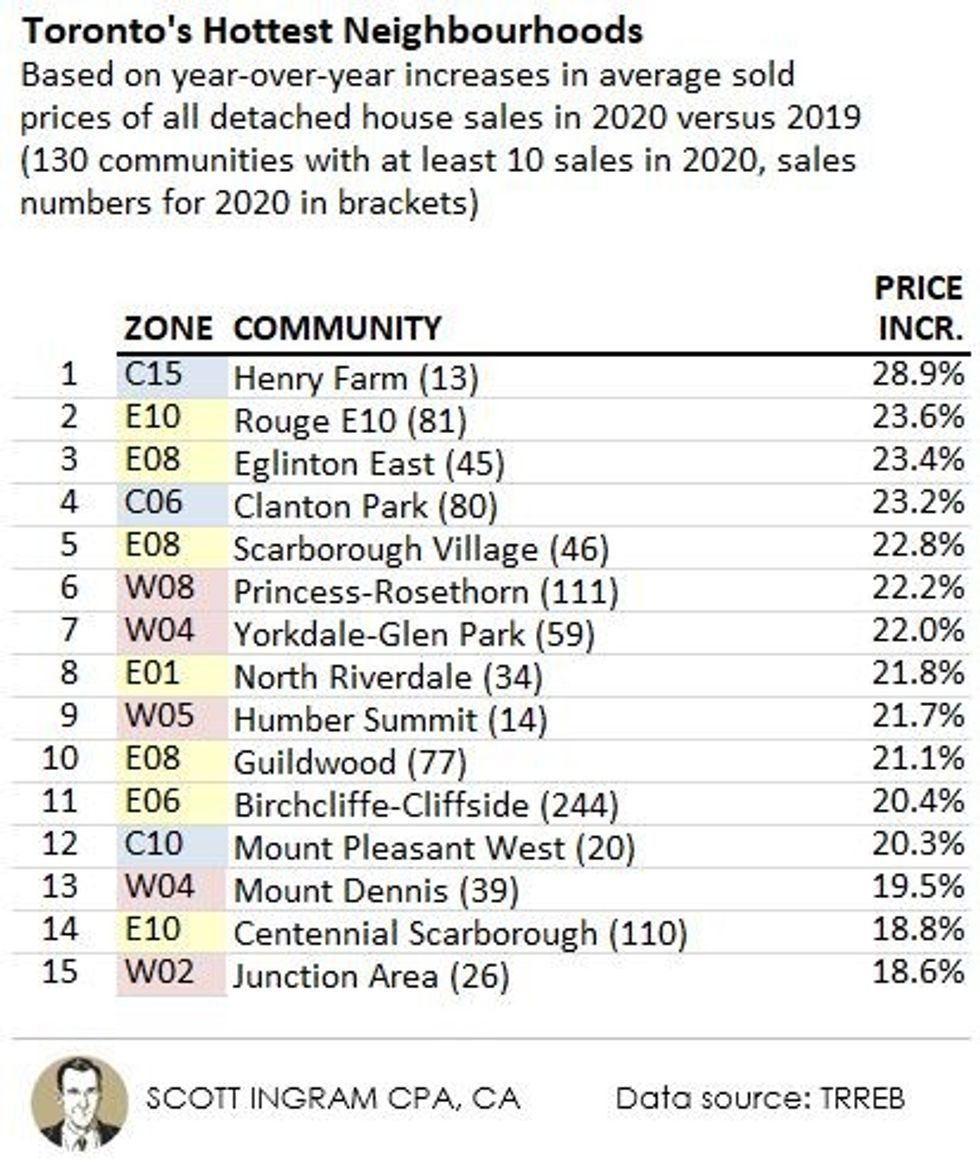 Blue is central, red is west, and yellow is east/Scott Ingram
Ingram said it was interesting to see Henry Farm at the top of the list again, as "[the neighbourhood] was at the top of the list back in super-heated 2016, when its year-over-year (y/y) increase was an eye-popping 48.8% or $511K."
"In the years 2017 through 2019, it went +$53K, -196K, -$50K, and this year it went +$394K to gain back the value lost in the last few years and reach its current $1,759K average price," explained Ingram.
However, Ingram noted that Henry Farm is a low-volume neighbourhood, with just 13 transactions last year -- with one of them priced at $4.2M, which was $1.9M more than the one closest in price behind it.
"If that sale didn't happen, or happened a few months later, then the area average would've been $1,556K instead of $1759K. So again, neighbourhoods with smaller volumes are subject to wilder swings," added Ingram.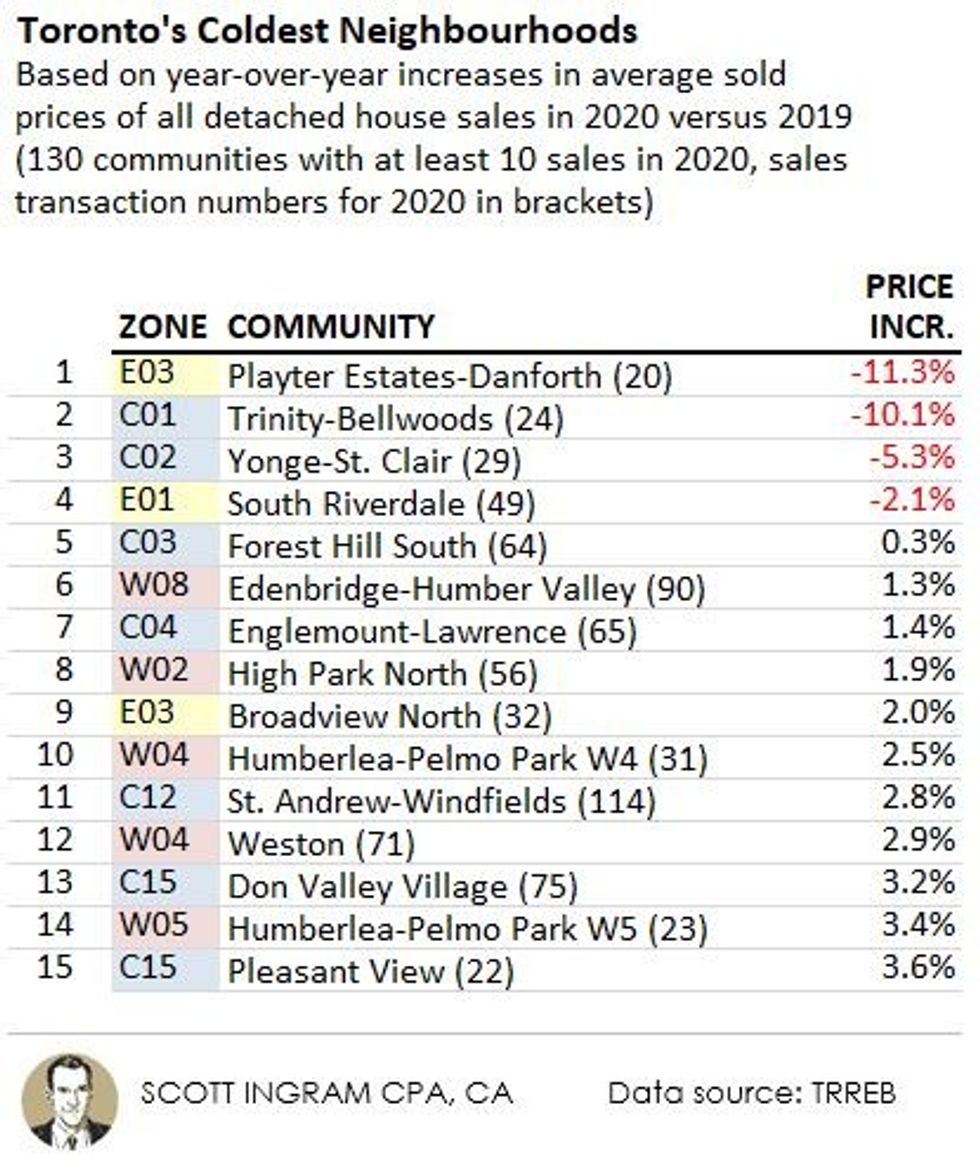 Scott Ingram
As for what's 'not hot,' Ingram said Playter Estates-Danforth came in the top spot, as average sold prices dropped 11.3% year-over-year.
"You see the top three (and three of the only four hoods that saw average price declines in 2020) all had sales volumes in the twenties for last year," said Ingram.
"The average across the city was 72. So with the neighbourhoods with small transactions, a few big sales can make a big upward swing one year, then if those sales don't materialize in the next year, then you've got yourself a swing," Ingram explained.
"In the case of Trinity-Bellwoods, it hit the top spot in average price change in 2018 with a +28.0%. In 2019 it grew a further 7.4% to $2,340K. That was on 13 sales, three of which were over $3 million. In 2020 there were 24 sales, but only two of them were over $3 million and the average fell to $2,103K. If we look at the median sale in Trinity-Bellwoods it pretty much stayed the same, being $2,000K in 2019 and $1,995K in 2020 (as opposed to the average falling $137K)."
As Ingram explained, for the rest of the neighbourhoods on the list that had a higher number of sales to report, you can feel more confident that these were among the slowest (or highest) growing neighbourhoods in the city. 
Toronto