---
Between sky-high home prices and seemingly never-ending pandemic restrictions, Ontario has been through a lot in the past two years. 
And, despite the loosening of pandemic-related control measures across the province, Ontarians' economic optimism remains stunted. 
According to a new Scotiabank poll, the province's residents are putting their aspirations of first-time home ownership very much on the back burner. According to the poll, 48% of Ontarians are more likely to wait to buy a property until the housing prices go down (if that ever happens...don't count on a bubble burst), compared to 39% of residents of Alberta; 39% of those who reside in the Atlantic provinces; 37% who live in Manitoba and Saskatchewan; and 37% of residents of British Columbia. 
On the national level, 43% of residents are opting to wait before entering the red-hot market.  
Fewer than half (46%) of Ontarians believe that now is a good time to buy a property before interest rate increases, compared to 62% of Alberta residents. Consistent with a pandemic-inspired trend of interprovincial migration, 39% of Ontarians are more likely to say they are considering moving or buying a home out of the city to get more for their hard-earned dollars. This compares to 29% of Alberta residents, 29% of Manitoba/Saskatchewan residents, and 31% of Quebec residents.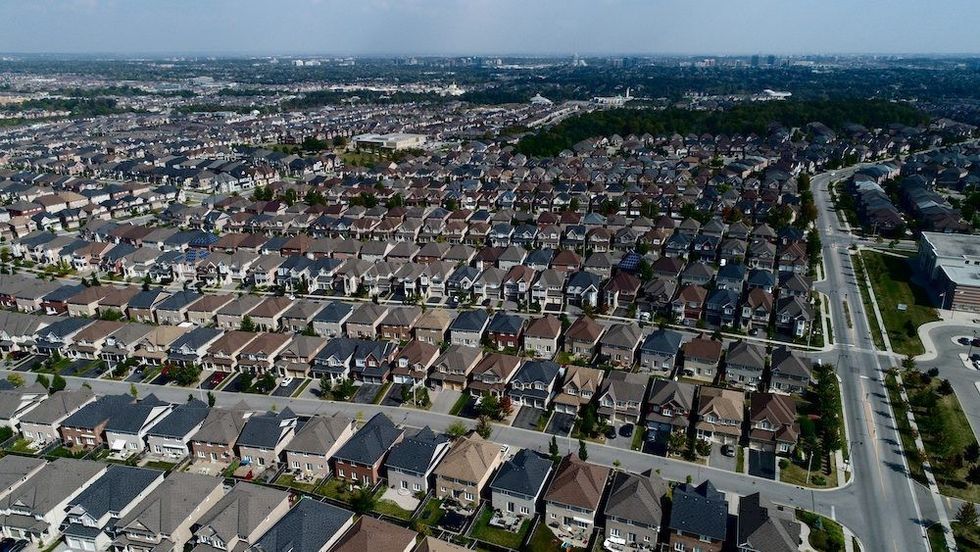 Aerial View Of Subdivision Homes In Vaughan Ontario
Given the reality Ontario's housing market, these stats aren't entirely surprising. The sky-high -- and record-breaking -- home costs have left few corners of the province untouched. 
The Greater Toronto Area (GTA) in particular has seen its home prices climb to widely unattainable heights -- something that's not only taking a toll on bank accounts, but on mental health as well. According to February figures from the Toronto Regional Real Estate Board (TRREB), it will now require a minimum down payment of $359,441 to buy a detached home in the Greater Toronto Area (GTA). And if you're looking to reside in Toronto proper, this figure jumps to a cool $414,798. 
But it's not just the GTA where would-be first-time homeowners are finding themselves priced out of the market. Once affordable, smaller cities in Southern Ontario have seen their home prices climb through the roof as well. Now, it's virtually impossible to find even the most ordinary single-family home in the region for less than $1M. 
The year kicked off with the sale of a completely basic cookie-cutter home in the Kitchener-Waterloo for over $1.2M. Then, in Durham Region, it was Oshawa's time to shine in the social media spotlight with the near $1M sale of a freehold townhouse. Not to be outdone, a home in nearby Bowmanville also found its way to social media following its $1,605,000 sale -- after selling just 30 months prior for $794,000 (with no upgrades made). 
Even further away, in Windsor, home prices have shattered records and priced a growing number of people out of the market. The once underdog city has become a red-hot place to call home. According to the Windsor-Essex County Association of REALTORS®(WECAR), residential property sales advanced at an annualized rate of 7.1% in January, totalling 466 units to kick off 2022. This represents a new sales record for the Windsor real estate market. On a historical basis, home sales were 17% above the five-year average and nearly 25% above the decade-long average for the month of January.
Given these figures, it's not surprising that first-time buyers aren't exactly springing into the market. 
In response to the province's relentlessly high prices, the Ontario government has recently unveiled a controversial plan that includes a reduction of red tape surrounding city planning approvals. The Province says lengthy approvals can slow down the construction of new homes, driving up prices in the process. If passed, the new legislation will also address the roadblocks to building affordable housing, making it easier for developers to do so. 
Whether or not this infuses any more optimism into the minds of first-time homebuyers remains to be seen.
Real Estate News