Real Estate News
Niagara Falls Could Get A 72-Storey Mixed-Use Tower
Would you like to own a condo right beside the world-famous roar and mist of the Niagara Falls?
A proposed 72-storey, mixed-use hotel tower with 275 condo units, approved at a council meeting Tuesday, will become the tallest in the city of Niagara Falls. It's located close by the Horseshoe Falls and the Fallsview Casino.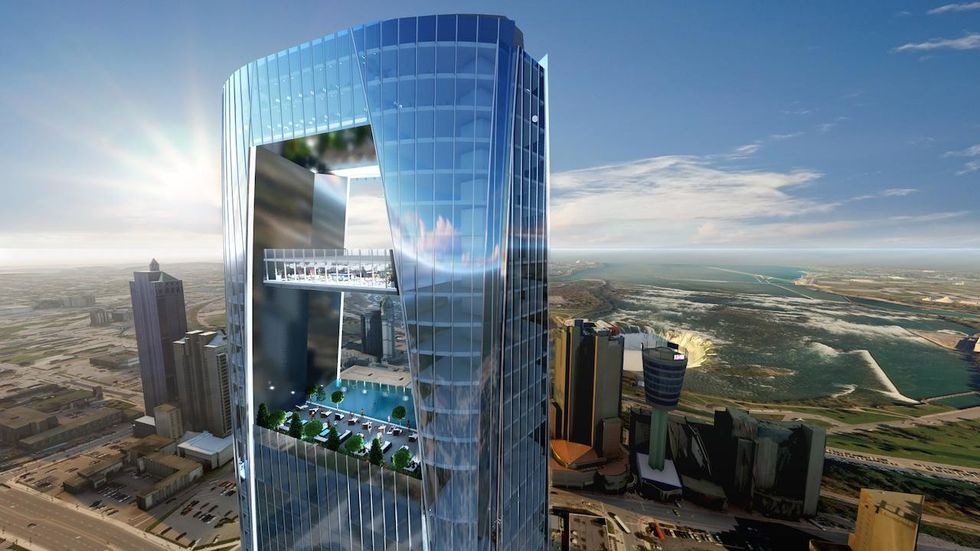 The condominium and hotel tower  at 6609 Stanley Avenue will rise 253.45 m high. It will surpass the 56-storey, 177.1 m/581 ft north tower of the Hilton Niagara Falls, currently the tallest building in the popular tourist destination.
While there's no word how much one of the 275 condo units will cost,  the trend of house hunters and retirees from Hamilton and the GTA being lured by cheaper housing prices to Niagara continues unabated.
Recent stats from the Canadian Real Estate Association (CREA) found that Niagara experienced the biggest percentage price jump of any local market in Canada.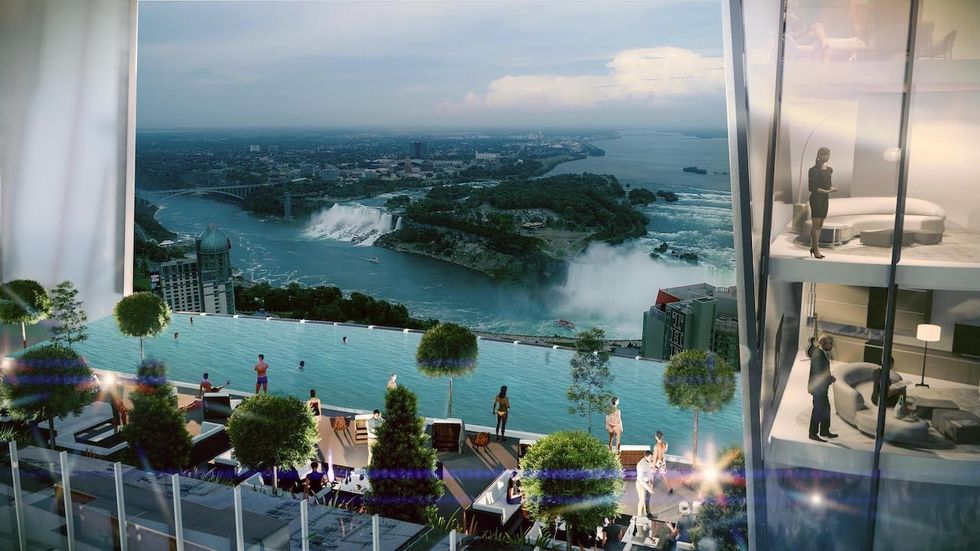 Over the past decade Niagara has become a popular retirement destination. It ranks second only to Peterborough for the highest percentage of seniors in Ontario.
Toronto-based  Hariri Pontarini Architects is behind the distinctive "bottle opener" design (which some say echoes the 2008-built Shanghai World Financial Center) for the Niagara project.
Hariri Pontarini recently won the $100,000 global RAIC International Prize  for architecture for its design of the Baha'i Temple of South America in Santiago, Chile. According to Globe and Mail story the temple was "the project of a lifetime" for its Canadian architect.
The Niagara tower will feature a 456-room hotel on its lower half, with the 275 residential units housed above. This site has sat vacant for 15 years.
Approximately $2.7 million in community benefits are being implemented in exchange for the lofty 72-storey height.
David Falletta, a partner from Toronto's Bousfields Inc. which is representing the applicant, said the construction will lead to between 350-500 full-time equivalent jobs, at an estimated $2.9 million and more than $9 million in city and regional development charges, respectively, and up to $5 million in additional property tax revenue.